Free Crochet Shawl Granny Pattern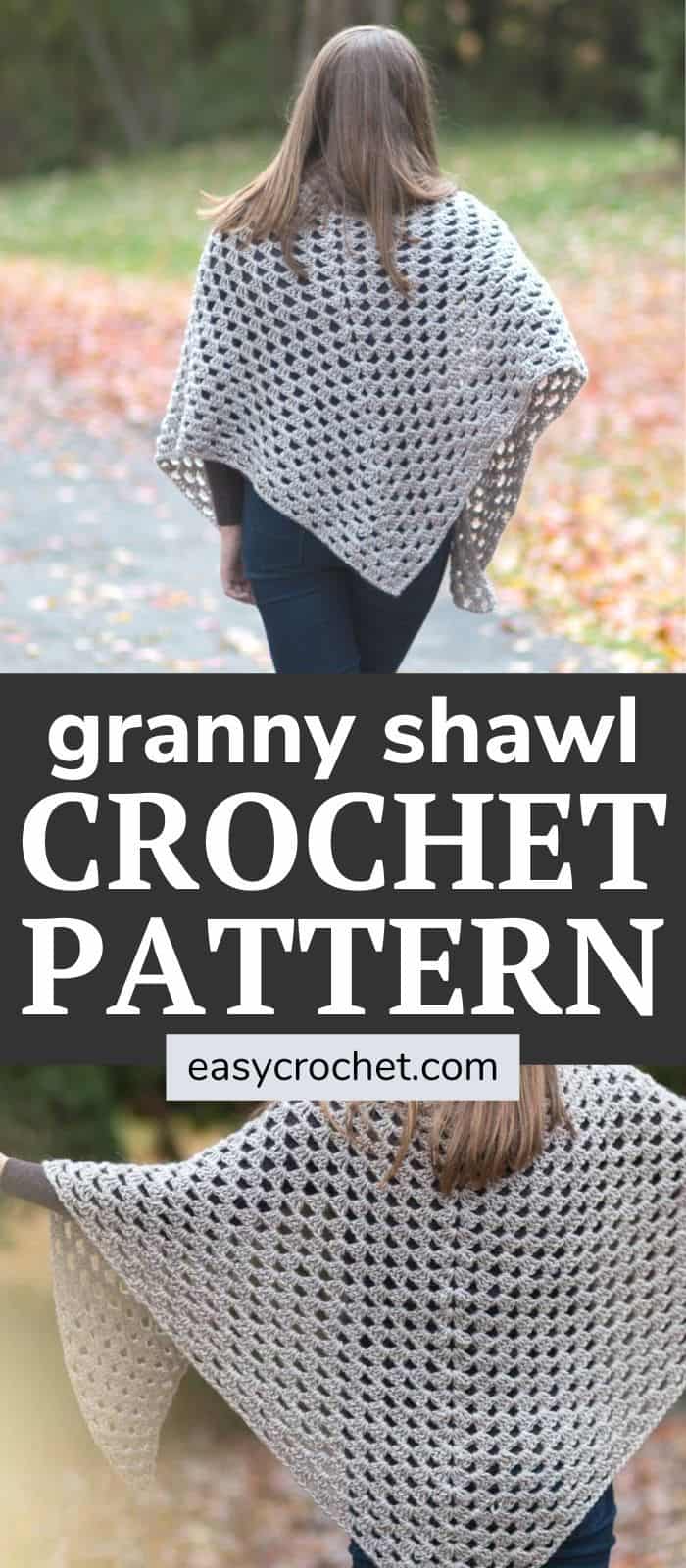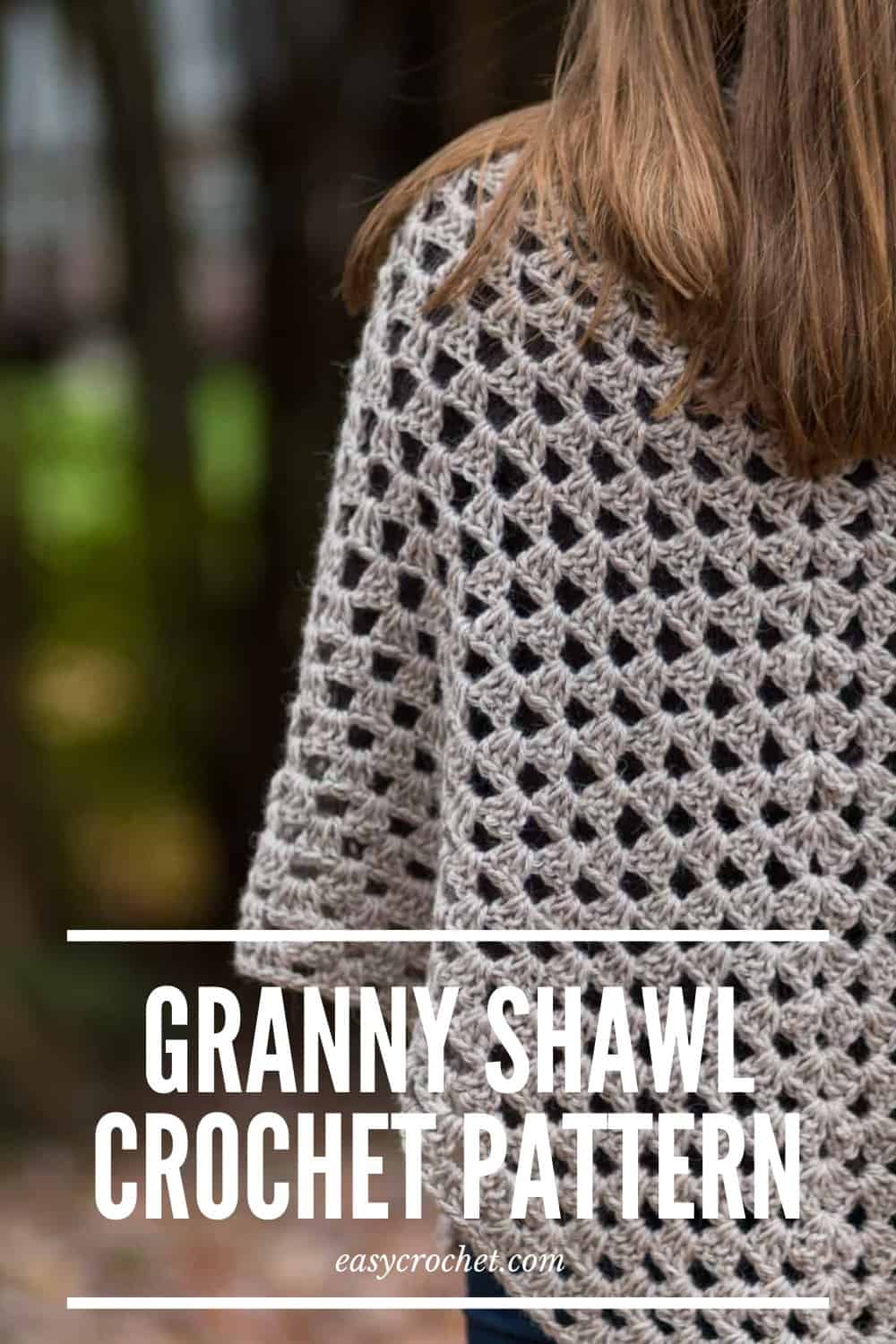 Have you been looking for an easy crochet shawl pattern? If so, then you'll love this free pattern! This simple shawl featuring the granny stitch maybe it! It looks beautiful and will keep you cozy.
Scroll on down for the free shawl crochet pattern here on the blog, or purchase a convenient PDF crochet pattern instead.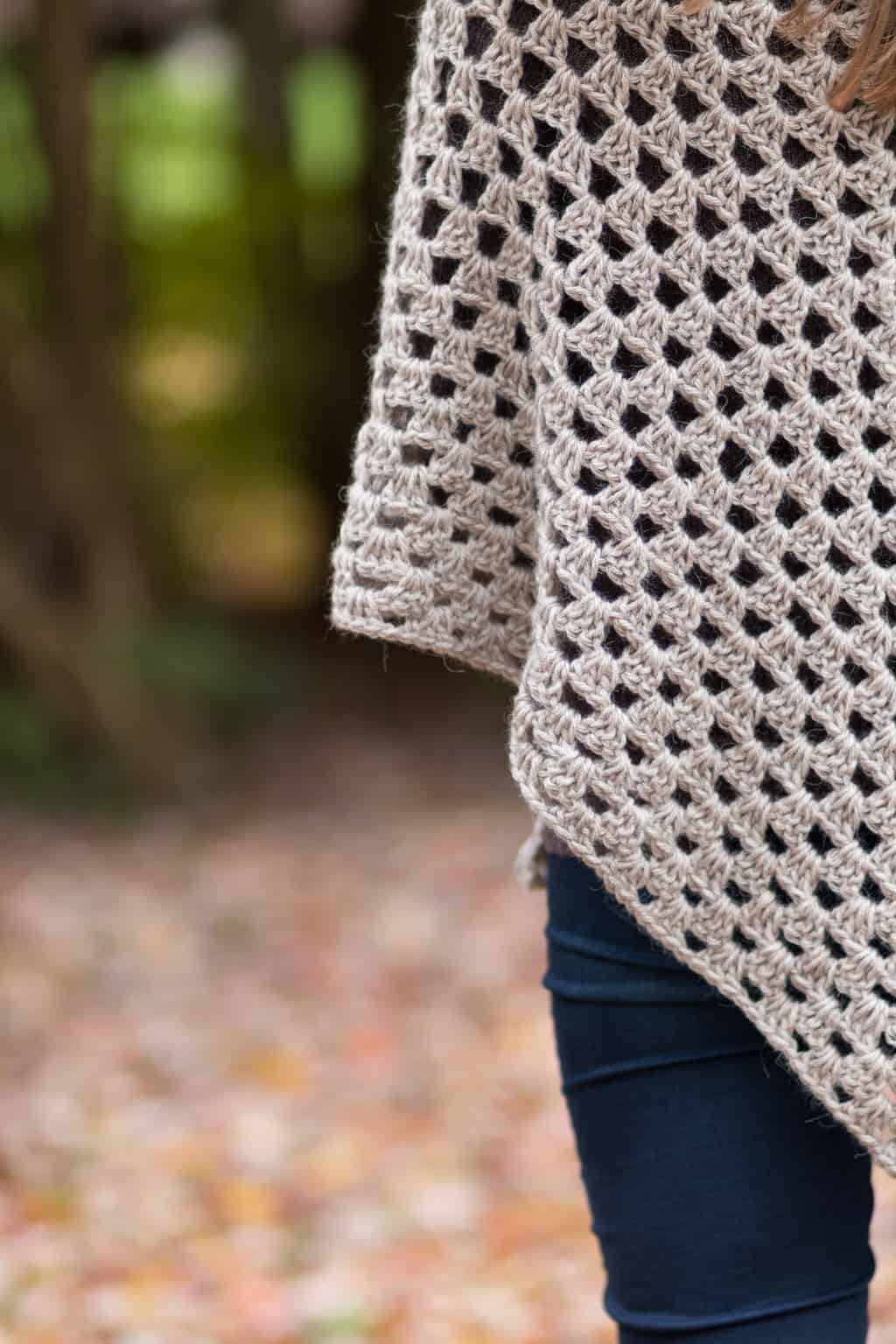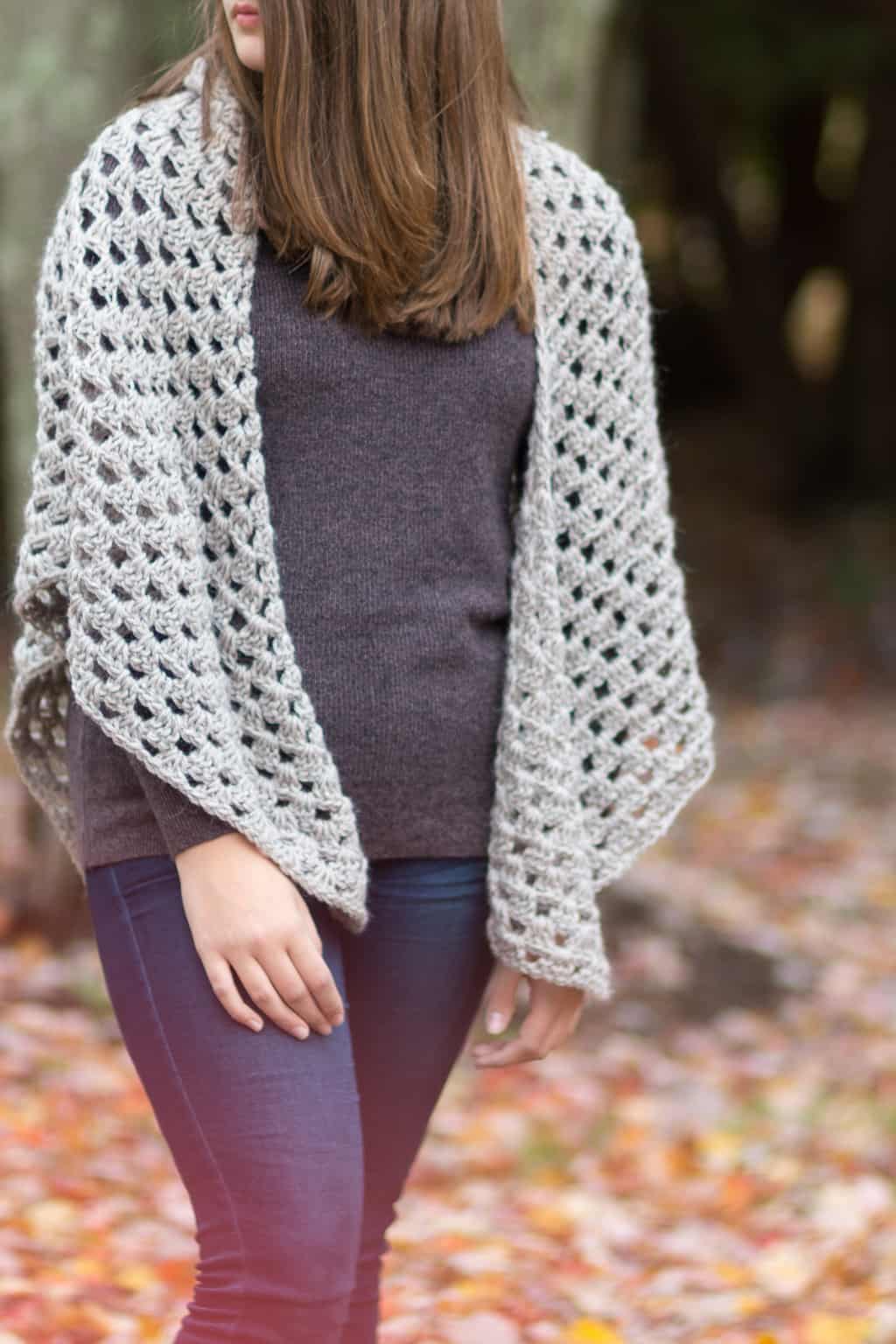 Make This Quick Crochet Shawl Today!
This crochet triangle shawl is easy to make, follows a simple stitch repeat and works up with quick with minimal ends to weave in, so you have more time to make even more patterns! This easy crochet pattern is great for a beginner crochet level as well as advanced crocheters, plus everyone in between.
I designed this simple granny shawl because I love classic, but modern looking pieces like this crochet wrap I recently created. Furthermore, simple and easy designs are my thing! 😉 If you love simple crochet patterns, then this simple pattern is the perfect choice to crochet.
Read on down to find this quick and easy crochet shawl pattern to get started today!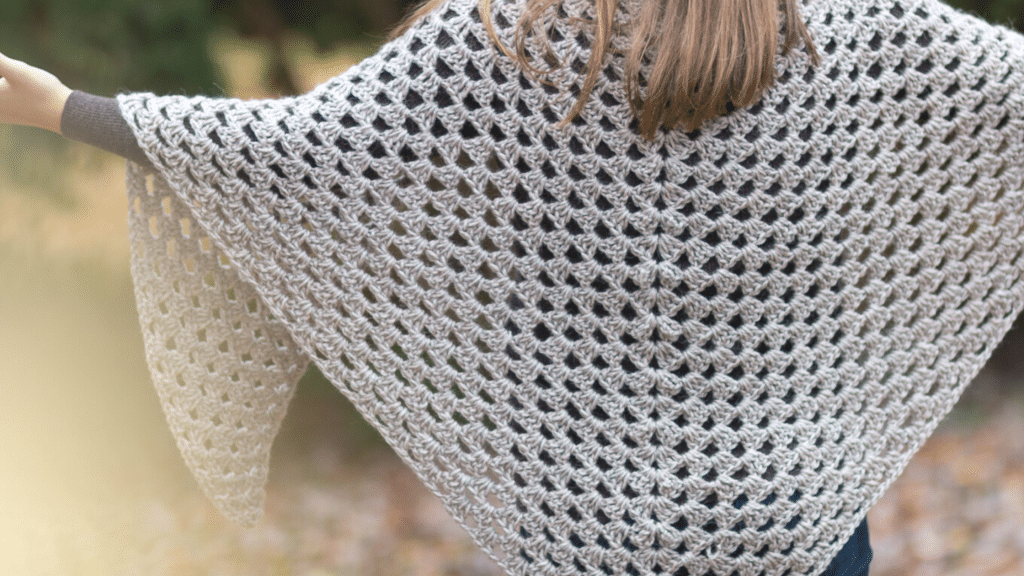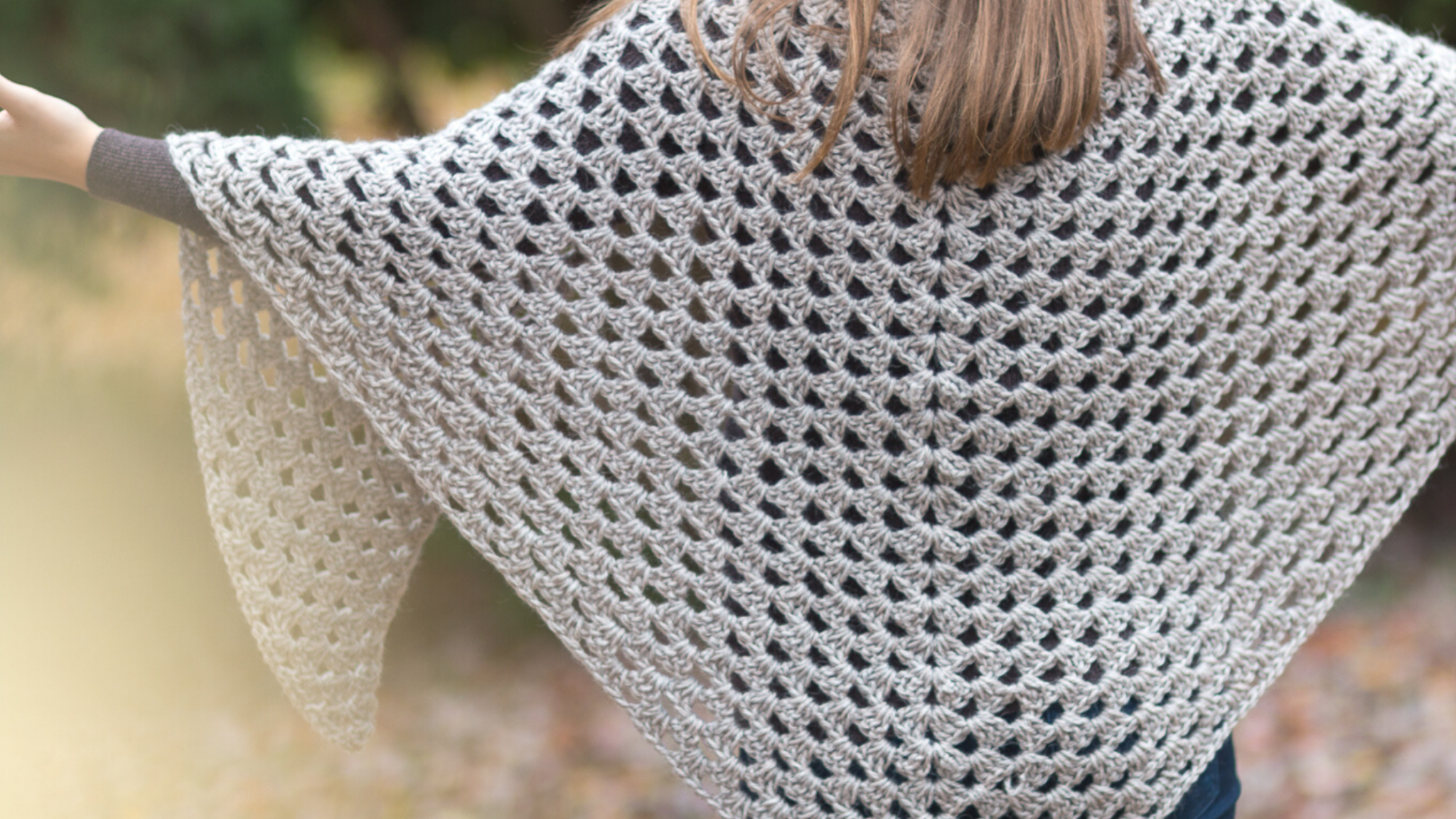 The Stitches of a Crochet Shawl
For the entire shawl, you'll need to know two basic crochet stitches, which is great for those of us who LOVE quick & easy patterns! (Yep, like I said before, that's me!) The repeating pattern of this triangle shawl makes it the perfect project for a beginner.
The two simple stitches you'll need to have an understanding of are the double crochet stitch and the chain stitch, both of which are easy to learn! Learn more about double crochet stitches as well as the chain stitch below with our stitch pattern tutorials.
Granny Shawl Stitches
Double Crochet (dc):
Wrap the yarn over (YO) the hook, insert the hook into the specified st.
YO the hook again, draw the yarn through the st, so there are 3 loops on the hook
YO the hook again draw it through 2 loops, so there are 2 loops on the hook
YO the hook, draw it through the final 2 loops.
Double Crochet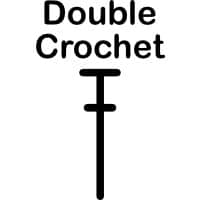 Patterns Using This Stitch →
Chain Stitch (ch):
A simple crochet stitch that often forms the foundation of what crochet stitches are worked into during projects.
Make a slip knot.
Insert hook into slip knot point first, bring yarn over the shaft of the hook from back to front and grab it with the throat of the hook.
Draw hooked yarn through slip knot and onto the hook. This movement will make one chain stitch
Repeat steps two and three until you have the desired number of stitches for a pattern. One loop will remain on hook.
The Stitch Chart for a Granny Shawl
I created a free stitch chart for this pattern for those that may want one as a companion to the written design. Plus, sometimes just seeing the stitches written out helps to get the design completed.
This chart shows the first four rows of the pattern, and if you scroll down you will find the details on the remaining rows, which are easy to learn since they are row repeat of the next! I hope this crochet stitch chart is useful for you!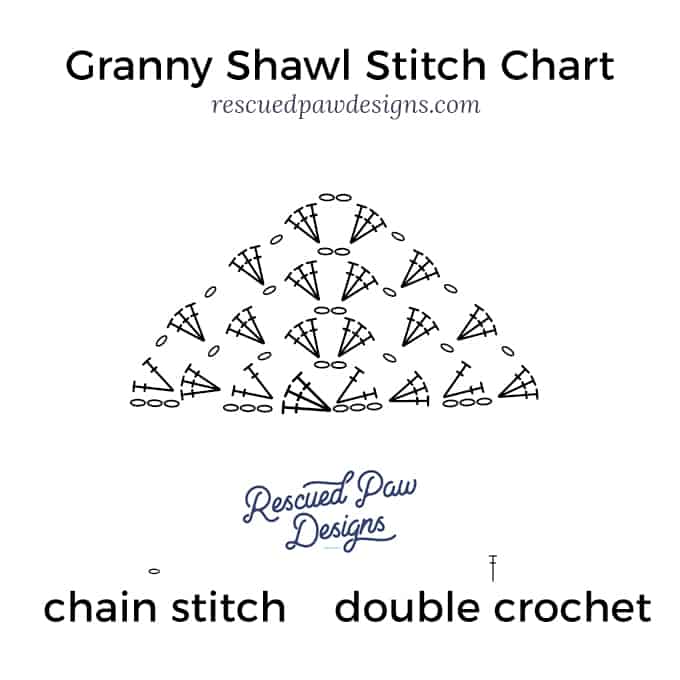 The Yarn for a Crochet Granny Shawl
For this crochet shawl, I used Touch of Alpaca Yarn from Lion Brand. It is a 90% acrylic yarn & 10% Alpaca fiber, hence the name touch of alpaca! This four yarn weight (aka worsted weight) yarn is warm, incredibly soft, delicate and the best part is that it is hypoallergenic!
Once you work this up, you will see just how amazing it is, how the fiber drapes beautifully and how it shows the beautiful texture details of the stitches!
Tip: Taupe is the first yarn color listed and is what I used for this granny shawl, but you are welcome to explore the different colors!
Touch of Alpaca Yarn
Touch of Alpaca
This yarn is made by Lion Brand, and is a Weight 4 – Medium yarn.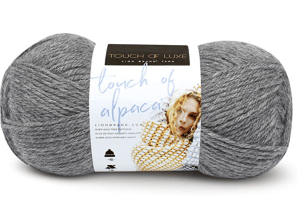 Buy Now
Patterns Using This Yarn →
Extra: If you'd like to make a lightweight shawl or a Summer shawl, you can try the Summer Nights Shawl, which is perfect for warmer weather and climates.
Ready to Get Started on This Simple Granny Shawl?
Keep on scrolling down to find the granny shawl details and free written crochet pattern or you can watch the Youtube tutorial on this granny shawl too if you'd like.
Be sure to let me know what you think after you make one in the Easy Crochet Facebook community group!
Happy Crocheting Friends!
PS: You can purchase the inexpensive Granny Shawl PDF below for on the go crocheting!
---
The Free Granny Crochet Shawl Pattern
Description: Make a classic granny shawl today to keep you warm this fall and cozy all winter long!
Skill Level: Easy
Materials
Crochet Abbreviations
dc = double crochet
st(s) = stitch(es)
ch = chain
sk = skip
Finished Size
68″ at widest point at the bottom of shawl and 32″ from top to bottom of the shawl. The shawl is one size fits most.
Gauge
Each dc 3 is approximately 1 inch
If the gauge is not followed, your shawl will turn out too big or too small.
Notes
Ch 3's count as a stitch
Written in Standard US terms
You can add fringe by using our free tutorial
This shawl shouldn't require any blocking since the yarn has a beautiful drape to it, but if you prefer to block, then go ahead!
You can add tassels to the ends of the shawl points. Follow along with our tassel tutorial to make them.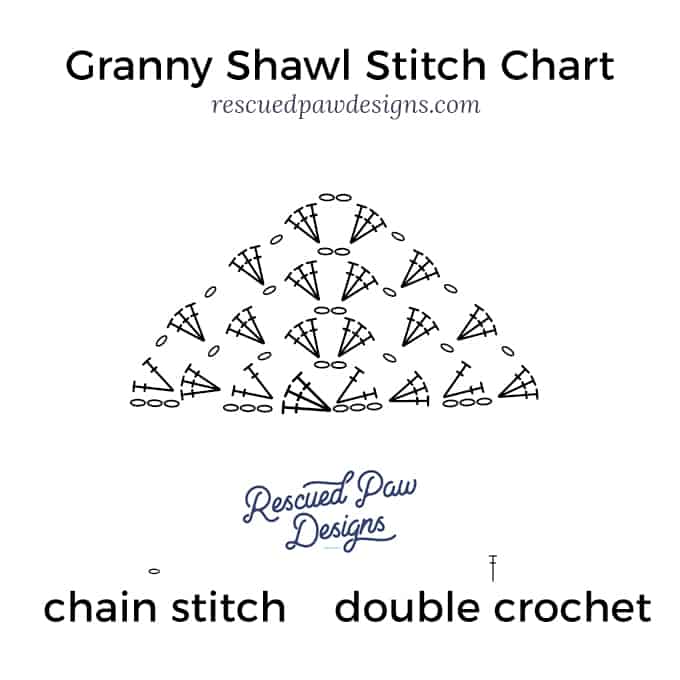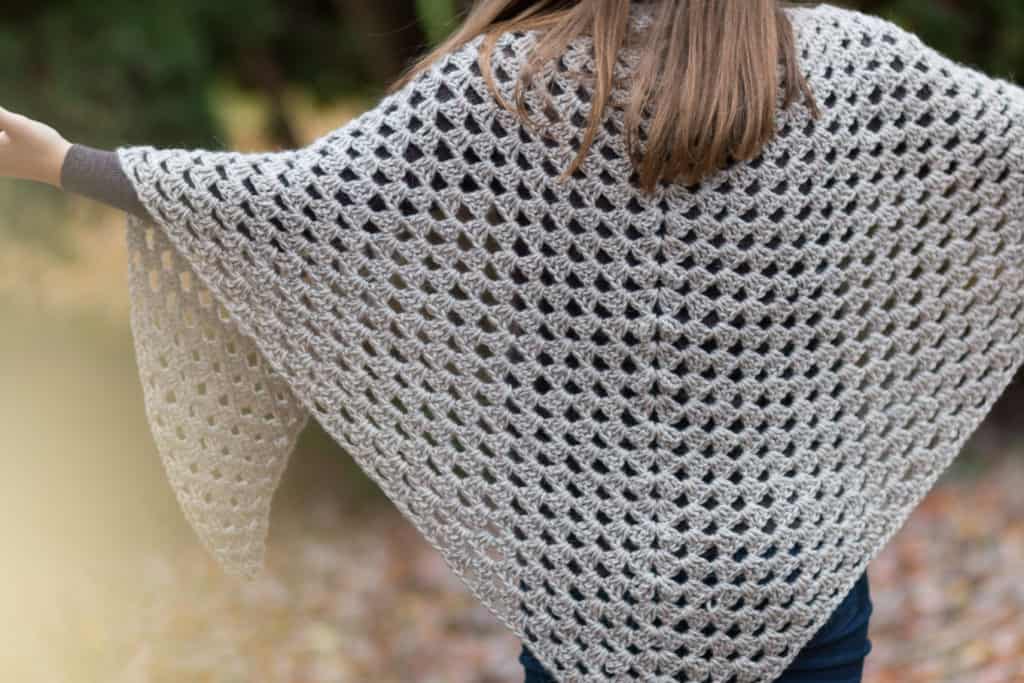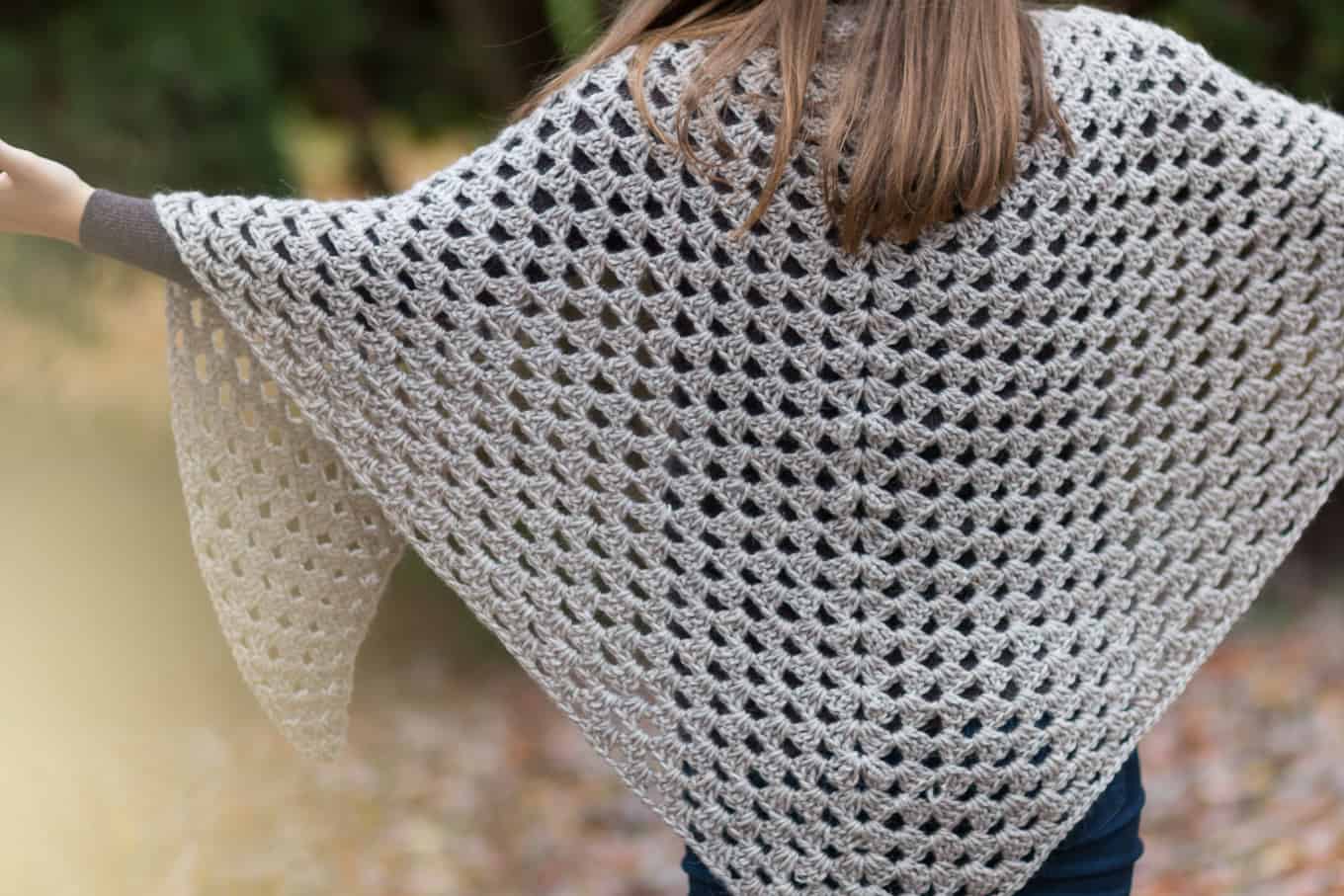 Granny Crochet Shawl Pattern
Row 1: Start with a ch 3, in the 3rd ch from the hook dc 2 times, ch 2, dc 3 times in the same stitch, turn. (6)
Row 2: ch 3, 2 dc in first st, sk 2 st's and ch 1, dc 3 times in the ch 2 space from the row before, ch 2, dc 3 more times in the same ch 2 space, ch 1, sk 2 sts, end with 3 dc's in the last st, turn. (12)
Row 3: ch 3, dc 2 times in the first st, ch 1, dc 3 times in the next ch 1 space, ch 1, dc 3 times in the next ch 2 space, ch 2, dc 3 times in the same ch 2 space, ch 1, dc 3 times in the next ch 1 space, ch 1, sk 2 sts, dc 3 times into the last st, turn. (18)
Row 4: ch 3, dc 2 times in the first st, ch 1, dc 3 times in the next ch 1 space, ch 1, dc 3 times in the next ch 1 space, ch 1, dc 3 times in the next ch 2 space, ch 2, dc 3 times in the same ch 2 space, ch 1, dc 3 times int the next ch 1 space, ch 1, dc 3 times in the next ch 1 space, ch 1, sk 2 sts, end with 3 dc's in last st, turn. (24)
Row 5 – 32: Repeat row 4. The stitch counts for each row will be as follows starting with Row 5 and ending with row 32.
Stitch Count for Rows 5- 32: 30,36,42,48,54,60, 66,72,78,84,90,96,102, 108,114,120,126, 132,138,144,150,156, 162,168,174,180,186, 192
After row 32 fasten off your yarn and weave in the loose ends throughout!
Granny Stitch Shawl Video Tutorial
More Free Crochet Shawl Patterns
Follow Along With Easy Crochet
If you'd like to get, more free crochet patterns, feel free to follow along with me on Instagram or Pinterest.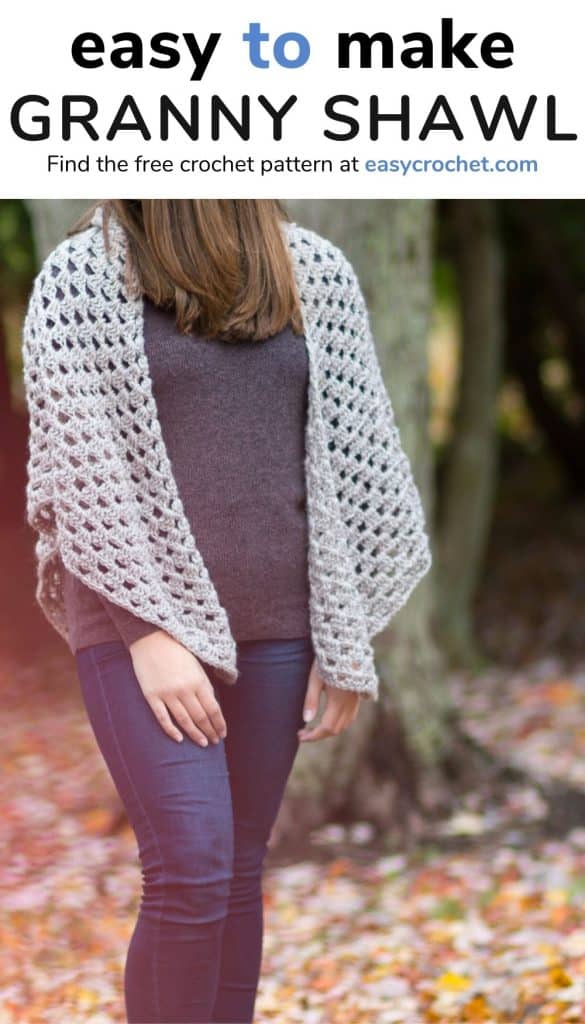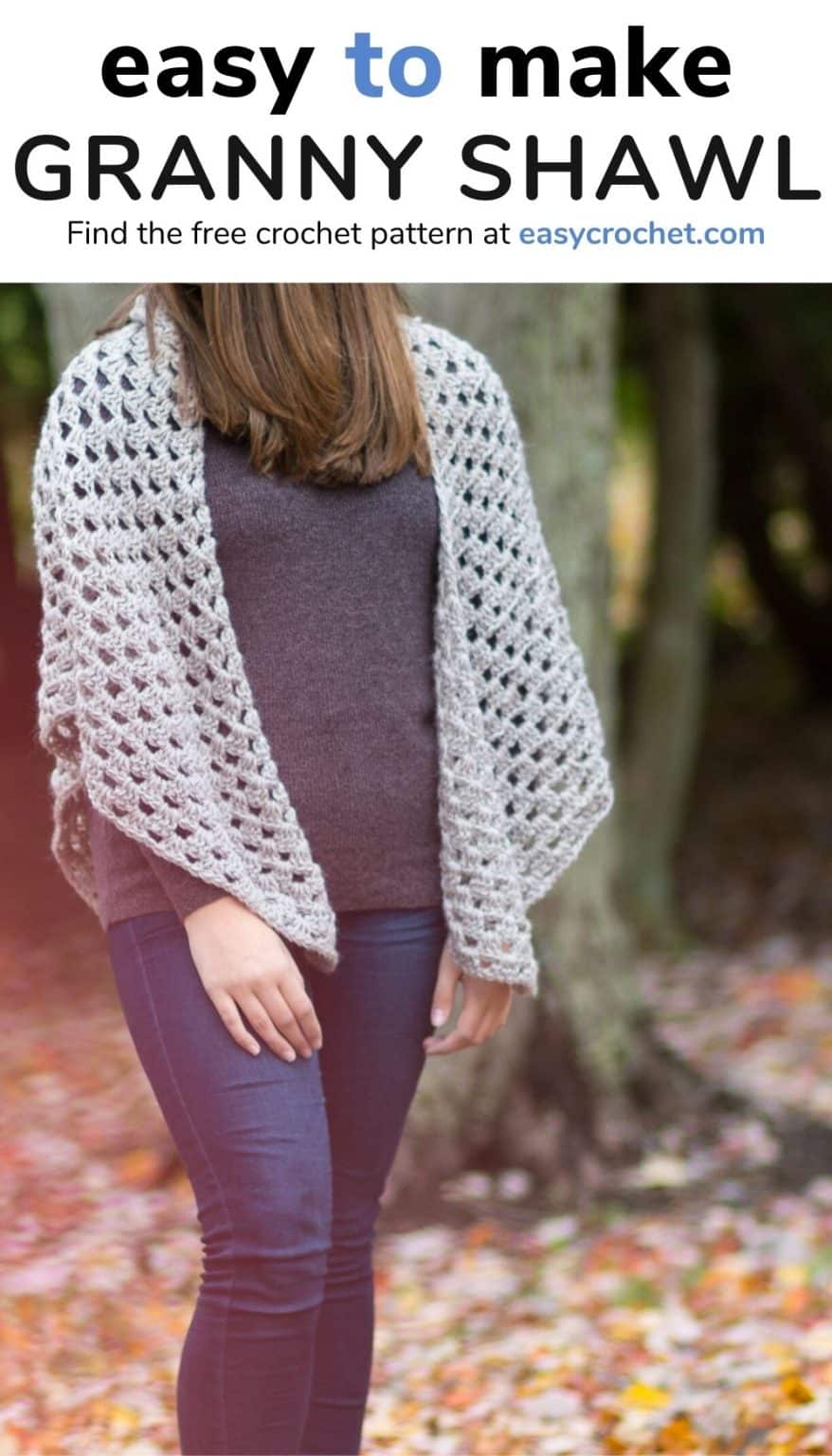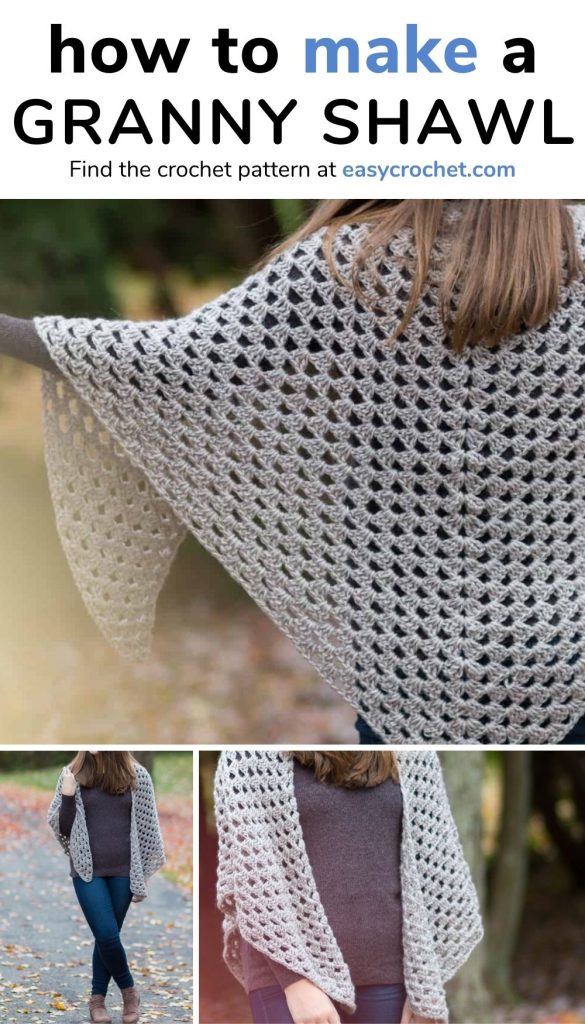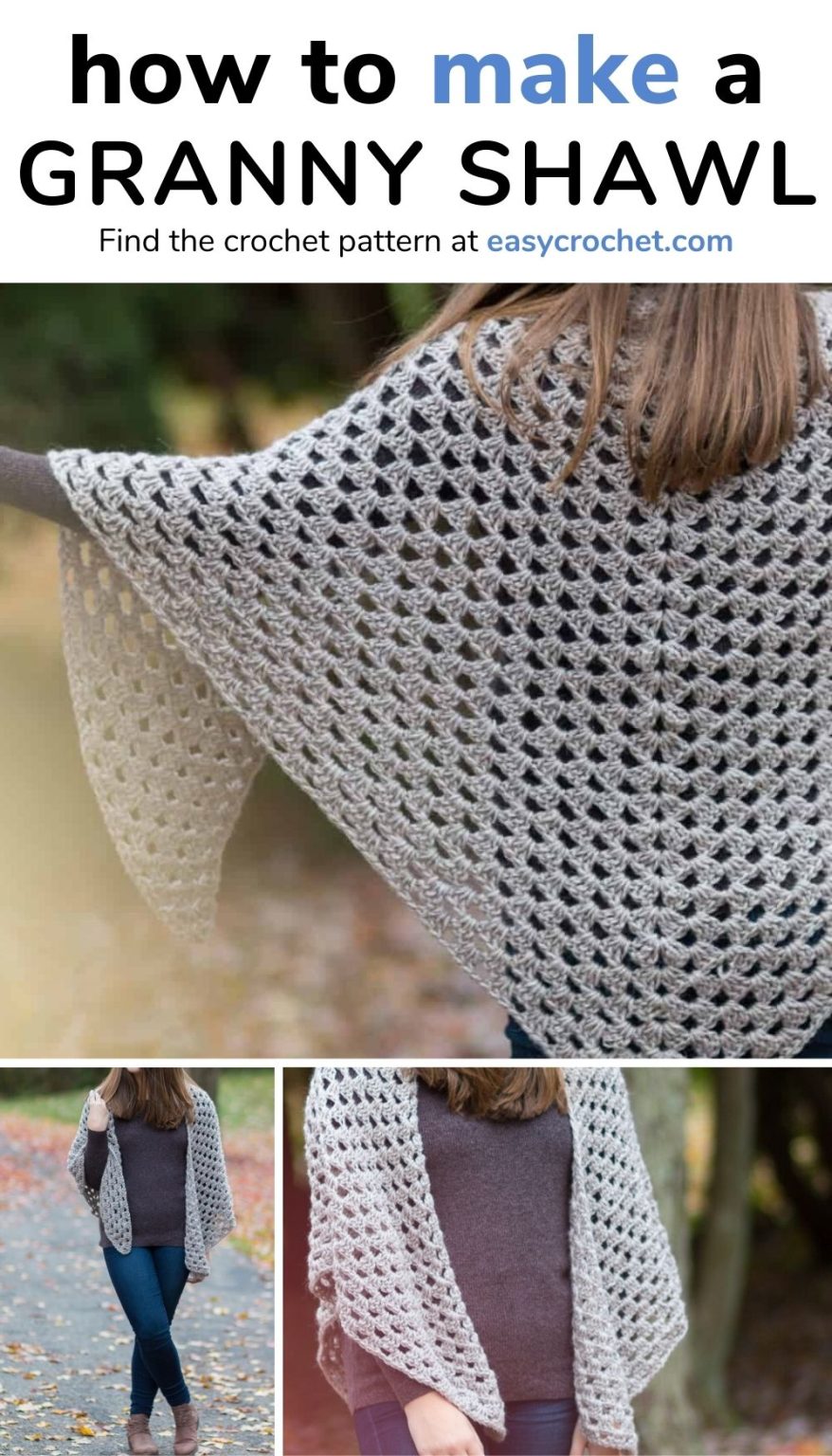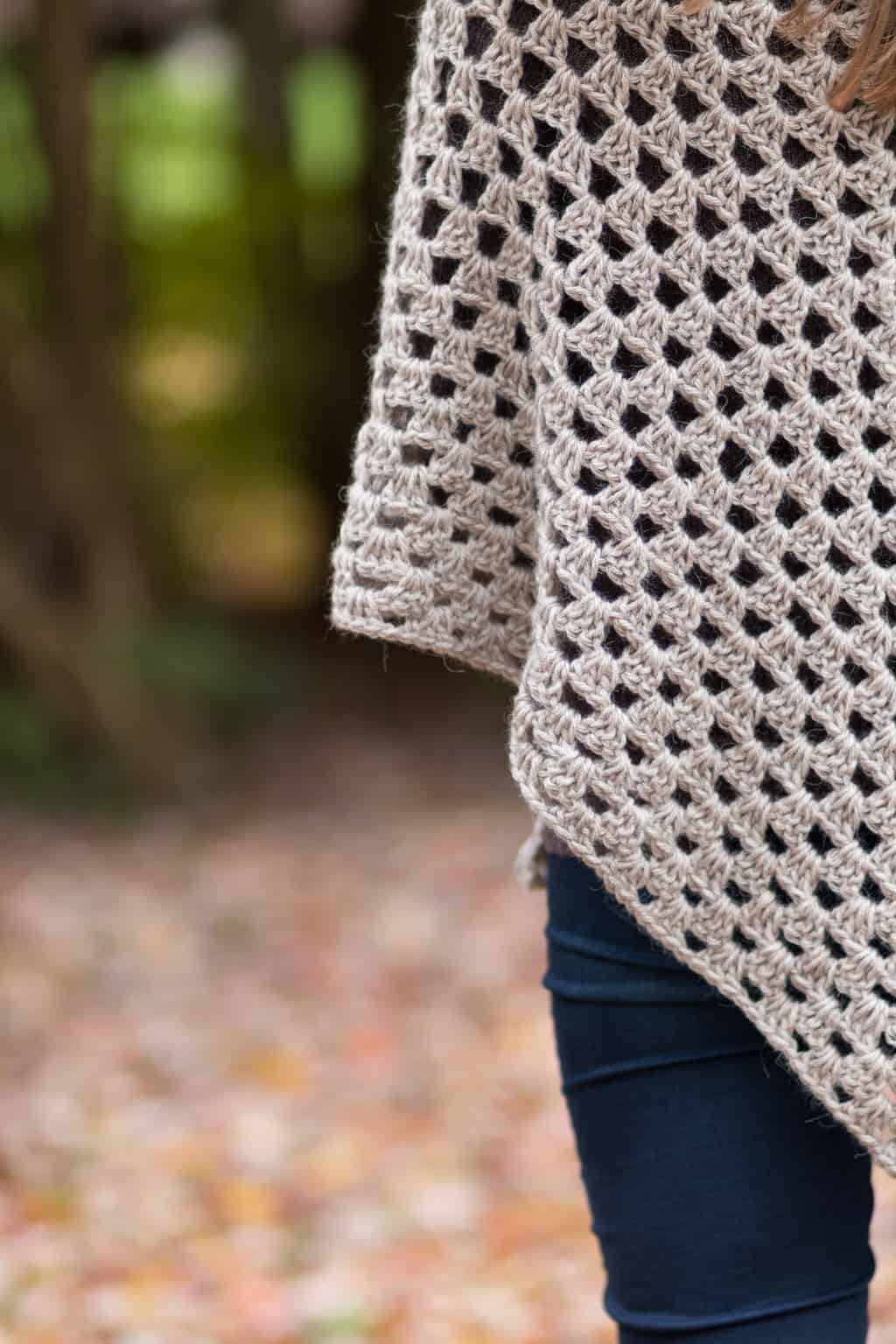 You May Also Like These Free Crochet Patterns