Top Free Crochet Doily Patterns You'll Love Making
When it comes to expanding your crochet skills and techniques, crocheting doilies should be at the top of the list.
Doilies or crochet mandalas as they are commonly referred bring a homemade touch and warmth to any home they are in.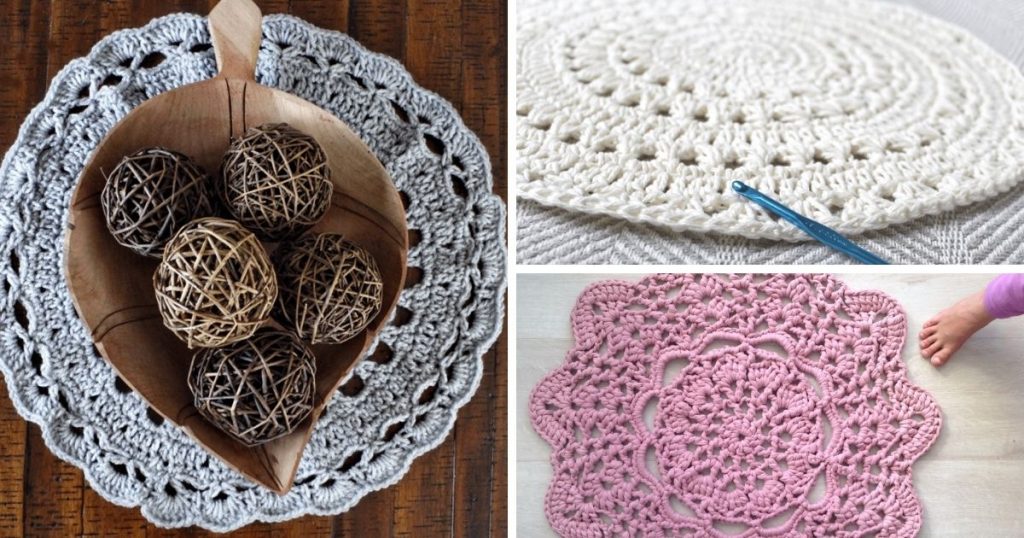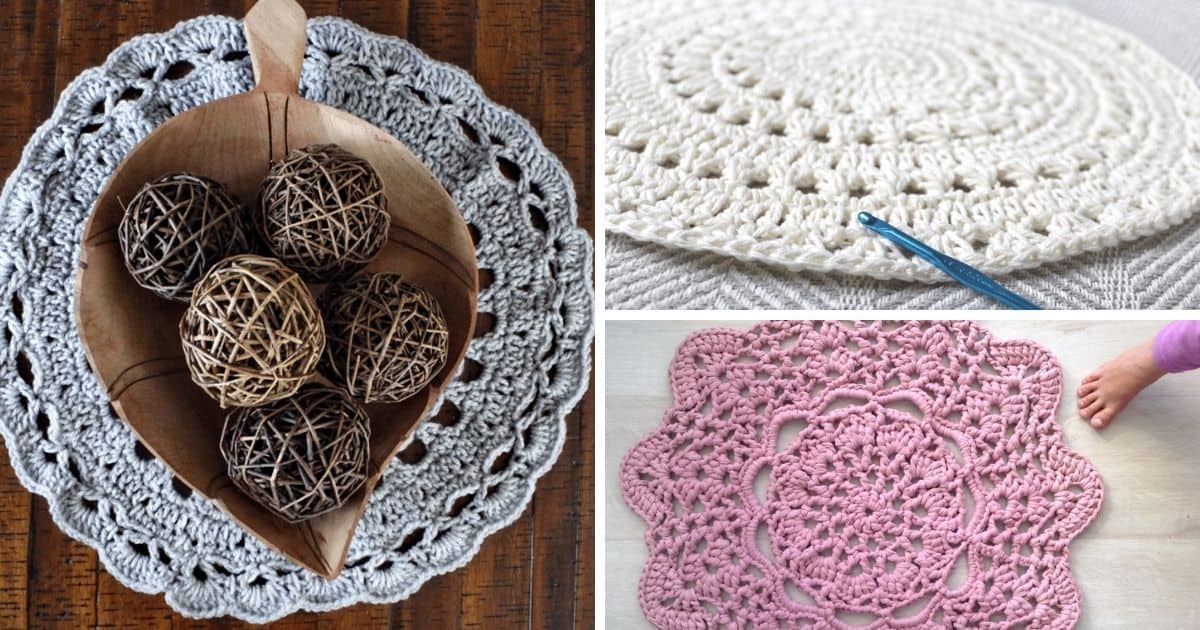 Learn more about making doilies and find various free crochet doily patterns below for beginners to more advanced crocheters.
What is a Crochet Doily?
Crochet doily patterns are a decorative crochet piece that is usually circular, but sometimes can be rectangle or oval. They are worked in the round, which makes them relaxing to work up.
Doilies were one of the most common types of patterns crocheters made in at the beginning of the craft of crochet. These vintage patterns were typically made with crochet thread and a small hook.
What are crochet doilies used for?
They are many ways you can use crocheted doilies to decorate homes, such as centerpieces on dining tables, dressers, or a coffee table in a living room.
Doilies make great holiday decorations for Christmas or Easter. Take a look at this photo of a doily on a coffee table to see how lovely they can be as home decor.
Crochet Supplies to Make a Doily
In modern times, doilies are made with any weight of yarn and use various hook sizes as well as other crochet notions, so more and more crocheters are venturing into the art of doily making.
Yarn
Crochet Hook
Crochet Notions: Some crochet doily patterns may require other supplies like such as stitch markers, scissors, yarn needle (aka tapestry needle) and measuring tape.
Yarn for Doilies
Here at Easy Crochet, we crocheted this doily pattern with a four weight yarn called Vanna's Choice from Lion Brand (see image below).
Keep in mind that each pattern in this collection of doilies will have a yarn that is recommended to use, such as cotton yarn, lace thread yarn and much more. Really, a doily can be made with any yarn you'd prefer.
Stitches for Doilies
Most simple designs for doilies will use basic crochet stitches, such as the double crochet stitch, single crochet stitch or half double crochet stitch. There may be some doilies in the collection that use more complex stitches, so make sure to look over the pattern before starting to crochet.
Take a look at some simple crochet stitches that may be used in the doily designs below.
Double Crochet (dc): Video Tutorial
Wrap the yarn over (yo) the hook, insert the hook into the specified st.
Yo the hook again, draw the yarn through the st, so there are 3 loops on the hook
Yo the hook again draw it through 2 loops, so there are 2 loops on the hook
Yo the hook, draw it through the final 2 loops.
Single Crochet (sc):
Insert hook from front to back in the second chain from the hook or designated stitch
Bring the yarn over (Yo) the hook and pull the yarn back through the chain (or stitch) from back to front (2 loops on hook).
Yo and pull through both loops on the hook.
Half Double Crochet (hdc):
Yo (yarn over) insert hook from front to back of the designated stitch, yo the hook and pick up a loop.
Yo the hook and pull back through all three loops on the hook.
Are You Ready to Make A Doily?
If you're ready to get crocheting, then find the full list below of free crochet doily patterns.
Be sure to take a moment after you look at these crochet patterns for doilies to check out a few more tips about doilies below. I'll teach you about how to wash doilies and how to stiffen doilies too!
---
Quick and Easy Crochet Doily Patterns
Take a look at a few of my favorite free doily patterns below to start crocheting your very own doily today! If you need any clarification, please feel to ask (the designer is listed beside the pattern) and have fun learning how to crochet a doily!
These were all free crochet doily patterns during this collection roundup and may be subject to change.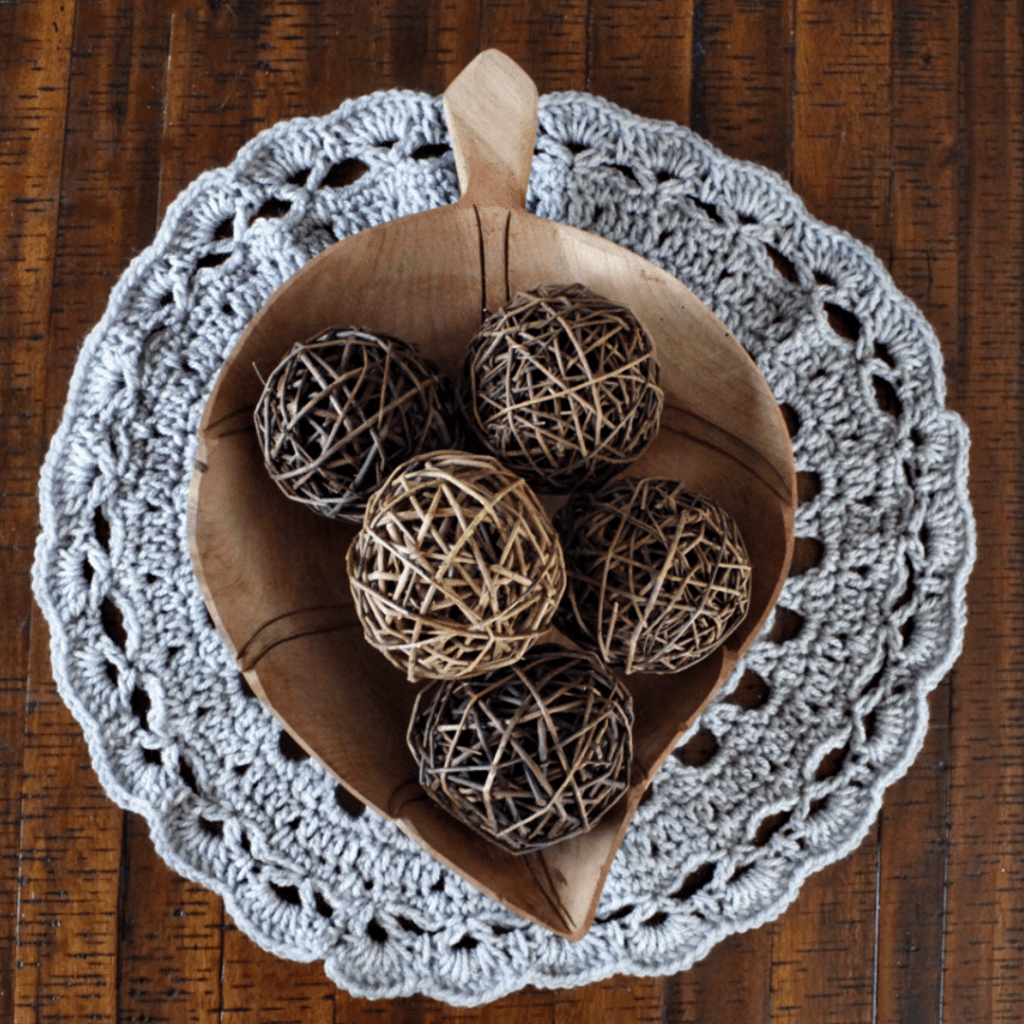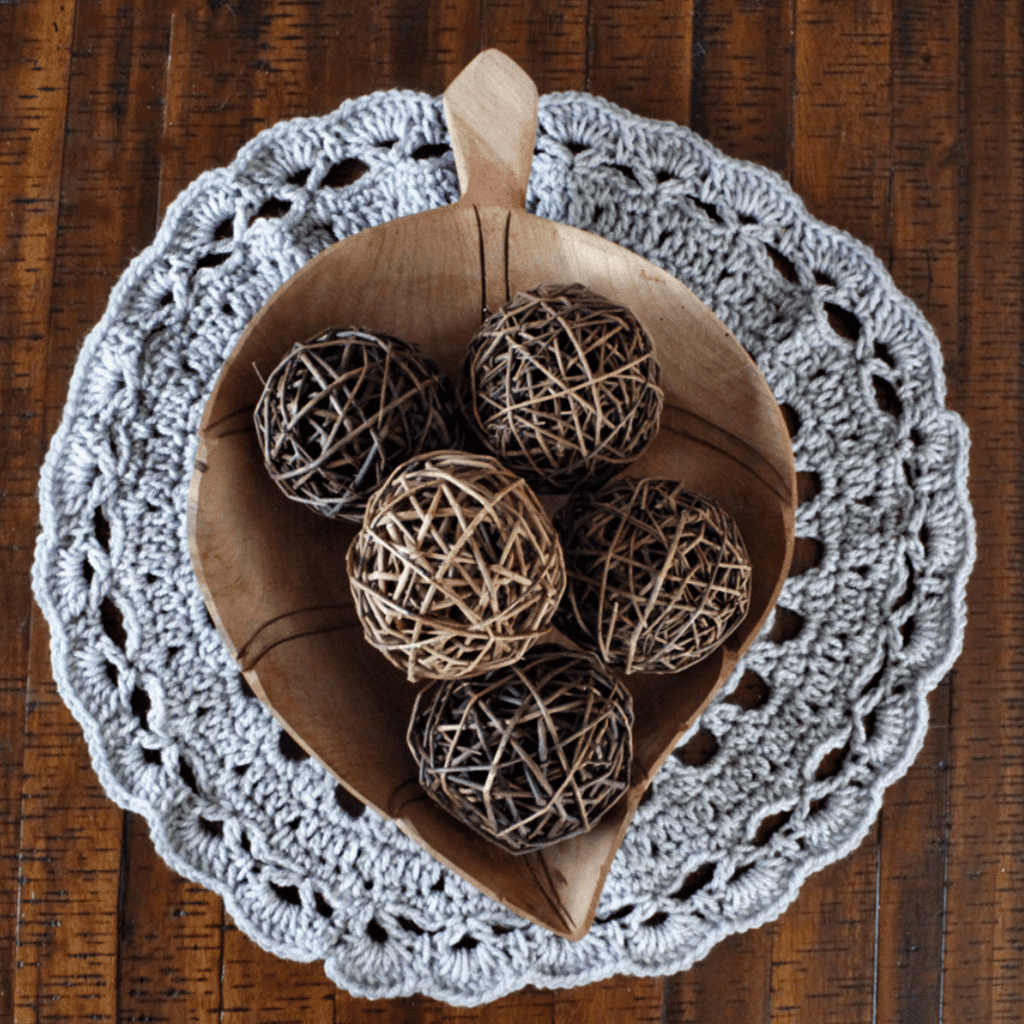 Decorative Table Top Doily
Designer: Easy Crochet
Yarn: Vanna's Choice
This easy to crochet doily is perfect to display on a table-top under a centerpiece, or more! It uses a four weight yarn and basic crochet stitches, so it works up quickly and beautifully.
---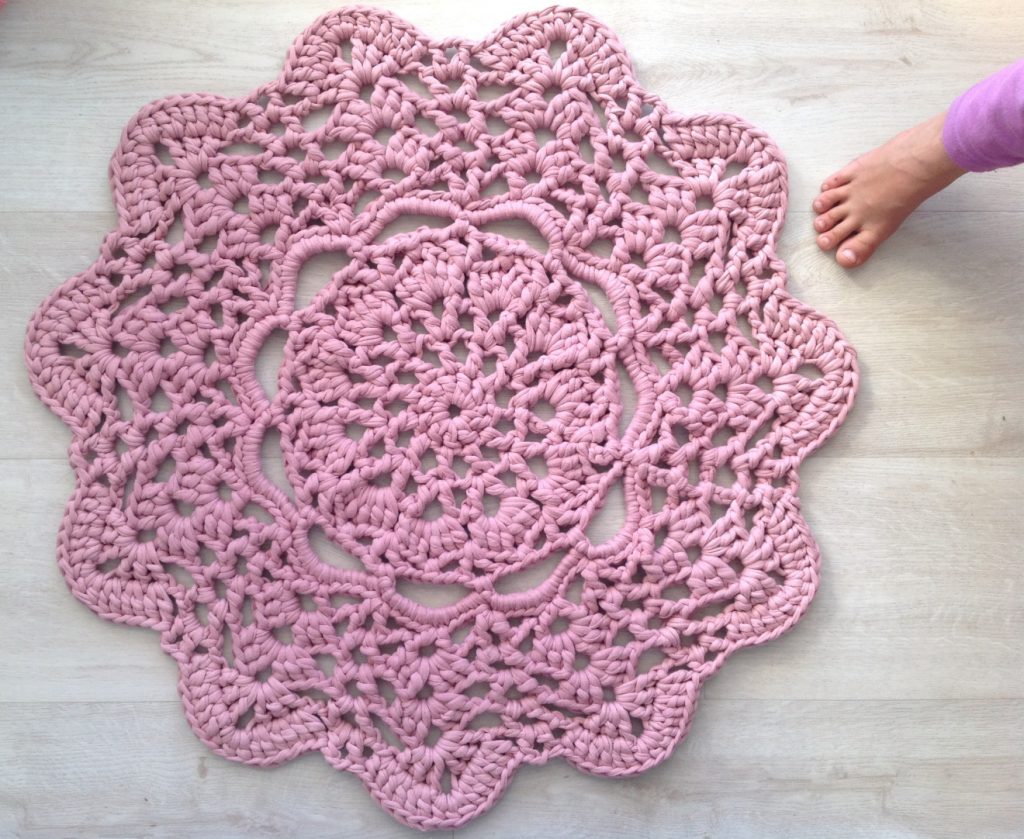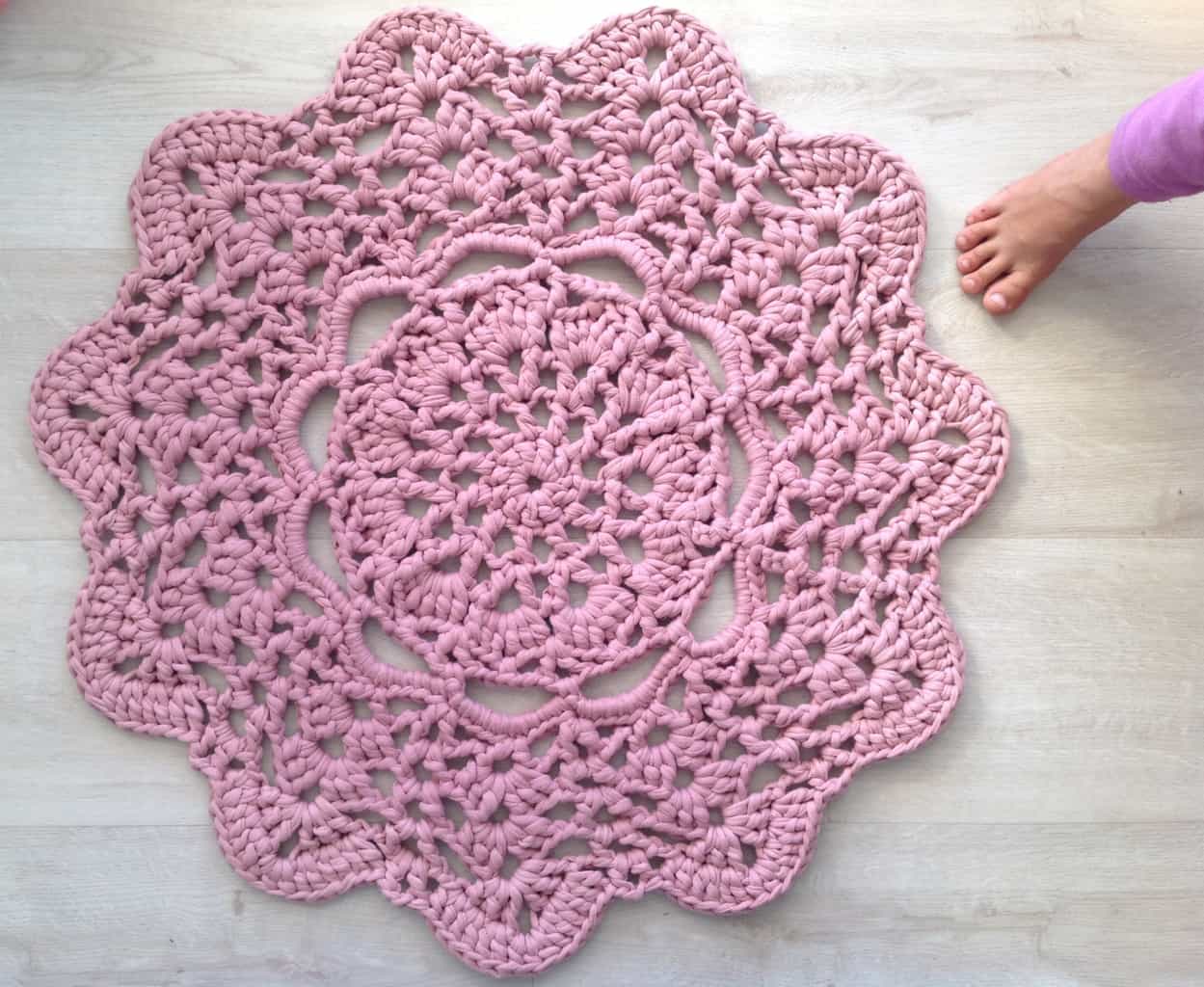 Chunky Doily Rug using T-Shirt Yarn
Designer: Crochet in Paternoster
Yarn: T-shirt yarn
This rug pattern details how easy it is to crochet a doily design using T-shirt yarn! Plus, you'll love how simple it is to follow the step-by-step photo instructions, too!
Get this chunky crochet doily pattern below.
---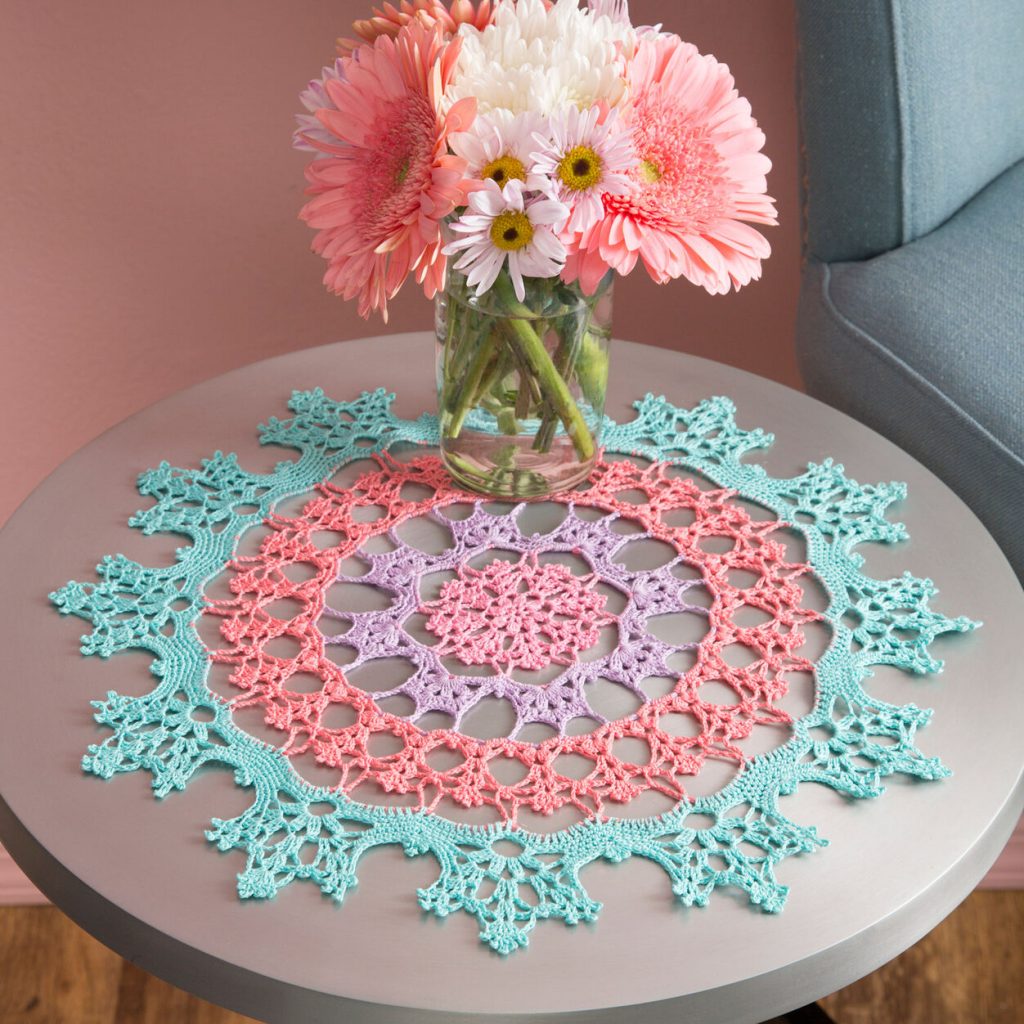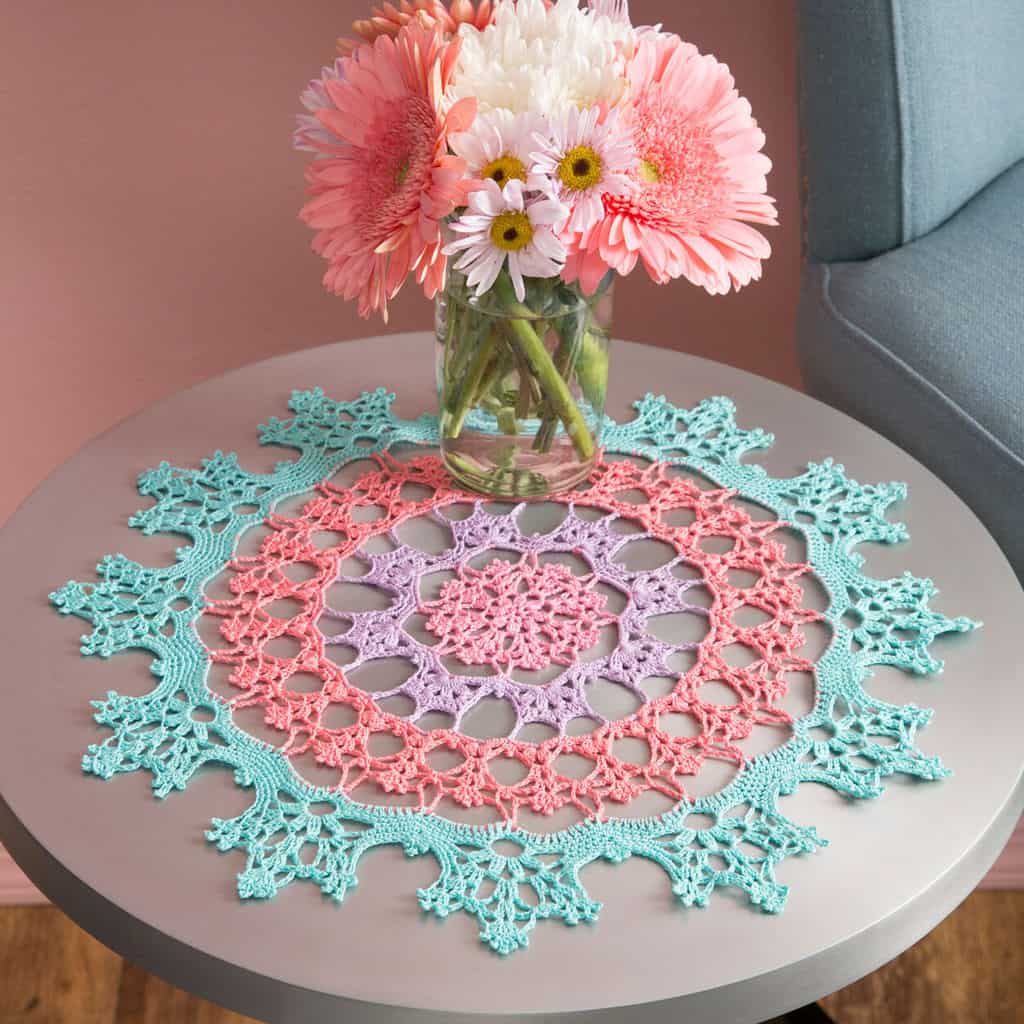 Lace Thread Doily
Designer: Red Heart
Yarn: Aunt Lydia's Thread
This lace doily is a beautiful statement piece but does take a more experienced crocheter to tackle as well as 1.5 mm crochet hook.
Get the printable free crochet doily pattern below.
---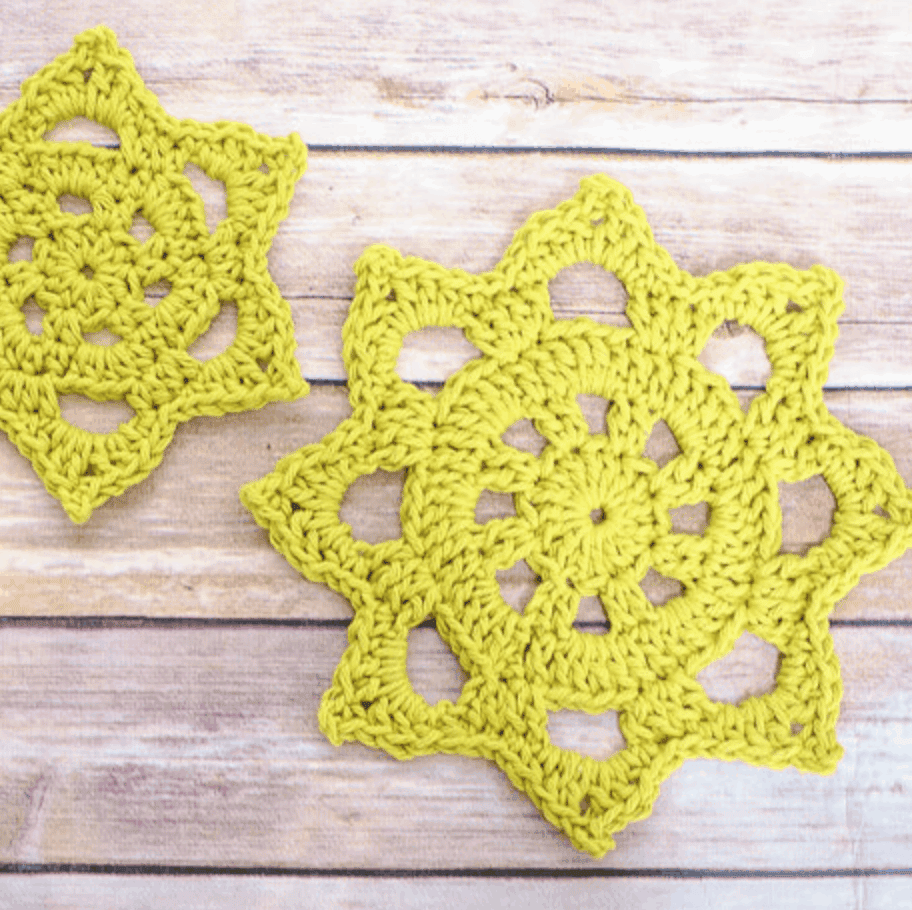 Chunky Yarn Doily Pattern
Designer: Petals to Picots
Yarn: #4 weight cotton yarn
The best part about this free crochet doily pattern is that it has a diagram. Plus, It is also available in two different sizes. A small doily and large doily size! !
Get this beautiful & beginner-friendly doily pattern below.
---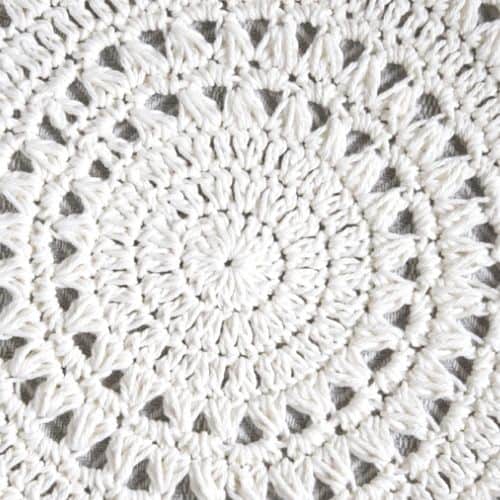 Easy Crochet Doily with Cotton
Designer: Easy Crochet
Yarn: Lily Sugar'n Cream
To make this great classic crochet doily pattern, you will need to use approximately 180 yards of cotton worsted weight yarn called Lily Sugar'n Cream. Once you are done the finished round doily should measure 16″x 16″ which is perfect for a display piece.
Get the pattern below.
---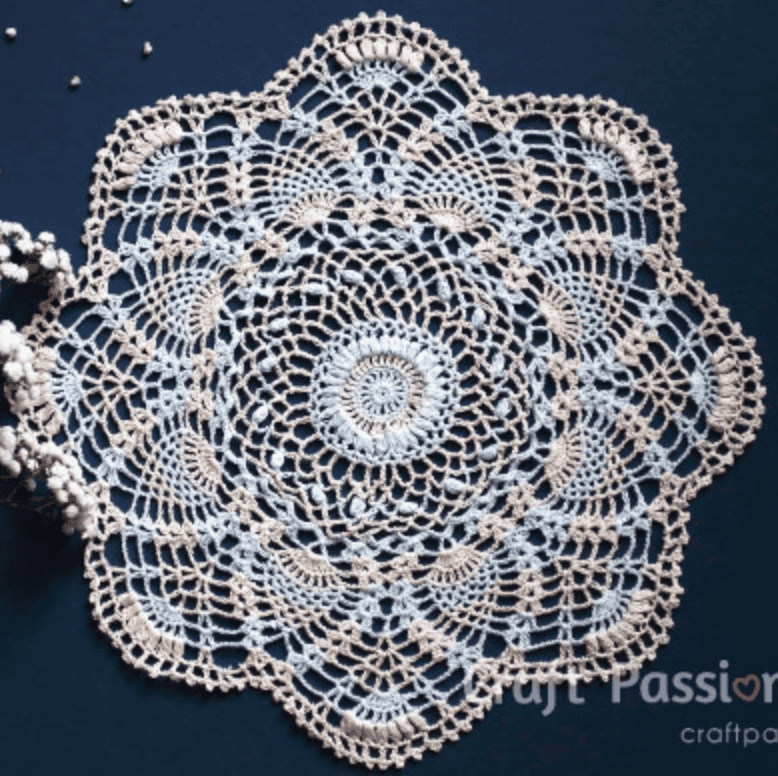 Free Pineapple Doily Pattern
Designer: Craft Passion
Yarn: Cotton Thread
This pineapple lace doily makes a gorgeous heirloom piece. You can find the doily pattern with written instructions as well as a photo tutorial below. This free crochet pattern will work up perfectly with a yarn like Aunt Lydia's Classic Crochet Thread.
Get this free pattern below.
---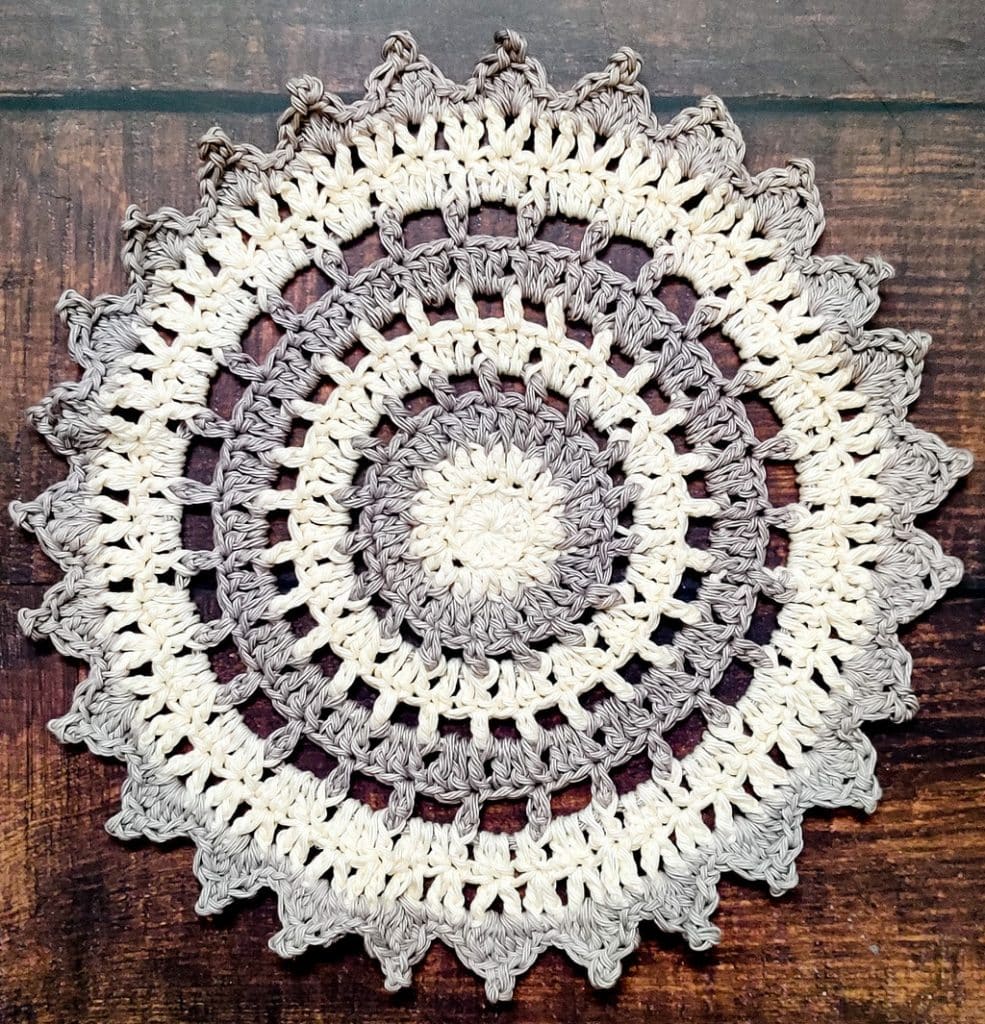 Two Shades Ombre Doily
Designer: Raji's Craft Hobby
Yarn: Any 4 weight yarn
You can make this doily crochet pattern by changing the color tones according to your liking, but it would also be pretty great with a single solid color. It has simple lines and overall makes this a great pattern to make for a beautiful crotchet motif for any room of the house.

Crochet Doily Tips & Common Questions about Crocheting Doilies
How to Wash Crochet Doilies
There are a few ways to try to preserve older doilies that are hand crocheted, which are prone to develop yellow staining. You may also want to clean the ones you made recently from stains and spills during use.
Soak in mild detergent and hot water. Lay flat in the sun to dry.
Wet the doily and place in the sun minus the soap. This is great for threads that may be too old for detergent. This will be the gentlest method for older lace thread doilies.
Hire a professional. If the doily is quite aged, and you don't feel comfortable washing it then hire someone with expertise.
How to Make Crochet Doilies Stiff
Once crochet doilies are finished, you want them to keep their shape and stay flat. There are a few techniques that may help.
Sugar-water solution: Boil part sugar part water equally. Once it cools dip your crocheted doily into it. Do not twist the doily only squeeze gently. Lay flat to dry.
Liquid Starch: This is a great method to make your crochet doilies stiff. Apply with a spray bottle (mix with water) or directly to the doily.
Glue & Water Mix: Combine equal parts of glue and water. Soak the crocheted doily in it and do not twist. Mod Podge thinned down would work great too! This is an irreversible method so make sure you shape it the way you like before it dries.
More Free Crochet Patterns for the Home