5 Easy Punch Needle Kits for Beginners
As a crocheter, you may want to branch out to other fiber arts such as punch needle embroidery because we all love yarn! Right? More than likely, you will want to use an easy punch needle kit to start with and expand from there to more complicated ones.
With that said, take a look below at a few of the best beginner punch needles kits and learn how to punch needle. All these punch needle kits are modern, easy and come with clear pattern instructions.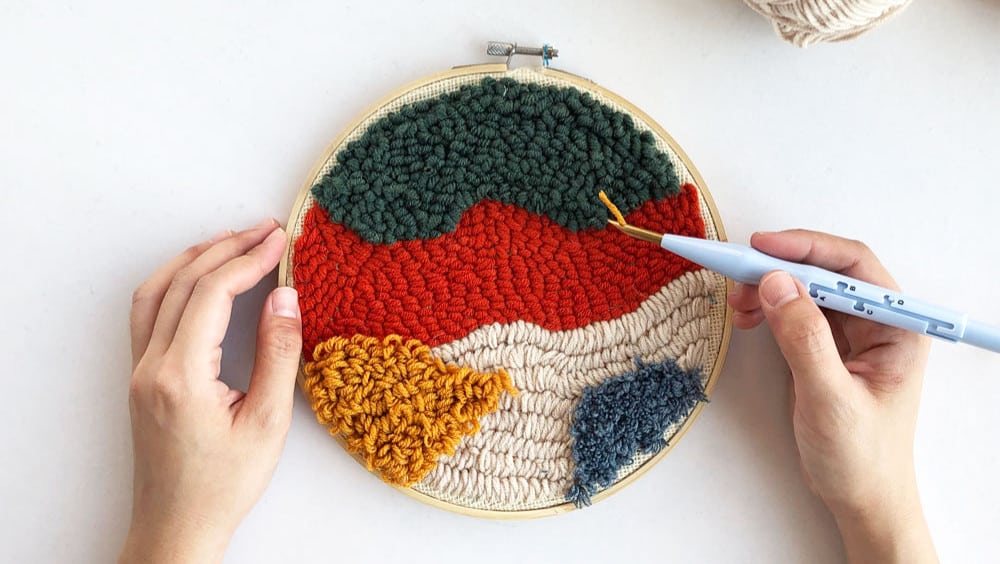 What is Punch Needle?
Punch needle can also be called needle punching. Punch needle works by using a needle tool to punch rug yarn or embroidery thread back and forth through fabric to create a design.
Punch Needle vs. Embroidery
Punch Needle

Punch needling uses a yarn to create a loop or rug yarn project. It typically uses a thicker super bulky yarn but can also be worked with two strands of four weight yarns or lighter weight yarns held together on monk cloth.

Punch Needle Embroidery

Embroidery punch needling uses thread, different needle pen tool and cloth called weaver's cloth.
Needle punching is a relaxing and fun hobby, as well as easy to learn. It is a quick craft for beginners to pick up and get started with. Learn more below about what a punch needle kit is and why you should get one as a beginner in this craft.
What Does a Punch Needle Kit Include?
You can expect to find these supplies and materials listed below in a punch needle kit:
Yarn
Punch Needle Tool
Cloth
Instructions or Pattern
Embroidery Hoop or Frame
Punch needle kits can vary with what is included in the kit, but most have the yarn you'll need, a cloth, a hoop and the punch needle tool.
But be sure to read the full material list because, for example, when I purchased my first punch needle kit from Michaels the punch needle tool was not included and had to be purchased separately.
Punch Needle Supplies:
Punch Needle Tool

There are many types of punch needle pens that are good to use. The most popular needle tool is the Oxford Punch Needle. It has a wooden handle and stainless needle, which is available in regular(for thicker yarn) and fine (for lighter weight yarns.) The second most popular is a plastic punch tool that is great for beginners since it is a cheaper option but works just as well.

Cloth

There are many types of fabrics that can be used, but 12 holes per inch monk cloth is best for large rug punch needle making, and weaver's cloth, a poly/cotton blend, is best for punch needle embroidery. You can find cloth on Etsy or from specialty shops such as Dorr Mill online. Amazon has quite a few cloth choices to pick from, too.

Hoop/ Frame

There are a few options to hold your punch needle project in place, such as an adjustable hoop. You'll want to use a non-slip adjustable hoops, so your design stays in place. A frame is another option and can be either a wooden gripper frame or pvc pipe frame which both of which are good for rug yarn pillow projects on the go.

Pattern

A pattern is an important part of punch needling. You can usually find these for sale on Etsy. You can also find free punch needle patterns online on blogs that are just as nice. Some kits will come with a pattern stamped on the cloth, and some you will have to trace on to the fabric.

Yarn

Yarn is the best part of a punch needle kit if you ask me, but I am a little biased. Kits can include all different fiber types such as cotton or acrylic, ranging from worsted weight to bulky.
The Best Punch Needle Kits for Beginners
The list below contains some of my favorite modern punch needle kits as well as a few classic kits that are all great for those who are beginning their punch needle journey.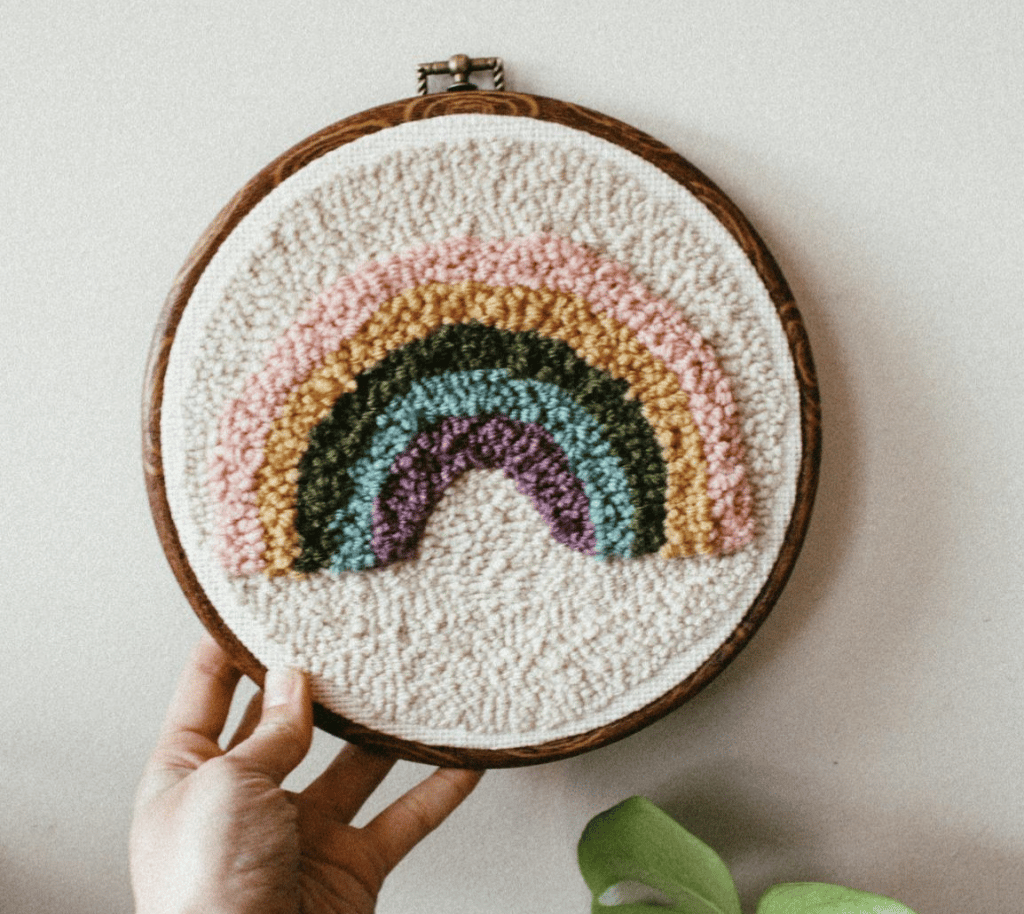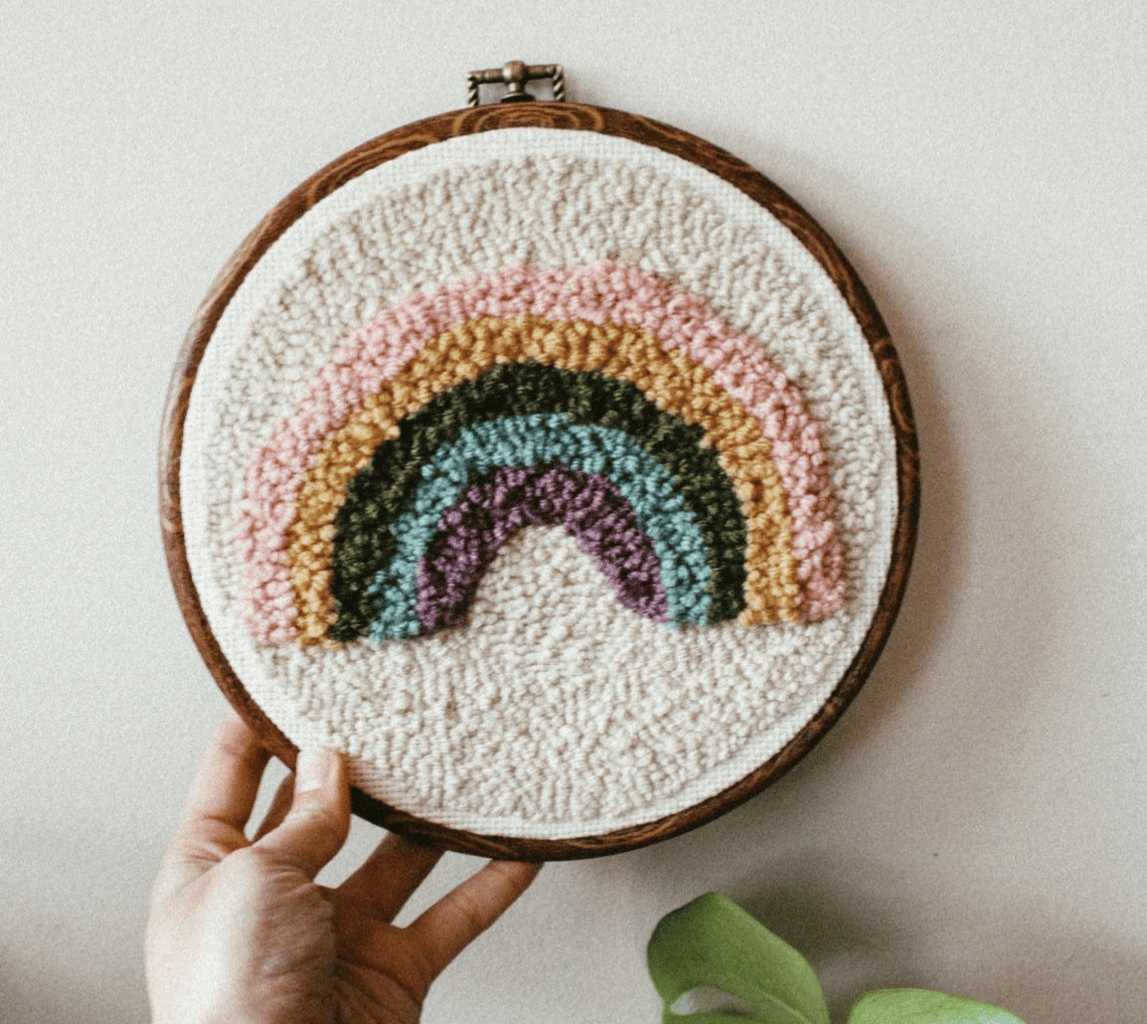 Rainbow Punch Needle Kit
This beginner-friendly rainbow kit from HomebodyDIY on Etsy includes:
The yarn
Punch Needle
Pattern
All of which you'll need to get started. She also offers different types of punch needle kits that you may be interested in too.
---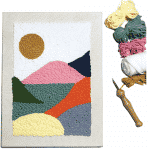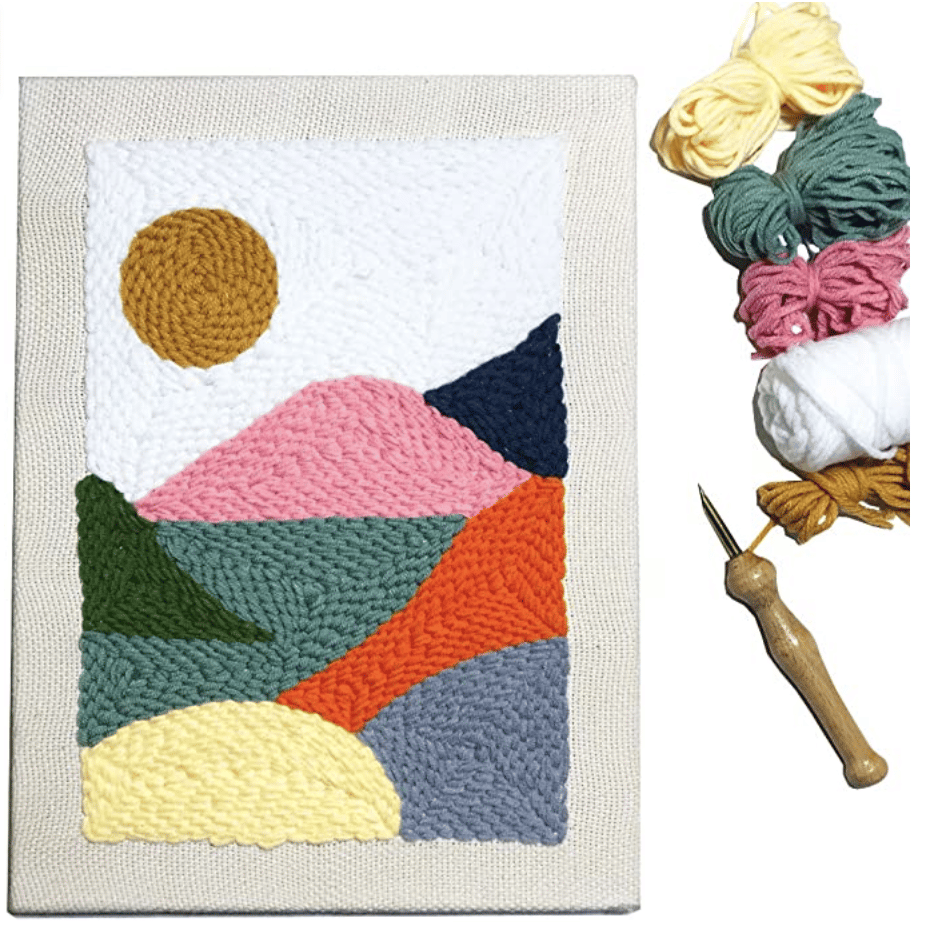 Beginner Sunrise / Landscape Kit
This beginner-friendly punch needle kit from Wool Queen on Amazon includes:
Complete easy-to-follow instructions
One wooden punch pen
14"x 10" frame
Yarn
---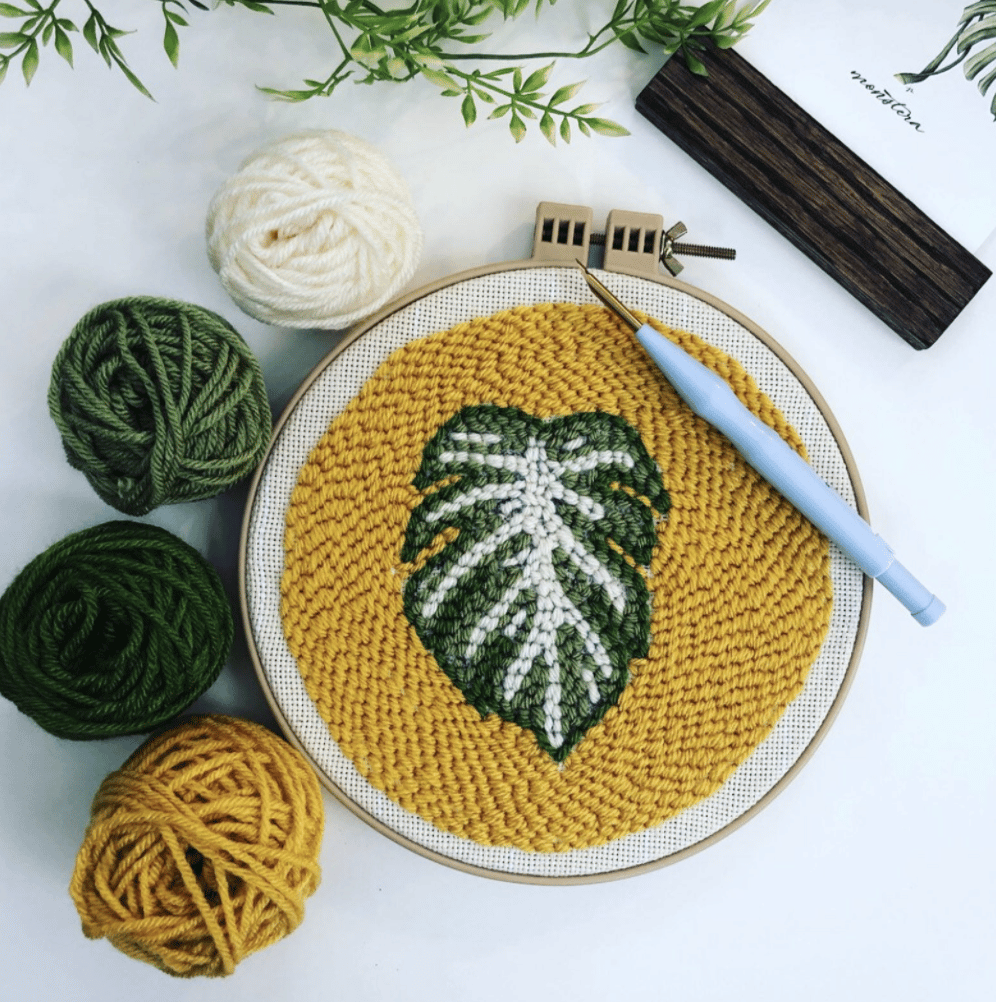 Punch Needle Monstera Leaf Kit
This beginner punch needle kit from Bella Filato Studio on Etsy includes:
Monstera plant stamped on Monk's Cloth
One 9" No Slip hoop for easy punch
One 9" embroidery hoop for easy hanging
One adjustable Punch Needle with 4 settings with threading wire
Yarn
Brief instructions on Punch Needle Art
---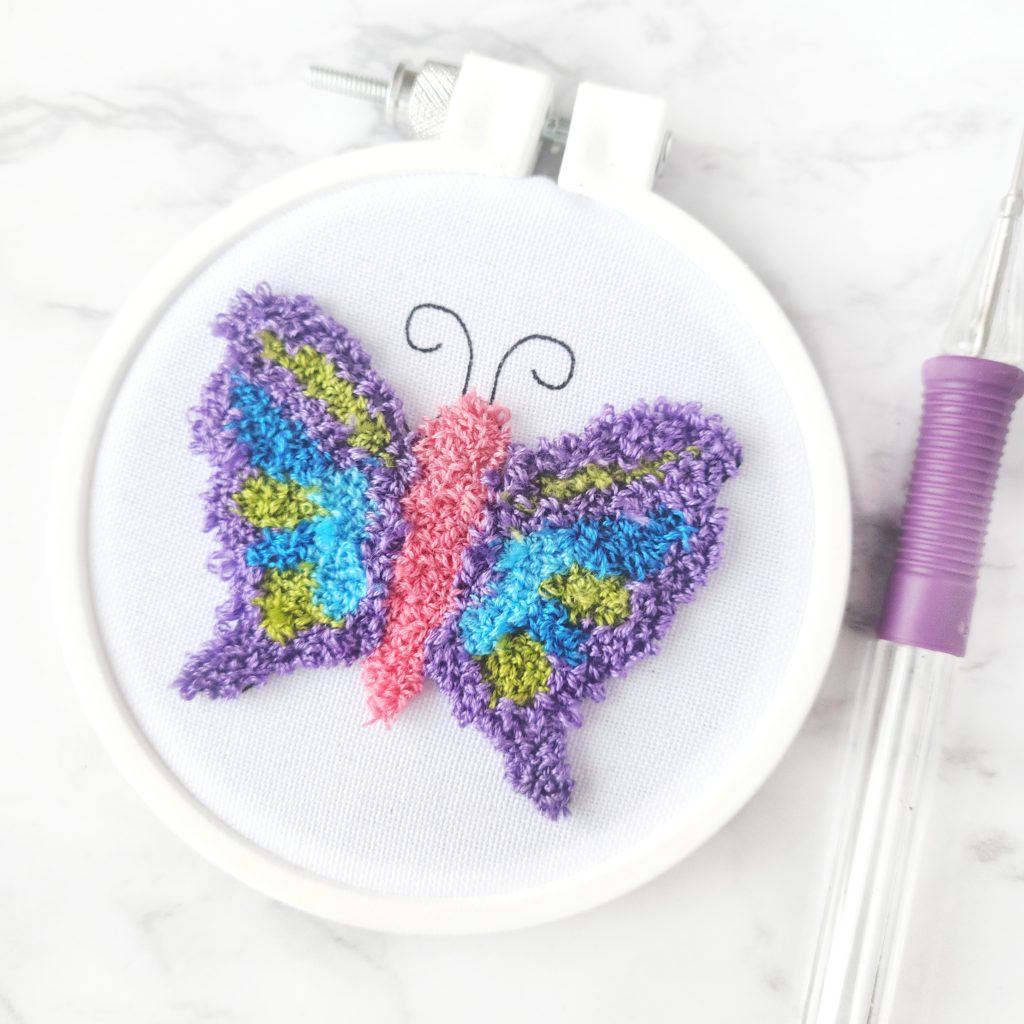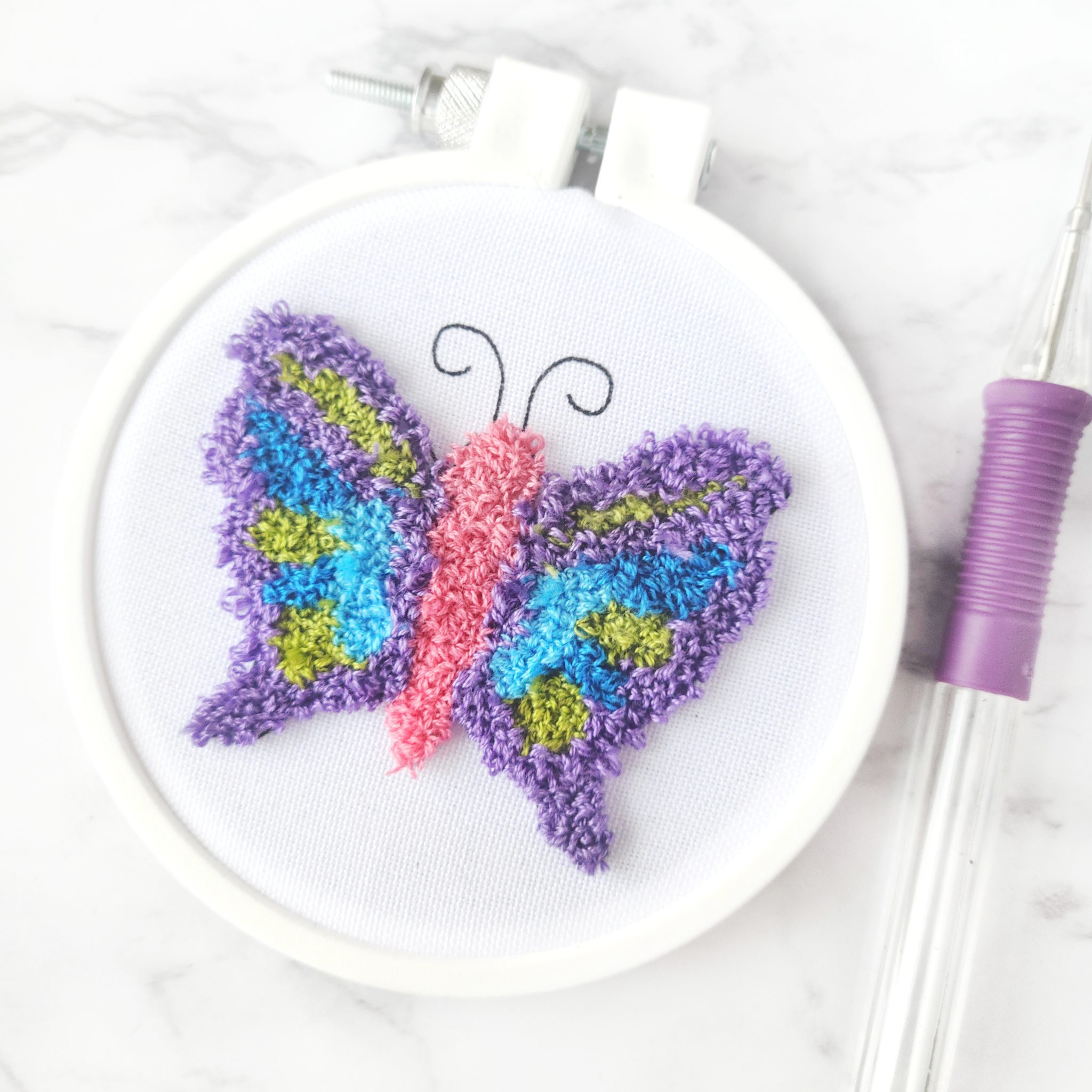 Punch Needle Butterfly Kit from Michaels
This small and easy to make needle punch kit from Michaels features a colorful butterfly. This kit is perfect for those new to punch needling and for older children to try. Remember, you'll need to purchase a punch needle tool separately.
Complete easy-to-follow instructions & punch needle video
Plastic embroidery hoop
Printed poly/cotton fabric
Cotton yarn
Sewing needle
---
---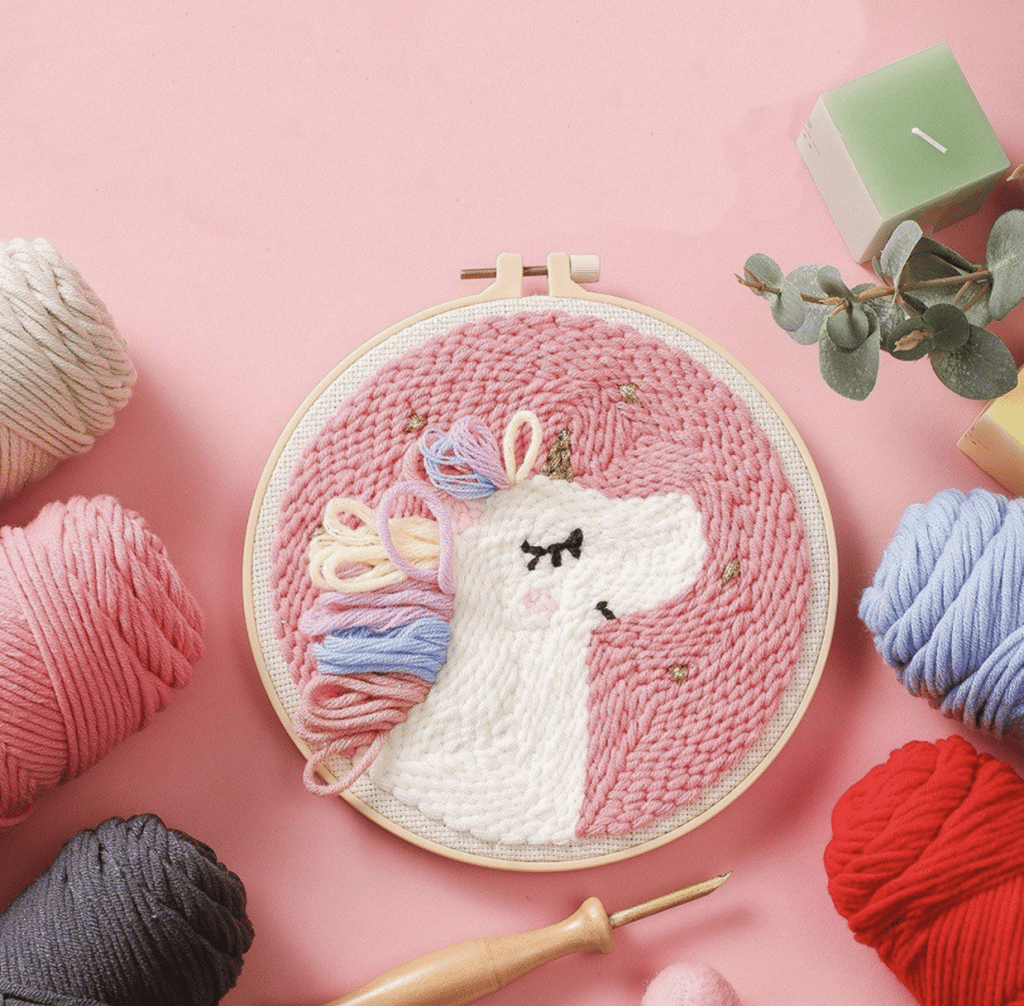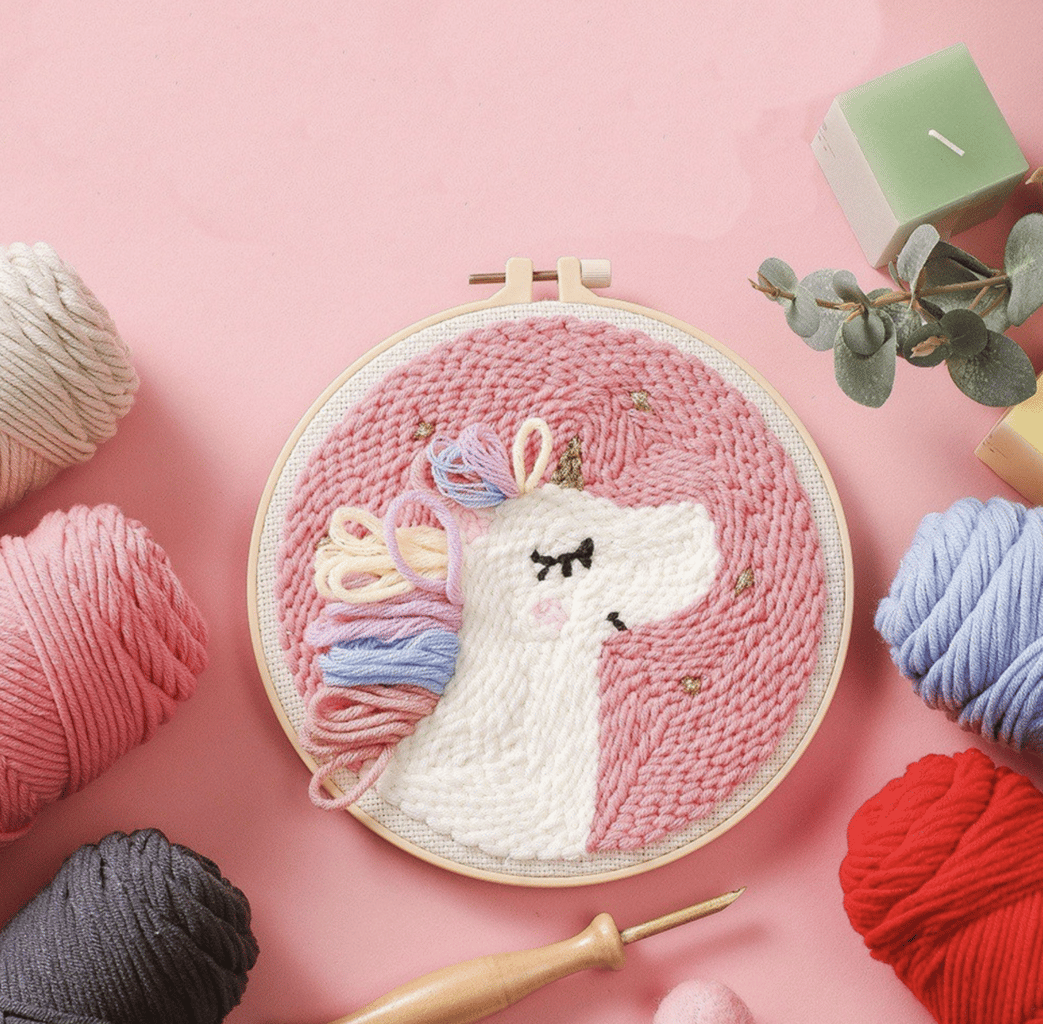 Unicorn Punch Needle Kit
This unicorn punch needle starter kit from Chloe Art Crafts on Etsy would make a great decoration piece for a nursery or child's bedroom.
1 embroidery hoop
1 Illustrated Linen fabrics
1 Adjustable Punch Needle Tool
1 Set of Embroidery Cotton threads
---
Common Punch Needle Questions
How do You Thread a Punch Needle?
Start by using the threader that usually comes with a punch needle tool, depending on the brand. Some needles have this built into them already. Use these step-by-step instructions on how to thread a punch needle to help.
How Do You Finish Punch Needle Work?
Finishing the back of a punch needle project is actually straightforward. I found a blog post about how to finish your punch needle work in three ways that I found useful, is perfect for beginners to learn.
Yarn Crafts & Crochet Patterns You Might Like to Try too