6 Petal Crochet Flower Applique
You'll love crocheting this easy crochet flower appliqué with this free pattern! Crochet flower appliques add a touch of beauty and charm to any project like blankets, hats and more.
Among the various flower patterns available, the 6-petal crochet flower stands out because it is so simple to crochet. Whether you're a crochet enthusiast or a beginner, this blog post will provide you with a straightforward guide to crafting your very own 6-petal crochet flower applique.
From yarn selection to stitch techniques, we'll walk you through each step to bring this lovely floral embellishment to life. Let's dive into the world of crocheting flowers and make this pattern together!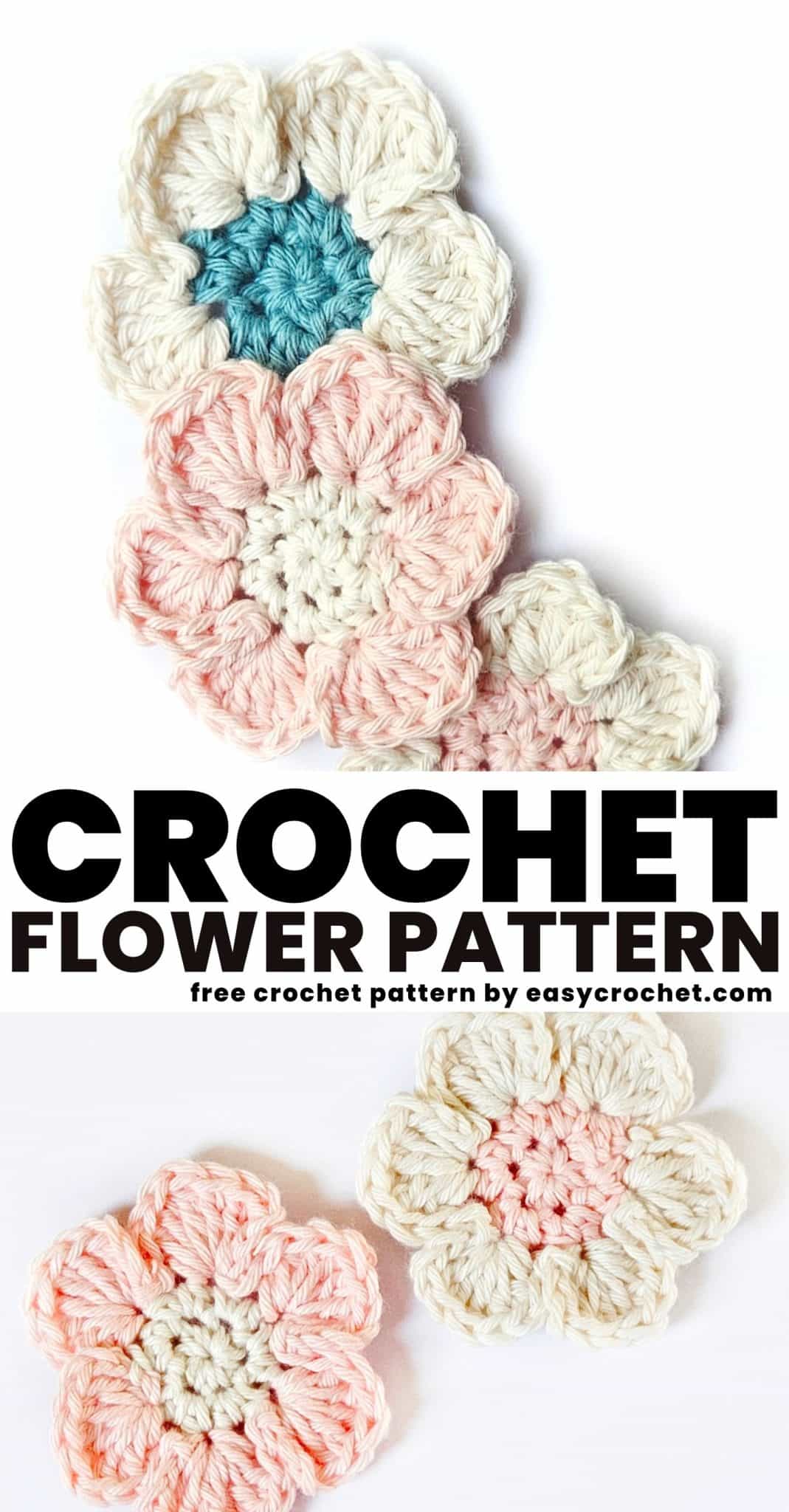 How to Crochet a Flower
To learn how to crochet a flower like the ones above, you will need some #2 weight 100 percent cotton yarn in two colors, and some other supplies as well as knowledge of some basic stitches.
Below, after you go over the basic stitches required, the yarn you'll want to use and potential uses, then you can start crocheting this flower pattern!
Yarn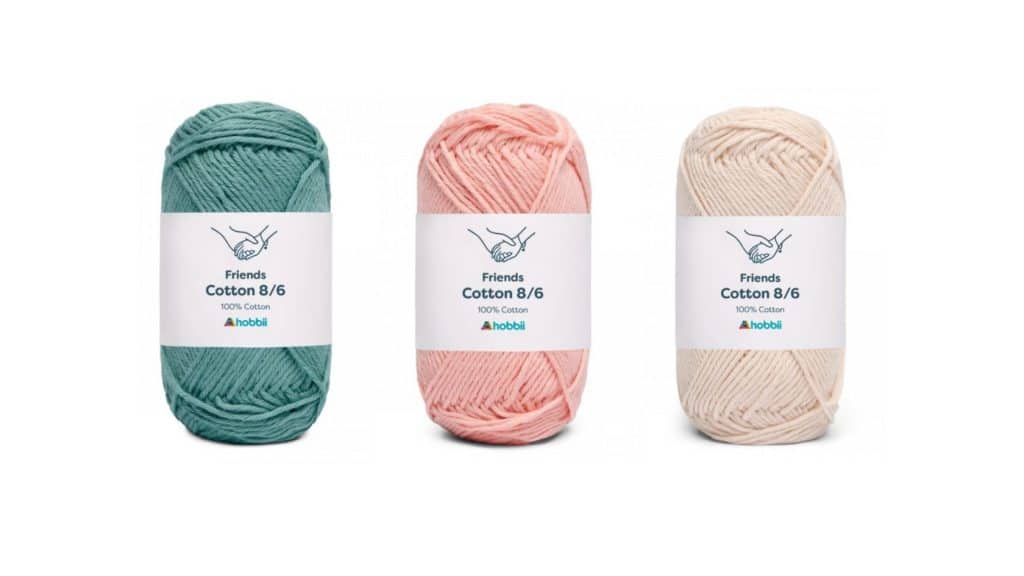 Other Supplies Needed
You will need a few other supplies like a 3.5 mm crochet hook size, yarn needle, scissors and measuring tape as well.
Stitches
Single Crochet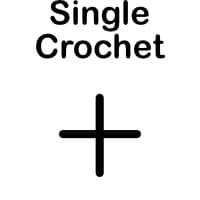 Patterns Using This Stitch →
Half Double Crochet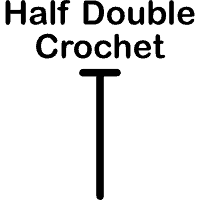 Patterns Using This Stitch →
Double Crochet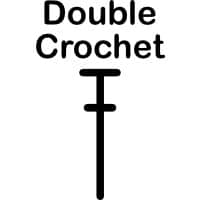 Patterns Using This Stitch →
Triple Crochet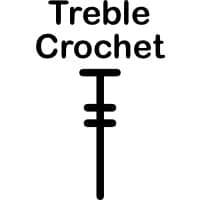 Patterns Using This Stitch →
Slip Stitch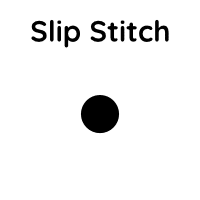 Patterns Using This Stitch →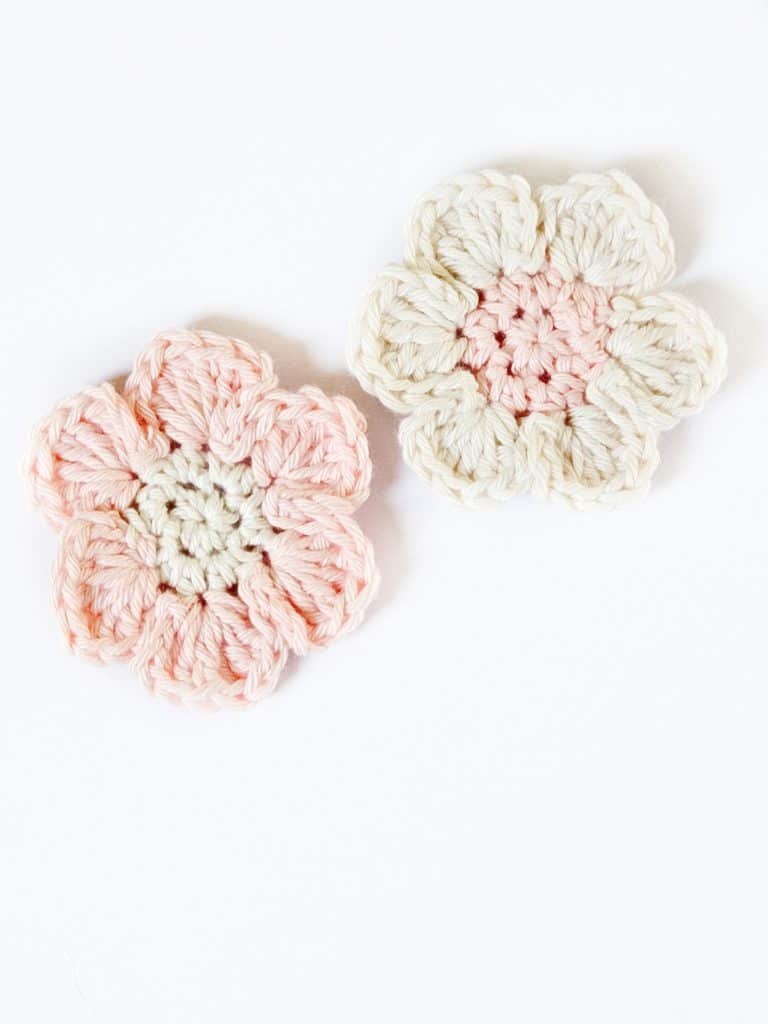 Uses for a Crochet Flower Applique
A crochet flower appliqué can be used in various creative ways. Here are some common uses for crocheted flower appliqués:
Clothing Embellishments: You can sew or attach crochet flower appliqués onto clothing items such as t-shirts, dresses, hats, scarves, or sweaters. They can add a playful touch to your garments, making them unique and eye-catching.
Accessories: Crochet flower appliqués can be transformed into accessories such as brooches, pins, or hair clips. By adding a pin back or attaching a hair clip, you can wear them as decorative accents on jackets, bags, hats, or in your hair.
Home Decor: These adorable crochet appliqués can be used to spruce up your home decor. You can attach them to throw pillows, blankets, curtains, or even create a crochet flower garland with multiple flower appliqués for a fun and colorful touch.
Scrapbooking and Card Making: If you enjoy scrapbooking or card making, crochet flower appliqués can be a lovely addition. They can be glued or stitched onto scrapbook pages or greeting cards, adding a three-dimensional and handmade element to your creations.
Baby Items: Crochet flower appliqués can be used to decorate baby items like blankets, onesies, bibs, or baby hats. They can make these items more visually appealing and charming, adding a touch of sweetness to baby accessories.
Gifts: Crochet flower appliqués can be given as handmade gifts. You can attach them to gift wrapping, create personalized keychains, or incorporate them into handmade photo frames.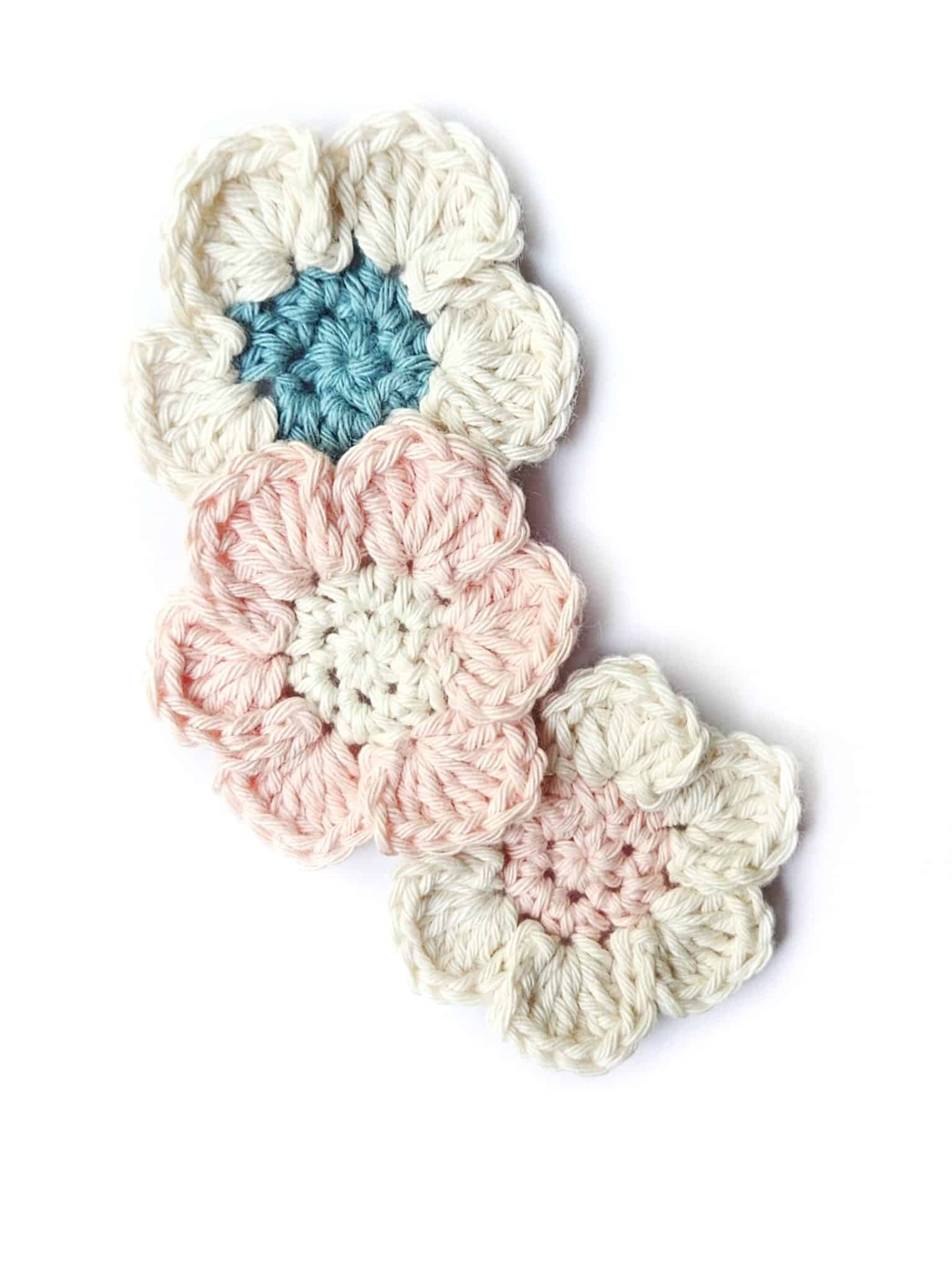 Easy Crochet Flower Pattern with 6 Petals
Skill Level: Easy
Materials
3.5 mm Crochet Hook
Hobbi Friends Cotton 8/6 (I used number 51, 03 & 88)
Yarn Needle (aka tapestry needle)
Measuring Tape

Crochet Stitches & Abbreviations
Notes
This flower pattern is written in standard US terms.
You can use any color you wish for Color A & Color B to mix and match the flower colors.
Finished size is 2.5″ x 2.5″
Pattern
Round 1: with Color A make a magic circle, 6 scs in the magic circle, sl st to the first sc. (6)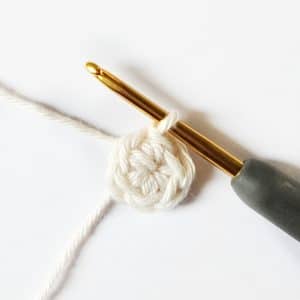 Round 2: Ch 1, 2 hdc's in each st around, sl st to the top of the first hdc. (12)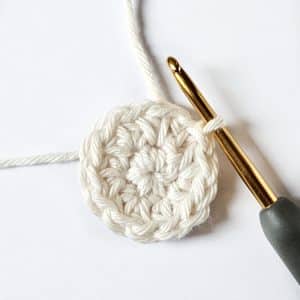 Round 3: Switch to Color B: ch 3, *dc, dc, dc, tr, dc, dc, dc, sl st into the next st, sl st into the next st, ch 3 rep from * ending with a sl st in the last st.
Finish: Fasten off yarn and weave in loose ends with a tapestry needle.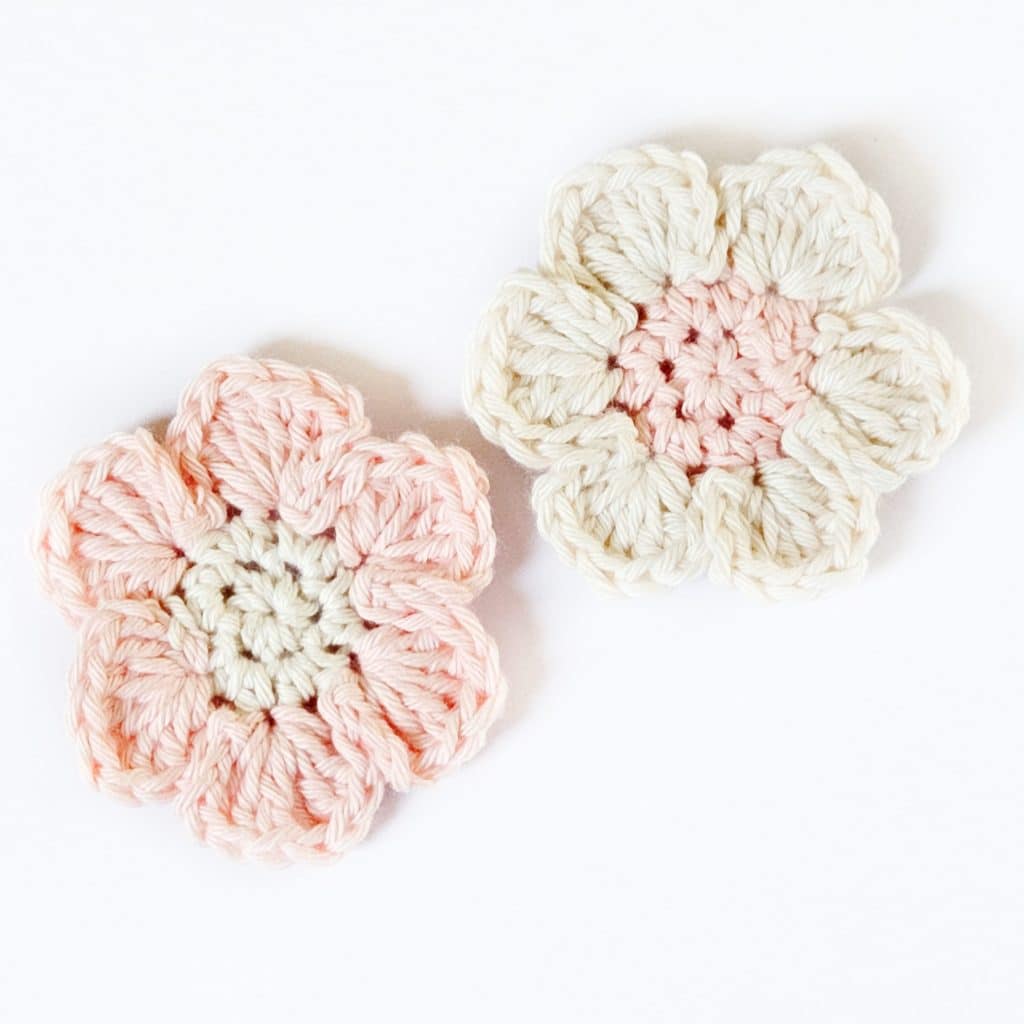 More Free Crochet Appliques You May Like
More Free Crochet Flower Patterns You May Like