Common Crochet Mistakes and How to Avoid Them
Gorgeous things can be made from crocheting – from sunflowers to granny square blankets. To get to the point where you can make these beautiful projects, you'll have to go through a lot of unraveling! 😉
There are many bad crochet techniques to avoid as a beginner, including getting your tension wrong, unintentionally stitching through the front loop only, yarning under and not over, and not counting your stitches. For beginners, crocheting can be a daunting hobby to learn.
Being a beginner can be frustrating, but knowing the correct technique from the beginning will save you a lot of heartache. So, read on to see the most common crochet mistakes and how to avoid them.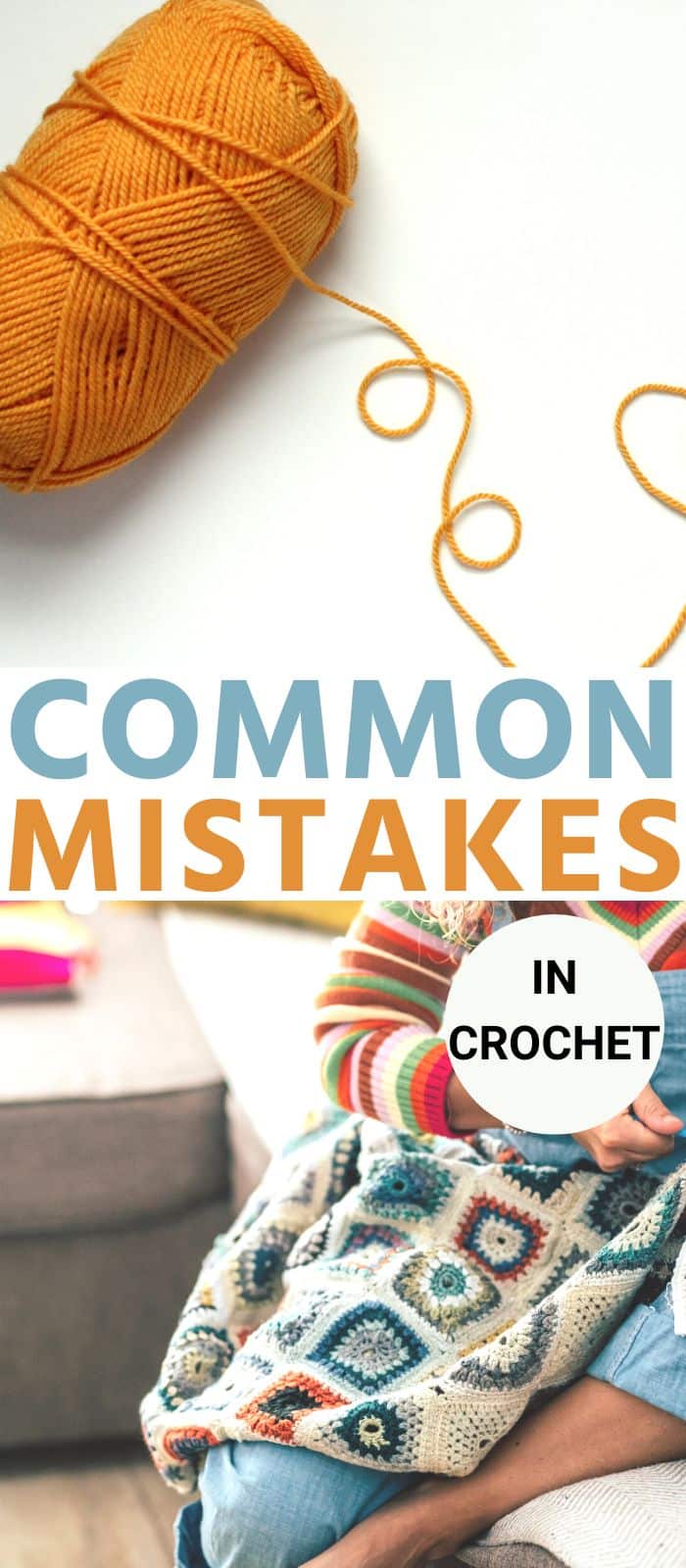 Common Mistakes To Avoid When Crocheting
If you have ever found yourself saying "I just can't get the hang of crochet" then you may need this article to help you get unstuck! Below, you will find some crochet mistakes to avoid as a beginner crocheter, which will help strengthen your crocheting skills.
Obviously, as a beginner, you're not going to get everything right from the get-go. But we are here to prevent you from making the most common beginner mistakes in crocheting.
Not Using Beginner-Friendly Yarn
If you're a beginner, no matter how pretty it is, you should avoid multicolored, fluffy, or dark yarn, where it will be difficult to count your stitches. You should use lighter yarn of one color where your mistakes will be more obvious, so you can easily correct them.
Getting The Tension Wrong
Creating overly tight stitches is a mistake that many beginners make. It may seem like tension is something you will never master, but fret not. You will get there; all it takes is some practice. The trick is to put the same amount of pressure on your yarn when creating your chains.
Besides the problems you might have getting into your stitches when you crochet too tightly, crocheting with uneven tension can also create the problem of misshapen projects.
For example, if you start off crocheting a blanket with very tight chains and loosen up along the way, your blanket will curl and won't be straight like you need it to be. So, make sure your foundation chain is loose enough to start with! A great tip I like to suggest for those that have tight chains is using a hook size larger than the pattern recommends for the foundation chain.
Your edges could also curl if you get your tension wrong at the ends. Therefore, be careful with your edges and try not to make them too loose or too tight.
One way to ensure you're getting your tension right is to crochet up a gauge swatch, which is essentially a small test piece to ensure your technique produces the right size of fabric that the pattern requires. This is also crucial to make sure your crochet projects fit you, if you are making a sweater, for example.
Another quick fix is to replace your crochet hook with a bigger one if your work is too tight, or a smaller one if your work is too loose.
Uneven Sides
If you have sides that aren't straight, it might be because you're stopping and starting at the wrong places. You should also count your stitches and make sure you have the correct number of stitches.
It is important to note that single crochet stitches begin in the first stitch of the row, immediately next to the chain, while double crochet stitches begin in the third stitch of the row, two stitches away from the chain.
Always end at the last stitch in the row, and don't overlook it. You can also use a stitch marker to mark your first and last stitch.
You'll get the hang of crocheting after a while. Just keep trying!
Only Crocheting Through The Front Loops
Crocheting through the front loops instead of only one or two creates an entirely different pattern from what most patterns call for. It's not a mistake if you are doing it intentionally, but just be aware of the different techniques.
Skipping Out On Frogging
Everyone who crochets makes mistakes. Frogging, the process of undoing all or a part of your crocheting to fix a mistake, is just a fact of life. Frogging is better than having a massive mistake in your work; the faster you catch onto your mistakes, the better.
Some beginner crocheters get frustrated and give up entirely before frogging, but frogging is a great tool for learning.
Yarning Under And Not Over
Yarning under and wrapping around to the back makes your crocheting harder and makes your stitches look different. Instead, it would be best if you yarned over from the back to the front because this is what most patterns call for. You will occasionally see a crochet pattern that wants you to yarn under instead.
Losing Track Of Your Work
One of the most frustrating things you can experience when crocheting is losing track of where you are in a pattern. You can mitigate this by using a row counter, a stitch marker, or keeping track of how far you are with a pen and paper.
You can also put a stitch marker in your last stitch, so it doesn't unravel accidentally.
Not Following a Pattern's Guidelines
Following someone else's written pattern can sometimes be confusing if you're a beginner. However, avoid the following mistakes, and you'll have a much better chance at getting the final product to look as it was intended to!
Not fully reading the crochet pattern that is being made. You will need to know the stitches, materials that the pattern calls for before you get started, so you are fully understanding what is required of the design.
Not following gauge (your yarn's tension)
Losing count of stitches
Using the wrong yarn weight
Not understanding all the crochet abbreviations or terms (UK vs US)
Crocheting into the wrong part of the stitch
Giving up
When you're just getting into crocheting, you're definitely going to mess up a bit. But that's how you learn! Don't sweat being perfect; it'll just make you want to throw in the towel. You'd be missing out on a super fun and rewarding hobby!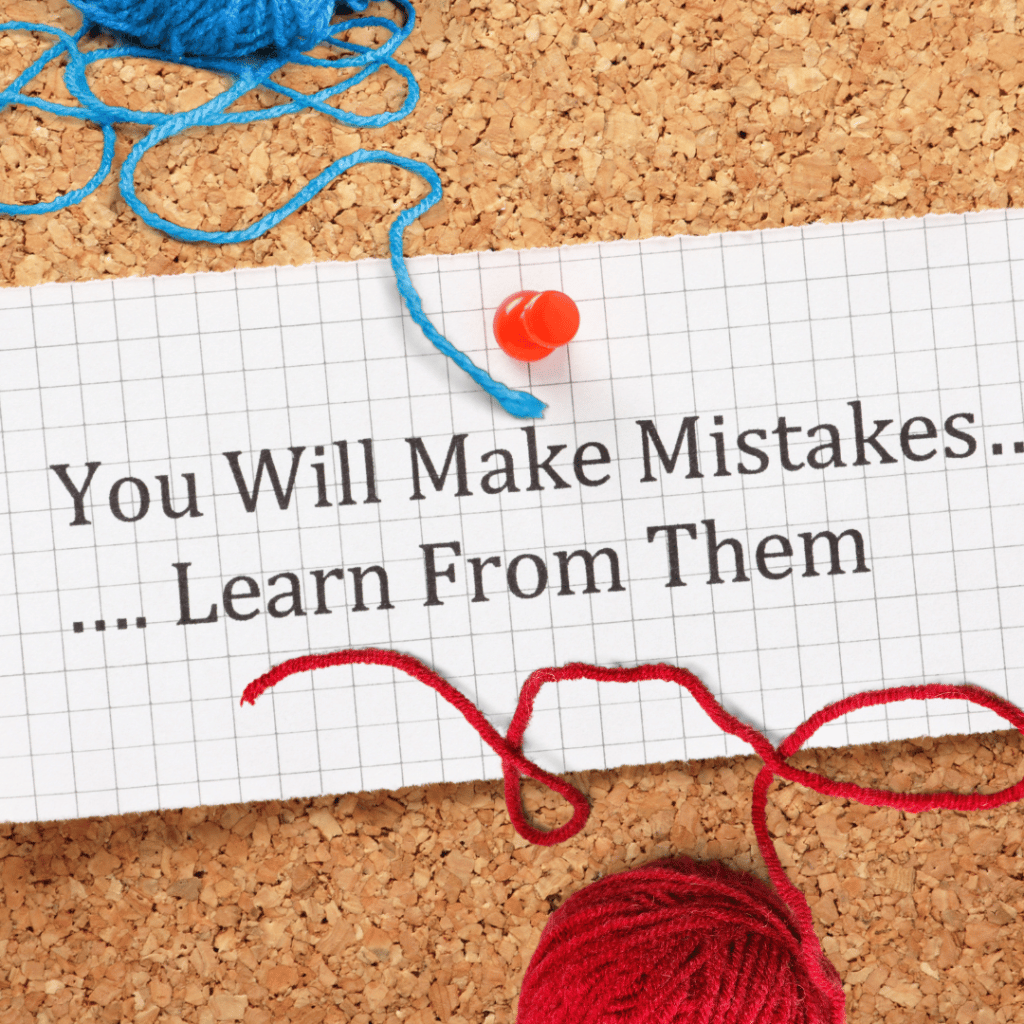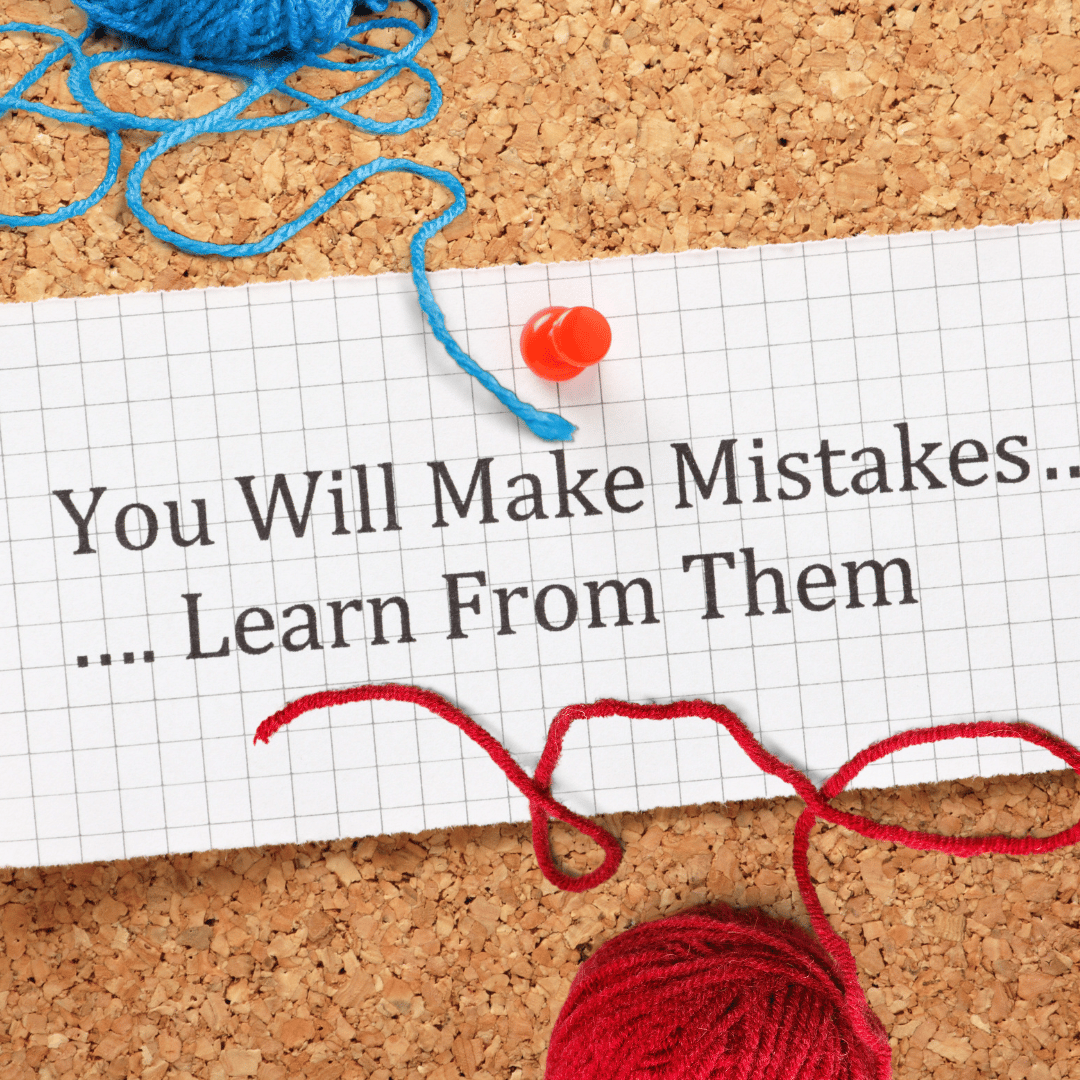 ---
What Supplies Do I Need To Crochet?
It would be best if you had a few materials to get you started on your crocheting journey, including:
A crochet hook, size dependent on the yarn size for the project
A skein of yarn
A pair of scissors
A tapestry needle (optional depending on whether you have to sew crocheted pieces together or weave in ends)
Stitch markers (also optional but great for keeping track of your rows)
A tape measure (useful for measuring crochet gauge swatches)
A few handy extras include:
A crochet hook case where you can organize all of your crochet hooks by size
A yarn bowl to keep all your yarn untangled
A bag for your projects
A row counter
Blocking mats and pins to shape your project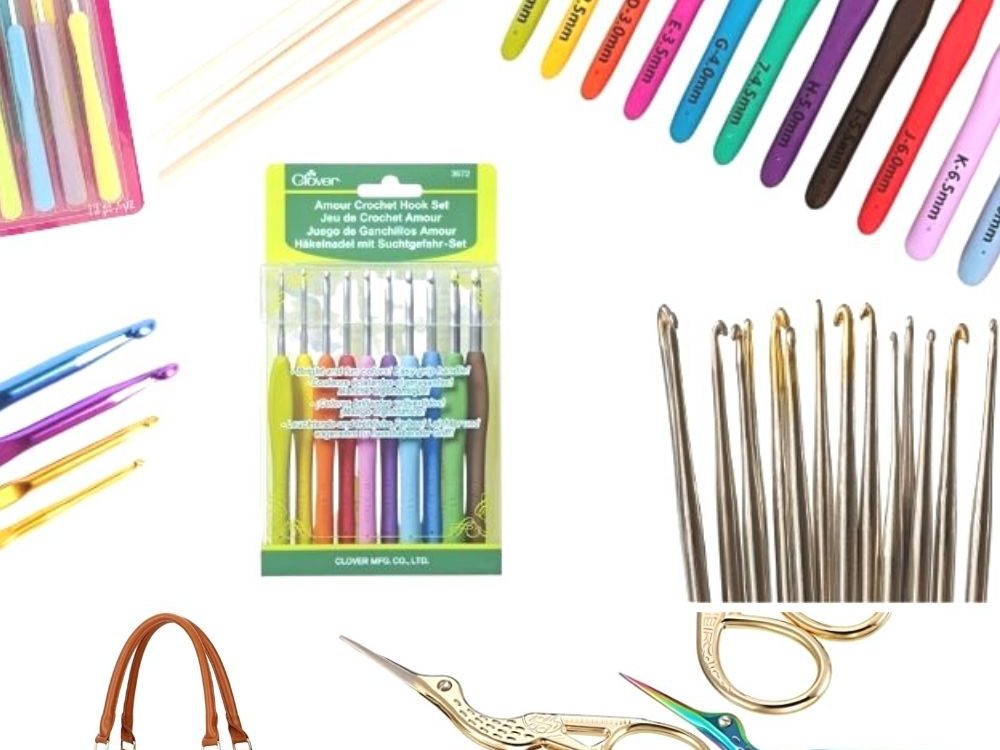 There are plenty of mistakes that beginners make when learning to crochet. This is only natural. The best thing you can learn is never to give up. Techniques to avoid as a beginner also include crocheting too loosely or tightly, yarning under and not over, and only crocheting through the front loops.
Remember—mistakes are OK! If you make one, it just means you can learn from it and get better the next time!
Beginner Crochet Guides