The Beginner's Guide to Crocheting a Magic Circle (+ Video)
Learning to make a magic circle (aka magic ring) in crochet will change the way you work in the round, since it creates a closed center circle of projects that is free of holes. If you have ever wondered how to make an adjustable loop in crochet, then this is the post for you!
This magic circle crochet guide contains techniques, tips, and step-by-step instructions for making a magic ring, the most common way to begin crocheting in the round. Making a crochet ring might seem hard, but even if you're new, you can do it. It'll make crocheting in a circle (or round) way better.
Keep on reading to learn how to crochet a magic circle with our detailed photo magic ring tutorial and video tutorial below.
Magic Ring or Circle?
A magic ring is the same as a magic circle. These two terms are frequently used interchangeably in the crochet world. In fact, we use them both in this tutorial!
In fact, a magic ring is also referenced as an adjustable ring or a magic loop at times as well.
What is a Magic Ring in Crochet?

In crochet, a magic ring is a technique used to start working in the round. It creates a tightly closed center for your crochet project, usually used when starting projects that require working in a circular pattern, such as amigurumi (crocheted stuffed toys) or hats.
Why Use a Magic Circle?
A magic circle is a great starting technique to use in crochet projects like granny squares, coasters, potholders, motifs, amigurumi projects or crocheted hats that are worked in the round.
I love beginning all of my projects in the round, using a ring or magic circle for a clean "hole-free" design.
For example, when you start a crocheted hat with a magic circle, it allows you to completely close off the top of the hat, so it will be free of the hole that a traditional foundation ring starting method creates.
Foundation Ring vs Magic Circle
Both of these methods are good for starting a crochet project or crochet pattern in the round, but do have some differences, which I'll explain below in detail.
Foundation Ring Method:
The foundation ring method is used to start a crochet project in the round that creates a circle that can be worked into with crochet stitches.
This technique works for starting round projects nicely, but doesn't get that closed off circle as close as the magic ring method. You will need to be familiar with chain stitches to use this method.
How to Make a Foundation Ring
Make a slip knot and start with a chain of 4
Slip stitch into the first chain to form a foundation ring
Work stitches into the ring (circle) around the chain 4 to start your project.
Magic Circle Method:
The magic circle method is an adjustable loop (or magic ring) technique that quickly starts a crochet project in the round that has a yarn tail that pulls to close the center hole when tightly closed.
So in conclusion, the foundation ring method starts with chains and doesn't close to a tight circle. The advantage of the magic ring method is the center of the ring closes tight with no holes, and it's easy to add as many stitches as you'd like to the center ring.
The magic circle method is my favorite method to use when crocheting granny squares, granny square blanket pattern and many other patterns too! I promise you'll quickly only want to use a magic ring when starting projects in the round! It is that easy.
Crochet Terms Used in a Magic Circle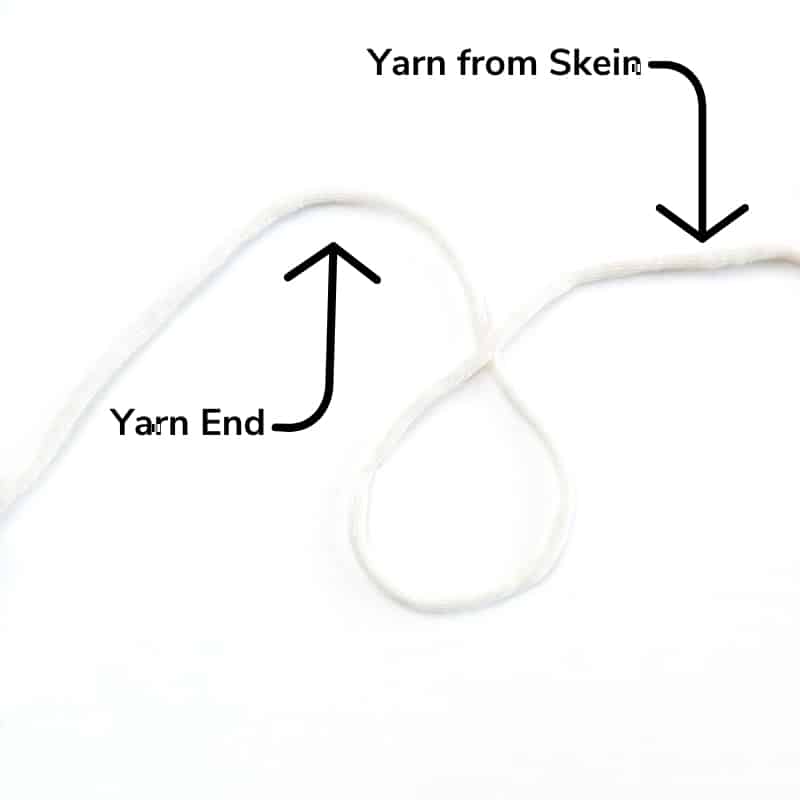 As a beginner crocheter, it is important to understand the different terms used in crochet. These are a few that are used in this tutorial.
Yarn End or Tail End of Yarn: This is the part of yarn that is the short end of the yarn that isn't being used to crochet. It is best to leave yarn tails longer so when you weave in the ends of this yarn at the end of your project you'll have enough to hide them within the project securely.
Working Yarn or Yarn from the Skein: This is the working end of the yarn that you will be "working" with or using to crochet your pattern or project.
Crochet Stitches in a Magic Circle
Our magic ring crochet technique uses the basic crochet stitches listed below. Each of the stitches used are commonly used to crochet a magic ring. While other stitches can be used (like double crochet stitches), the single and chain stitches are the easiest to learn.
Insert the crochet hook from front to back in the second chain from the hook or designated stitch.
Bring the yarn over (Yo) the hook and pull the yarn back through the chain (or stitch) from back to front (2 loops on hook).
Yo and pull through both loops on the hook.
Chain Stitch in the Round (ch):
Chain stitches are a simple crochet stitch that often forms the foundation of crochet stitches and are worked into during projects, and they can also be used to bring rows and rounds up to the height of the stitch used.
Yarn over the hook
Pull the yarn back through to create a loop
Follow along with the step-by-step picture tutorial below to learn all about how to crochet the magic ring in crochet and learn the answer to the question, "What's a magic circle in crochet?".
Easy Steps to Crochet a Magic Circle: A Beginner's Guide
Skill Level: Easy
Materials
Yarn (I used Bernat Home Dec Yarn, a #5 weight bulky cotton blend yarn)
Crochet Hook (I used a J-10 6 mm for this tutorial)
Yarn Needle

Notes
This tutorial is written in standard US terms
This tutorial is using the single crochet stitch to teach the magic circle technique.
Magic Circle Tutorial (Magic Ring) with Step-by-Step Photos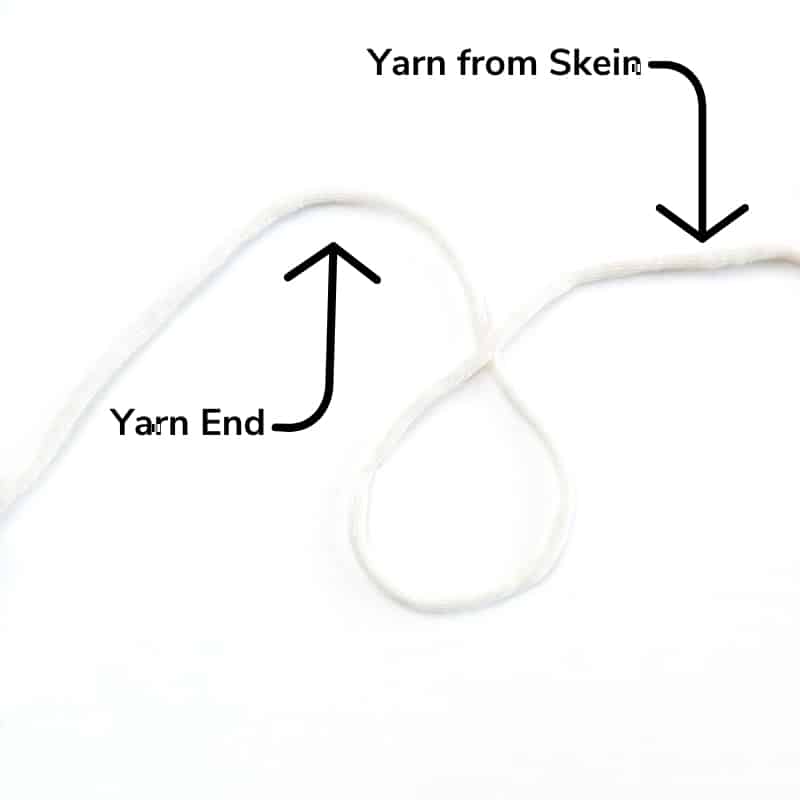 Step 1
Begin by crossing the yarn from the skein (working yarn) over the tail end of the yarn (yarn end) to create a circle.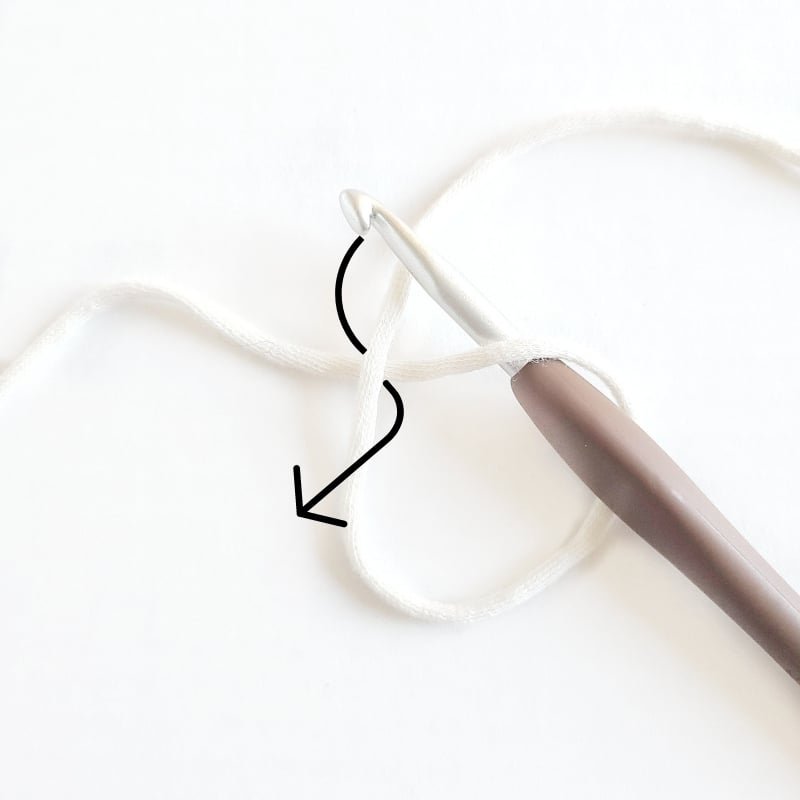 Step 2
Insert the crochet hook into the circle as shown. Yarn over and pull the yarn from the skein end down through the circle.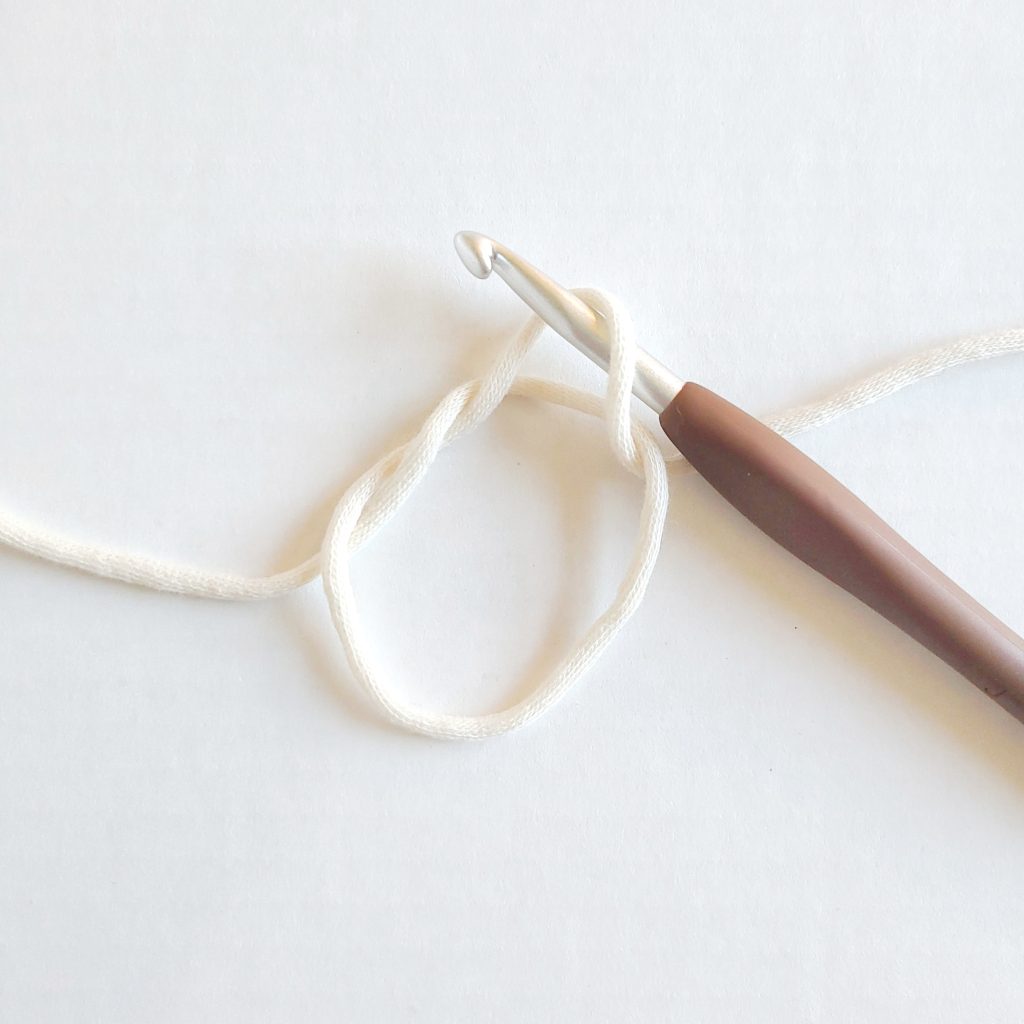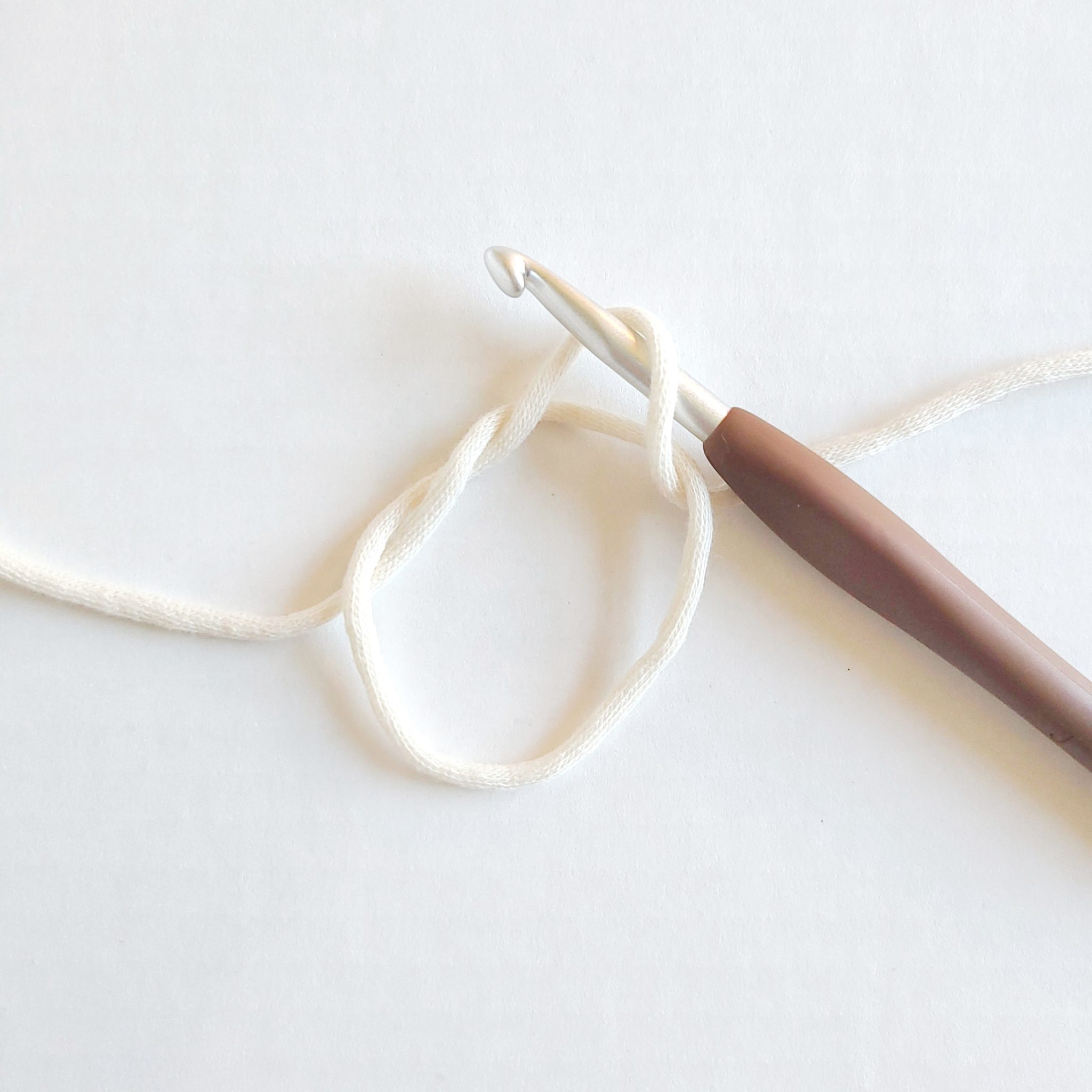 Step 3
Step 2 will form a loop on the hook and the circle that you will work into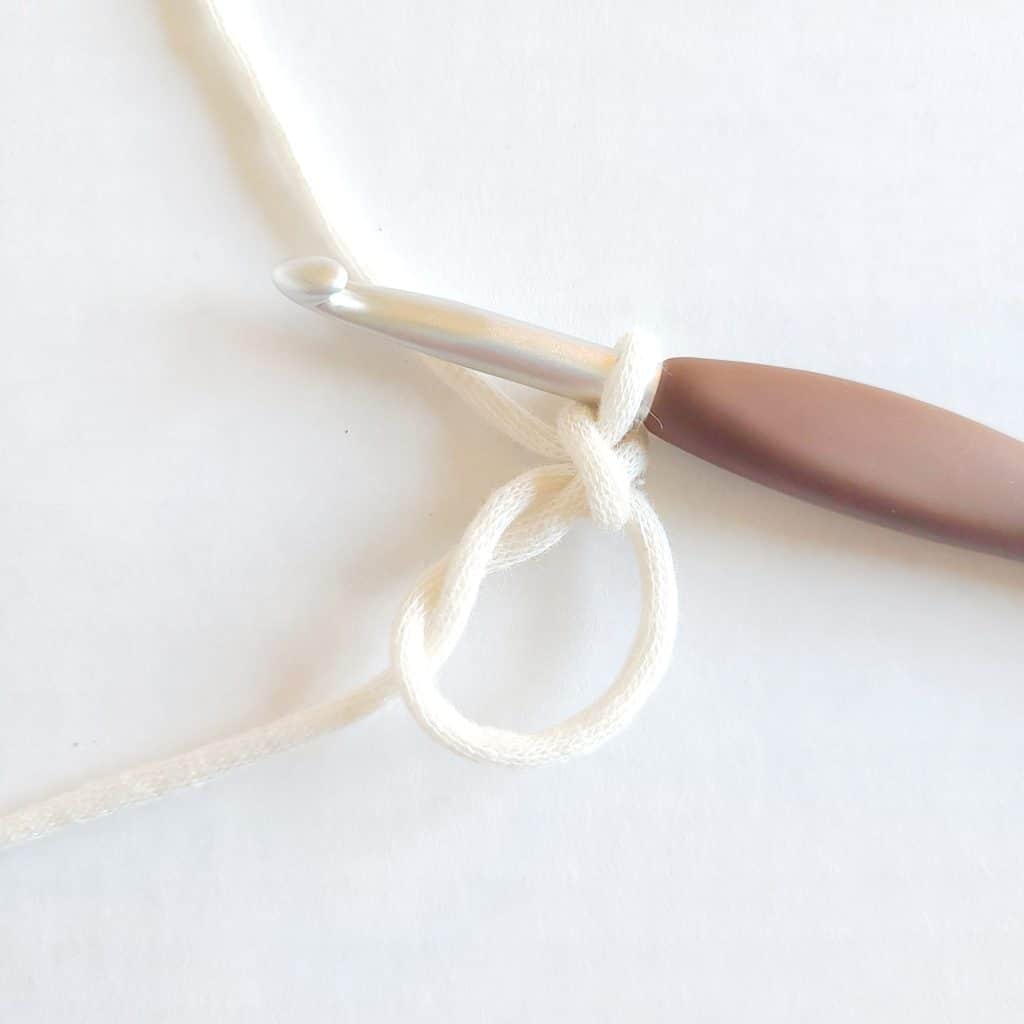 Step 4
Chain 1 with the skein end of the yarn.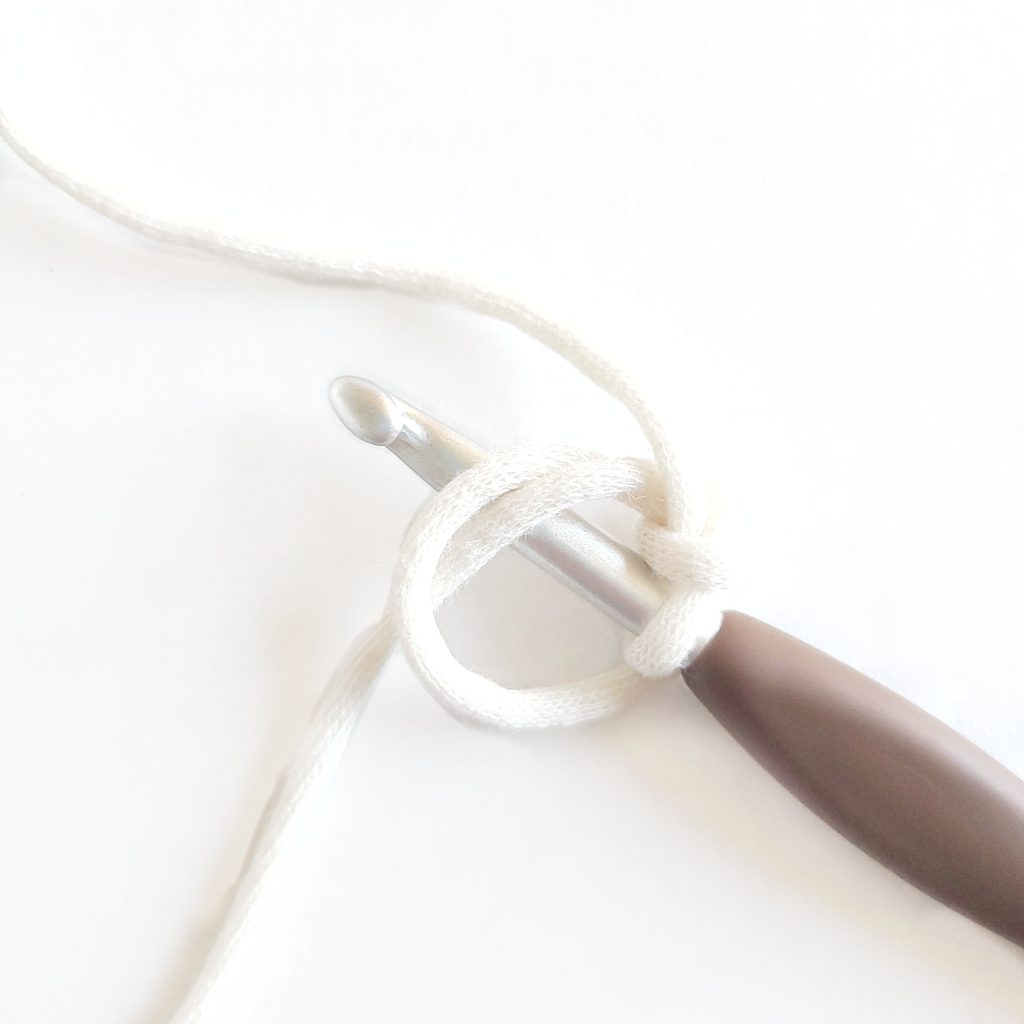 Step 5
This step is where you'll start making a single crochet. Insert the hook into circle under both strands of yarn.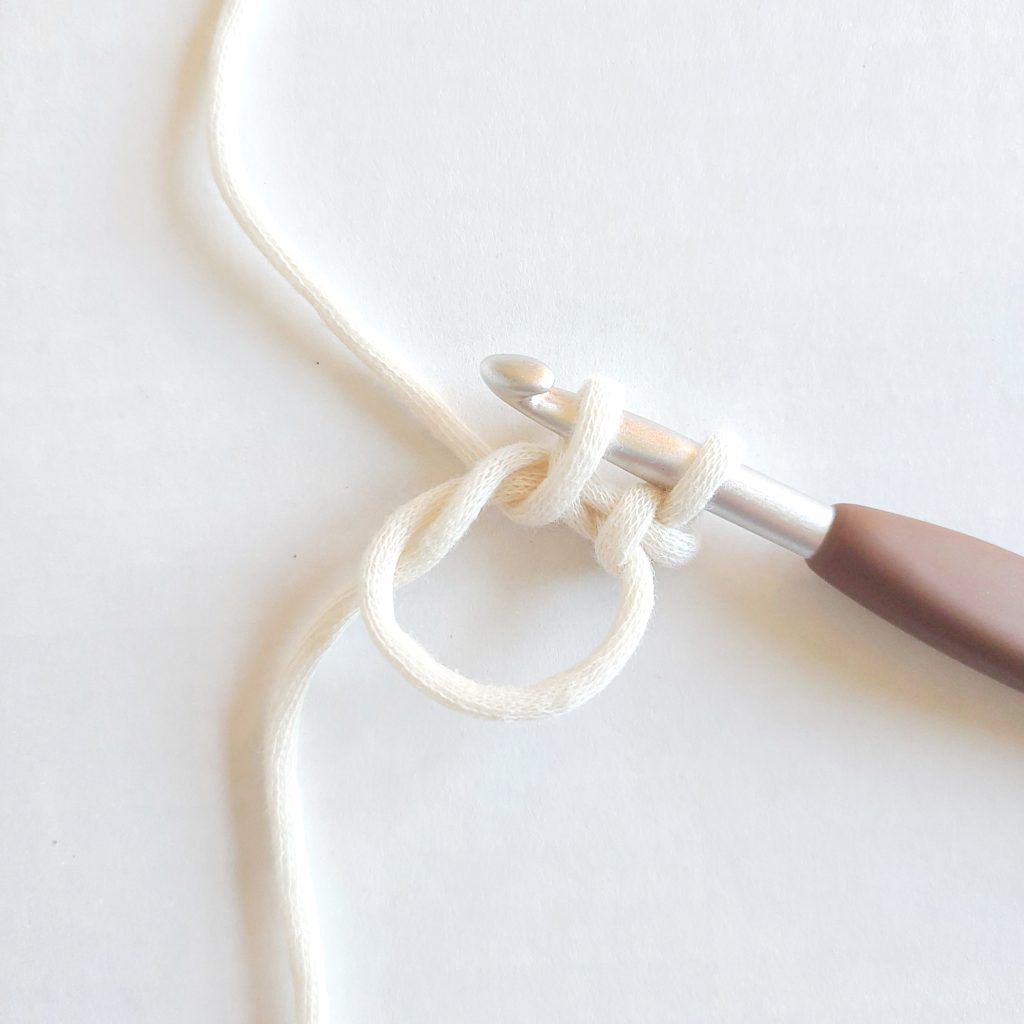 Step 6
Yarn over the hook and pull back through the circle of yarn (two loops on hook)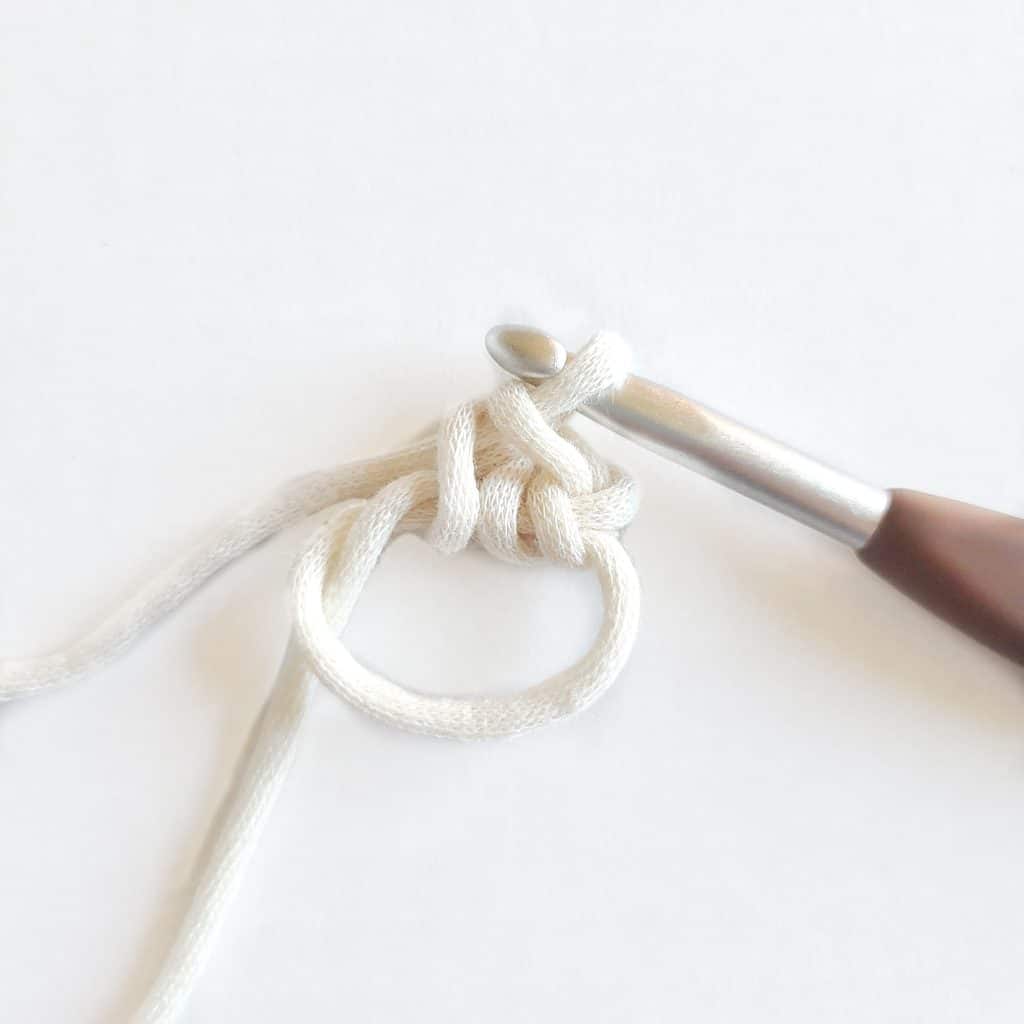 Step 7
Yarn over the hook and pull back through the two loops on the hook. You have now completed your first stitch, a single crochet in a magic circle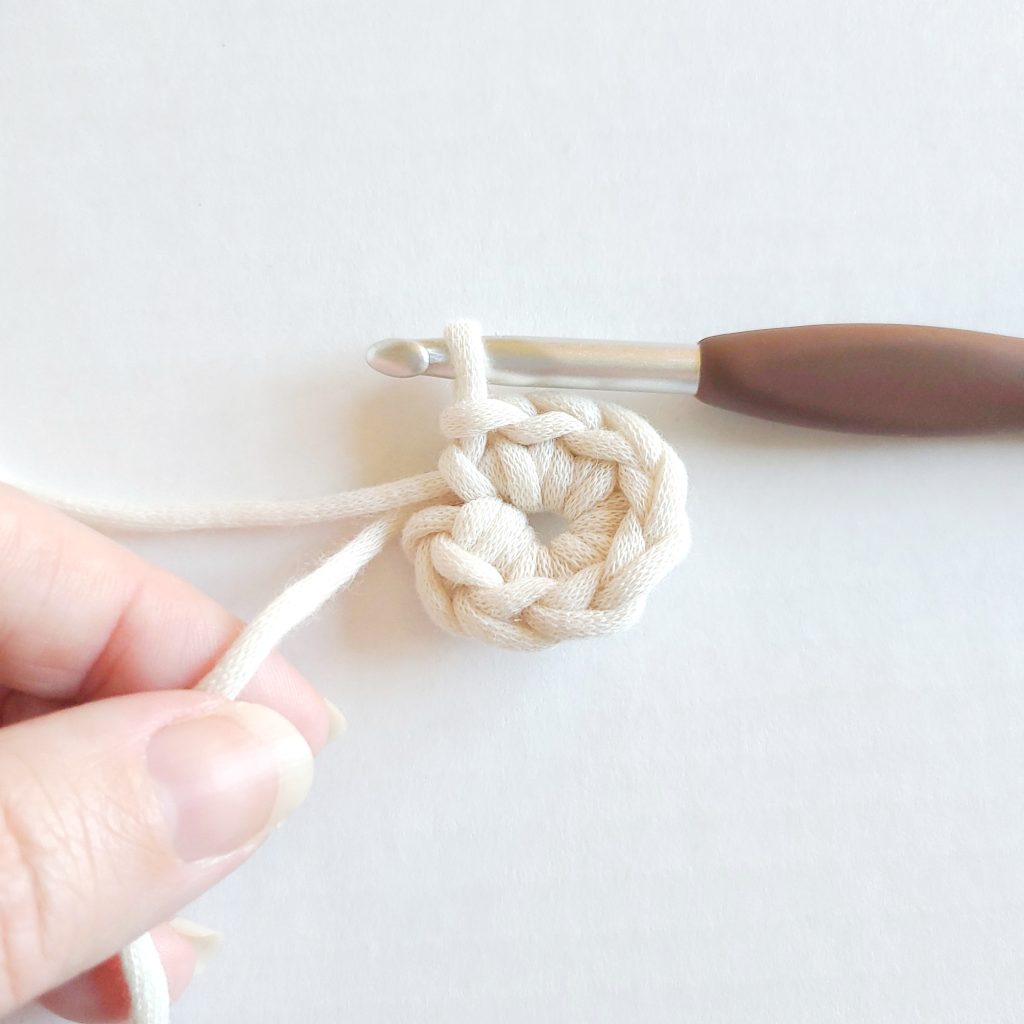 Step 8
After you finish your first single crochet stitch continue by working the remaining stitches (the single crochet stitch used in the example) into the circle by repeating steps 5-7, tighten the ring by pulling the yarn end to close the circle. You have now completed a crochet magic ring!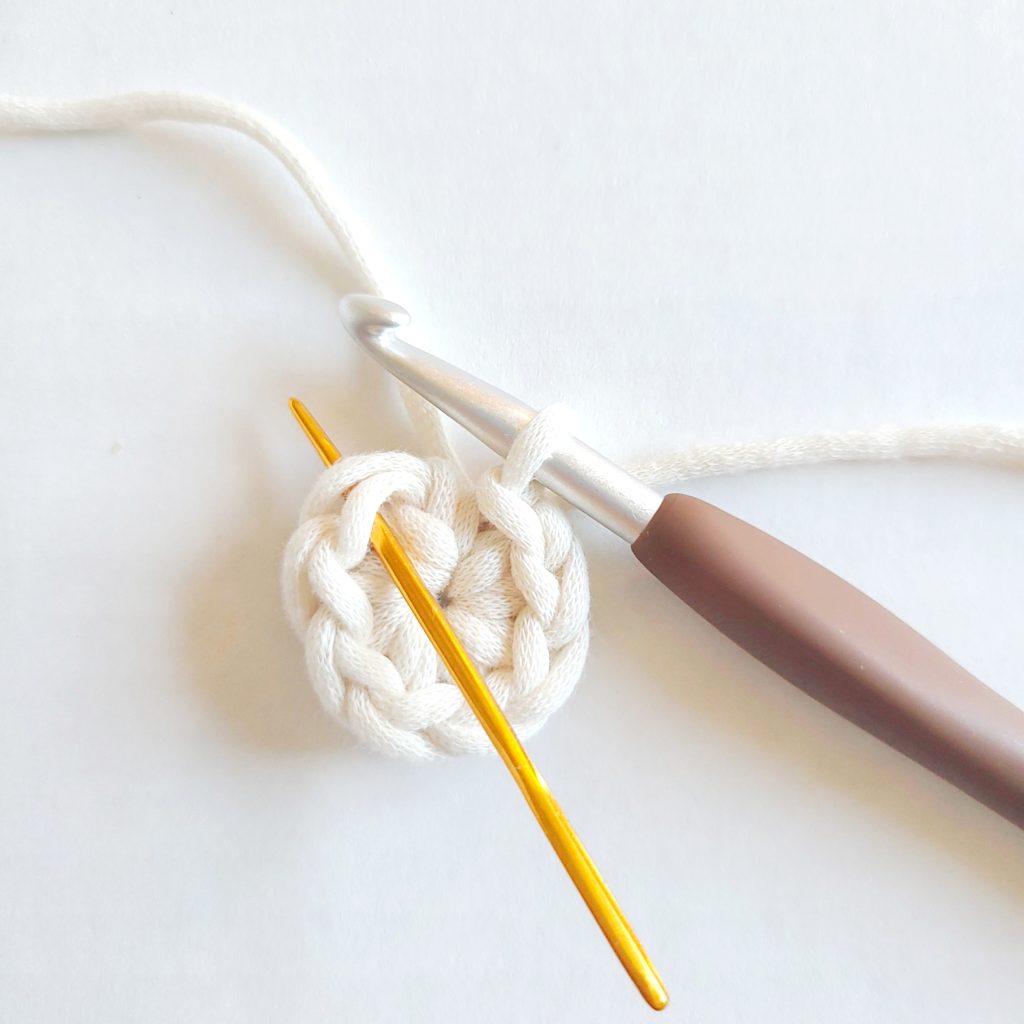 Step 9
Next, we will learn how to join to make a circle by joining the last stitch to the first stitch of the round. Locate the first single crochet you crocheted into the circle. The first chain 1 does not count as a stitch.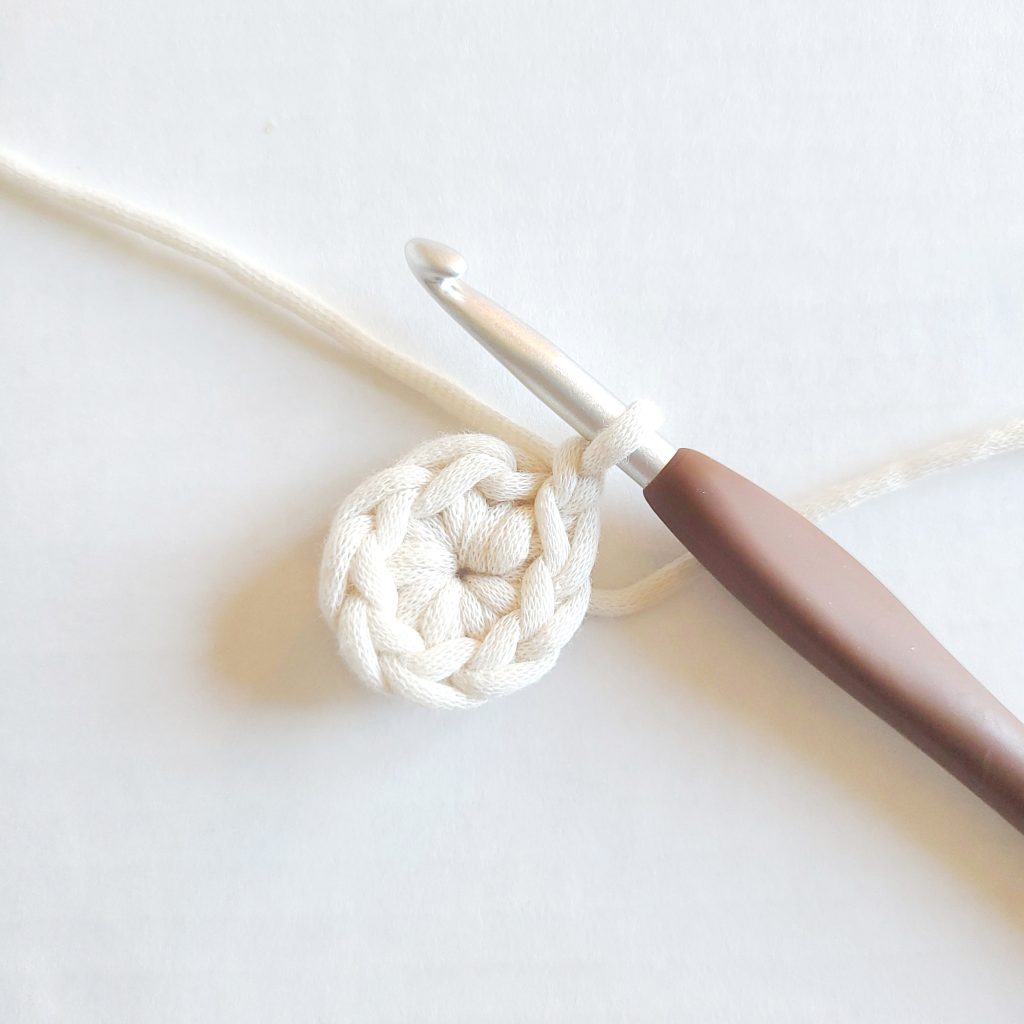 Step 10
Slip Stitch into the first sc of the round to join the circle to complete the first round of stitches. I hope you enjoyed this magic circle technique!
Tip: If you'd like, on step 8 after tightening the ring you can weave in that yarn end to make it more secure, which will make the circle stay closed.
Magic Circle Video Tutorial
If you enjoyed this magic circle tutorial, then use the images below to pin to Pinterest, so you can make learn the magic ring method at any time.
Follow along with on there too since we always share new free patterns as well as crochet stitches and tutorials as well.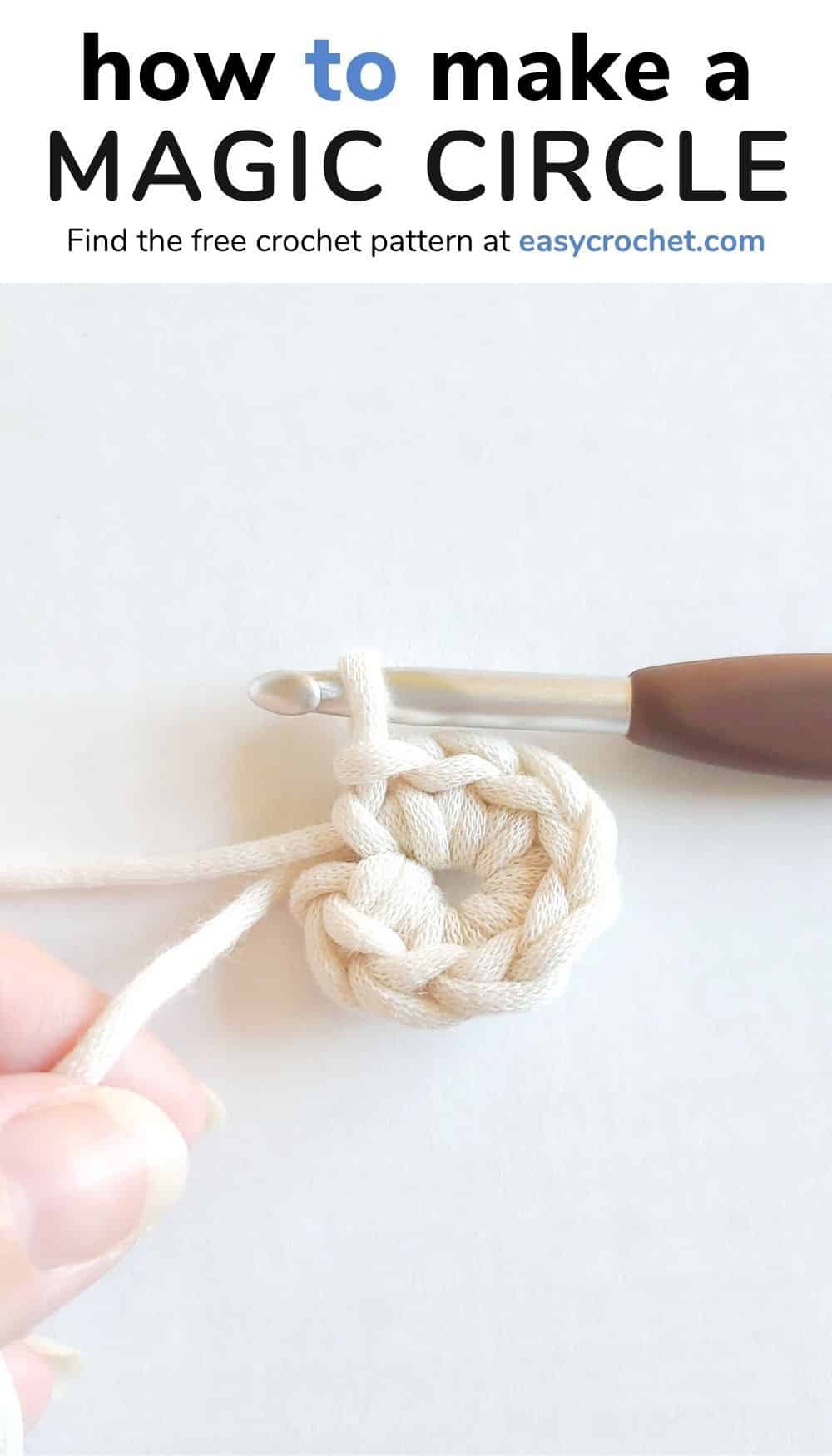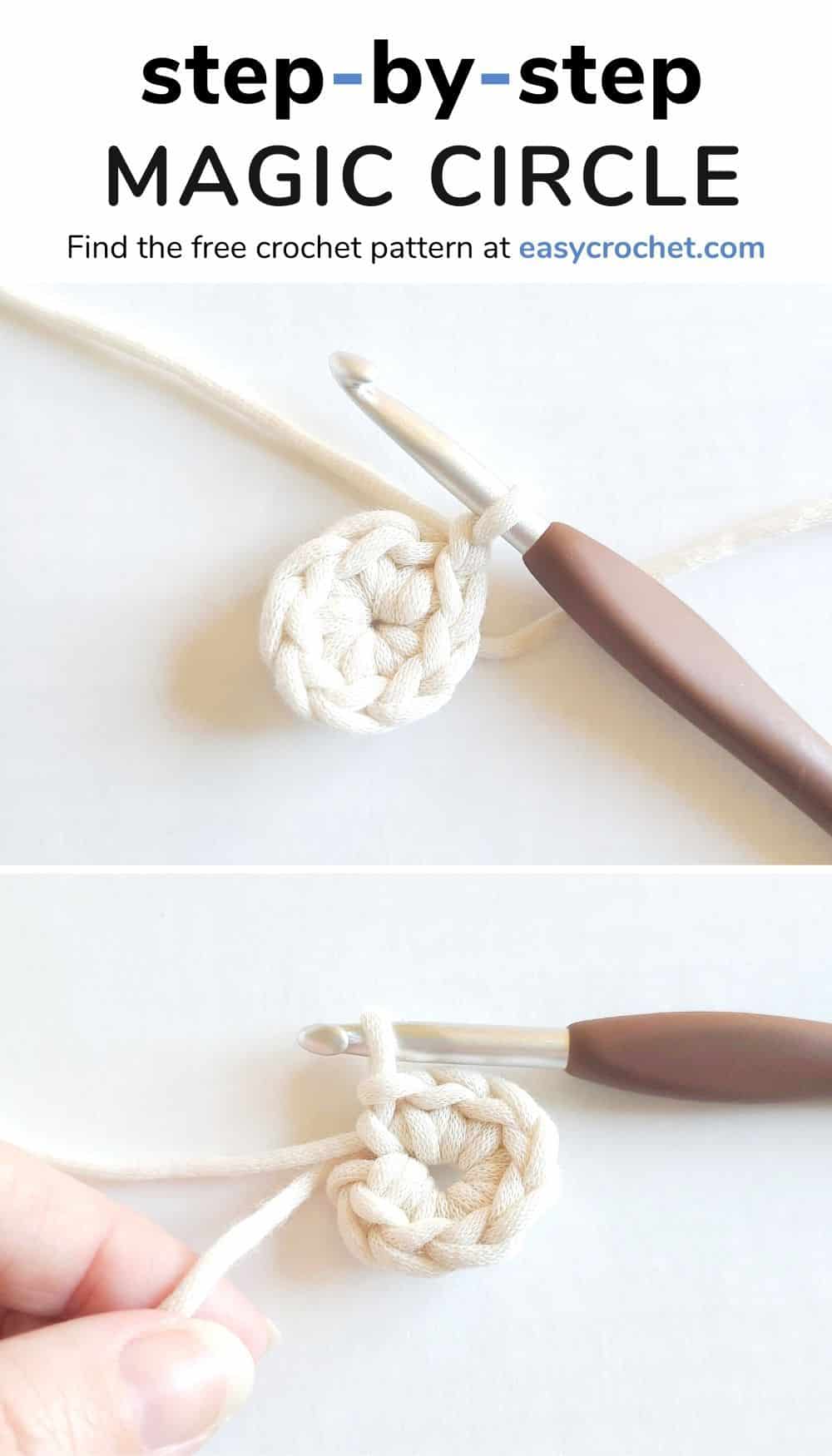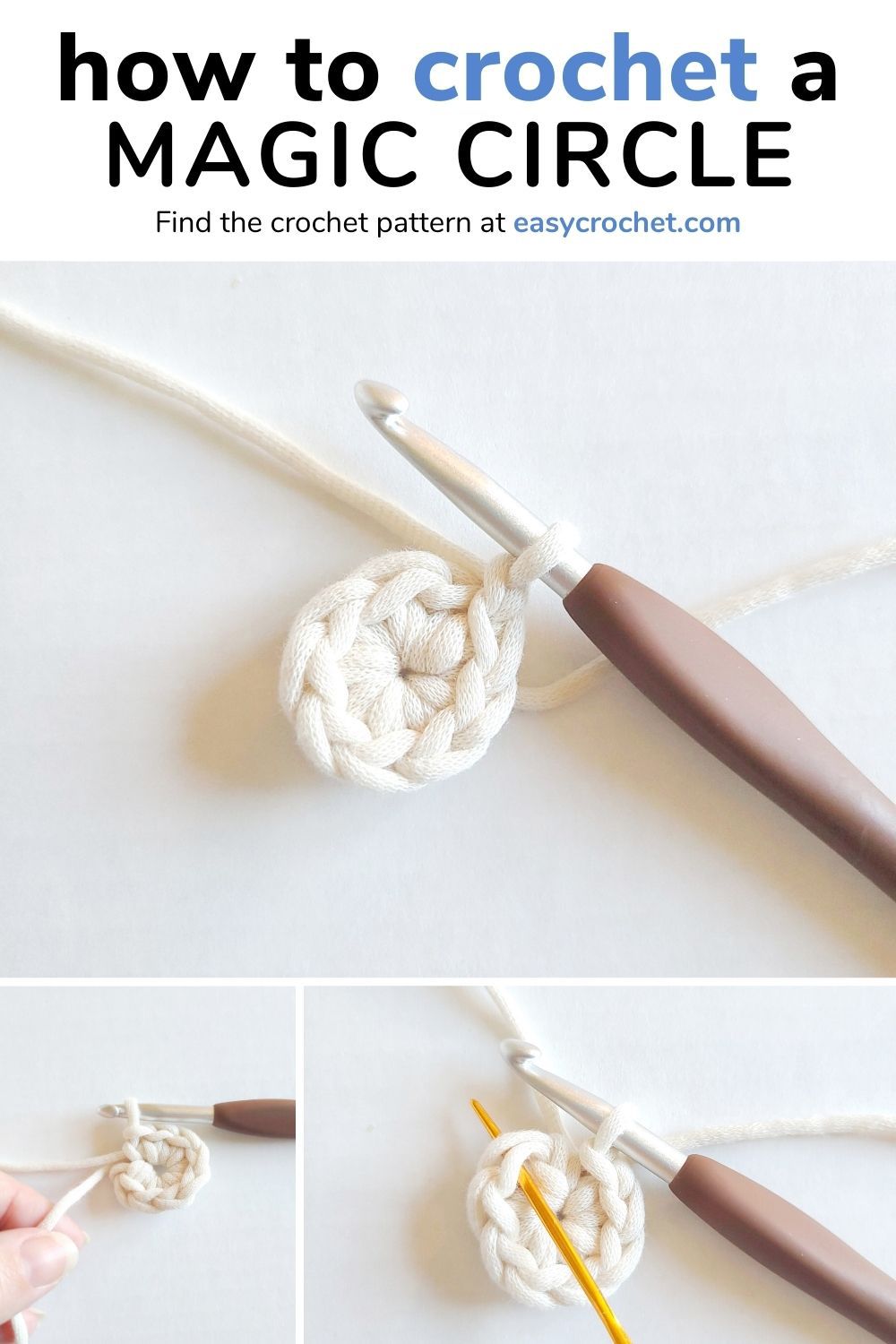 Common Questions About Magic Circles
Here are some questions that arise occasionally when using the magic ring. Have one that you don't see? Join the Easy Crochet Facebook group to ask.
Can I Use Different Crochet Stitches to Make a Magic Circle?
Yes, other stitches can be used, such as the half double crochet (hdc) and double crochet stitch (dc). If you use other stitches, the number of chains will be different before working the stitches into the magic ring.
Half Double Crochet: Chain 2 before starting to work into the ring.
Double Crochet: Chain 3 before starting to work in to the ring.
How Do You Keep a Magic Circle Closed?
The best way to make sure your magic circle stays closed is to leave a long yarn tail and weave it in securely. This way, your circle will not come undone by unraveling.
Free Crochet Patterns using the Magic Circle
I hope you enjoyed my version of how to crochet magic ring for dummies. lol. I so wish I had this when I started crocheting! If you'd like to make something with your new crochet skill, take a look at the free patterns below.
More Crochet Stitches + Tutorials for Beginners