Beginner's Guide to Crocheting a Heart: Free Pattern Included
Are you looking for an easy crochet heart pattern? If so, this post can help! Learn how to make this quick & easy crochet heart pattern today with the step-by-step picture tutorial below!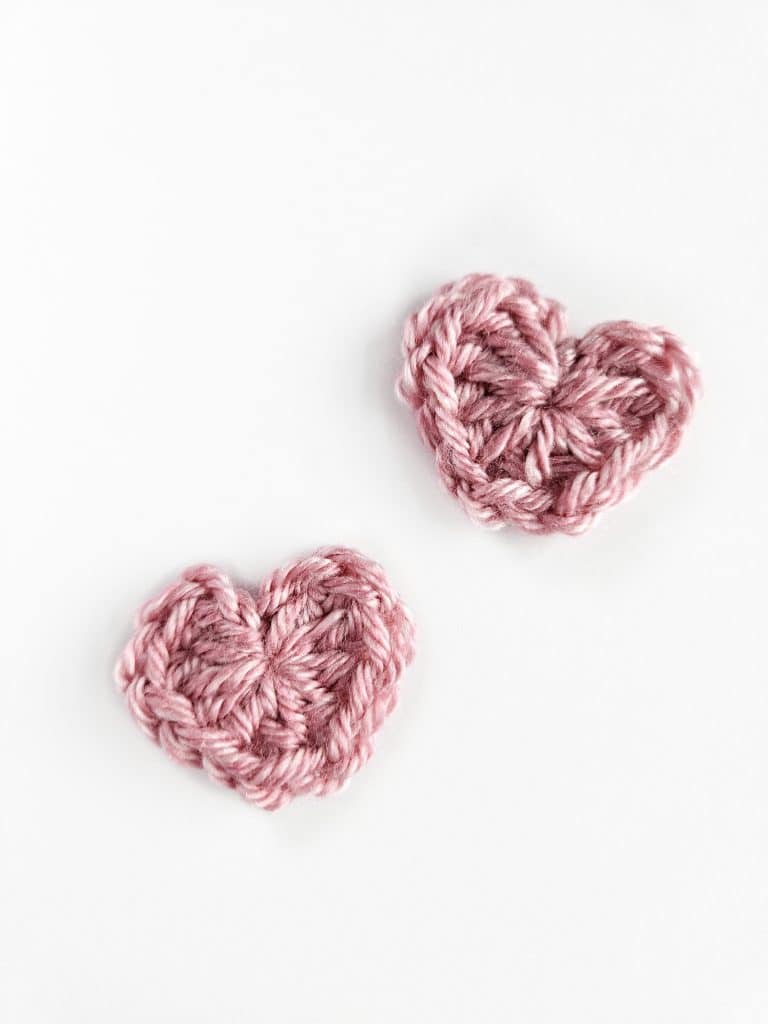 With this crochet tutorial, you will learn how to crochet a heart in no time at all and maybe give one as a gift for Valentine's Day or just because! Plus, it is the cutest heart size at 1.5 inches by 1.5 inches!
Use the free crochet mini heart pattern and video tutorial below to start your new heart projects today!
Happy Crocheting!
How to Crochet an Easy Heart Pattern
This small heart is easy to work up and uses only basic crochet stitches, which makes it a beginner-friendly as well as quick crochet pattern! Learn more about each of the crochet stitches for a heart below and the materials used.
Crochet Stitches for a Heart
Half Double Crochet (hdc):
YO (yarn over) insert hook from front to back of the designated stitch, YO the hook and pick up a loop.
YO the hook and pull back through all three loops on the hook.
Half Double Crochet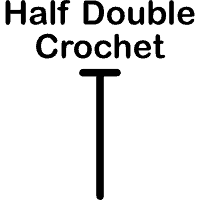 Patterns Using This Stitch →
Double Crochet (dc):
Wrap the yarn over (YO) the hook, insert the hook into the specified st.
YO the hook again, draw the yarn through the st, so there are 3 loops on the hook
YO the hook again draw it through 2 loops, so there are 2 loops on the hook
YO the hook, draw it through the final 2 loops.
Double Crochet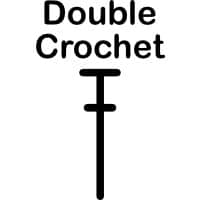 Patterns Using This Stitch →
I can promise this little crochet heart will be one you'll come back to like I do. It is one of my favorite ways to crochet a heart!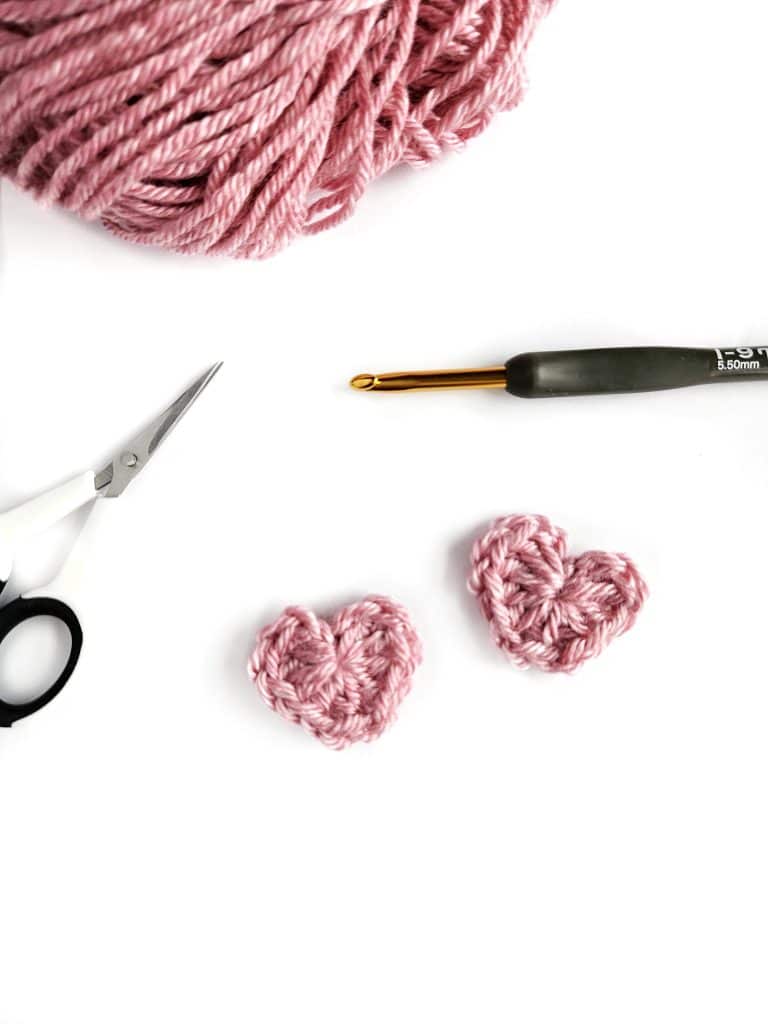 Materials for a Crochet Heart
You will only need a few supplies and tools to crochet aheart, such as yarn, a crochet hook, a tapestry needle and a pair of scissors.
Yarn
I used Heartland Yarn from Lion Brand in the color Lassen Volcanic, which has a pretty pink tone that is perfect for hearts! It is a four weight yarn, easy to find in stores, and works up beautifully in crochet projects like these mini crocheted hearts.
Learn more about Heartland Yarn below.
Heartland
This yarn is made by Lion Brand, and is a Weight 4 – Medium yarn.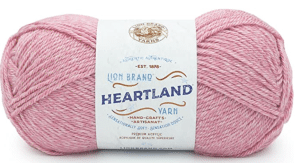 Buy Now
Patterns Using This Yarn →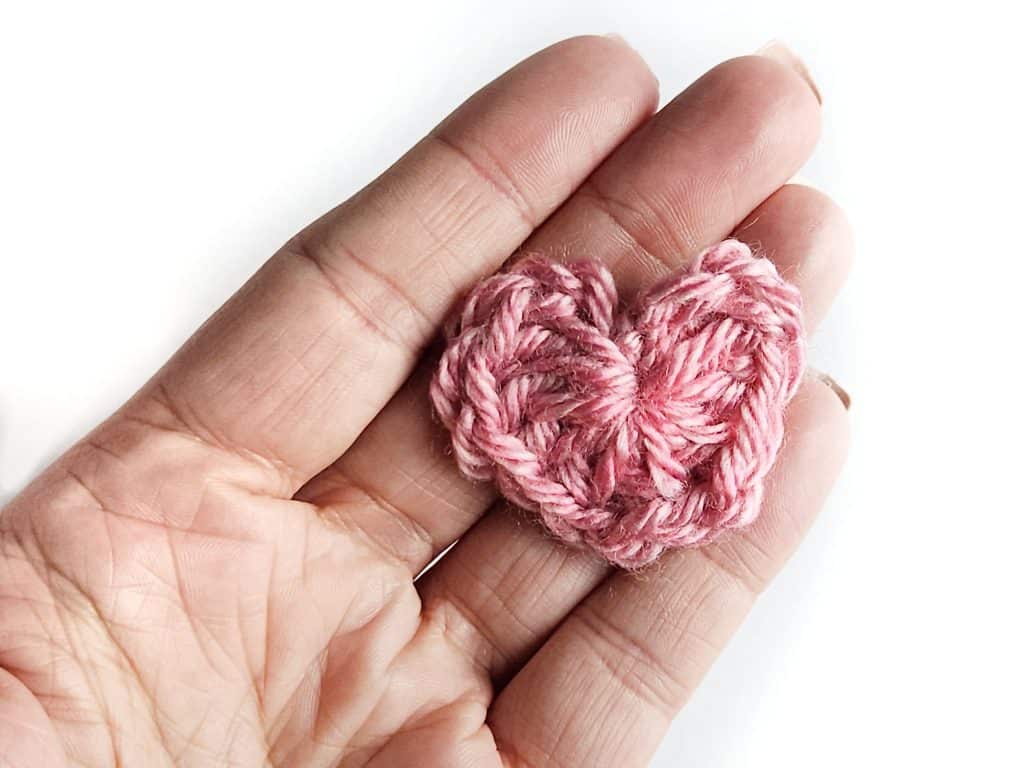 Let's Get Started
Keep on scrolling to find all the details on how to make a crochet heart, which includes step-by-step pictures and a video tutorial at the end. I hope you will be amazed once you realize how easy it is to create these mini hearts. Enjoy!
Happy Crocheting!
How to Crochet a Heart
Skill Level: Basic
Materials
Crochet hook size 5.5 mm
Medium four weight yarn – I used Lion Brand Heartland Yarn

You can use any hook or yarn weight to make these hearts. If the yarn & hook is changed, then you will either get a larger heart or smaller heart.

Yarn needle
Scissors

Crochet Stitch Abbreviations & Techniques
Finished Size
1.5″ x 1.5″ at the widest points
Notes
Written in standard US terms
Make two of these to stuff with poly-fill to make a crochet stuffed heart and sew together.
For this heart, you will need to know how to make a magic ring or magic circle (it goes by either name!). If you have never made a magic circle, you will be in LOVE with how easy it is to use and how it makes a heart project like this look wonderful!
How to Crochet a Heart Pattern
Take a look below at the written, photo and video tutorial on how to crochet a heart.
Create a Magic Ring, Ch 2
dc 2x into the magic circle, hdc 2x into the magic circle
ch1, hdc into the magic circle, ch1
hdc 2x into the magic circle, dc 2x into the magic circle
ch 2, sl st into the magic circle
Pull the magic circle tail end tight to close the circle and reveal the crochet heart. Fasten off yarn & cut to finish your mini crochet hearts.
Finishing:
Weave in the ends to use as a crochet heart appliqué for a project, or leave the two ends on to attach to whatever heart project you intended it for, such as a Valentine's Day design.
Crochet Heart Video Pattern
Follow along with the crochet heart video tutorial to learn how to make a mini crochet heart!

Are you planning on crocheting more? Explore the Easy Crochet database of over 300 free crochet patterns to find your next project.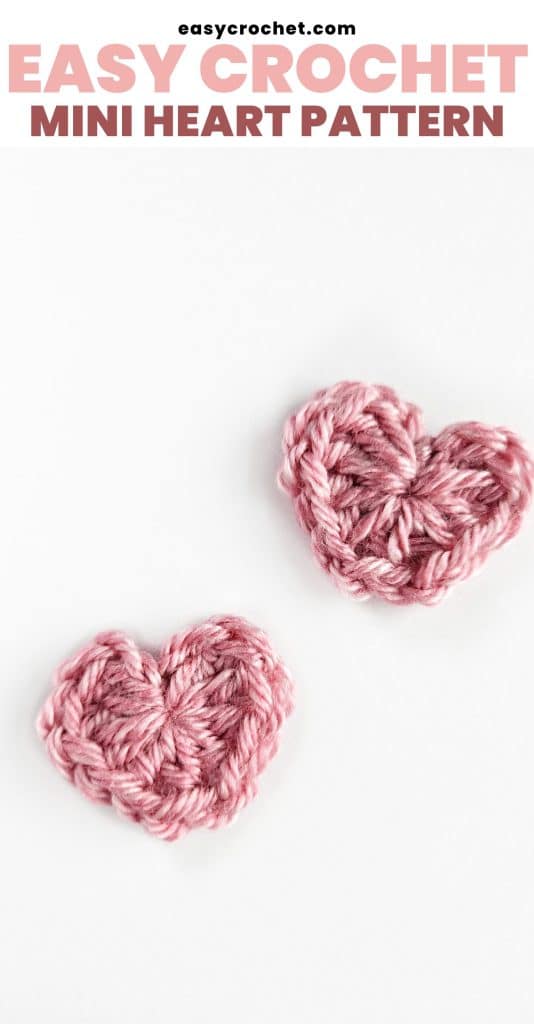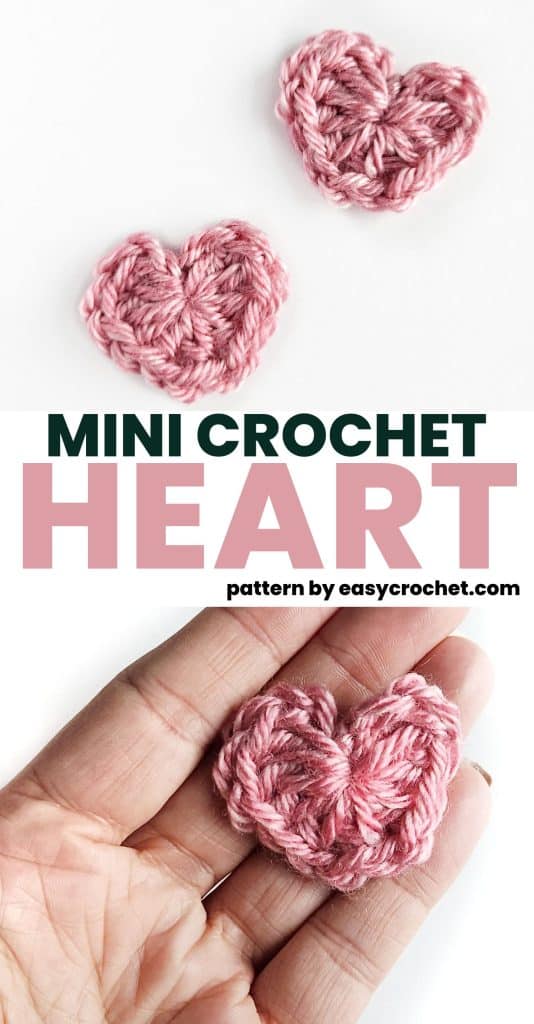 More Free Crochet Valentine's Day Patterns