If you have ever wondered how to crochet a small circle then this crochet tutorial is for you. This small crochet circle pattern is simple to make, work up extremely fast and lays flat!
These little circles make great embellishments for almost any crochet project, can be strung together to make a festive garland for any gathering or can even be used as coasters.
Two Ways to Crochet a Circle
There are two common ways to crochet a circle. The first is with a magic circle, which we do not use here. This pattern's method involves crocheting a foundation ring to form the beginning of the circle pattern.
If you are ready to make these cute round crochet circles, then follow along below with my step-by-step foundation ring circle tutorial to learn how to make some of these beauties for yourself.
Foundation Ring Circle Crochet Pattern
Skill Level: Easy
Materials
Notes
You can use any size yarn for these crochet circles just make sure to use the corresponding crochet hook size as stated on the yarn package
Written in standard US terms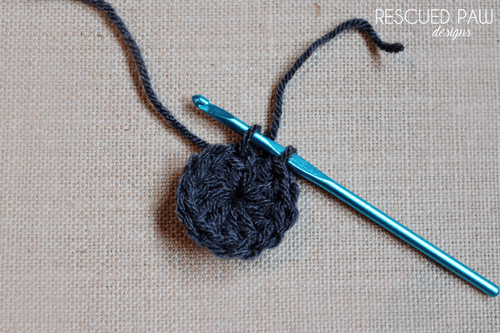 The Perfect Crochet Circle Pattern
In second chain from hook, work 12 double crochets. If you need help with learning how to do a double crochet stitch, use our tutorial for that.
Finishing
Fasten off, cut yarn and weave in the loose yarn ends with a yarn needle

You are done!
That's it! Thanks for following along with my small circle pattern, and if you have any questions, please feel free to ask! If you liked this circle pattern, then check out my Jute Twine Coaster Pattern for some more crochet circle inspiration!
Happy Crocheting!
PS: I am always pinning FREE crochet projects and tutorials on Pinterest, or you could also follow along with me on Facebook as well.
You may also like these free crochet patterns too!