Crochet Conversation Heart Patterns
Are you looking for easy to crochet conversation heart patterns to make for Valentine's Day? This collection of heart patterns is just that. They all use basic crochet stitches, workup fast and create fun designs like blankets, pillows and more that are great for yourself or to give as a gift!
I promise even if you are newer to crochet you can crochet one or all of these conversation hearts easily. Ready to make these designs?
Find the crochet conversation heart patterns below to get started crocheting today.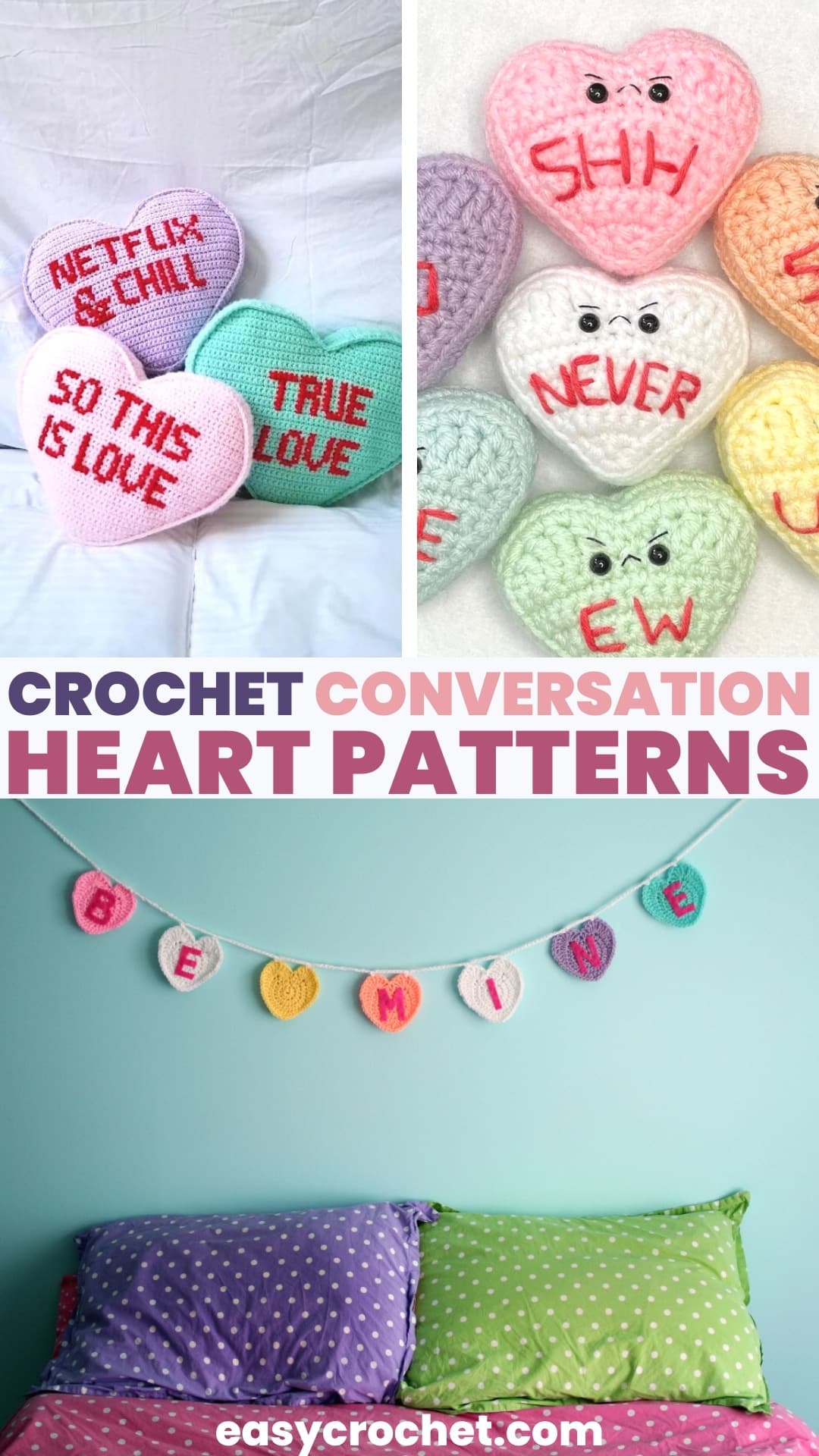 How to Crochet a Conversation Heart
Crocheting a conversation heart is easy! Promise.
Typically, crochet conversation hearts are designed in a heart shape.
The size of the hearts can vary. The heart crochet patterns below are anywhere from hand sized to a big heart pillow size or even a bigger blanket. You will find that most conversation heart patterns are easy enough to crochet, but can range from beginner level to more advanced.
Don't get discouraged with the more advanced heart crochet patterns quite yet, since they are easier patterns to choose from, which are doable for any skill level.
Like I mentioned earlier, some of these heart patterns are easy, great for beginners and work up fast. Before we start reviewing the list of free crochet patterns, let's discuss the crochet stitches you'll need to know and the yarn you'll want to use for some of these conversation heart patterns.
Crochet Stitches for Conversation Hearts
These easy crochet hearts use a variety of stitches, but most use basic stitches, which means they are simple to make and great for all skill levels.
First, you will need to know how to single crochet. The single crochet stitch or sc abbreviated is usually the first stitch that a beginner-crocheter learns when they are first starting.
Secondly, you may have to know how to half double crochet to make some of these hearts. The half double crochet stitch or (hdc) is another easy stitch that is simple to master.
Learn more about each crochet stitch below, so you can make your new favorite heart pattern from the list below!
The Stitches in these Crochet Heart Patterns
Insert a hook from front to back in the second chain from the hook or designated stitch
Bring the yarn over (YO) the hook and pull the yarn back through the chain from back to front (2 loops on hook).
YO and pull through both loops on the hook.
Single Crochet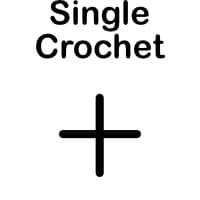 Patterns Using This Stitch →
YO (yarn over) Insert hook from front to back of the designated stitch, YO the hook and pick up a loop.
YO the hook and pull back through all three loops on the hook.
Half Double Crochet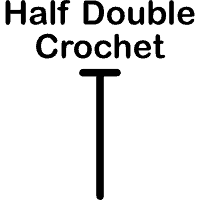 Patterns Using This Stitch →
Scroll on down to learn more about the yarn you'll want to use for these different types of crochet hearts.
The Best Yarn For a Conversation heart Pattern
Since there are many types of heart patterns, the yarn you'll need to use can vary. For me, the best type of yarn to use when crocheting a heart pillow is thicker, bulkier yarn like a five or six weight yarn.
Wool-Ease Thick and Quick
This yarn is made by Lion Brand, and is a Weight 6 – Super Bulky yarn.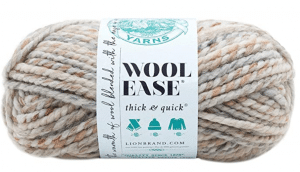 Buy Now
Patterns Using This Yarn →
But you may find that some patterns will call for a smaller weight yarn like a four like Vanna's Choice yarn which will be used in a blanket or amigurumi toy.
Vanna's Choice
This yarn is made by Lion Brand, and is a Weight 4 – Medium yarn.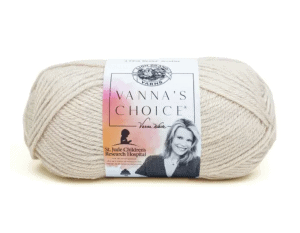 Buy Now
Patterns Using This Yarn →
Now that you know what stitches you'll need to know, all about the yarn and the basics on what we'll be crocheting, you can get started on one of these crochet conversation heart patterns below!
Remember, take your time, read the pattern thoroughly and practice as much as you can.
Enjoy!
Crochet Conversation Hearts
Take a look at some of the best crochet conversation heart patterns that can be made such as crocheted blankets, pillows and more!

More Free Crochet Patterns for the Home
Use our free crochet pattern collections below to make even more free patterns like crochet sweaters, crochet doilies and more.
Common Questions About Crochet Washcloths
Do Crochet Washcloths Make Good Gifts?
Yes, crochet washcloths make great gifts for all types of occasions. Gift washcloths as a housewarming gift with other household essentials. You can also gift these for the holidays and attach a holiday tag.
What Size is a Crochet Washcloth?
Crochet washcloths can be made in different sizes, but a common size of washcloths are 6 x 6 inches or 12 x 12 inches. Washcloths are a smaller bath towel option that are great for washing and or dry your face and hands.
| | Size in Inches |
| --- | --- |
| Washcloth | 6″ x 6″ or 12″ x 12″ Square |
I Love Crocheting Washcloths. Do you have more free washcloth crochet patterns for me?
Yes, I do. I have a collection of the top washcloth patterns from around the internet. These washcloth patterns are all free and easy, too. Browse through the collection of the top washcloth crochet patterns here on Easy Crochet.