The 10 Best Gifts For Knitters (2023)
Knitting is a great way to relax and have some fun, and there are plenty of great gifts for knitters of all experience levels.
Whether you're a beginner just starting out, or an experienced knitter looking for something new to try, here are some of the best gifts for knitters you can get this year!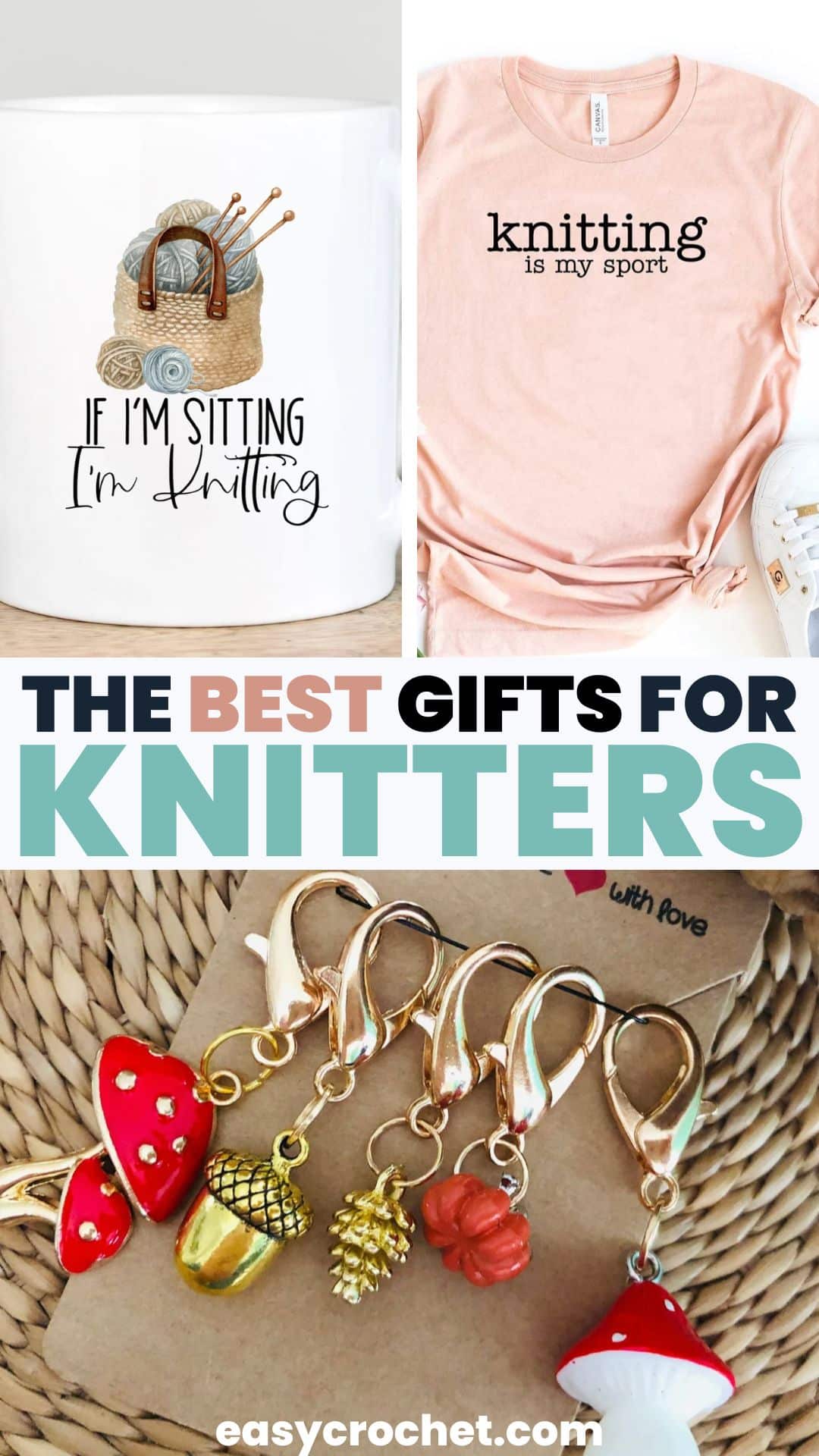 Gift Ideas for Knitters
Yarn
Yarn is one of the best gifts you can give to a knitter! If you're a beginner, you'll want to get a good amount of yarn, so you can start knitting right away. For experienced knitters, a good stash of yarn can help you keep your needles in use and your projects list never ending!
Below are a couple of my favorite yarn brands to knit with:

Yarn can come in different yarn weights, fibers, and brands, so be sure to get the correct weight and fiber for whatever knitting pattern you want to make.
Learn more about reading yarn labels and yarn weights to be certain you choose the correct yarn.
Knitting Pattern Books
If you're looking for a great gift for a knitter, consider a knitting pattern book. There are many styles and designs to pick from, so you're sure to find one that the recipient will love. Pattern books make a great gift because they provide inspiration and ideas for future projects.

If you're a beginner, getting a knitting book can help you learn the basics of knitting. For experienced knitters, getting a knitting book that's geared towards their skill level can be a great way to learn new techniques and improve knitting skills.
Yarn Bag
What is better than a new bag to carry all your yarn in, especially when they look as nice as the ones I found below!

If you'd rather not have a leather tote for your yarn or the project bags listed above, then check out this cute knitting tote bag I found instead.
New Knitting Needle Set
A new knitting needle set is the perfect gift for knitters of all levels.
If you're a beginner, you'll want to get a set of knitting needles that are the right size for your project. For experienced knitters, a good set of needles can help you save time and make knitting easier.
Below are a few different sets of needles that I recommend:

You'll want to keep in mind the size needles that the sets have, since that can vary per set and brand.
Notions: Stitch markers & Yarn Needles
Stitch markers are a great way for beginners to keep track of their knitting progress, and for experienced knitters they can be a valuable tool for keeping track of row and stitch counts.

A yarn needle is a must-have for any knitter, and is especially helpful for those who knit in the round. It allows you to easily remove stitches from the needle without having to pull the entire yarn through.
Knitting Stitch Dictionary
A stitch dictionary is a handy tool for any knitter. It includes pictures and descriptions of different knitting stitches, so they'll be able to knit more accurately and quickly.

My favorite is the knit stitch dictionary, since it easy to read and has numerous unique knit stitches to try.
A Knitters T-Shirt
If you want to be the favorite gift giver to your knitting friend, then a knitters tee or sweatshirt is perfect to give! The ones below are available with a few different fun knit saying and phrases, so you'll be able to find the perfect one.

If tees and hoodies aren't your thing, then a knit tote bag may be just as fun with these sayings on them too!
A Gift Card To a Knitting Shop or Shop Online
If you're searching for a gift that's personal and special, a gift card to a yarn shop or knitting shop is a great option! You can also give a gift card for places like Michaels Crafts, Walmart or Amazon to shop online for yarn as well.

Not only will the recipient be able to purchase whatever they want, but they'll also get to spend some time in the shop itself, which is half the fun!
Knitting Stickers
If you need a stocking stuffer for a knitter, then a knitting sticker is simply what you need. I found plenty of cute stickers that would be good for putting on a water bottle or a computer.
Below are a few knitting stickers that would make great gifts.

Does your yarn lover crochet too? If that is the case, I also found a couple of crochet stickers that would be perfect to gift.
Knitting Cup or Mug
If you know a knitter they probably love to have a beverage close by like coffee, tea, or water so a knit mug is a perfect gift. Take a look at a few of my favorites below.

If you love to crochet as well, I found some cute crochet mugs as well if you'd like to take a look.
More Posts and Knitting Patterns