15 Best Crochet Balaclava Patterns
If you are looking for a great way to stay warm during the winter, then a crocheted balaclava is it!
A Balaclava is a quick project and the perfect way to keep your head and ears warm while out on the slopes or going anywhere during the cold weather season. Our collection below features patterns for toddlers, kids, and adults, so you'll be able to find a balaclava to crochet more than likely.
Take a look at the top 15 free crochet patterns for balaclavas below!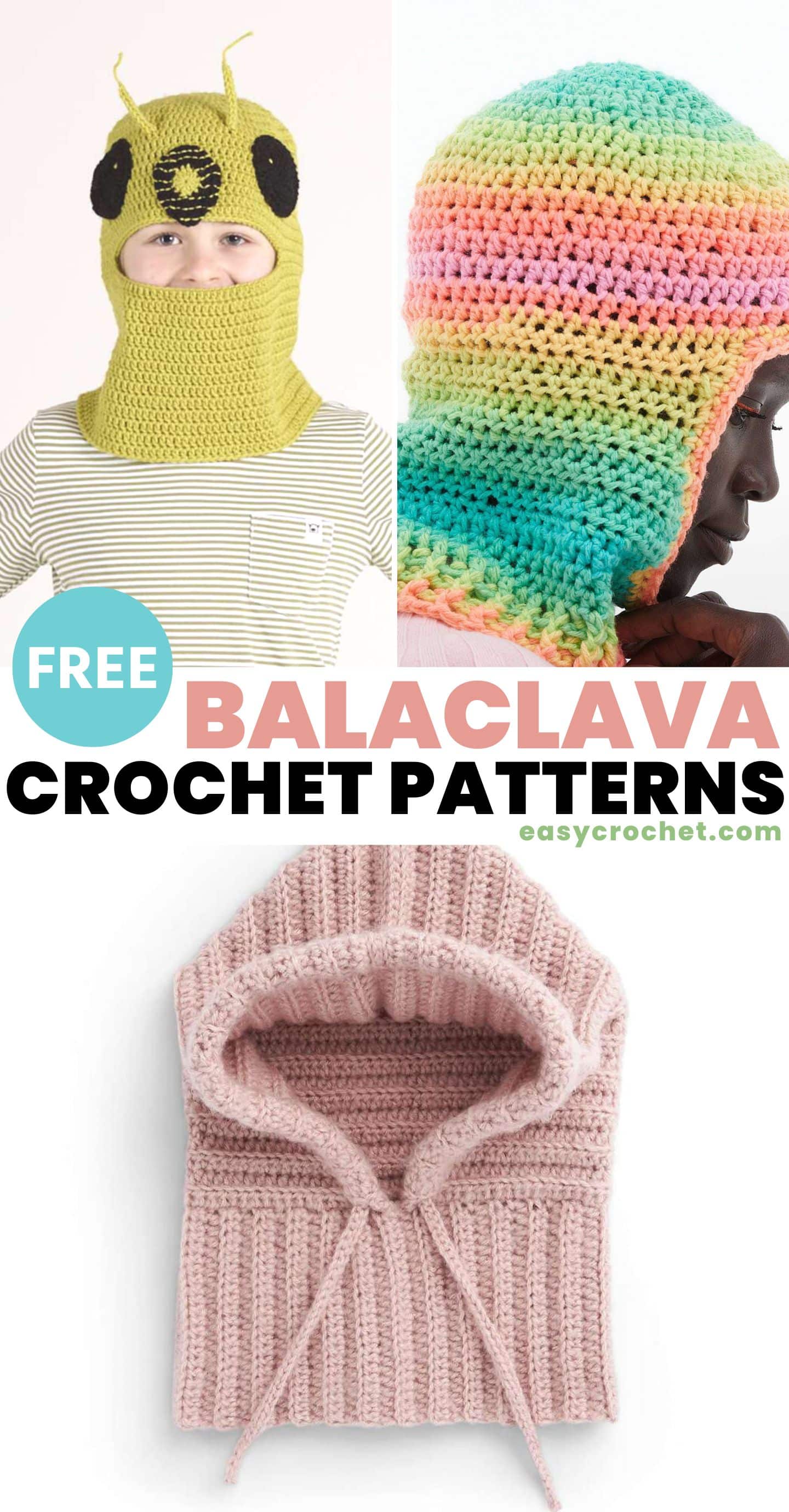 What is a Crochet Balaclava?
Crochet balaclavas are handmade, warm and comfortable winter crochet accessories that wrap around to cover the head, neck and face. They are great for keeping you warm and cozy in cold weather, and you probably have worn one before without even knowing it!
They are commonly worn in skiing, snowboarding, and other winter outdoor activities, but can be worn out during a trip to the store as well. Balaclavas can fit tightly or loosely depending on the pattern for it, and there is not a right or wrong way to wear one.
How to Crochet a Balaclava
To crochet a balaclava hood, you will need a few supplies like yarn, a crochet hook and one of the free crochet patterns below.
Yarn: The best yarn to crochet a balaclava is one that will keep you cozy warm, like a bulky five weight or super bulky 6 weight. But keep in mind, when crocheting balaclavas it can be made with any size yarn you wish.

My favorite yarn would be Lion Brand Wool-Ease Thick and Quick for a warm balaclava.
If you would like to use a wool for added warmth, then use a super wash version that can easily be washed when needed.
If you are allergic to wool, you can use an acrylic yarn to make a balaclava instead.

Crochet Hook: The most common hook size used for a five or six weight yarn is a 9 or 10 mm crochet hook. You can use whatever hook size you'd like. I suggest reading the yarn label of the yarn you pick for the crochet hook size that is recommended
Scissors: A nice pair of yarn scissors are great for cutting yarn ends when required.

A pair of rainbow stork scissors is my go to.

Tapestry Needle: You will need this to weave in the yarn ends once you are done crocheting your balaclava.
Is it easy to crochet a balaclava?
If you are a beginner to crocheting, then you can make a balaclava. You will need to know some basic stitches such as single crochet and half double crochet to begin.
You will also find that some patterns will call for simple increases and decreases to help shape the hood of the balaclava. These patterns may also call for working in the front or back loops, which will create texture and warmth. While some of these balaclavas are worked in one piece, you may need to seam or join together some pattern pieces as well.
Balaclava Crochet Patterns
Crochet balaclava patterns are a great way to create a warm and stylish accessory for the colder months. If you intend to spend time outdoors, then a balaclava is a great way to keep your head, neck and face toasty.
These patterns provide step-by-step instructions for crocheting a balaclava, including the necessary materials and techniques needed to complete the project.
More Free Crochet Hat & Ear Warmer Patterns
If you enjoyed browsing through the baclava patterns above, then you'll probably love our collection of easy to make hats and ear warmers as well!