Simply Sweet Crochet Beanie Hat Pattern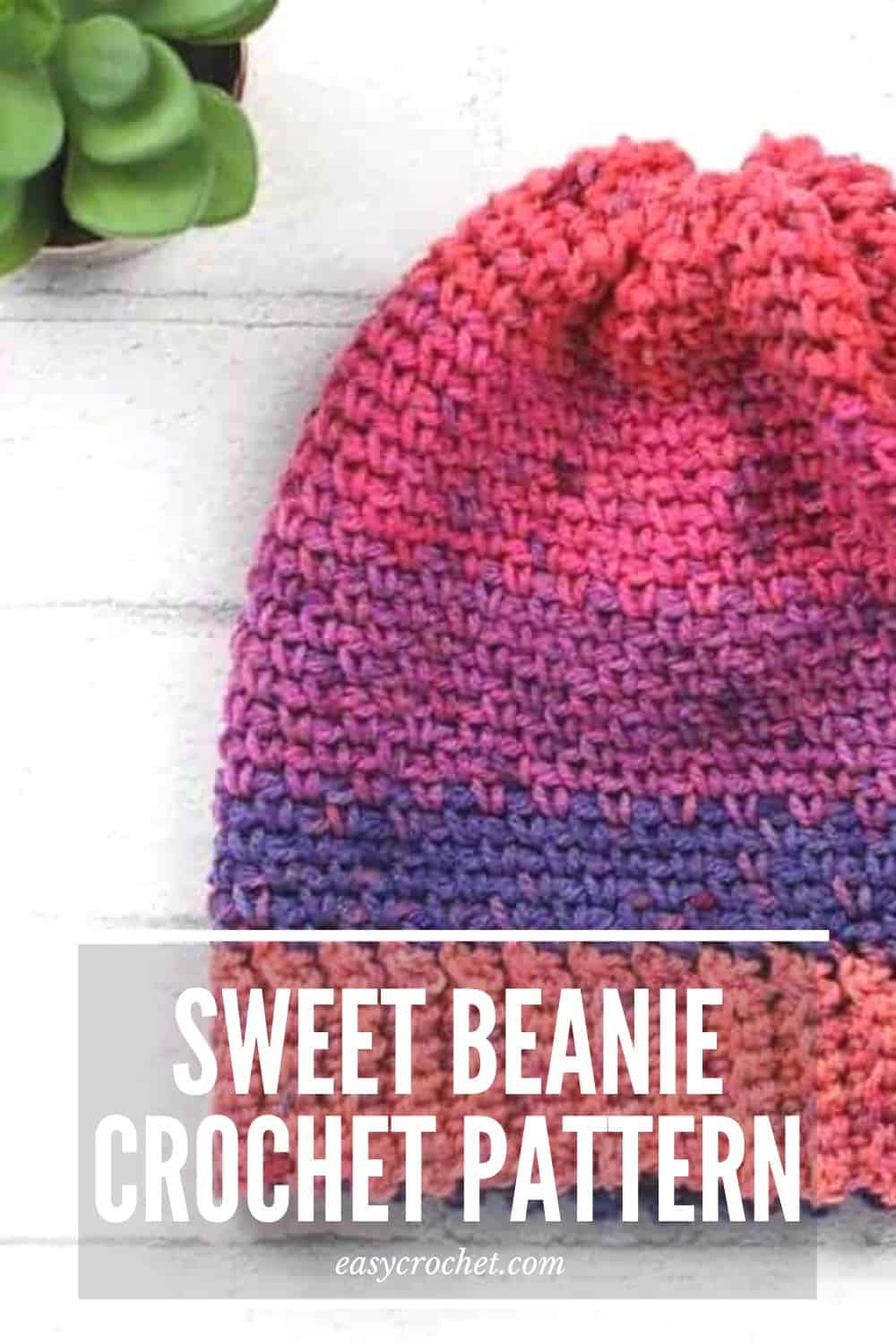 If you are looking for a quick crochet project, then this simple beanie is for you! The Simply sweet crochet beanie hat is what the name suggests! It's simple, looks cute, and uses less than one skein of yarn!
Sounds good, right?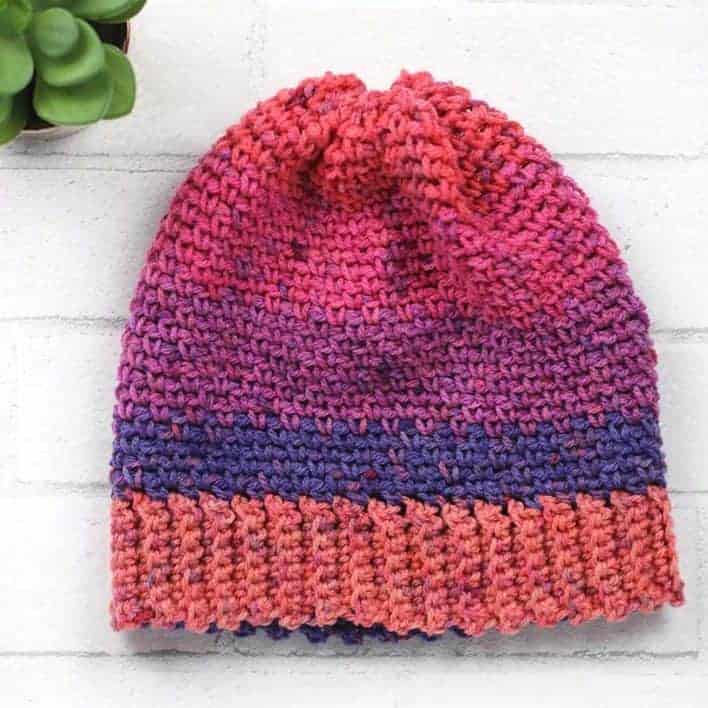 Explore my free crochet pattern archive for inspiration. Enjoy this simple hat pattern, which is perfect for Valentine's Day or any occasion that calls for pink! Happy Crochet Hat Making!
The Yarn That's Perfect for This Hat
Last fall, I was browsing my local craft store when I came across a Caron Cupcake from Yarnspirations. If you haven't seen them, they are yarn cakes wrapped to look like little cupcakes!
They were too cute to pass up, so I picked up the colorway Sweet Berries, which is a fun mix of purple, pink, and salmon. The color of this beanie is also perfect for the Valentine's Day holiday coming up! But, since it comes in so many colors, you could make one for every holiday you wish!
If you can't find this yarn, Loops & Threads JOY DK is a great substitute and is easy to find online and in store at Michael's. Plus, it comes in a great variety of solid and striped colors.
The label suggested a size G crochet hook. While not tiny, it was definitely different from the 10 mm crochet hook, I love to work with. I was a little intimidated at first but loved how the small hook size gave the beanie a sweet, delicate look.
Let's Get Started!
Please keep in mind if you do decide to use a different yarn, the gauge and overall look of the hat will differ ever so slightly. Ready to get started? Scroll on down to find the free beanie pattern, or purchase an Ad-Free PDF version of this pattern from my shop.
Happy Crocheting Friends!
How to Crochet the Simply Sweet Beanie Hat
Skill Level: Easy
Materials
Notes
Finished Size is approximately 9″ in length by a 20″ circumference (not stretched) as written.
Adjust width by making band longer or shorter in an even #
Written in standard US terms
Gauge
Gauge for the band is each row is approximately 3″ long
Gauge for the main hat is 4 sc ch1's in 2 inches
Change hook size if needed to get gauge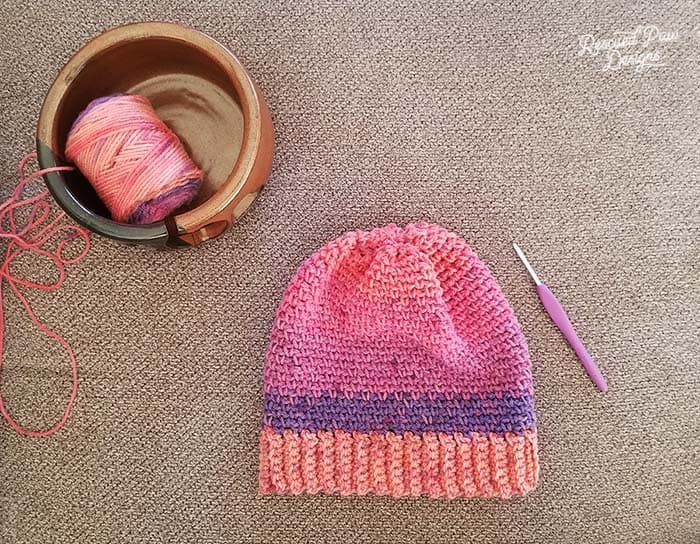 The Sweet Crochet Beanie Pattern
The Band
Row 1:
Chain (ch) 7, in the second Ch from the hook Sc (single crochet), Sc in each Ch across, turn. (6)
Row 2:
Ch 1, in the first St (stitch) Sc in the back loop (bl), Sc in each st across in the bl, turn. (6)
Row 3 – 66: Repeat row 2.
Finishing: Finish the band by holding Row 1 and Row 66 together to join with a Sl St (slip stitch) do not fasten off!
The Main Beanie
*I updated the pictures below to better show how to begin the first round of the beanie.
You will now be working along the long edge of the band we just joined.
To Begin: Ch 1, work a sc into the space between rows 1 & 2 of the band, Ch 1, work a sc in between rows 3 & 4 of the band, Ch 1, (see pictures for reference), Repeat across by sc between band rows and Ch 1, ending with a Ch 1.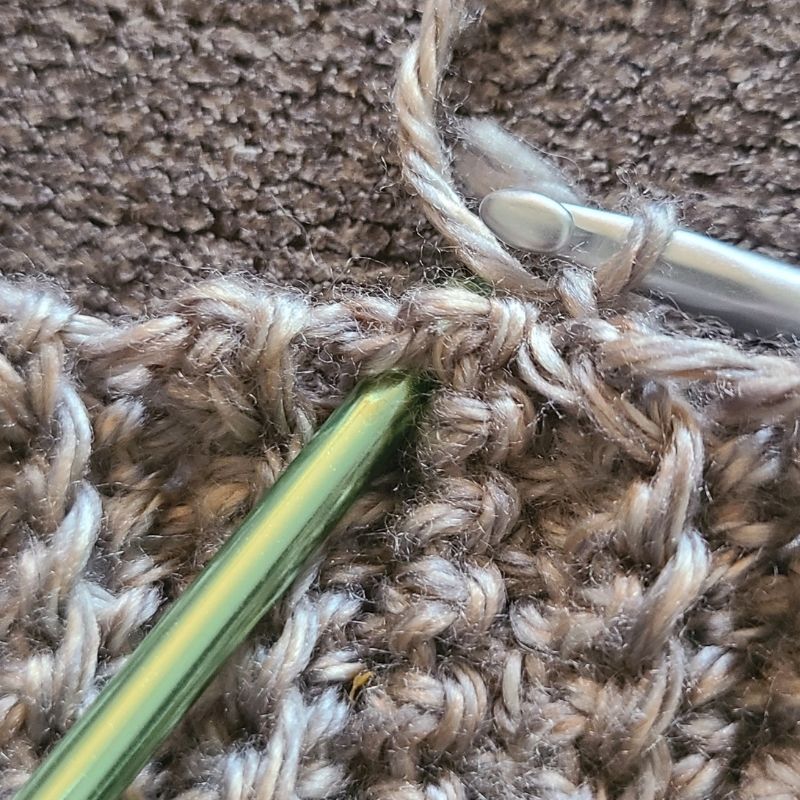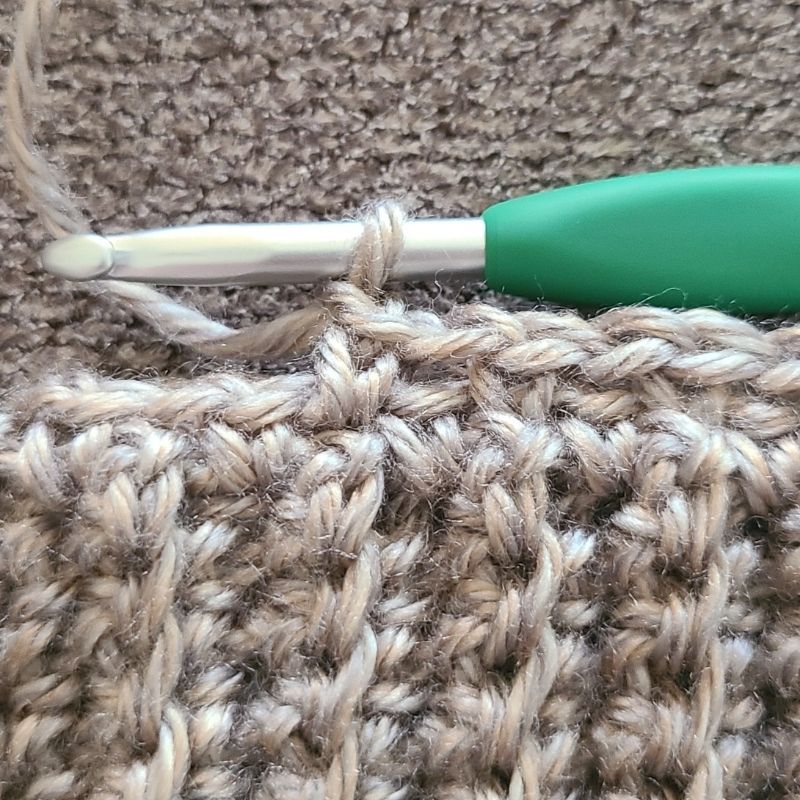 Remaining Rounds: Do not ch 1 or join, work a Sc in the first, Ch 1 space of round 1, ch 1, work another Sc into the next Ch 1 space, repeat around until your hat measures approx 8.5 to 9″ from band to top. (whichever fits best) ending with a Sc.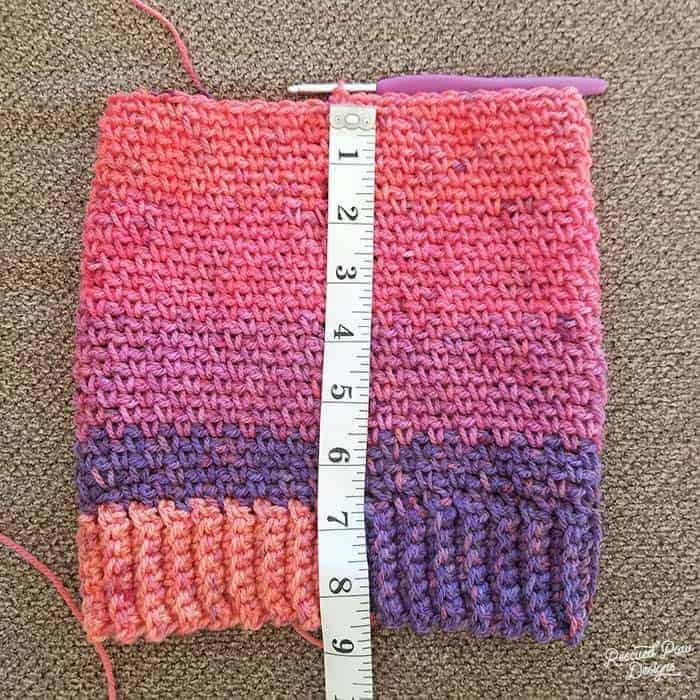 Closing the Beanie
After you have finished the main part of the beanie sl st into the back loop of the next stitch in the row directly below the current one and fasten off. (see picture)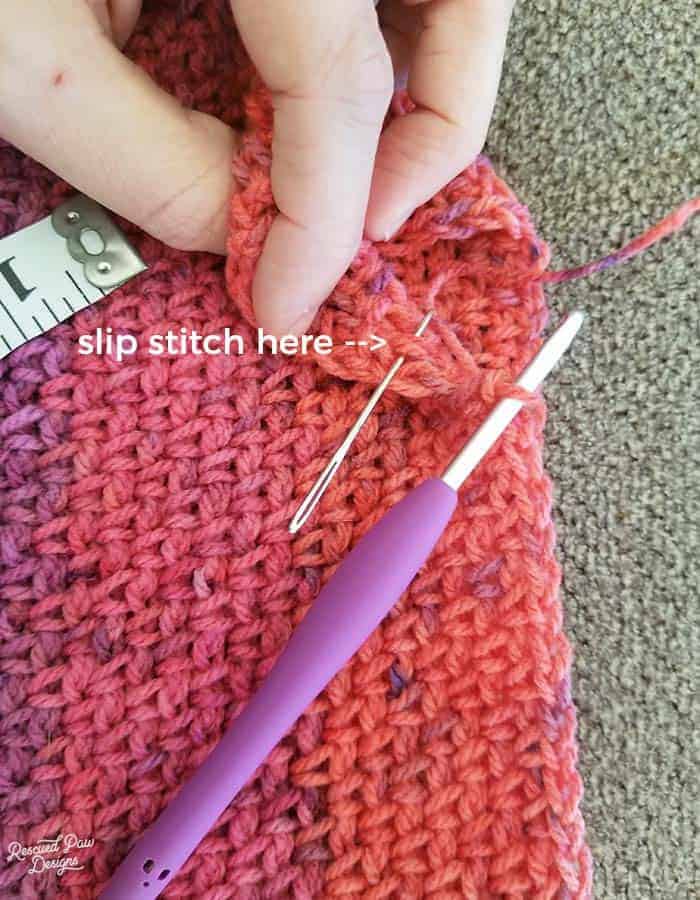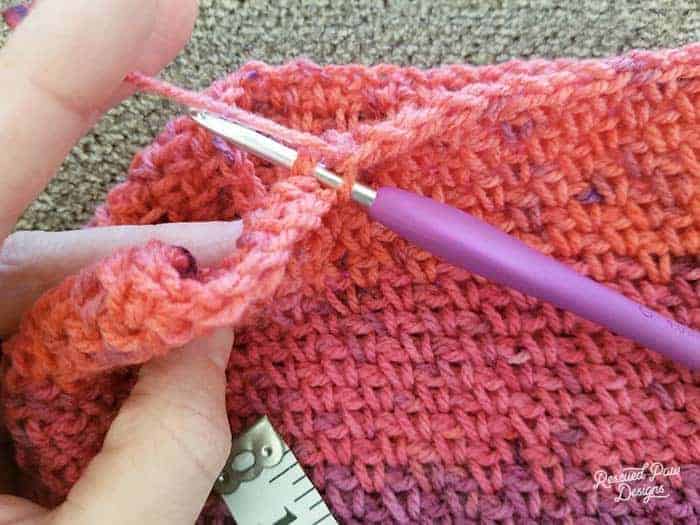 Fasten off yarn leaving a good 12-15″ yarn tail. Attach the tail of yarn to the sewing needle. Weave in and out through the last row of stitches.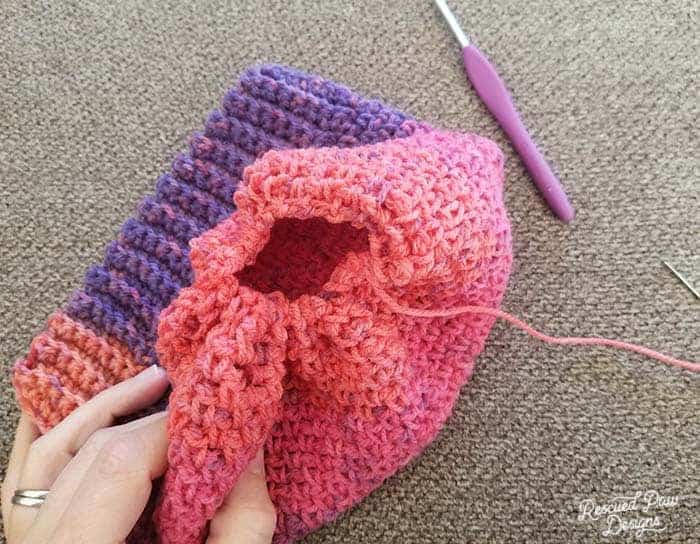 Pull tightly to close! Turn hat inside out to fasten off and secure the loose yarn ends. I tend to use this technique a lot to finish hats like my Williams Beanie. It becomes quite easy after doing it over and over.
Now finish up this simple crochet beanie by weaving in all yarn ends throughout the hat!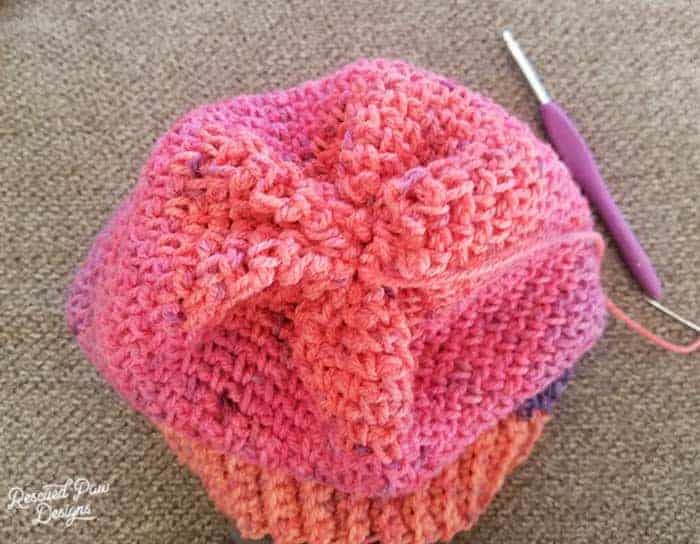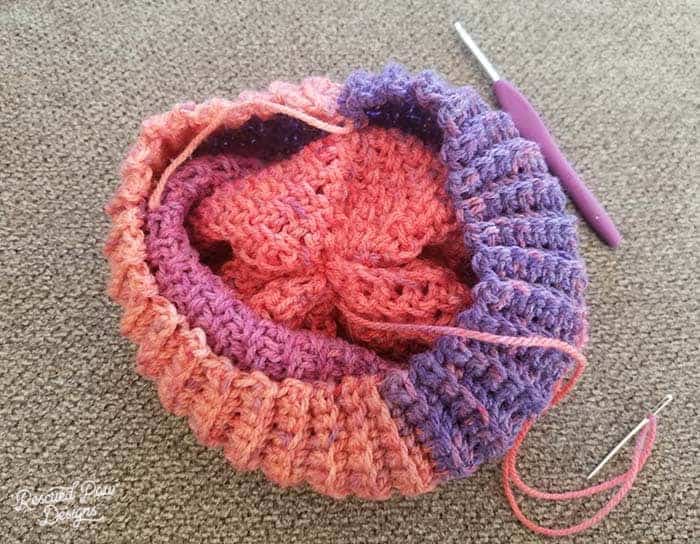 That's it! You finished this sweet crochet beanie! You can add an optional pom or faux fur topper to your hat! If you'd like to do that you can use the Clover Pom Maker for an easy solution!

Follow Along With Easy Crochet
I hope you enjoyed this design! If you liked this easy beanie pattern follow along with me on Facebook, Instagram, or Pinterest (where I pin daily!). If you prefer video tutorials, you can also find me over on YouTube!
If you are looking for other crochet hats for beginners then explore my free crochet beanie patterns archive
More Free Crochet Hat Patterns