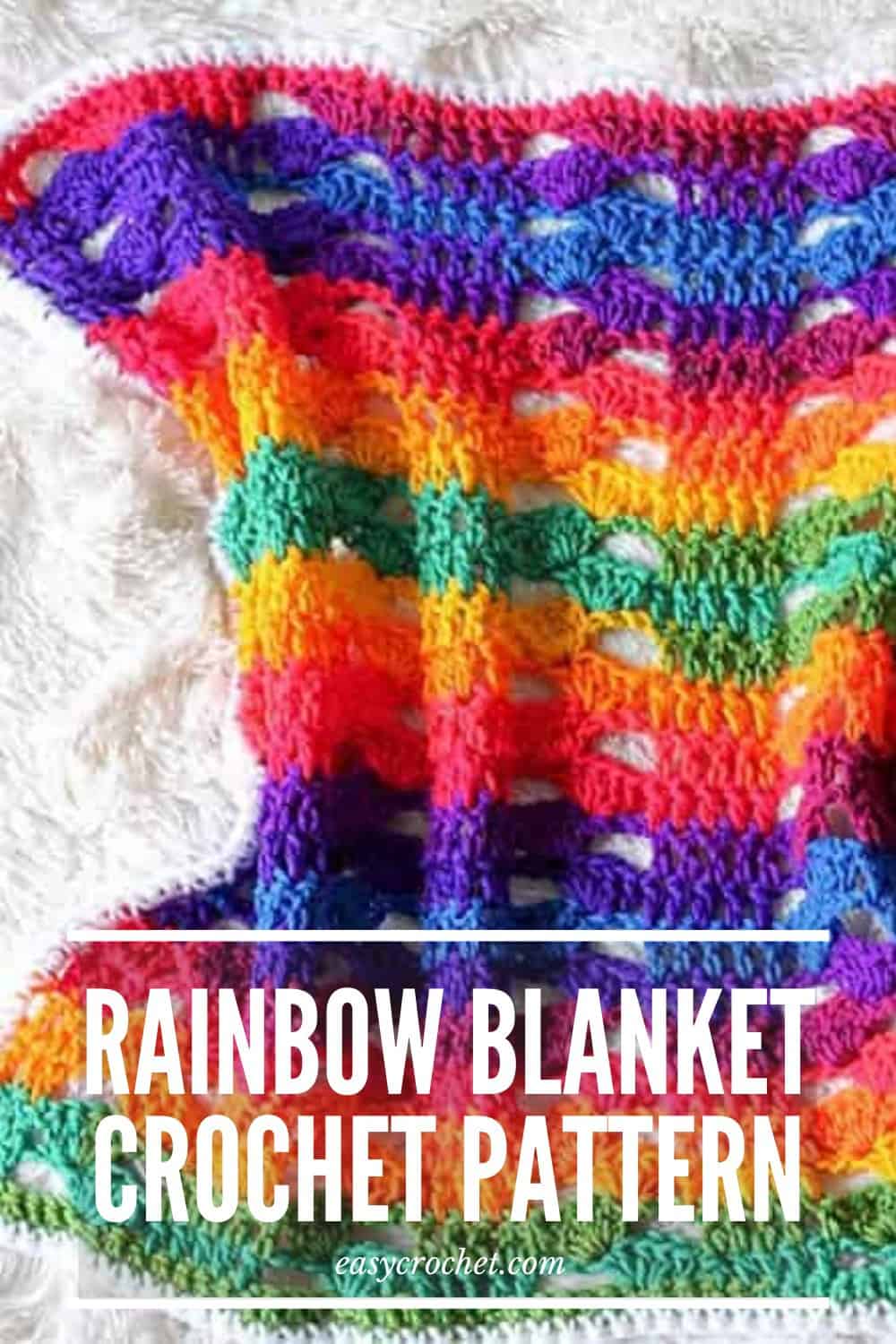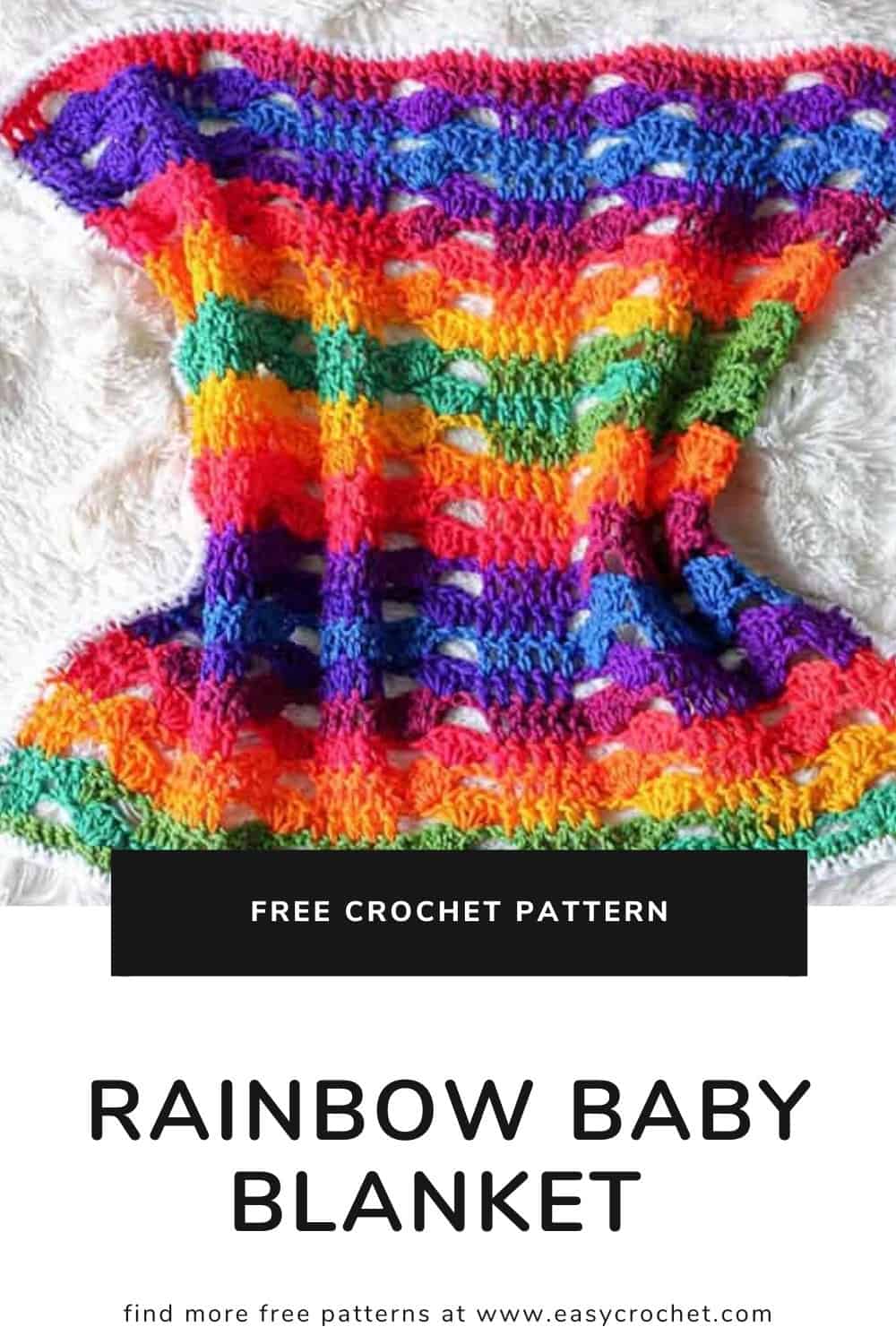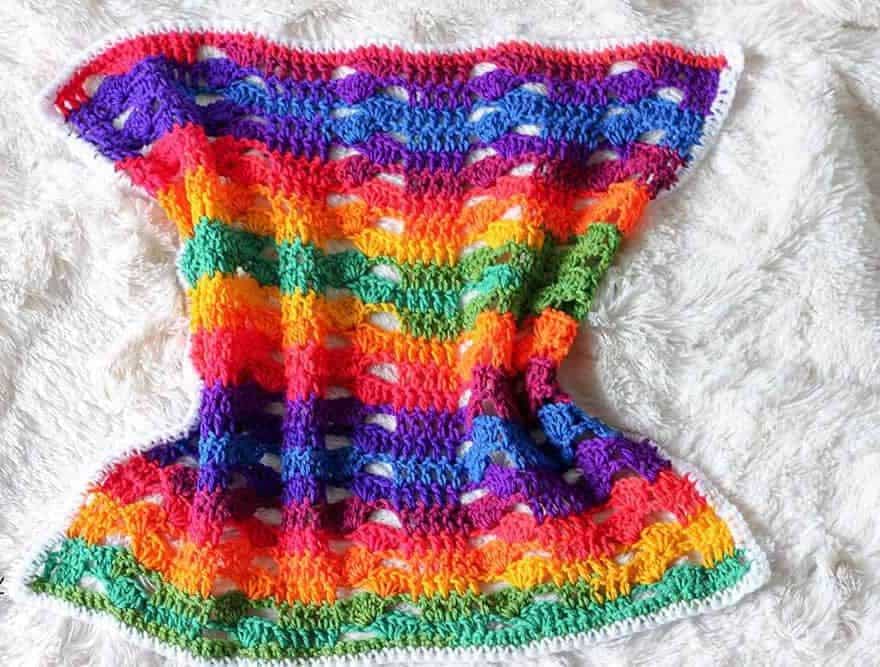 This crochet rainbow baby blanket is an easy beginner-friendly blanket but has the look of a crocheted blanket that took much longer to make!
Scroll on down to find the free rainbow blanket pattern that would be perfect for St. Patrick's Day, as a baby blanket or a just because you want to make a blanket blanket. You can also purchase the ready to print AD-FREE PDF in the shop.
This beginner-friendly rainbow ripple design is worked up using a one-row repeat of stitches and is simple to work up. If you think you are ready to make your very own rainbow crochet blanket, then read on down to find the free baby blanket crochet pattern!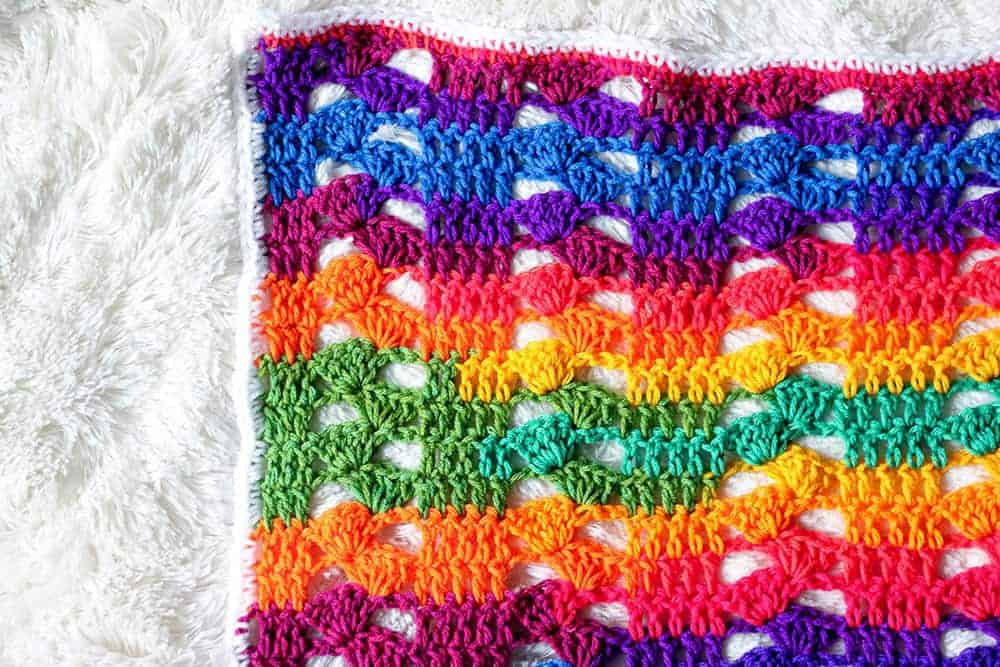 Bright Rainbow Crochet Blankets Are Fun to Make
What do you think of the fun rainbow colors? If you love them, then you will LOVE this bright fun blanket. This rainbow yarn reminds me of summer, unicorns, and all types of fun things.
I love the look of these bright colors in this yarn, and my kids love it too, so that was good enough for me to crochet up this colorful crochet blanket! Three kids under ten who love warm, bright, fun colors. Who would have thought?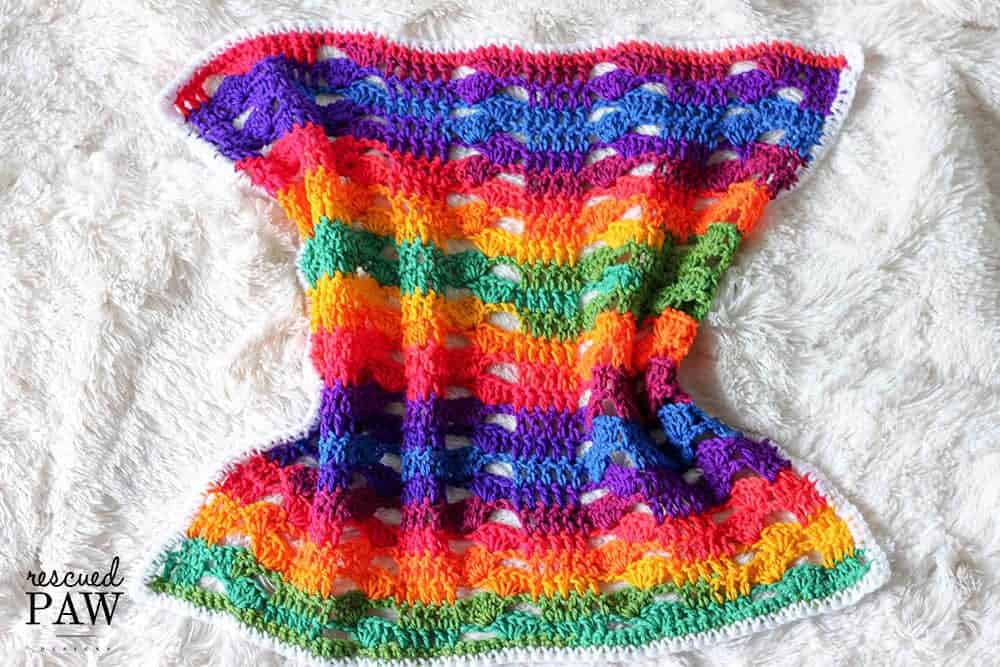 The Yarn That Is Perfect for This Rainbow Blanket
I used Red Heart Super Saver Stripes, so I could get the look of stripes without all the color changes and let's not forget weaving in ends! It is a 100% acrylic four weight yarn that is easy to find in most crafts stores and online.
If rainbow stripes aren't for you, then no worries this yarn comes in some great color varieties, so there is sure to be something you will love! Check out all the choices on the Red Heart Yarns website or even on Amazon.
Guess what? This blanket only used one skein of yarn! Which makes it great for a small lap throw, baby blanket, or even as a photo prop. It's the perfect size for little ones, and my kids already claimed this one as their own since according to them, this blanket is super cool. 😂
Just look at the picture below to see how smoothly the colors blend to create a rainbow blanket and how fun it really is! I can't wait to see how your blanket turns out.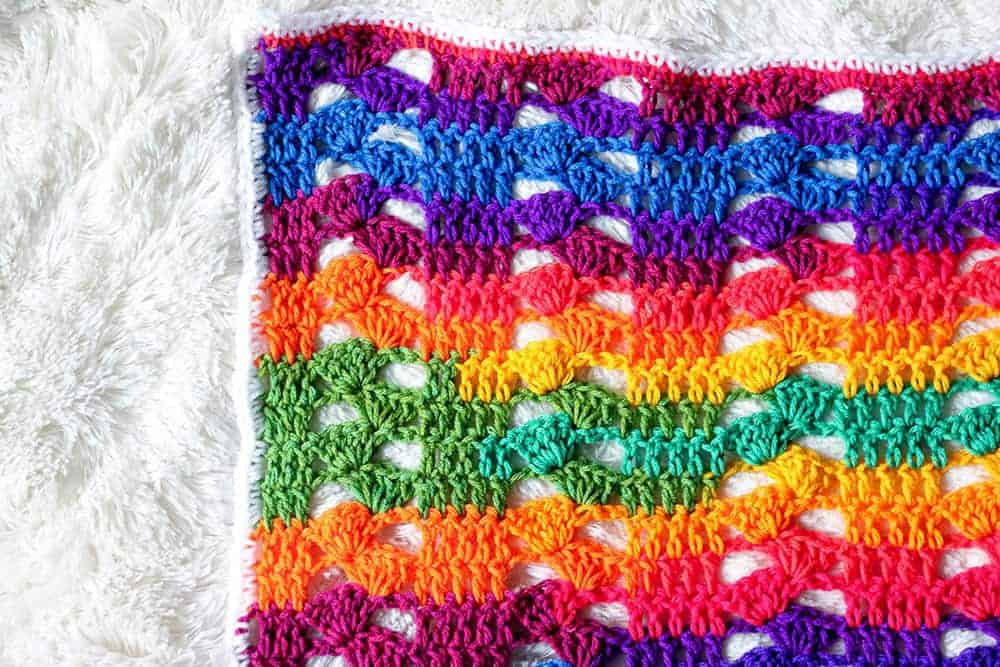 The Stitches You'll Need to Know for a Rainbow Blanket
If you think this stitch looks complicated, then you are mistaken because it is beginner-friendly and works up fast! Promise. This rainbow blanket only uses a few basic crochet stitches such as the double crochet and single crochet.
If you need a refresher before you start this blanket about how a double crochet stitch or dc stitch is worked up then click on over to my beginner tutorials below that will help you with this stitch
Double Crochet Lessons: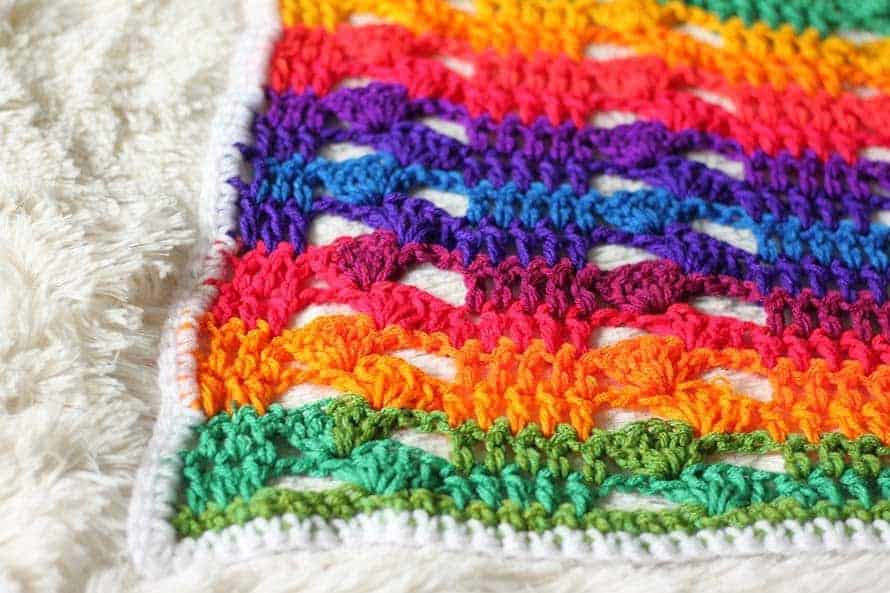 Are You Ready to Get Started?
If you have looked over the yarn you'll need and the stitches you want to know for this rainbow crochet blanket then you are almost ready to get started. Next, scroll down to take a look at the free blanket pattern, so you can get started as soon as possible.
I worked this blanket up in just a few days by picking it up in between taking care of the kids, laundry, and house chores. If I can do it, so can you! Also, if you'd like to make a different size, the directions are below on how to change the starting chain.
Find the free pattern below, or you purchase the AD-FREE PDF above that is great for on the go crocheting.
Happy Crochet Rainbow Blanket Making!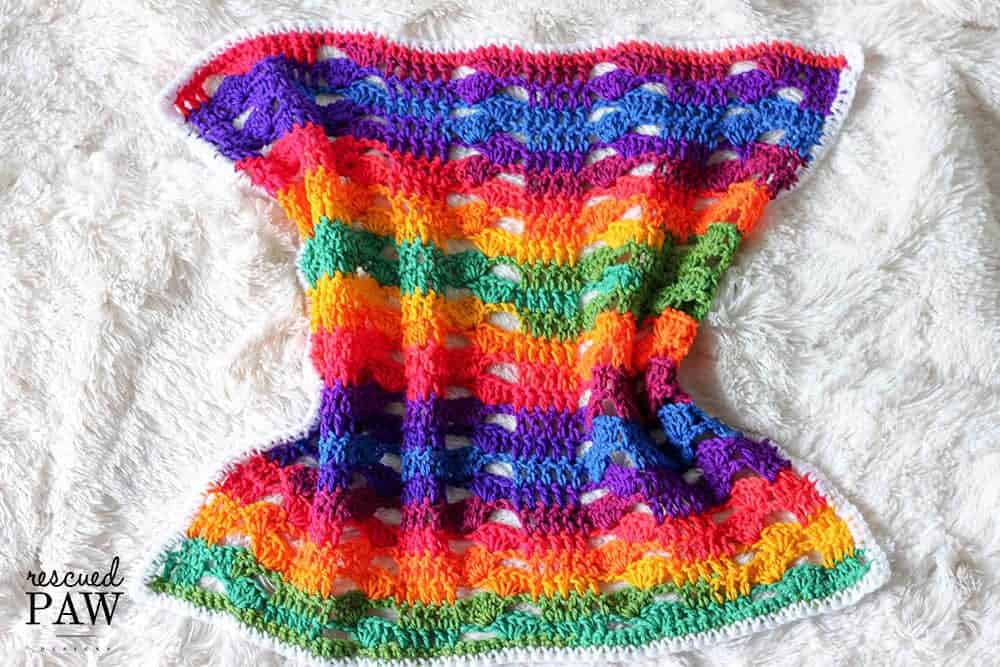 Rainbow Baby Blanket Crochet Pattern
Skill Level: Easy
Materials
Size J 6.00 MM crochet hook
276 Yards of Red Heart Super Saver Stripes Yarn or any medium weight 4 yarn.
40 yards of white worsted weight (4) yarn
Yarn needle
Scissors
Crochet Abbreviations
CH = Chain
ST = Stitch
DC = Double Crochet
SK = Skip
SC = Single Crochet
Gauge
Finished Size
Baby Blanket approx. 26″ high x 48″ wide
Notes
The pattern is written in Standard US terms.
Get the ready to print AD-FREE PDF in the shop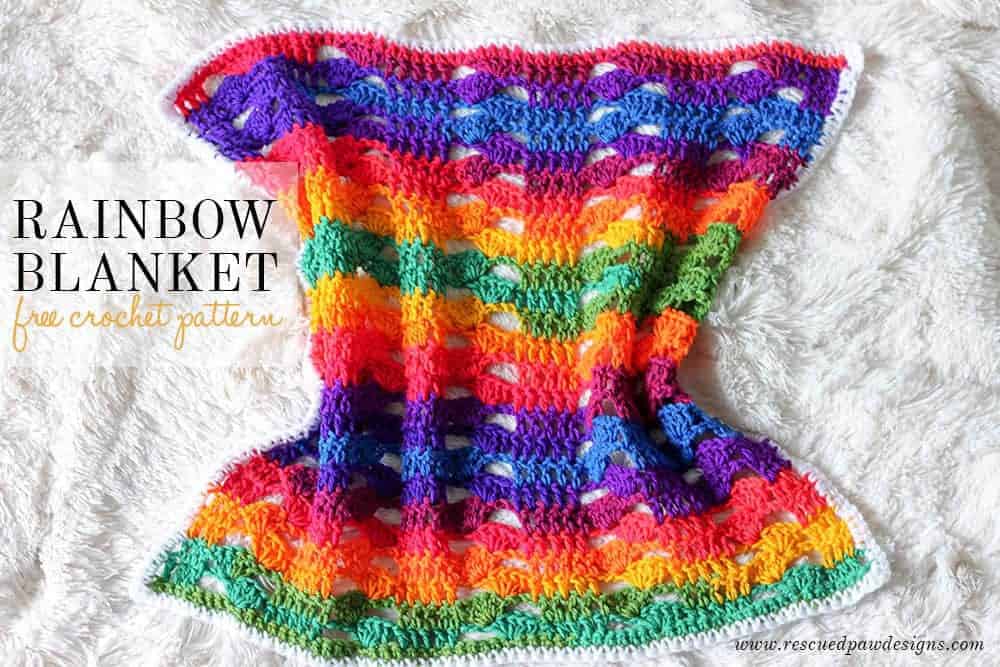 The Rainbow Blanket Pattern Steps
CH multiple of 12 +4
Foundation Row: CH 64. In the 2nd CH from the hook SC, SC in every CH across. (63)
Row 1: CH 3 (Counts as first DC), SK first ST, 1 DC in each of next 3 ST's, *SK next 2 ST's, 5 DC's in next ST, CH 2, SK next 4 ST's, 1 DC in each of next 5 ST's, repeat from * across ending last repeat with 1 DC in each of the last 4 ST's, turn.
Row 2: CH 3 (counts as the first DC), SK 1 ST, 1 DC in each of next 3 ST's, * SK CH 2 space and work 5 DC's into 1st DC of cluster from row before, CH 2, SK the next 4 ST's of the cluster, Work 1 DC into next 5 DC's from previous row, repeat from * across ending last repeat with 1 DC in each of the next 3 DC's from the previous row, 1 DC in top of the turning CH, turn.
Row 3: Repeat Row 2 until desired length of blanket. (25 rows were done for the example)
Last Row (I did 25 rows): Row Ch 1, Sc in every ST across.
The Border
Attach the white yarn to your rainbow cluster blanket after the last row, starting in first ST down the long side SC, make 74 SC's evenly along the side next do 2 SC's CH 1 2 SCs in the corner, continue working along bottom short side of blanket doing 61 SC's until you reach the next corner, do 2 SC CH 1, 2 SC, continue working your way around the blanket in the same manner until you reach the last corner.
After working your way around the blanket fasten off your yarn and weave in the loose ends with a yarn needle.
Finishing
Weave in remaining loose ends of your blanket with a yarn needle then block the blanket to straighten edges if desired. You can find a blocking board on Amazon or in your local craft store. I recommend blocking otherwise your blanket will not lay nicely. Learn more about blocking.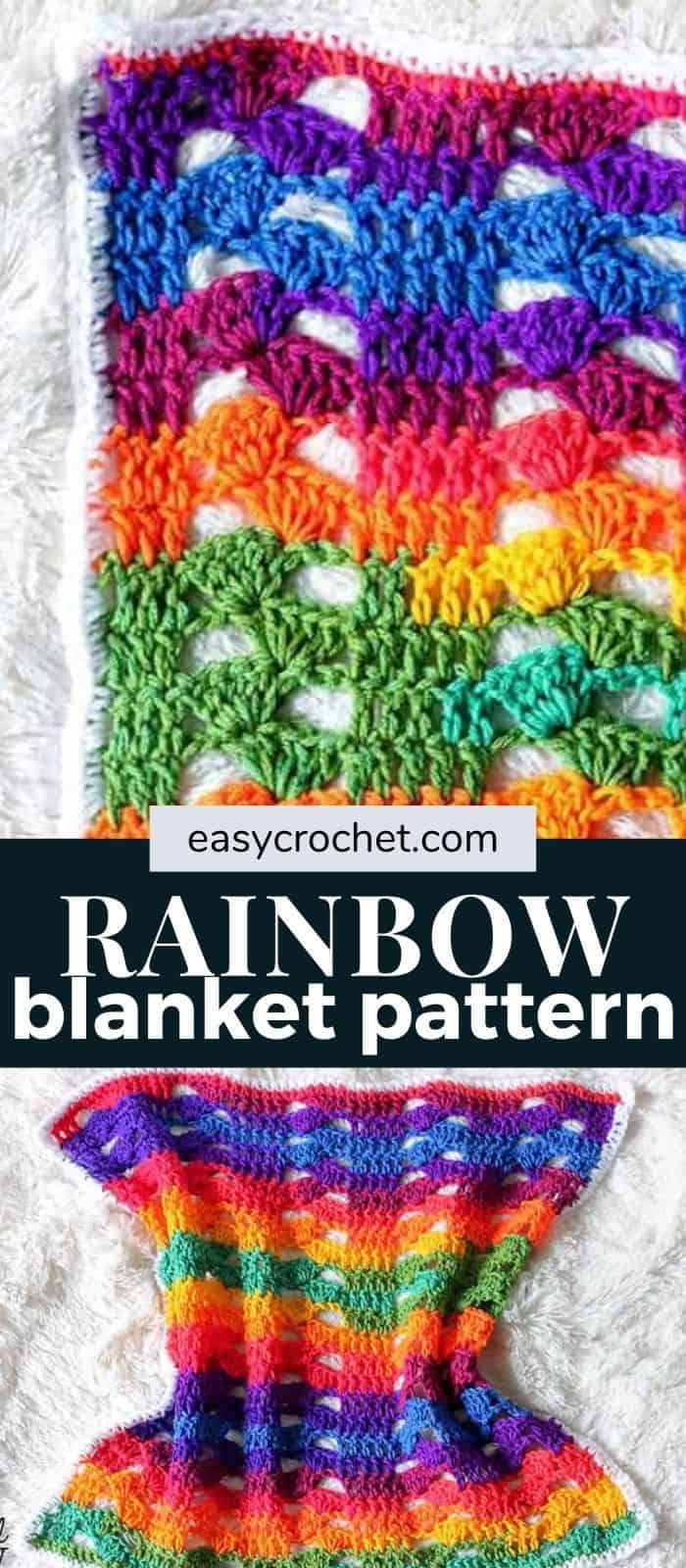 Are you planning to make even more crochet blankets? Try out my easy blanket stitch pattern, Elise's single crochet blanket or search the archives for more ideas.
More Free Crochet Blankets
You finished the Rainbow Cluster Blanket! Did you like this simple pattern?
You may also like our free patterns for the Chevron Crochet Blanket, Charlotte Crochet Blanket and many more found in our crochet blanket section.