The Best Knitting Patterns for Beginners
Are you looking for beginner knitting projects? If so, this list of easy knitting projects are the best you can make!
Below, there are 27 free and easy knitting patterns for beginners. These patterns are perfect for new knitters to get started with since they use simple techniques and stitches.
Easy Knitting Patterns for Beginners
Each of the free patterns below are perfect for a new knitter who's searching for an easy pattern to knit.
From the most basic knit pattern to some with 2 or more stitches, they would all be wonderful for someone new to the world of knitting.
Beginner Stitches
The majority of the free patterns below use the knit stitch (aka garter stitch when worked in rows) and the purl stitch, which are easy knitting stitches that most beginners learn at first.
Knit or Garter Stitch: Using the knit stitch in rows is called the garter stitch.
Purl Stitch: You knit one row and purl the next, this is called the stockinette stitch.
You may come across some more advanced techniques like increasing, decreasing which are a great skill to know but are best saved for the intermediate / advanced knitters.
Techniques
There are a few different techniques and skills you will need to know as a beginner knitter.
How to Cast On: Casting on is how you start your project and get your yarn on the needle.
How to Bind Off: Knowing how to bind off (or cast off) is important for a beginner to know because it secures the stitches and creates a flat edge.
What is the easiest thing for a beginner to knit?
The easiest thing for a beginner to knit is a flat project that doesn't require shaping or sizing, such as a scarf or washcloth.
What should you look for in a beginner knitting pattern?
When looking for an easy knitting pattern, you will need to keep an eye out for a few things, so you'll be able to find the perfect pattern for you.
Clearly Written Instructions: Simple pattern instructions with the skill level clearly labeled.
Easy Stitches. The knit stitch or the purl stitch are commonly seen in beginner patterns.
The Yarn Weight: A four weight yarn (also known as worsted weight) is a great beginner yarn weight to work with and is easy to knit up.

Tip: You can typically find the weight of the yarn on the yarn label.
Supplies & Tools
Before you start knitting, you will want to make sure to have the best yarn and needles for beginners.
Yarn
Most beginners use a worsted weight yarn or higher in yarn weight. Thicker yarns work up faster and are easier to handle when they are on knitting needles. You'll find that the thicker yarns make it easier to see your stitches and count.
You can take a look at a few of my favorite yarns below that I'd recommend for beginners to start out with.
Vanna's Choice Yarn: This four weight yarn, Vanna's Choice from Lion Brand, is inexpensive and a good yarn to start with as a beginner.
Vanna's Choice
This yarn is made by Lion Brand, and is a Weight 4 – Medium yarn.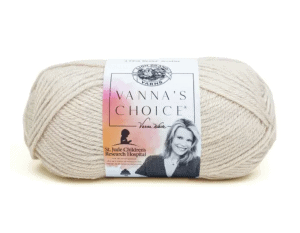 Buy Now
Patterns Using This Yarn →
Brava Worsted: Another one of my favorite four weight yarn is Brava from WeCrochet. It is an easy to work with yarn that looks great, made into any knit project.
Brava Worsted
This yarn is made by Knit Picks, and is a Weight 4 – Medium yarn.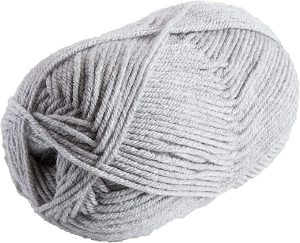 Buy Now
Patterns Using This Yarn →
Knitting Needles
My suggestion for beginners are to use knitting needles made of bamboo or wood, since it is more difficult for knitting projects to slip off them.
Take a look at a few sets of knitting needles that I recommend below that are great for beginner knitters to start with.
Bamboo Knitting Needle Set: A bamboo needle set is inexpensive and a good single point needle set to start with as a beginner.
Steel Circular Needle: A 5 mm circular needle is a good needle to start with if a wood or bamboo needle isn't for you, and it doesn't break the bank. This needle size is perfect for scarves, potholders, and blankets.
The Best Beginner Knitting Patterns
Below, you'll find the best beginner knitting projects to start with as a new knitter. These beginner-friendly knitting patterns are easy to knit and include scarves, blankets and more!
I hope you enjoyed this collection of easy beginner knit patterns and found a new project to make. At the time of this post, all the knit patterns listed were free knit designs. If you find one that has changed, please let me know.
More Knit Patterns
Take a look below at some of my favorite knit patterns and collections.
If you enjoyed these patterns, please share one of the images below on Pinterest, so you can always return to these patterns.