56 Free Easy Crochet Patterns for Sweaters and Cardigans
Are you looking for an easy-to-make sweater crochet pattern? If so, then you are in luck with our curated collection of free crochet sweater patterns! Below you'll be able to find a shrug, pullover, cozy sweater or cardigan to make that will fit your style.
Most of these sweater designs are at a basic and easy skill level, so if you are a beginner at crocheting sweaters, you will be in for a treat!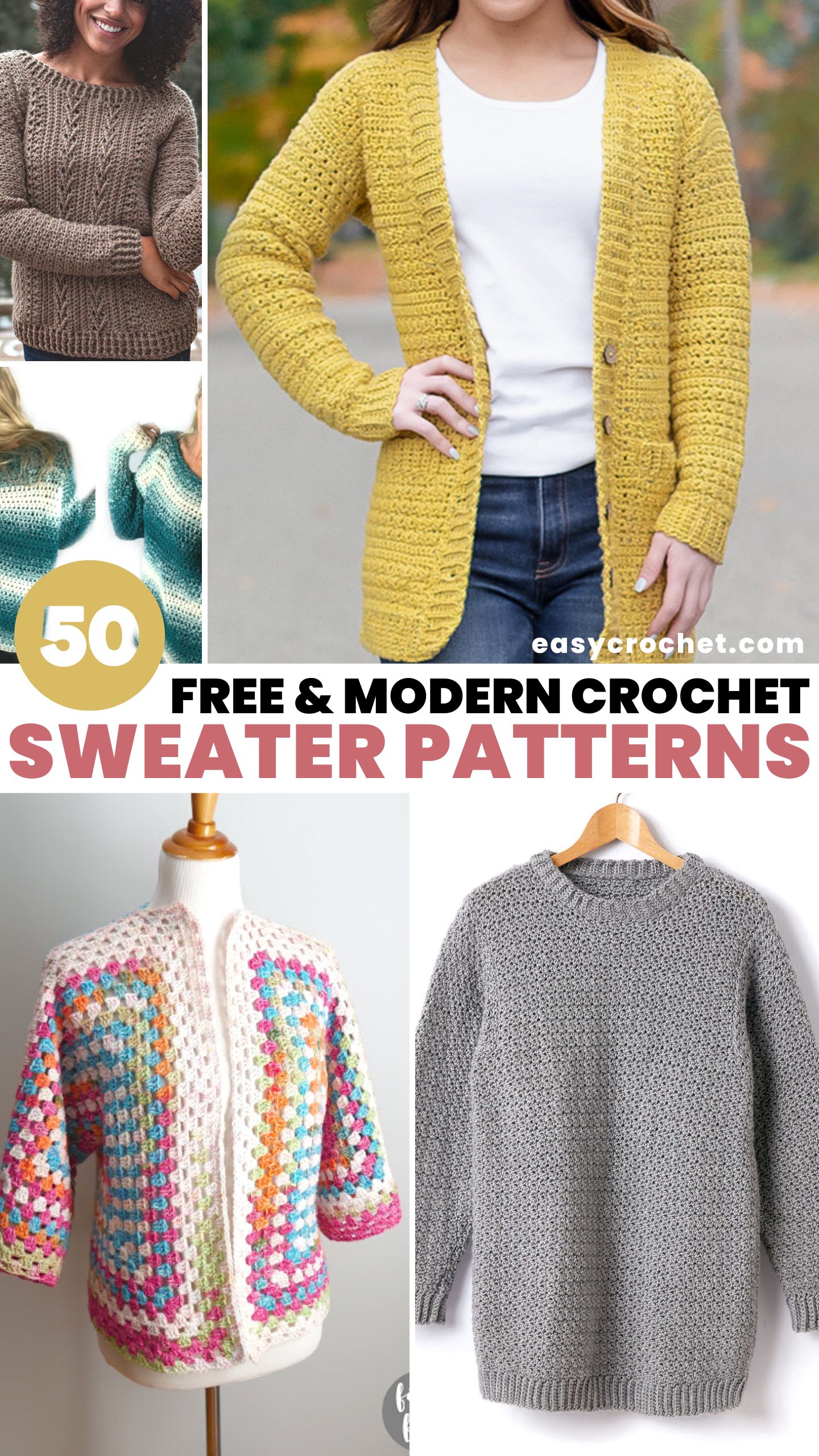 Ready to get started? Grab a cup of coffee (or tea) and have a look below to find the perfect sweater pattern to crochet for this Fall and Winter.
How to Correctly Size a Sweater
To get a proper fit for your new crocheted sweater, you will need to take some detailed measurements. This includes necklines, arms, and torso dimensions.
Can Beginners Make a Crochet Sweater?
Yes, but having experience following easier crochet patterns such as a dishcloth, beanie, or scarf will go a long way in preparing you for your first sweater.
Additionally, some sweater patterns are harder (and easier) than others. In fact, some crochet sweaters are simply rectangles stitched together. So, this means if you're comfortable taking accurate measurements and crocheting squares or rectangles, then a beginner can absolutely crochet a sweater!
What Yarn Works Best for Crochet Sweaters?
Most crochet sweaters use either medium (#4) or bulky (#5) weight yarn. This means that the sweaters typically work up quickly, and are extra warm for those chilly days, but you will see some lightweight sweaters as well made with a #2 or even #3 weight yarn.
Here's a simple table to help you match yarn weights with suitable yarns for crocheting sweaters:
| Yarn Weight | Examples of Yarn Brands | Best For |
| --- | --- | --- |
| SuperFine #1 | Malabrigo Lace, Rowan Fine Lace | Lightweight, airy sweaters for warm weather |
| Fingering #2 | Knit Picks Stroll, Madelinetosh Tosh Sock | Light sweaters, good for layering |
| Sport #3 | Cascade 220 Sport, Debbie Bliss Baby Cashmerino | Slightly thicker sweaters but still light, good for fall |
| Worsted #4 | Red Heart Super Saver, Lion Brand Vanna's Choice | Cozy sweaters, ideal for colder weather |
| Bulky #5 | Bernat Softee Chunky, Red Heart Hygee | Thick, warm sweaters for cold weather |
| Super Bulky #6 | Lion Brand Wool-Ease Thick & Quick, Bernat Blanket Yarn | Extra warm, quick-to-crochet sweaters |
I hope this helps you pick the right yarn for your sweater projects!
As for the fiber type most commonly used in crochet sweaters, wool, cotton, and acrylic blends all work well here.
Most sweater patterns need anywhere from 3 to 9 skeins of yarn, with longer cardigans requiring a bit more. However, this is just an estimate, and each pattern listed below should tell you how much is actually needed for that particular sweater.
Why Make a Cozy Sweater Crochet Pattern
Growing up in PA and living here all of my life, I know it is essential during the months of December through February to have a sweater on hand. It truly is the time of sweater weather during that time.
I love being able to have a handmade sweater to put on while proudly thinking, "I made this!"
Let's not forget about the spring months and how they are perfect for lighter weight sweaters or shrugs too! I designed the Olivia sweater specifically with cotton yarn so that it would be perfect for springtime weather.
Choose from over 54 different crotchet sweater patterns, some of which use basic stitches and are perfect for beginner crocheters.
Since these patterns come in various skill levels, there really is a sweater crochet pattern for everyone below!
Easy and Free Crochet Sweater Patterns
Look through even more free crochet sweaters below to find the perfect pattern option for your next project! All of which will make a perfect addition to your crocheted wardrobe.
You may also like our guide on How to Crochet a Sweater, so you can make a sweater that fits perfect every time!
Crochet Sweater Patterns
This collection is some of the best free crochet patterns you can make! Explore some patterns for lightweight sweaters, dusters, cardigans, and even shrugs if you are itching to crochet garments!
Thanks for Taking a Look at This List of Crochet Cardigans, Sweaters, and Shrugs!
Did you make a beautiful crochet sweater from the list above? Share it with me in the Easy Crochet Facebook group! We'd love to see! Join Now.
Crocheted sweaters are a wonderful project for those looking for an extra challenge. They are something I've done in the past, and it is a great learning experience!
You May Also Like These Crochet Patterns