The Best Yarn For Crochet Sweaters
So, you want to crochet a sweater? A sweater can be a massive investment in your time and money, so choosing the best yarn for the job is crucial! Picking the best yarn for crocheting a sweater can make all the difference.
Acrylic, wool, and cotton yarn are the most popular choices for crochet sweaters. When selecting the best yarn for crochet sweaters, you need to consider the cost and overall availability of the yarn. Knowing which type of yarn is easiest to wash and care for is crucial, as well as the fiber content.
Crocheting a sweater is extremely rewarding, and the possibilities are endless! Several factors go into selecting the best yarn for your crochet sweater, and today, we will be looking at the best yarn, along with the factors you need to consider when picking each!
The Best Yarns For Crochet Sweaters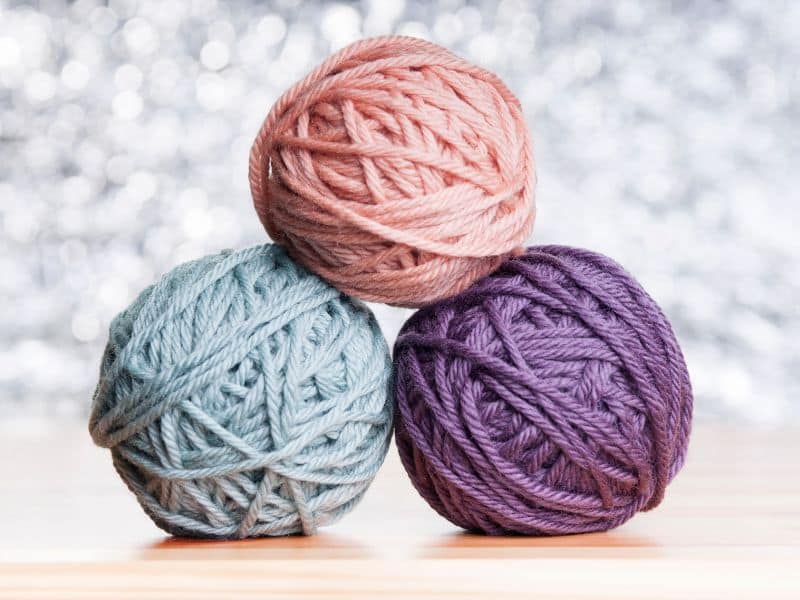 So, what is the best sweater yarn for crochet? Find out below!
The most important thing you must keep in mind before crocheting your sweater is the type of yarn you will need. There are three best and most popular types of yarn that will make for the best quality sweater you can ask for, and it will last you for years. Let's take a closer look at each:
Using Wool Yarn For A Crochet Sweater
If you're still a beginner learning how to crochet, wool would be your best choice for practicing your stitches.
Wool is a very resilient fiber which can hide some mistakes without becoming very visible in a sweater. And, if you make a mistake, most types of wool yarns are easy to re-use and unravel.
However, some people have wool allergies, which is something you need to consider if you're crocheting a sweater for somebody else. However, for most people, wool yarn would be the best choice for crochet!
Using Cotton Yarn For A Crochet Sweater
Cotton is an inelastic fiber, meaning it would be slightly more challenging to crochet with it than wool. However, cotton makes the perfect yarn for more specific projects where you need the item to retain its shape.
Although some people would find cotton more challenging than wool, it's not that different, and it shouldn't scare you to work with it if you're a beginner.
If you're starting to learn how to crochet during the warmer, summer months, using cotton yarn would be the best choice, as it is a much lighter yarn than wool.
Using Acrylic Yarn For A Crochet Sweater
Overall, acrylic is a very popular fiber among crochet enthusiasts and has some excellent properties for a sweater. Acrylic yarn is not only widely available and comes in a massive variety of colors, but it's usually the most affordable choice of yarn!
Acrylic yarn is also a good choice for beginners, although some things need to be considered. The only risk you have to be aware of is that some cheaper yarn varieties tend to be challenging as they may split apart.
While this isn't very common, it could happen, so if you notice this happening when you have already started crocheting a sweater, you may have to consider switching to a different brand of acrylic yarn.
You may also switch to wool or cotton, as it could become discouraging when learning to crochet with an unsuitable yarn.
Crucial Things To Consider When Choosing Yarns For Sweaters
It doesn't matter what type of yarn you choose at the end of the day. There are some things you need to consider. Let's take a look at them, as they may help you significantly when you're standing in front of hundreds of choices and start to become overwhelmed:
Consider The Cost Of Yarn For An Entire Sweater
Sweaters can use a lot of yarn, especially if you're making a larger one. While baby sweaters may not take up loads of yarn and break the bank, making a sweater for yourself could add up quickly.
Some yarn out there are just too pricey, and you need to consider this when you're out shopping. However, there are plenty of yarns readily available that don't only look nice but are affordable.
While acrylic may be affordable, make sure you select a high-quality one that will not split in the middle of crocheting your sweater.
Consider the weight of the yarn
The yarn weight is a big decision when deciding what yarn you want to use. You will have to decide if you want a lightweight sweater made with 3 weight yarn or a little thicker sweater made with a worsted weight yarn. You can find the weight of yarn on the label with the fiber content as well, which I will discuss below.
In general, the heavier the yarn weight, the thicker and warmer the crochet sweater will be.
Washability of the Sweater
The fiber content of the yarn significantly affects how easy it is to care for.
Before choosing the best yarn for your sweater, it is important to know how the yarn needs to be cleaned. Most yarn will tell you the optimal care instructions right on its label.
If you know the yarn used, look for the machine washing symbols on the skein's outer paper label. If you don't have a specific yarn chosen yet, here are the care instructions you need to consider with each fiber type:
Wool – Be careful. It can depend on the type of wool used (merino, etc), but wool sweater should never be machine washed, or submerged and soaked. Spot cleaning is best.
Cotton – Use the delicate machine wash setting, and your sweater should be fine.
Acrylic – Acrylic yarns can take the largest amount of abuse and still come out fine. Regular machine washing your crochet sweater is fine here.
Blends – It's impossible to definitively say how to care for a sweater made with a blend of fibers, since there are so many combinations out there. However, I usually use two rules of thumb in this case:

If it's at least 75% cotton or acrylic, it is safe to throw in the washing machine, and …
Go for the gentlest recommended washing method, choosing between the fibers the blend is made up of.
Consider The Yarn's Ease Of Care
Nobody wants to have a difficult time caring for and washing their sweaters. While some yarns may look beautiful, they can only be washed by hand or handled with extra special care.
It is up to everyone to decide if this is a factor that needs to be kept in mind, as your sweater will have to be cleaned after wearing it, especially if it gets visibly dirty.
Luckily, most yarns are machine washable. You can find some premium cotton or acrylic yarns that can easily be placed in your washer and dryer without becoming worn out or damaged. You can see how to take care of a specific type of yarn by reading its yarn label.
Consider The Availability Of The Yarn
Many crochet enthusiasts prefer to buy their yarn online, but it might be a better idea to feel the yarn before deciding if you want it on your skin, especially if you're crocheting a sweater.
It would be best to choose a yarn that is available nearby, as you may need to run out and get some more if you have underestimated the amount you need for your sweater!
Favorite Yarns To Use for Sweaters
Some of my favorite yarn for sweaters are ones that are easy to find, such as Vanna's Choice and Comfy Cotton, for example. Take a look at a few of my favorite picks before selecting the best yarn for your sweater.
Vanna's Choice from Lion Brand is a worsted weight yarn (aka four weight yarn) that is 100% acrylic and is available in a variety of colors. It is a good choice when you want to knit or crochet a sweater for Fall.
Vanna's Choice
This yarn is made by Lion Brand, and is a Weight 4 – Medium yarn.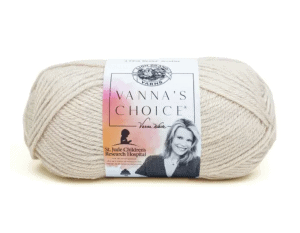 Buy Now
Patterns Using This Yarn →
Comfy Cotton is a cotton blend yarn that is a perfect yarn for crocheting a spring time or Summer evening sweater since it is lightweight.
Comfy Cotton Blend
This yarn is made by Lion Brand, and is a Weight 3 – Light yarn.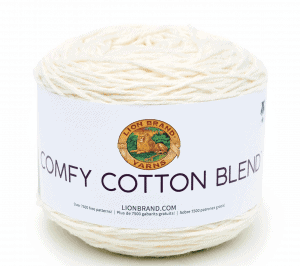 Buy Now
Patterns Using This Yarn →
Free Sweater Crochet Pattern Ideas
Take a look at a few of my favorite sweater pattern choices below to see if there is one you may want to crochet.
Conclusion
Now that you are aware of what type of yarn best fits your sweater, you can run out to the store, get some, and start with your crochet sweater journey!
If you keep some critical factors in mind, you will make the best choice according to your needs and wear your crochet sweater for years to come.