Simple Striped Scarf Crochet Pattern
This crocheted scarf featuring stripes of two colors is one of the quickest and easiest patterns out there! If you LOVE fast patterns, then this crochet scarf pattern is for you!
If you want to make one, read on down for the full, FREE crochet pattern to make a two color scarf crochet pattern!
Quick Striped (Two Color) Scarf Crochet Pattern
This Simple Crochet Striped Scarf design is straightforward to make (MY FAVORITE KIND!) and is the perfect go to winter accessory. It easily wraps around your neck twice and will be sure to keep you cozy warm.
Why You'll Love This Scarf
It uses easy to find yarn
And it is crocheted with just one basic stitch
Read on down to learn more about the materials & stitches you'll need to crochet this scarf.
Materials & Stitches
The Yarn
It uses a four weight yarn (any brand will work) which is easy to find in most craft stores and online. Some of my favorites are Vanna's Choice or Brava Worsted.
Vanna's Choice
This yarn is made by Lion Brand, and is a Weight 4 – Medium yarn.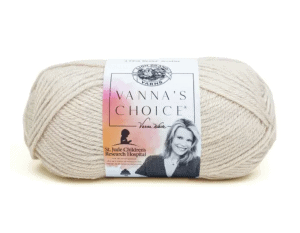 Buy Now
Patterns Using This Yarn →
Brava Worsted
This yarn is made by Knit Picks, and is a Weight 4 – Medium yarn.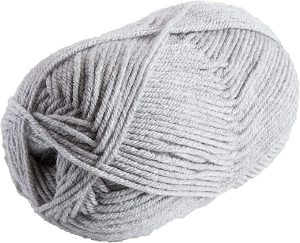 Buy Now
Patterns Using This Yarn →
The Hook
Use the hook size that is recommended on the four weight yarn you have selected. I used a 6 mm, crochet hook, but your hook size may vary.
6 mm (J-10)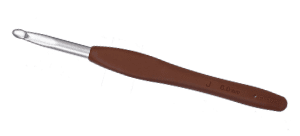 This hook is also known as J-10 (US), 4 (UK) & 6 mm. You can use it with Weight 4 – Medium yarn weights.
Buy Now
Patterns Using This Hook →
Extra Materials
You will also need a few other tools like…
A pair of scissors
Stitch markers (optional) to help mark stitches
Measuring tape
Yarn needle (aka tapestry needle)
Crochet Stitches
This design is made up of easy to do half double crochets and works up in little to no time at all!
Half Double Crochet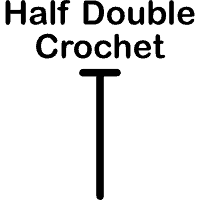 Patterns Using This Stitch →
Read on down for the full FREE simple crochet striped scarf pattern!
Happy Crochet Scarf Making!
Simple Crochet Striped Scarf Pattern
Skill Level: Easy
Materials
600 yards total of 2 colors of any medium weight #4 yarn

Color A (300 yards)
Color B (300 yards)

Crochet hook size J 6.00 mm (I used a Clover Hook) or size listed on the yarn label
Yarn needle
Scissors
Crochet Abbreviations
ch = chain
hdc = half double crochet
st = stitch
sl st = slip stitch
Notes
This scarf is written in standard US terms
Two Color Scarf Pattern
Ch104 with Color A and Join with a slip stitch to first ch to make a circle. Be careful not to twist the chain.
ROW 1: Chain 2, working in both loops hdc in the next st, then hdc in each st around.
Insert hook into top of first hdc (not chain 2).
Pick up Color B and Pull both colors back through to complete the sl st. Drop Color A.
ROW 2: With Color B ch 2, hdc in the next st and every st around. Insert the hook into the top of the first hdc and pick up color A. Pull both colors back through to complete the sl st. Drop Color B.
Keep Repeating ROW 1 and 2 until desired width.
I did a total of 11 Rows. Measures approximately 28 inches in circumference and 6 inches in length when finished.
When you reach your desired width, fasten off and weave in loose ends!!
You May Also Like These Crochet Scarves
I am clearly obsessed with crocheting scarves & cowls right now (Like the Striped Scarf & Ombre Scarf that I recently crocheted). So if you wanted to make more crochet scarves, look no further!
Thanks for looking at the Simple Crochet Two Color Scarf and If you need any clarification feel free to ask!
More Free Crochet Scarf Patterns