Isle Wave Crochet Wrap Pattern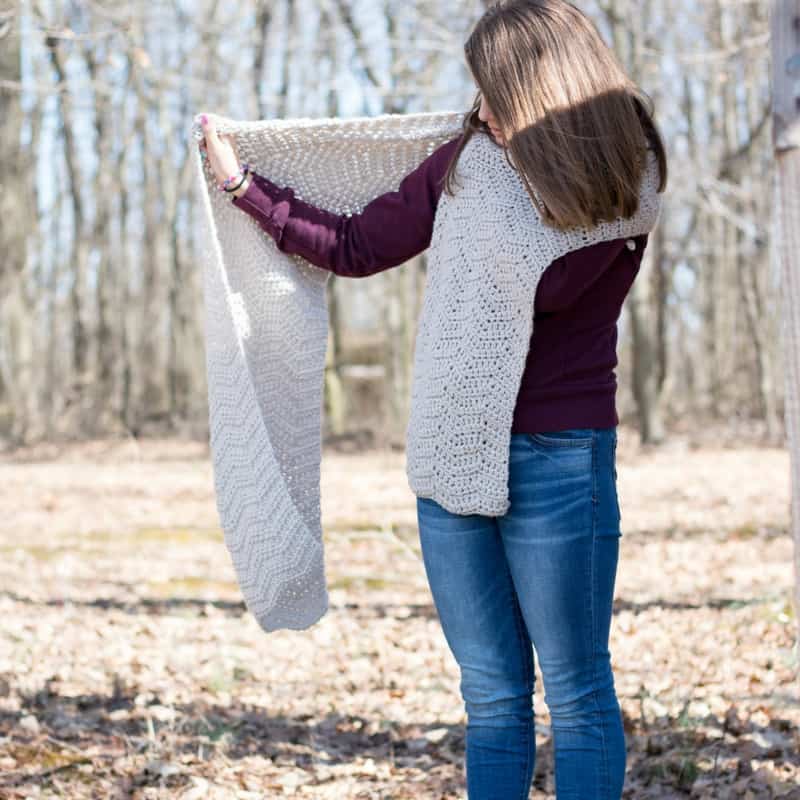 Are you looking for an easy cozy crochet wrap to make? If so, this simple wrap crochet pattern is a breeze to work up and is perfect for the Fall & Winter. Scroll on down for the free pattern or purchase a ready to print PDF in my shop.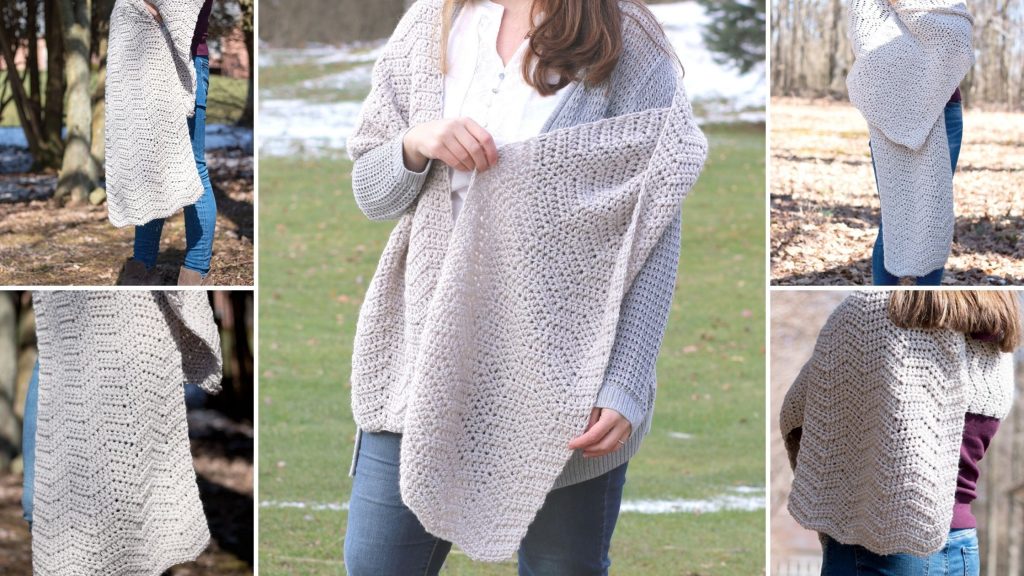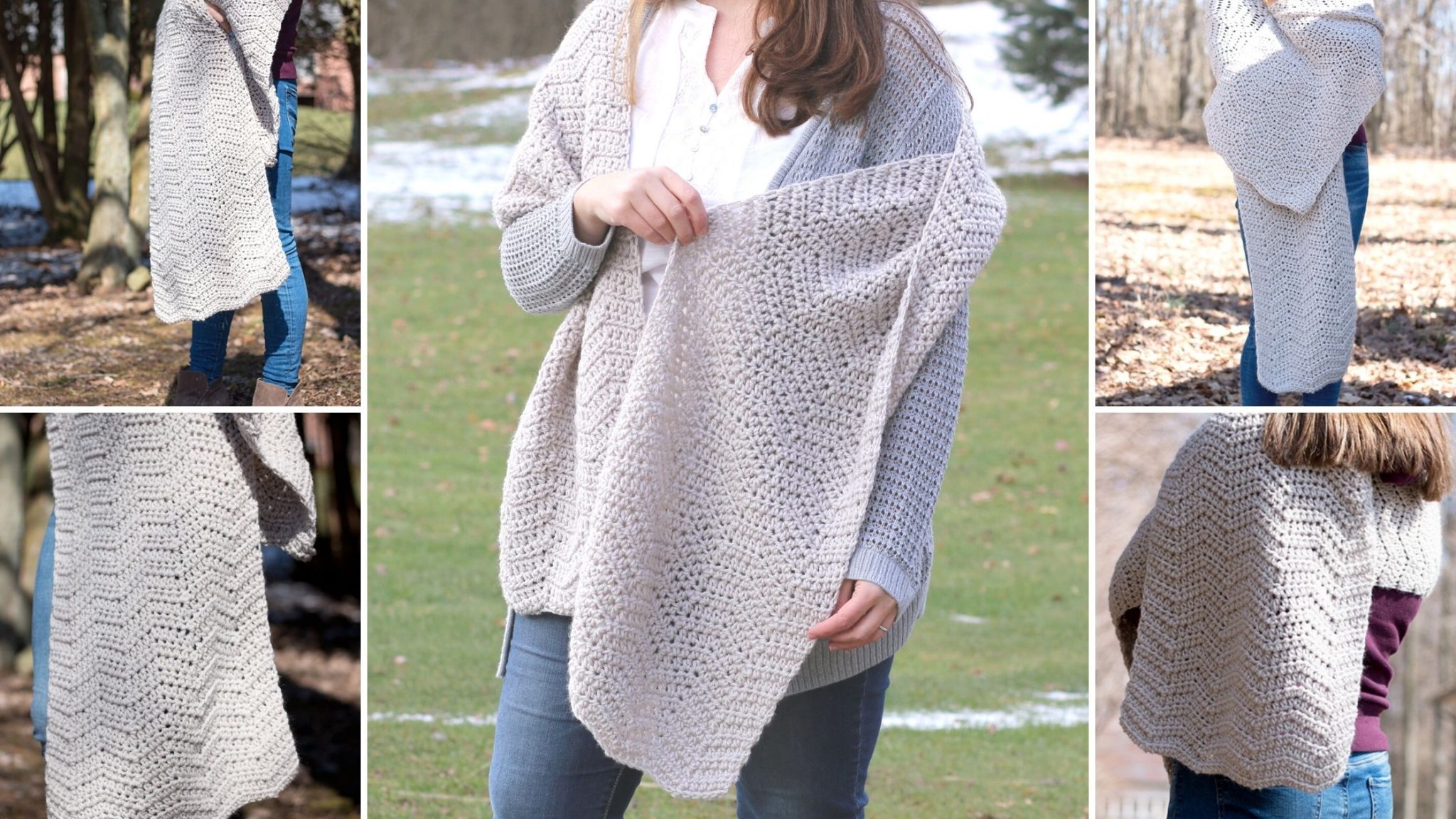 The Isle Wave crochet wrap is perfect for cozying up in and stay warm on a chilly morning in Spring! It is lightweight enough to be worn into the Summer too on cold evenings. This wrap It is almost big enough to be considered a crochet blanket wrap pattern!
And why not, sometimes oversized wraps mean maximum coziness. When I showed my daughter this design she called is a scarfket (scarf + blanket) and I love the name. Maybe we can start a new trend?
If you want to stay cozy warm, look pretty cool if you ask me and say you made something yourself, then this wrap pattern for you! If you'd like more ideas for crochet wraps or crochet shawls, I can help.
You can also explore this blog post about 6 of the best crochet wraps that are all free. I can't wait for you to make this simple wrap pattern! Happy Wrap Making.
The Yarn That's Perfect for This Crochet Wrap!
I used Vanna's Choice Yarn by Lion Brand a four weight yarn in the colorway Linen for the entire wrap, which can be easily found online, in most craft stores and at more prominent brands like Walmart.
The yarn is perfect for this easy wrap because it is comes in so many beautiful colors and is washes great! Explore the link above to find your color!
Easy to Crochet Wrap Pattern with One Stitch
This design is worked in a simple stitch repeat, so it's the kind of pattern you'd sit down on the couch, turn on Netflix and crochet away! If you can half double crochet, then you can make this wrap!
I promise this is an easy crochet wrap pattern to learn because of this simple stitch. It also helps that I love easy, simple, and fast, so those are the kind of crochet patterns I tend to design.
The Stitch for a Crochet Wrap
Half Double Crochet (hdc):
YO (yarn over) insert hook from front to back of the designated stitch, YO the hook and pick up a loop.
YO the hook and pull back through all three loops on the hook.
Isle Wave Crochet Kit
My friends at Lionbrand.com have generously made this into a crochet kit! You can get the pattern and all the yarn needed to make this for a low price!
Have a look at the kit below to get the Isle Wave Wrap Crochet Kit with the pattern and yarn, or purchase just the PDF in my shop below.
Take a Look at The Video Tutorial Too
Be sure to check out my YouTube tutorial below to learn how to do the crochet wrap stitch repeat if you are more of a visual learner!
And don't forget to hit the subscribe button, so you never miss out on a new YouTube tutorial!
The Isle Crochet Wrap Pattern
Skill Level: Intermediate
Materials
Crochet Abbreviations
Gauge
Notes
Here is a video tutorial on how to half double crochet two together.
Crochet Wrap Pattern Steps
To start: Ch 38
Row 1: Starting in 2nd ch from hook hdc, *hdc once in each of the next 3 chs, hdc 2 tog, hdc once in each of the next 3 chs, 2 hdcs in the next ch, repeat from * until you are left with 4 chs, hdc once in the next 3 chs, 2 hdcs in the last ch, turn. (37 )
Row 2: Ch 1, starting in the first st hdc, *hdc once in each of the next 3 st's, hdc 2 tog, hdc once in each of the next 3 sts, 2 hdcs in the next st, repeat from * until you are left with 4 sts, hdc once in the next 3 sts, 2 hdcs in the last st, turn. (37)
Row 3-124: rep row 2 for the pattern.
Finishing: Fasten off and weave in loose ends throughout this ripple crochet wrap with a yarn needle.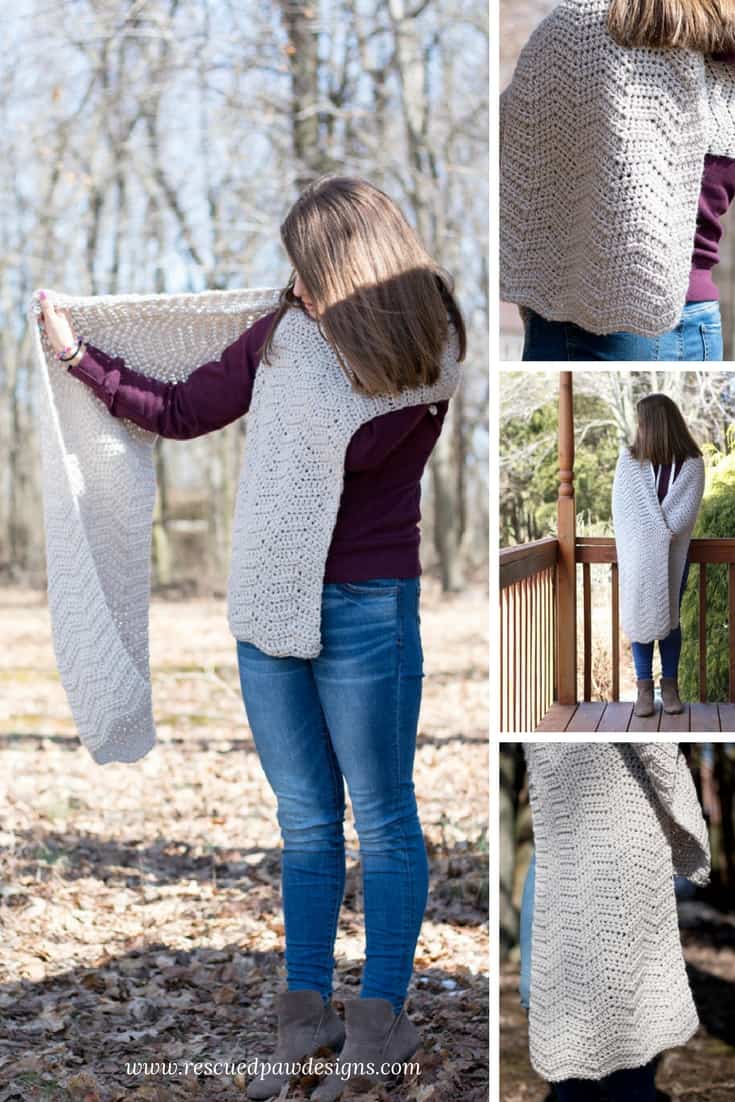 That's it! You are done with this crochet wave wrap! If you don't have time to make this now be sure to pin on Pinterest or save to your Ravelry library!
You May Also Like These Crochet Tops