Beginner's Guide to Crocheting a Half Circle: Step-by-Step Tutorial
Learn how to crochet a semicircle with this free photo tutorial! With this easy step-by-step tutorial, you'll be able to make a half circle in crochet in no time. Any skill level, from beginners to the more experienced crocheter, can make a half circle!
Crochet circles are perfect to add to crochet blankets, amigurumi and hats as embellishments, or you could use different yarn colors for each row to make it a rainbow. Enjoy!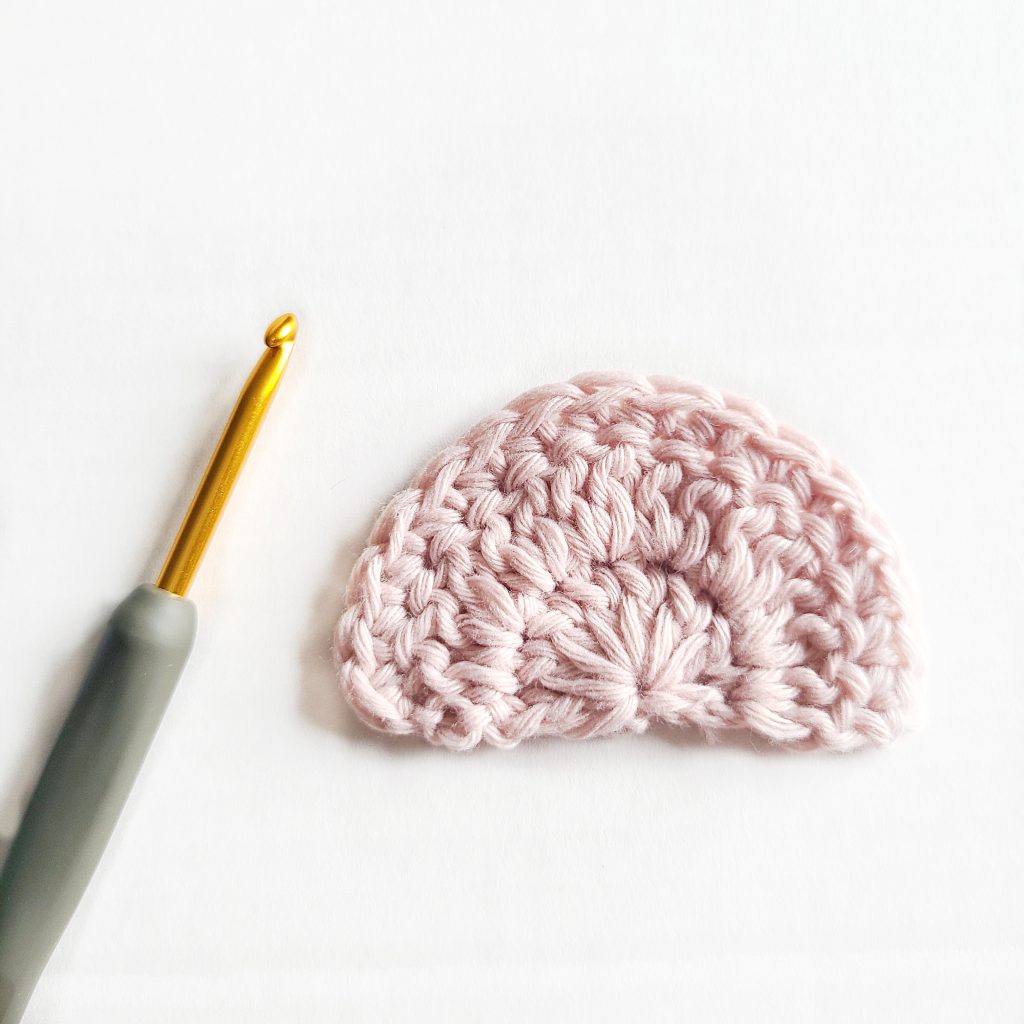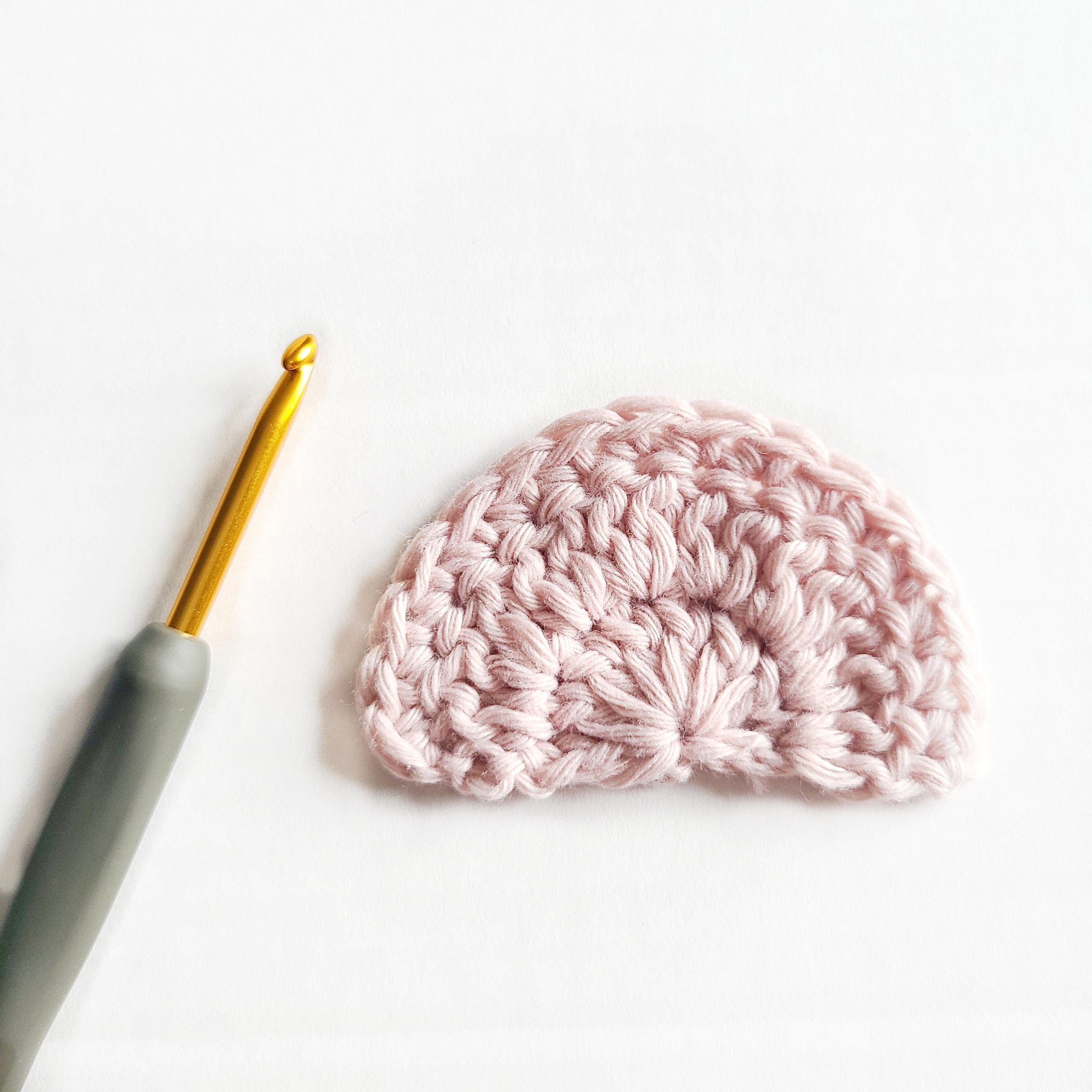 Semi Circle Crochet Stitches
The crochet stitches used in this half circle are basic stitches that most beginners learn when they are first starting to crochet. You will need to know how to chain, make a double crochet stitch and single crochet.
Learn more about each of these easy stitches below, so you'll be ready to start crocheting a half circle!
The Stitches
Wrap the yarn over (yo) the hook, insert the hook into the specified st.
Yo the hook again, draw the yarn through the st, so there are 3 loops on the hook
Yo the hook again draw it through 2 loops, so there are 2 loops on the hook
Yo the hook, draw it through the final 2 loops.
Insert hook from front to back in the second chain from the hook or designated stitch
Bring the yarn over (Yo) the hook and pull the yarn back through the chain (or stitch) from back to front (2 loops on hook).
Yo and pull through both loops on the hook.
A simple crochet stitch that often forms the foundation of what crochet stitches are worked into during projects.
Make a slip knot.
Insert hook into slip knot point first, bring yarn over the shaft of the hook from back to front and grab it with the throat of the hook.
Draw hooked yarn through slip knot and onto the hook. This movement will make one chain stitch
Repeat steps two and three until you have the desired number of stitches for a pattern. One loop will remain on hook.
The Yarn
For my example of a half circle in crochet is using a three lightweight yarn called Feels Like Heaven by Lion Brand. It is a 100% nylon yarn that works up beautifully with a slight heathered look to it.
As a bonus, it is machine washable and able to be put in the dryer too!
Have a look at the yarn below to see what other colors are available to use from Lionbrand.com.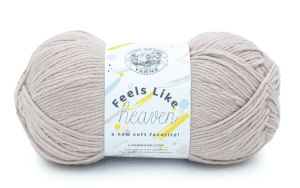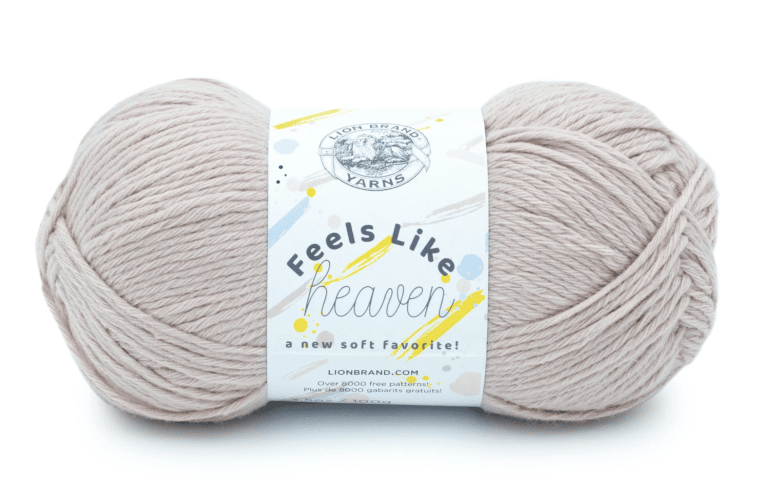 If you'd prefer to use a different yarn weight, scroll down to the bottom of the tutorial to find examples of this half circle made in medium weight and a super bulky yarn.
This half circle is a great project to use scrap yarn up on and is an extra quick project for those days you just want to crochet something fast.
Ready to Get Started?
Below, follow along with the half circle (semicircle) tutorial using the written pattern or the step-by-step photo tutorial to start learning how to make a half circle in crochet!
Crochet Half Circle Tutorial
Skill Level: Easy
Materials
Crochet Stitches & Abbreviations
Finished Size
A three-inch width and a two-inch height using a lightweight 3 yarn.
Finished size will vary depending on the yarn weight used.
Notes
The tutorial is in standard US terms
Ch 3 at the beginning of each row counts as st
A magic loop or magic circle can be used to start this half circle. If you want to use a magic circle chain 3 then and work 7 double crochets into the magic circle for your row 1 and follow the rest of the pattern as written.
The Semi-Circle Pattern Written
Row 1: Ch 3 (counts as a dc) in the third ch from the hook dc, dc 6 more times in the same st, turn. (8)
Row 2: Ch 3 (counts as a dc) dc into the first st, *dc 2x into the next st, rep from * around for a total of 16 sts, turn. (16)
Row 3: Ch 1, sc into each st across.
Finishing: Fasten off and weave in loose ends with a yarn needle.
The Semi Circle Photo Tutorial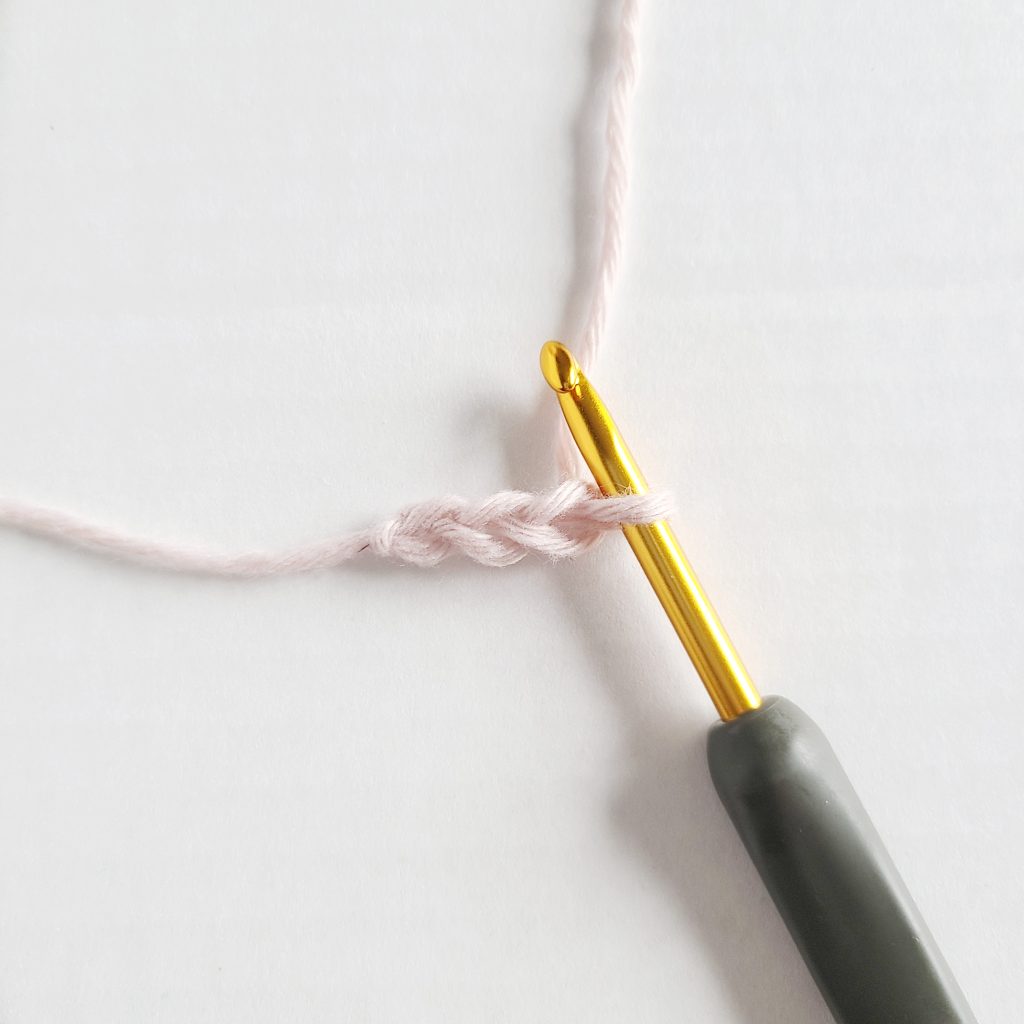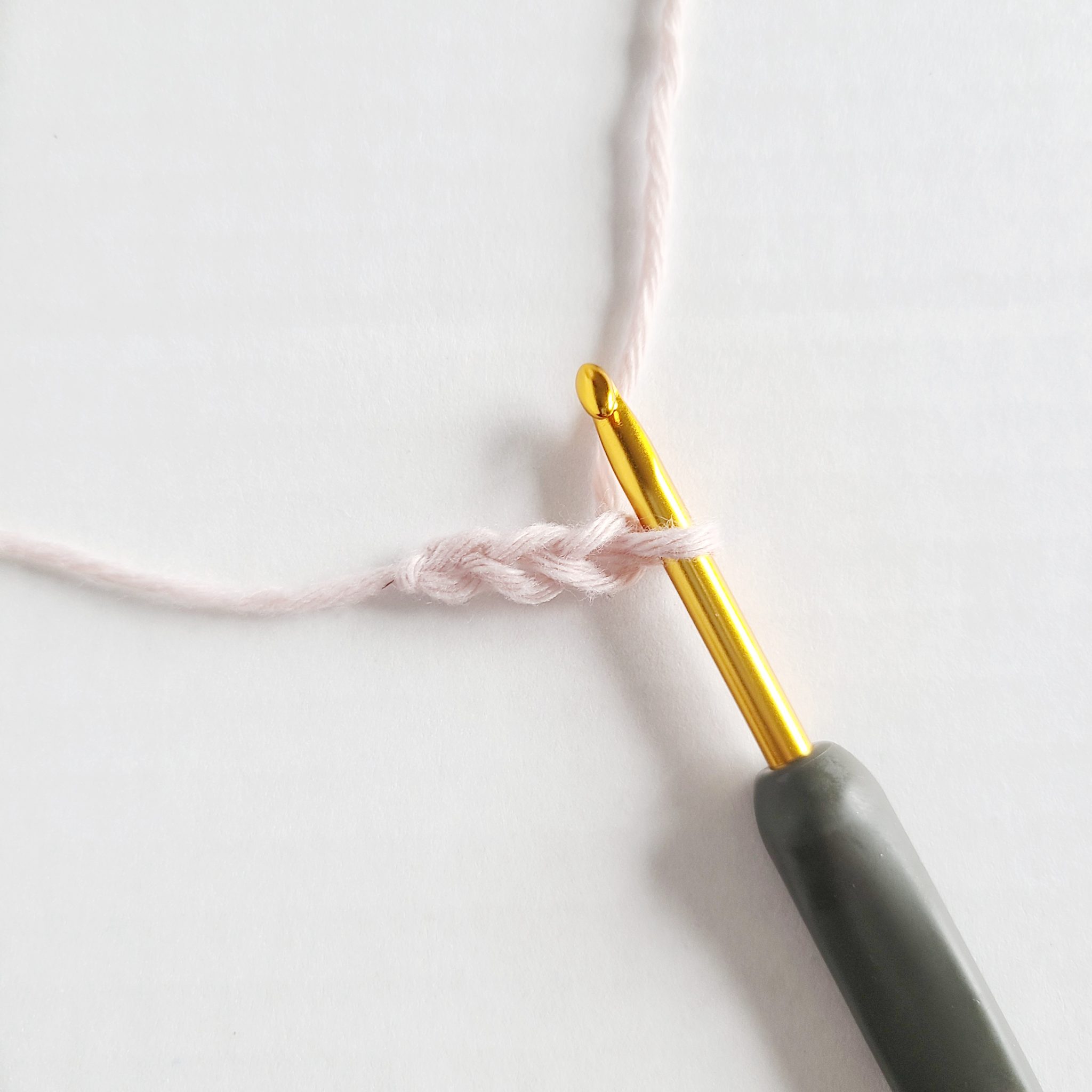 Step 1
Ch 3 (counts as a dc)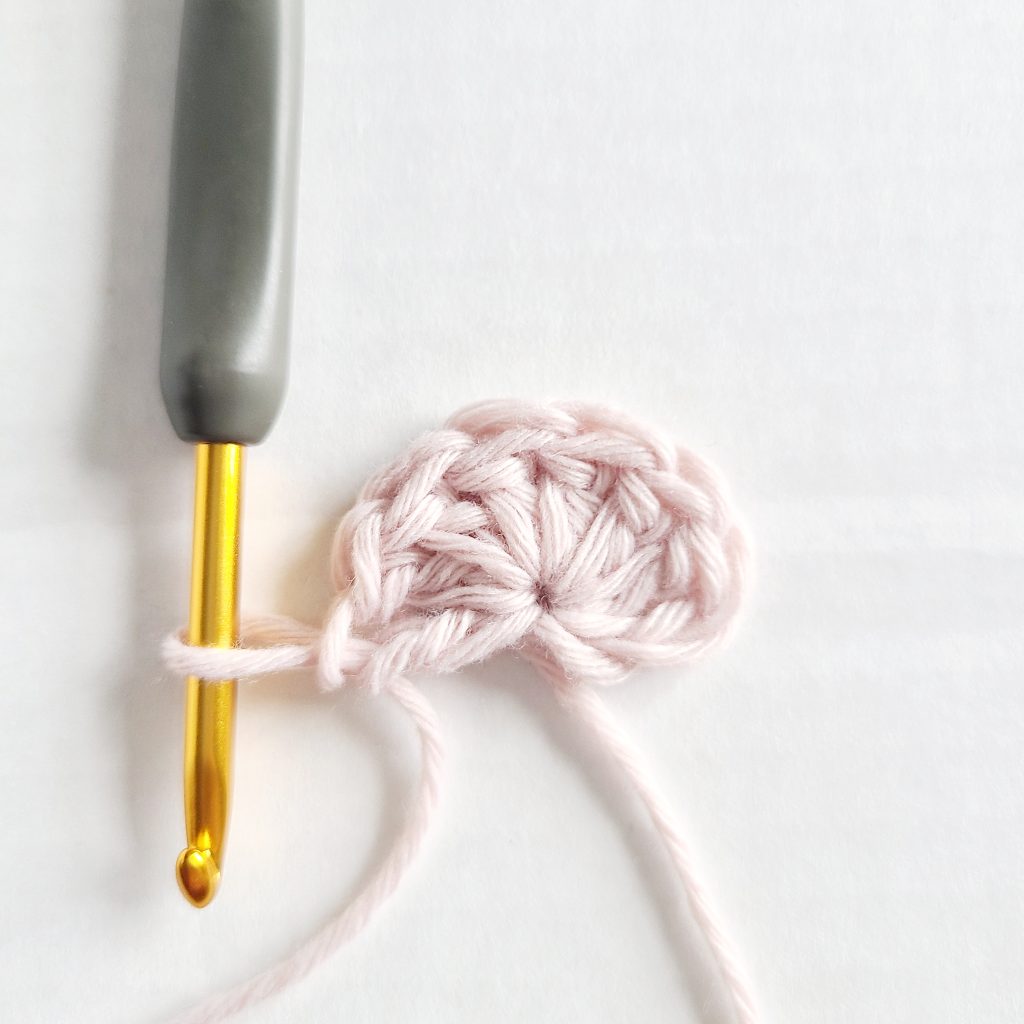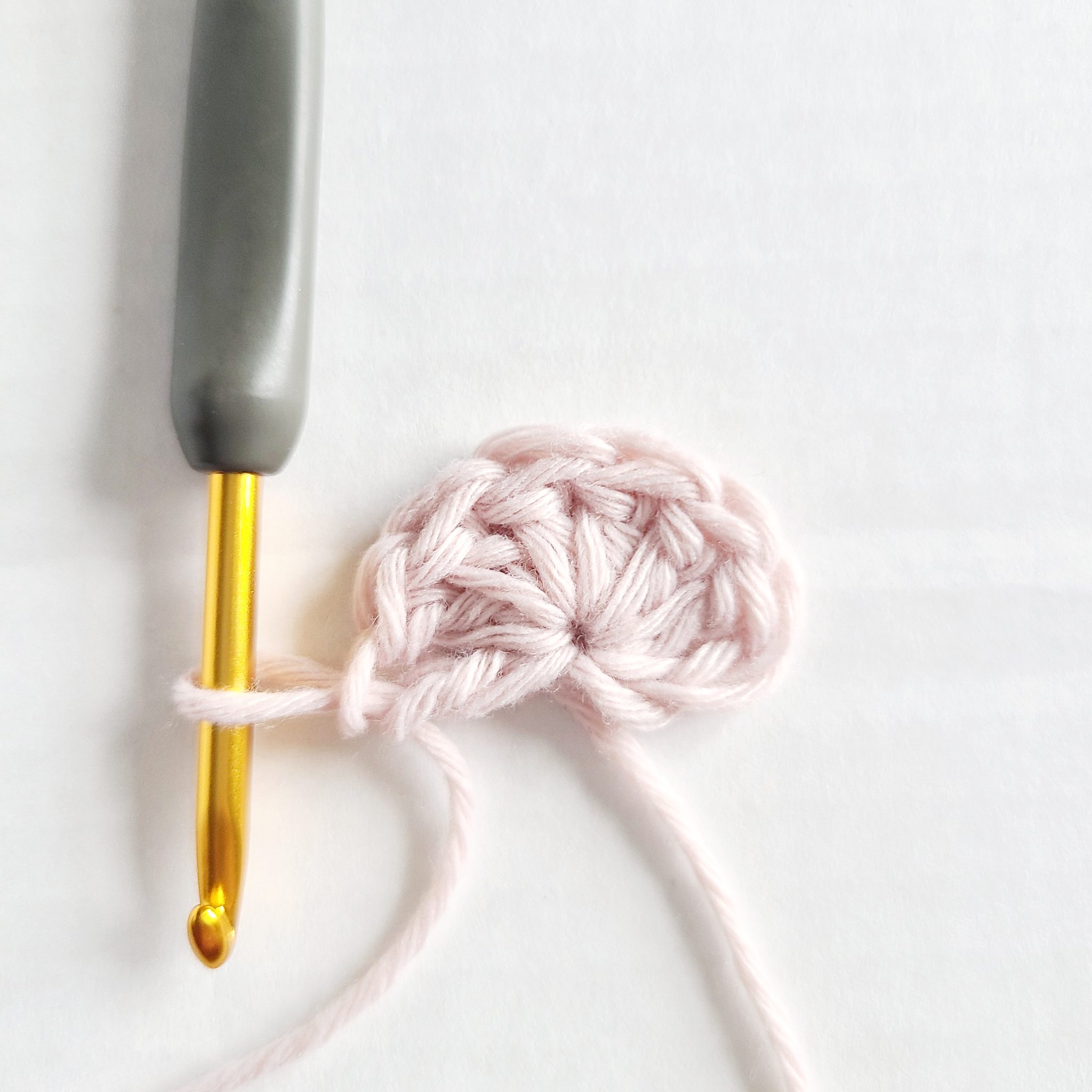 Step 2
In the 3rd ch from the hook dc, dc 6 more times for a total of 8 dcs.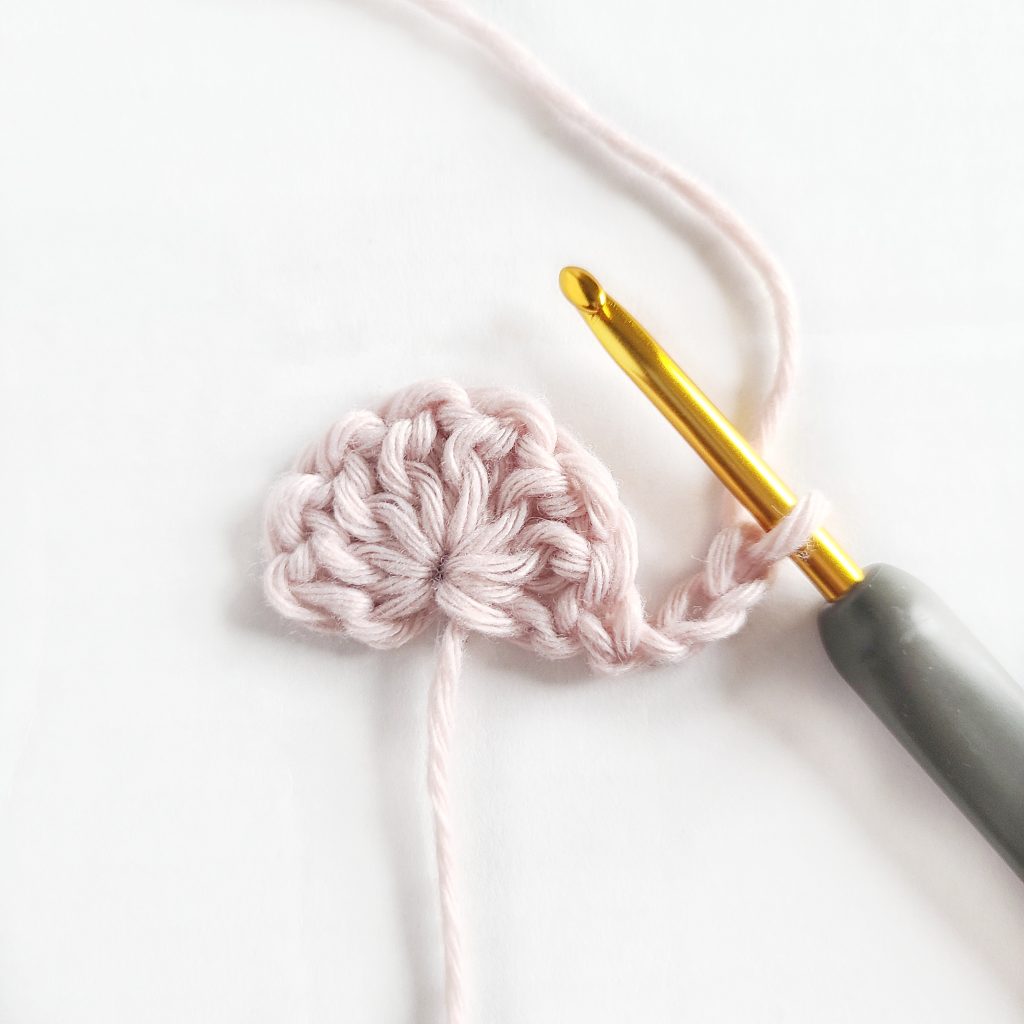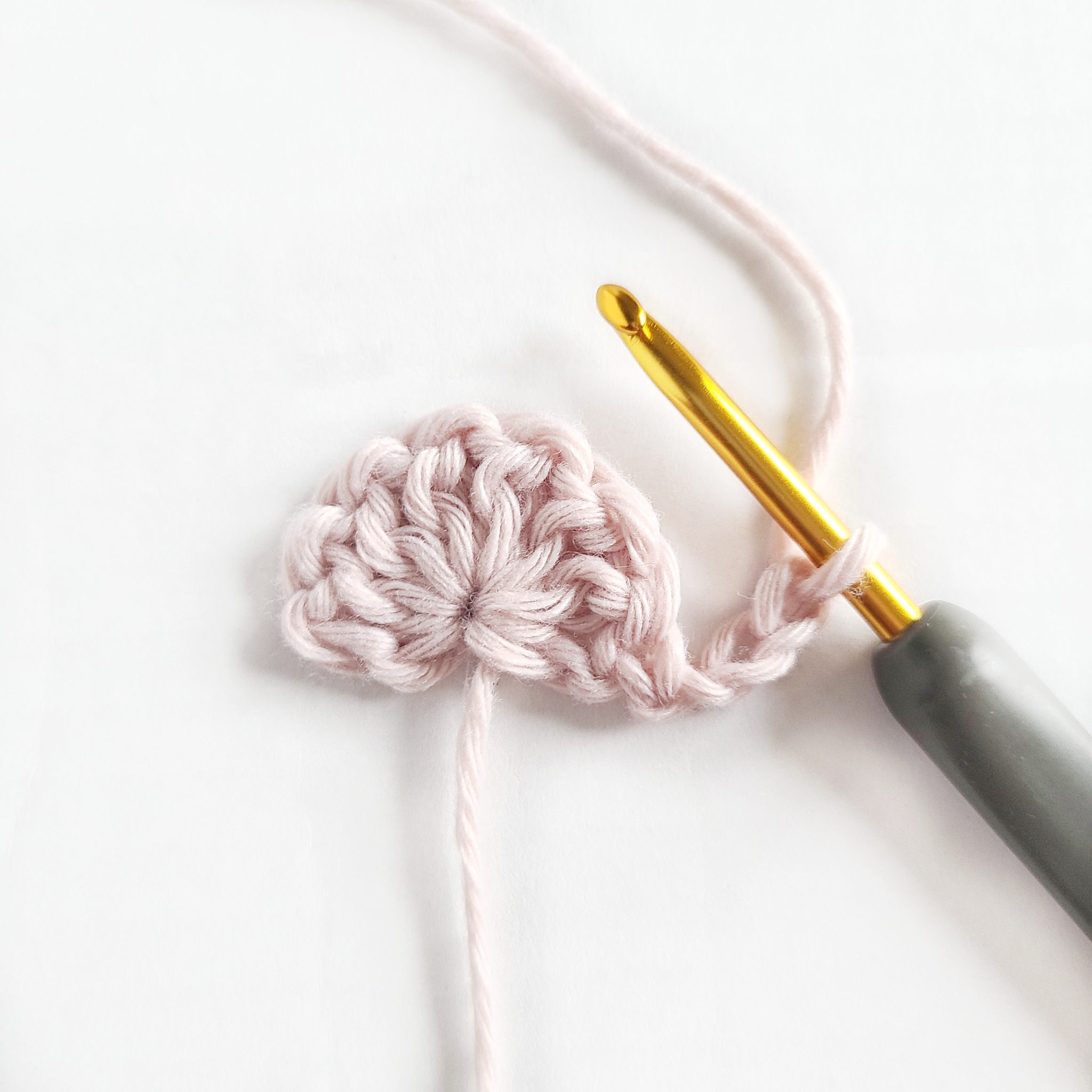 Step 3
Turn the work, ch 3.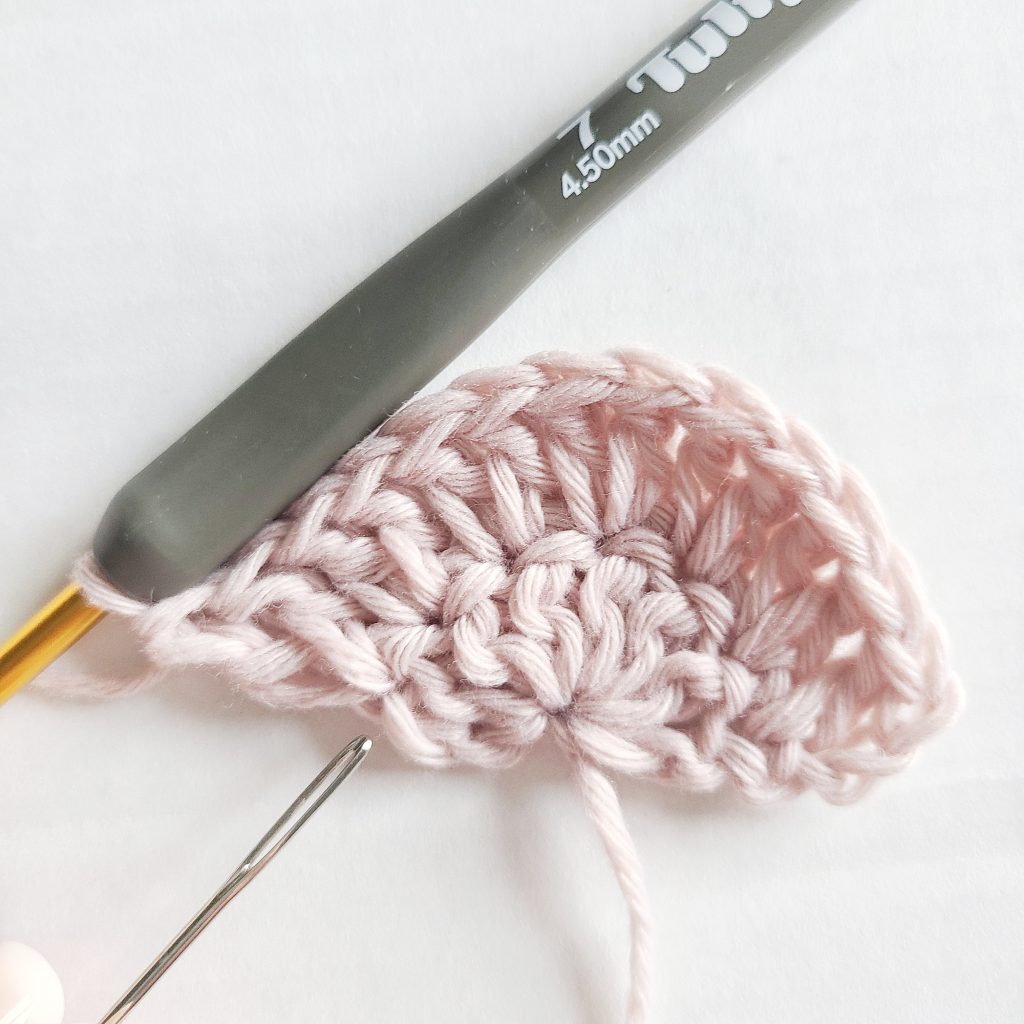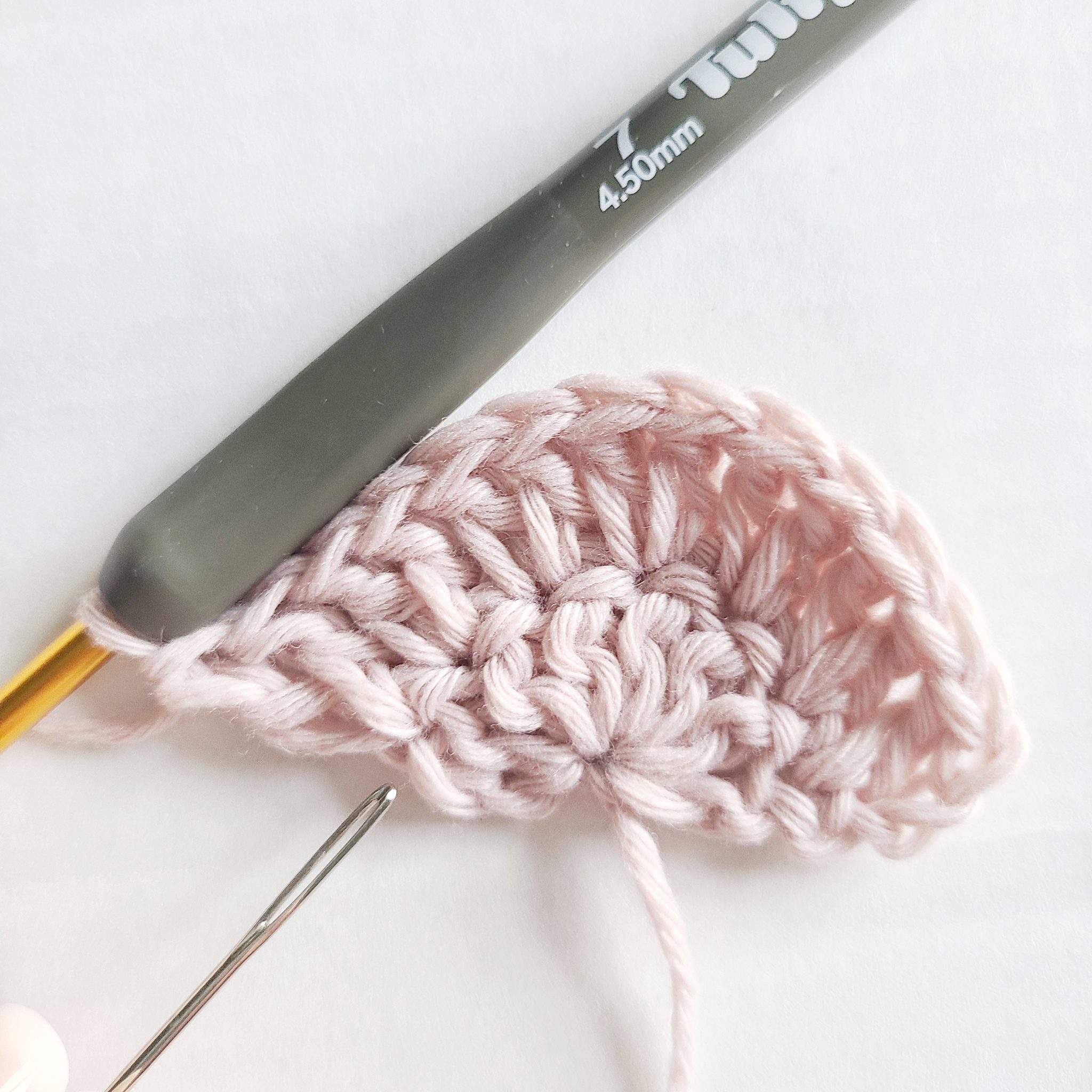 Step 4
Dc into the first st, and then dc 2x into each of the remaining sts. Locate the top of the ch 3 from the row before. (shown with yarn needle)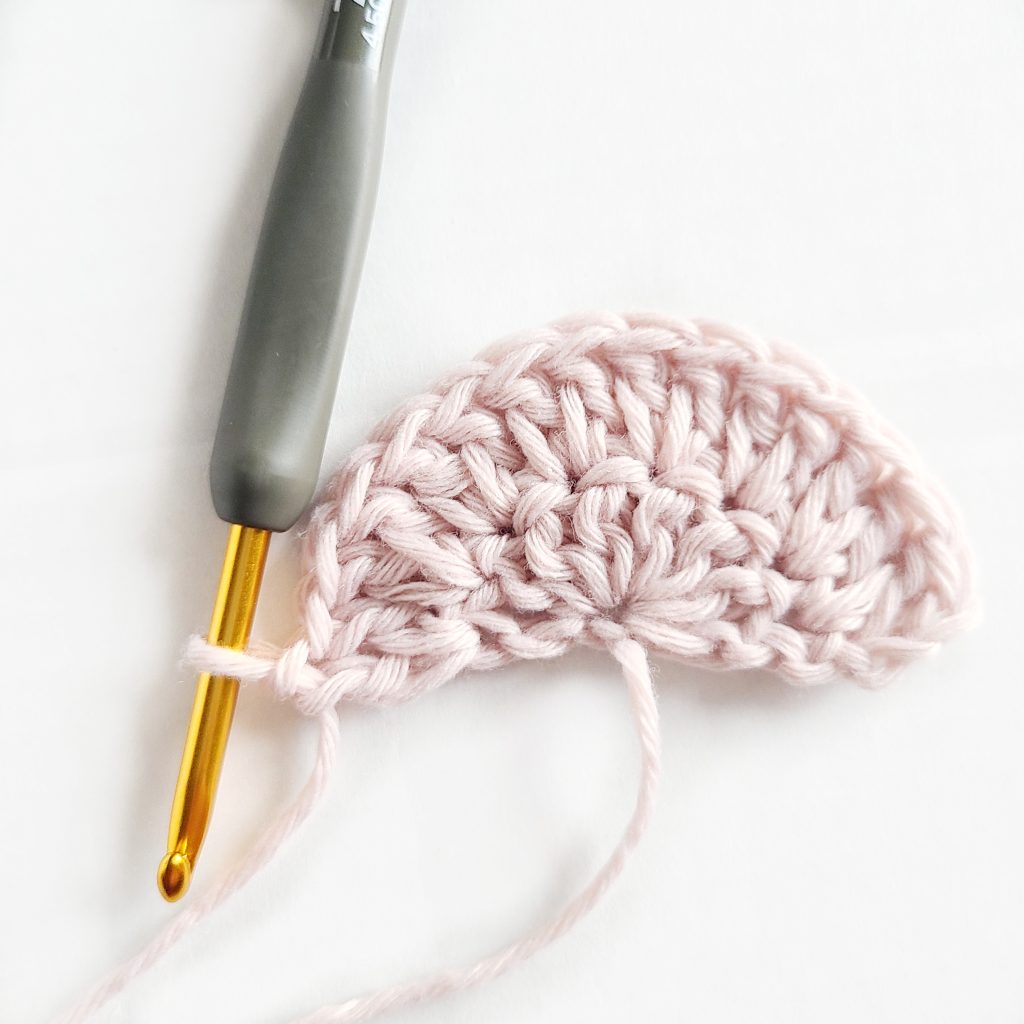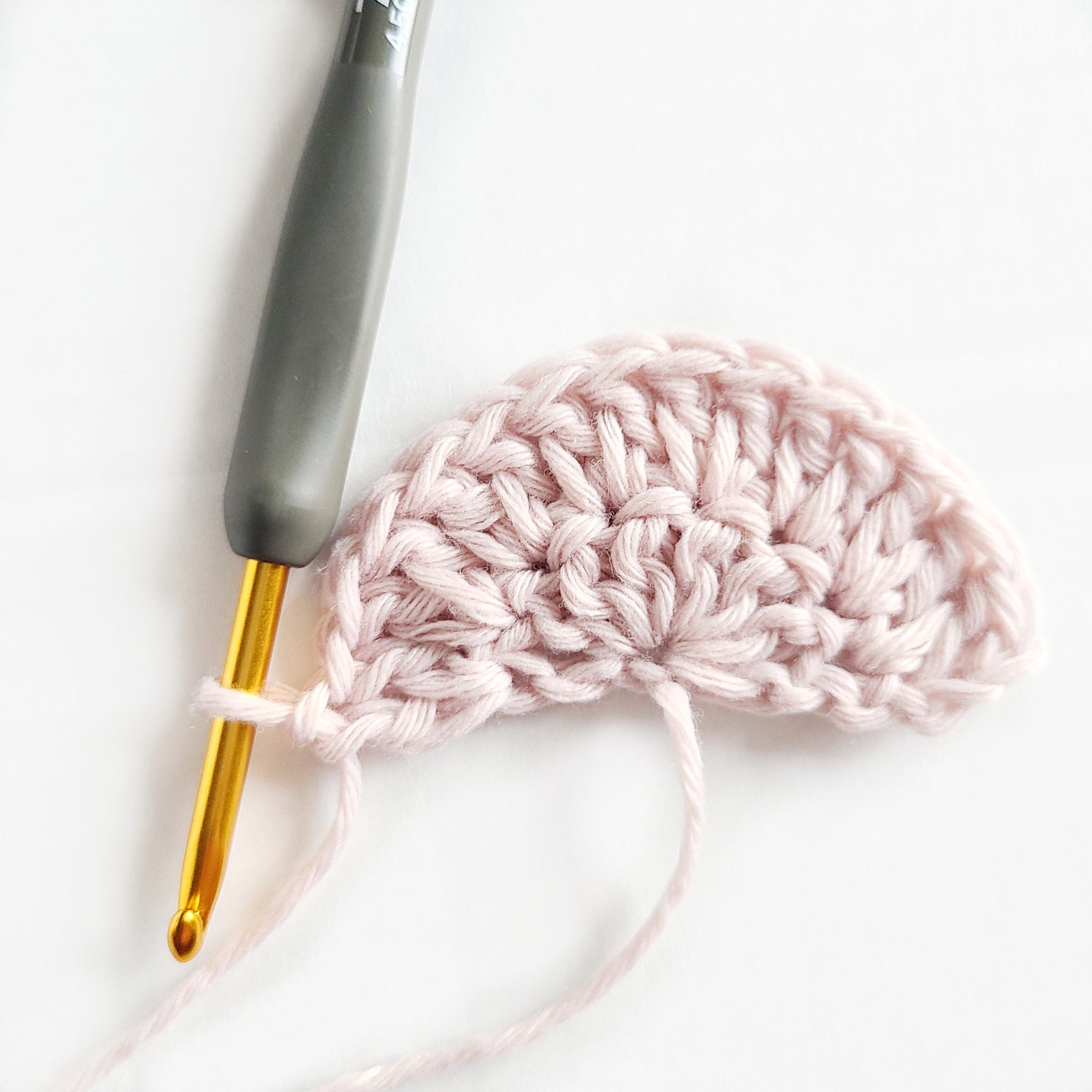 Step 5
Dc 2x into the top of the ch 3 from the row before.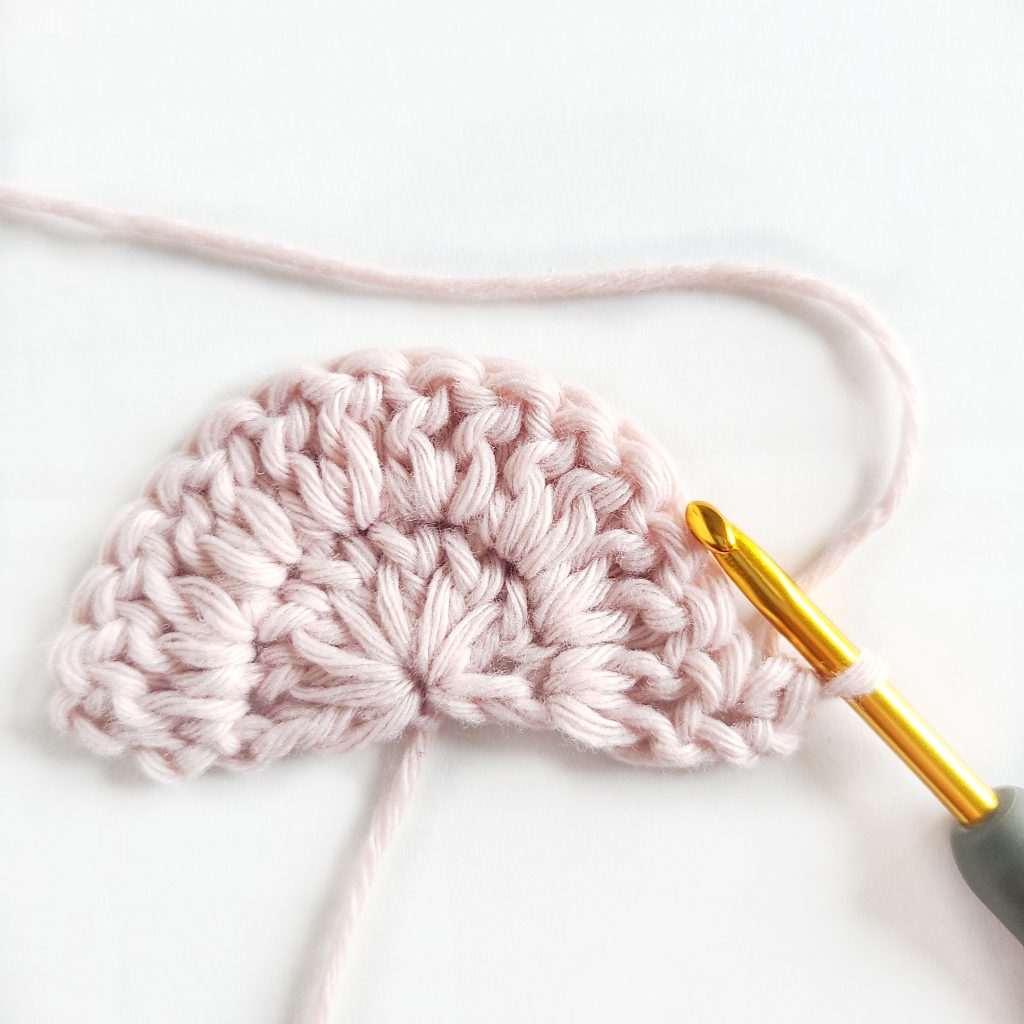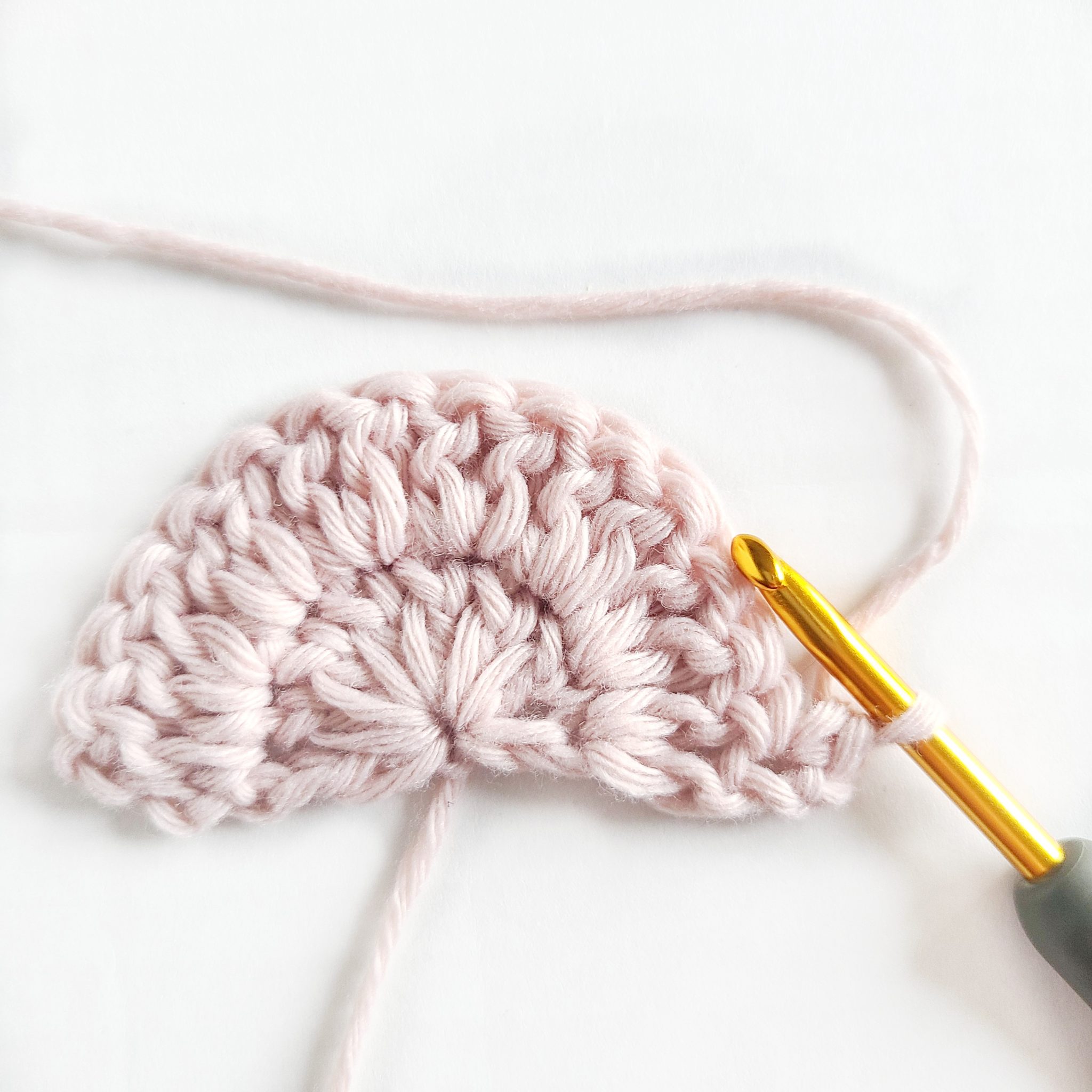 Step 6
Turn the work, ch 1, sc into the first st.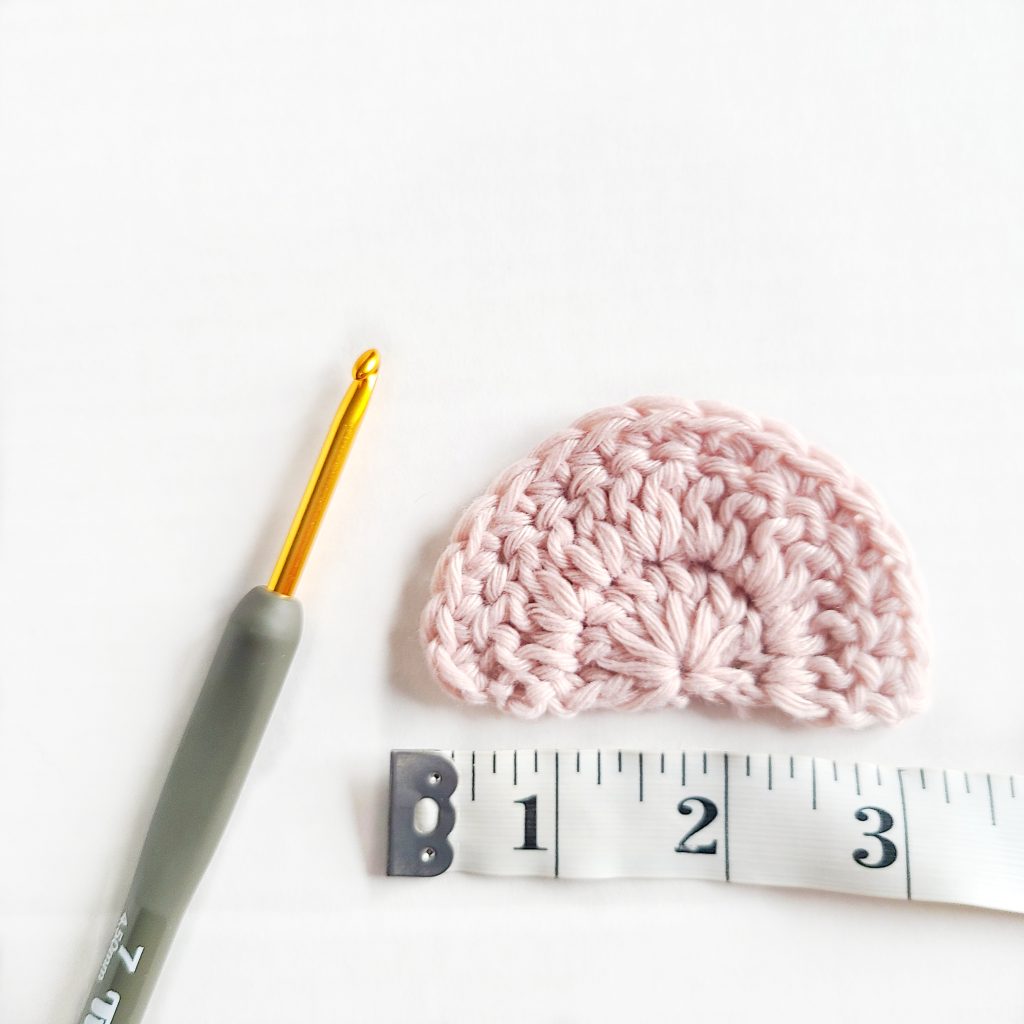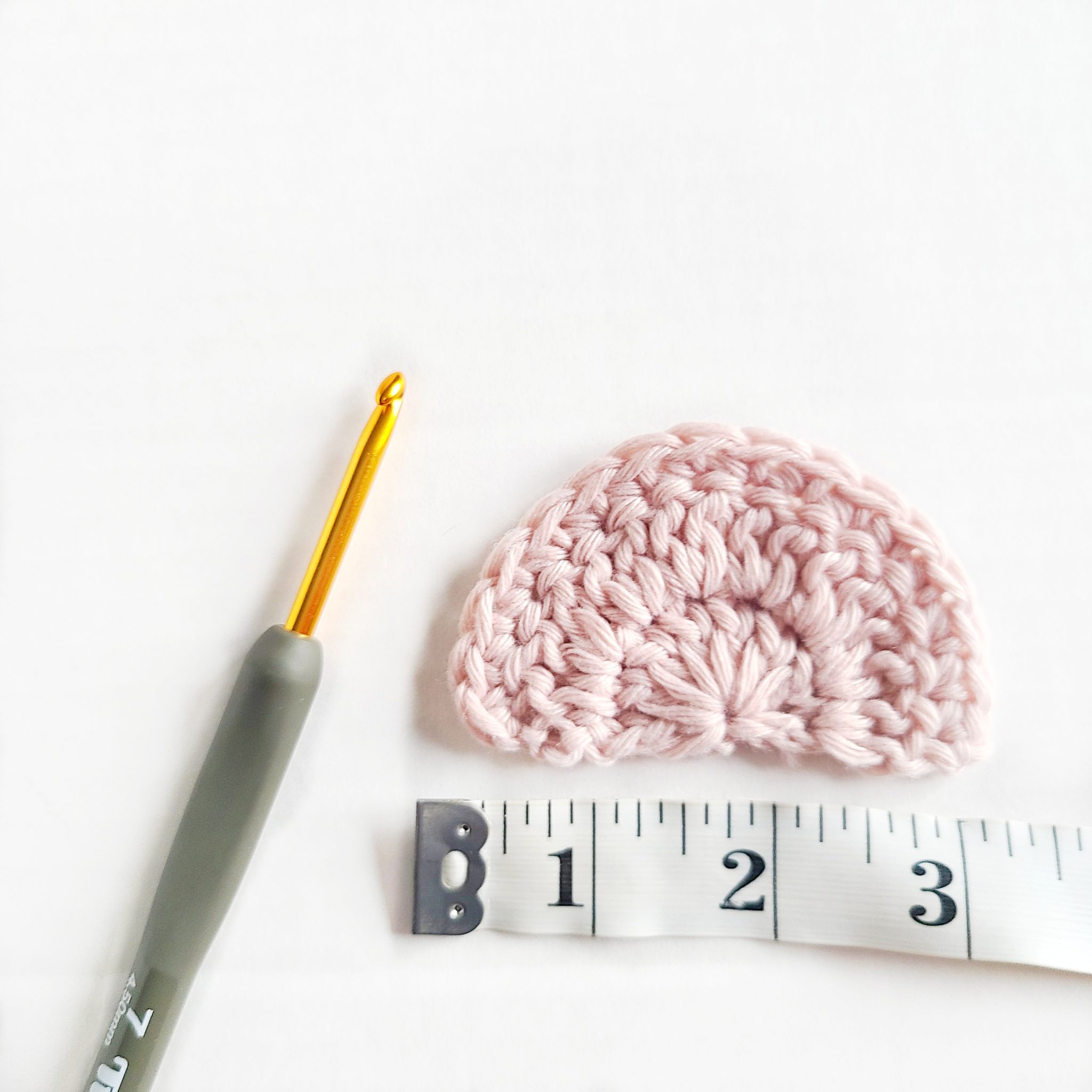 Step 7
Sc into the remaining sts across, fasten off and weave in the two loose ends with a yarn needle.
Half Circle in Three, Four, and Six Weight Yarn Example
Do you want to use a different yarn than shown? This half circle (crochet half oval) can be made using any four-medium weight, bulky five weights or even a super bulky six yarn, but keep in mind the finished size will then vary in width and height. You will need to follow along with the recommended crochet hook size on the label, or use one that works well for you personally when crocheting.
Below, I worked up this crochet half oval pattern using each of the yarn weights mentioned above, so you can see the difference in size.
The four weight half circle example uses Pound of Love by Lion Brand and a 6 mm crochet hook, and the six weight example uses Wool-Ease Thick & Quick by Lion Brand with a 9 mm crochet hook. Keep in mind, that this isn't a perfect half circle and each yarn works up slightly differently even when following the same pattern.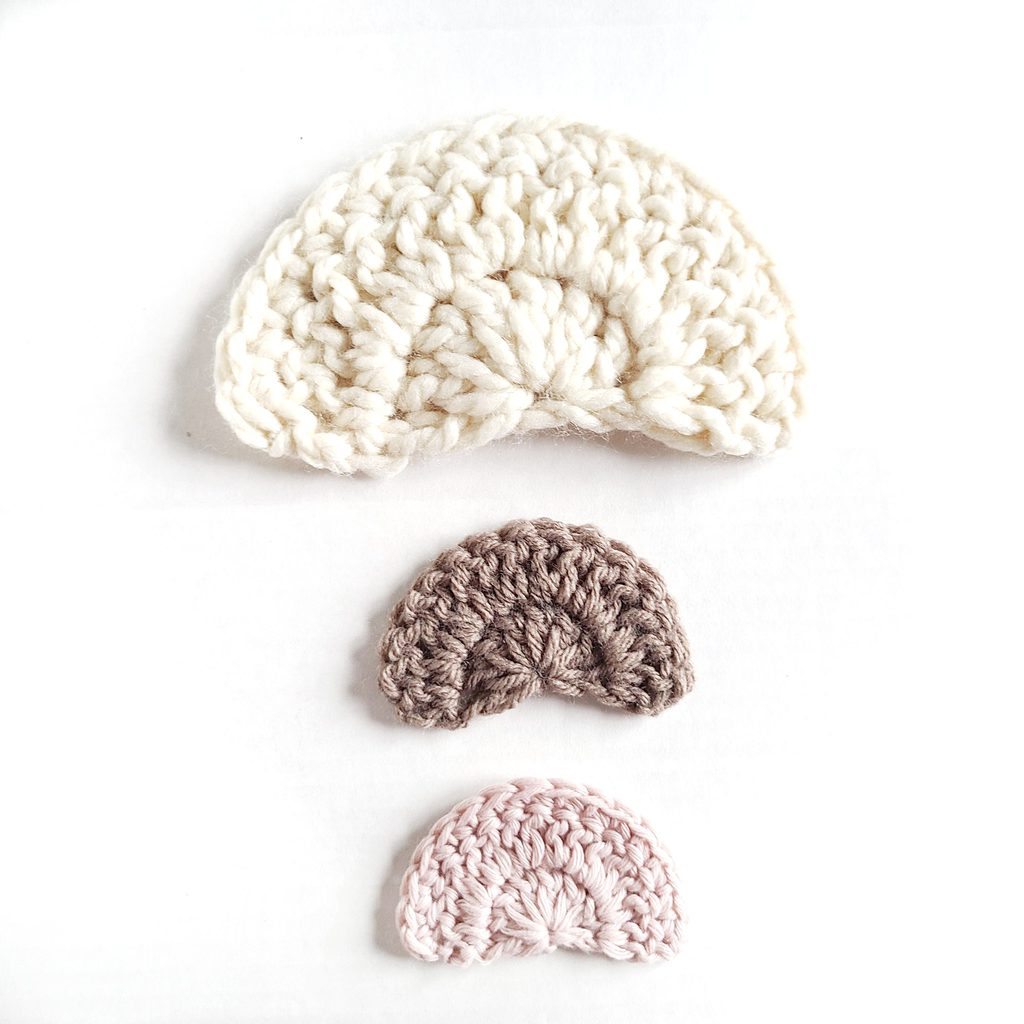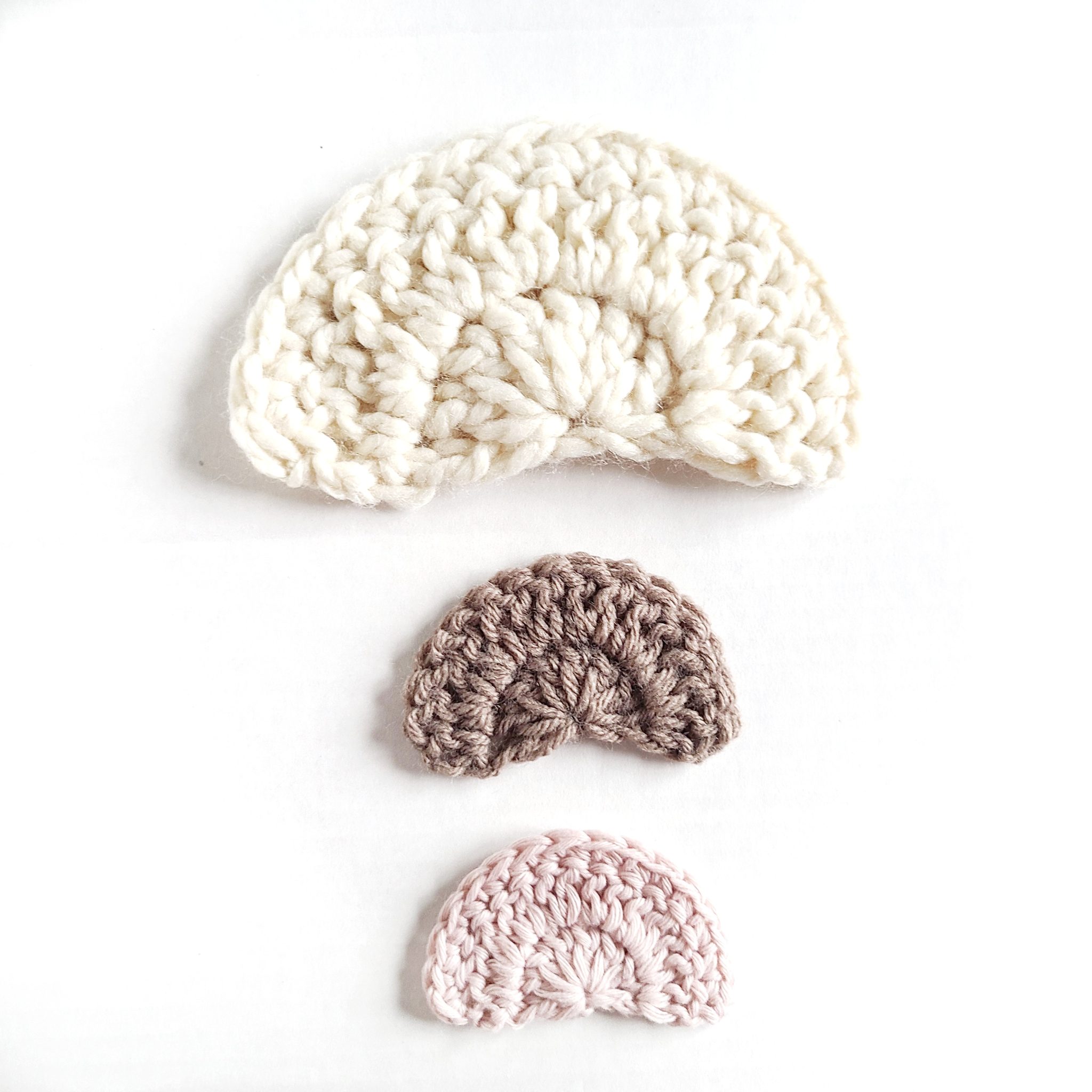 When you change the yarn size of this half circle, you will be able to make all different types of projects. For example, half circle eyes for amigurumi with a one or two weight yarn, or a half circle rug with the super bulky yarn. Have fun with this pattern and be creative since the possibilities are endless with this easy half circle pattern!
Save to Make Later
Use our images below to save to Pinterest, so you can make this half circle pattern when you need it for a project. Follow along with us as well, so you never miss out on a new free crochet pattern release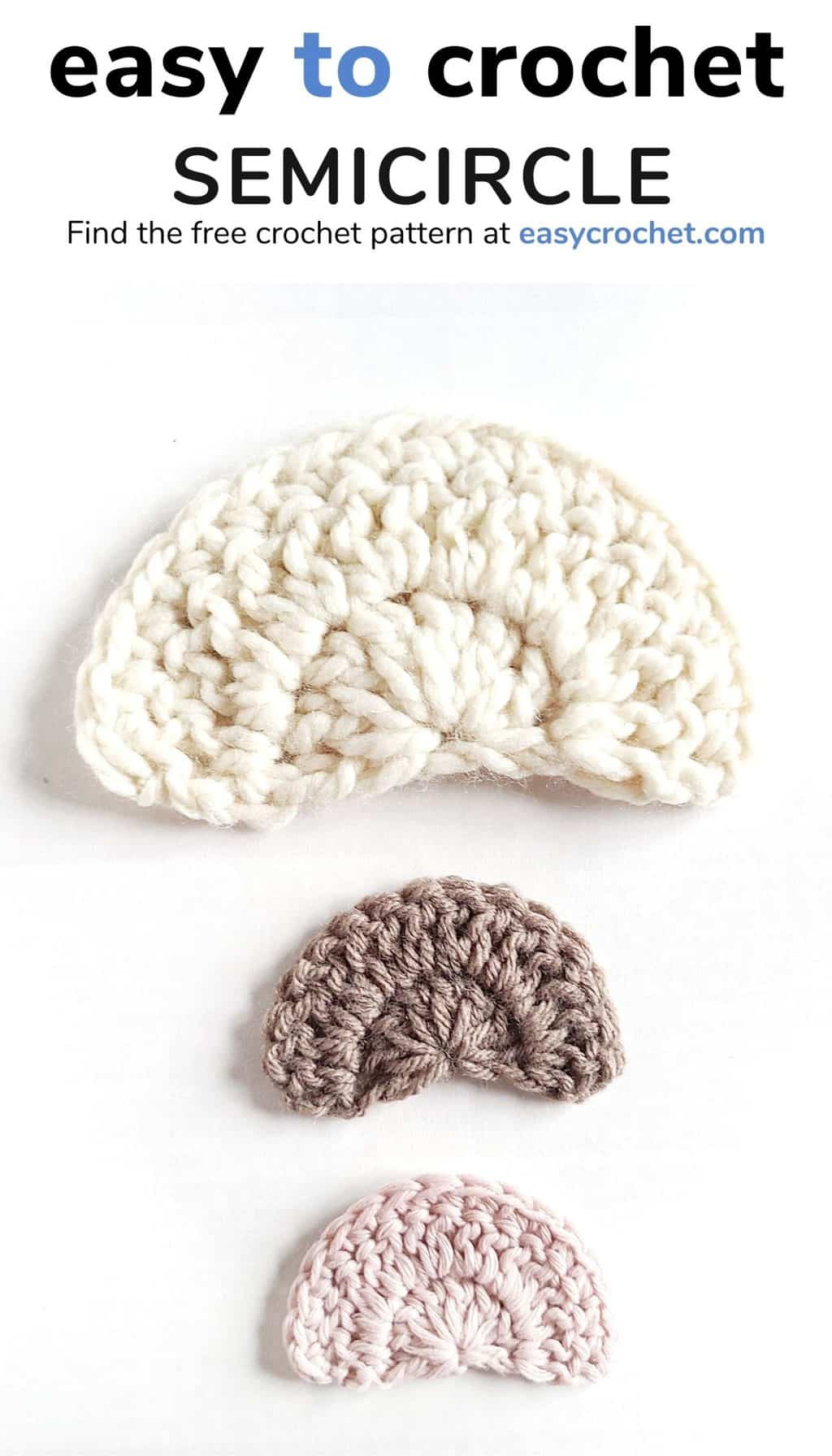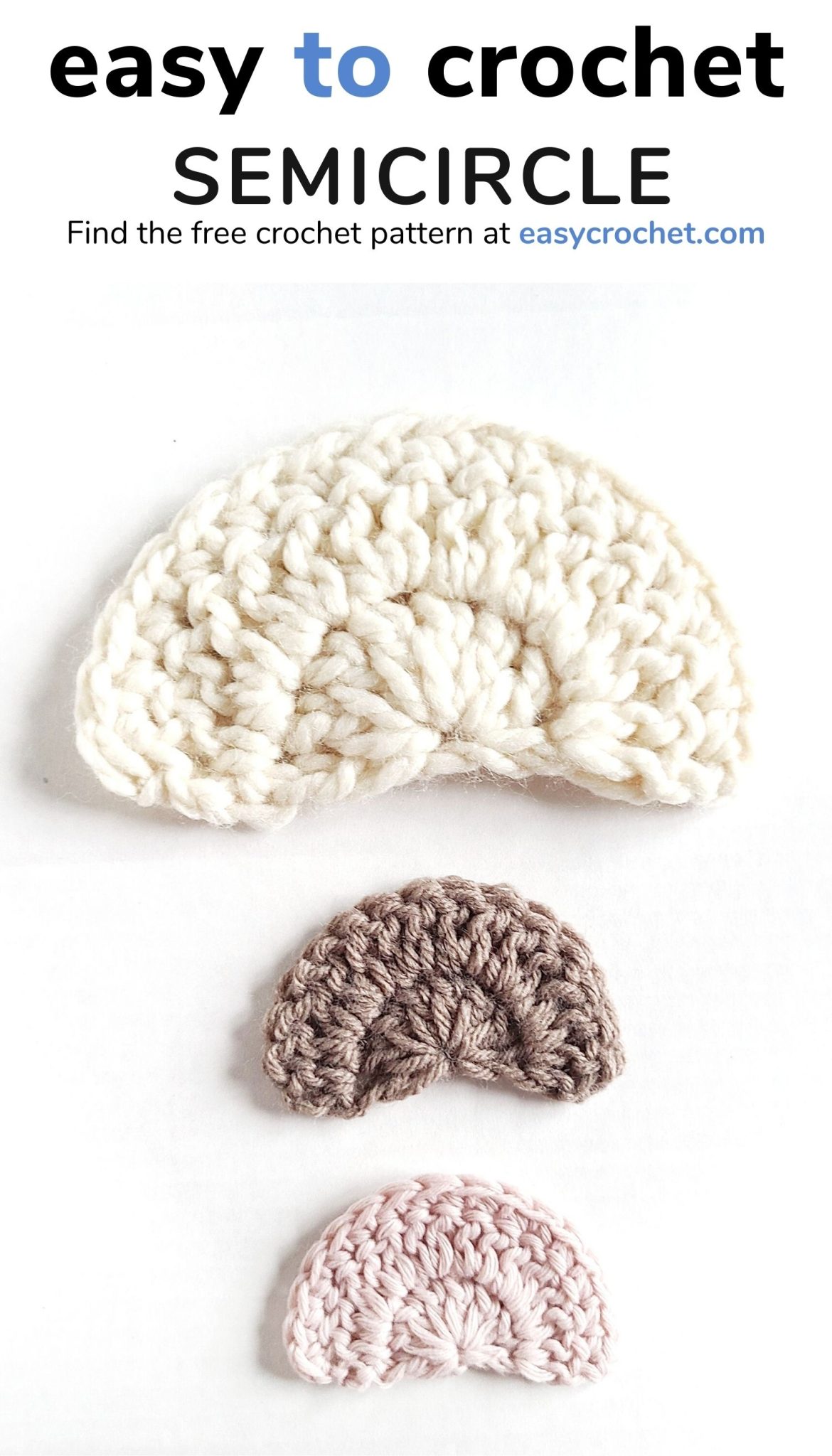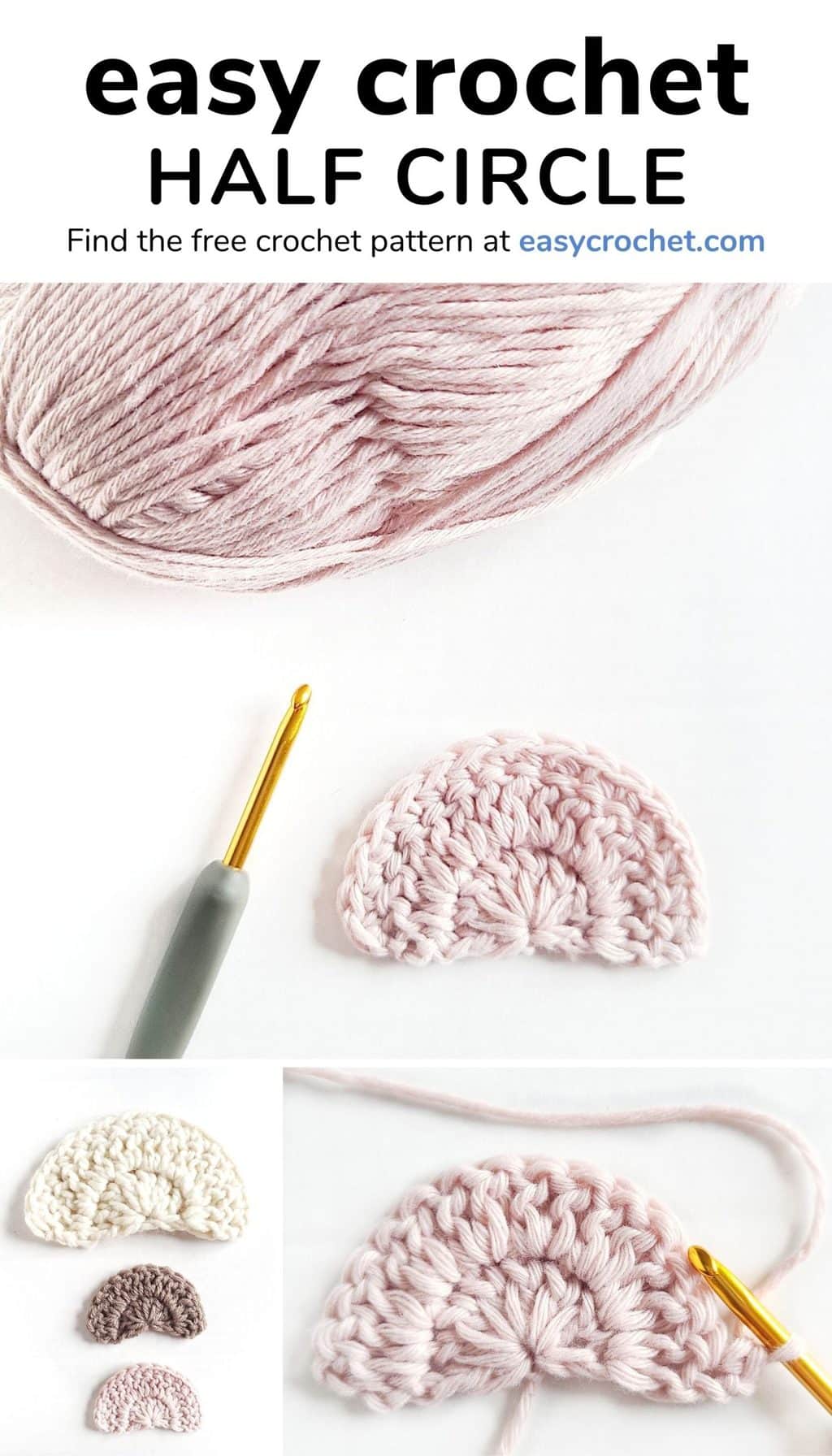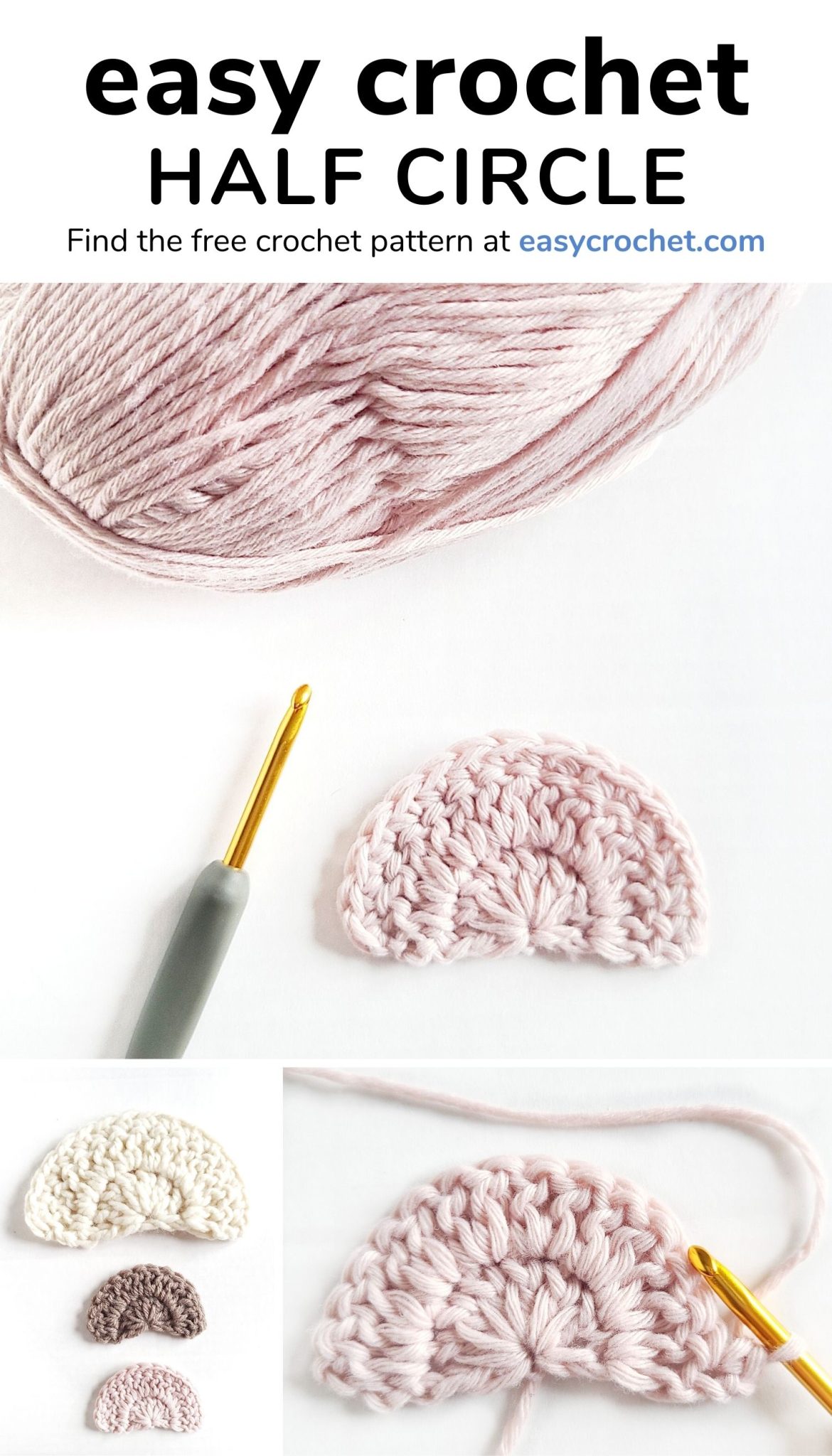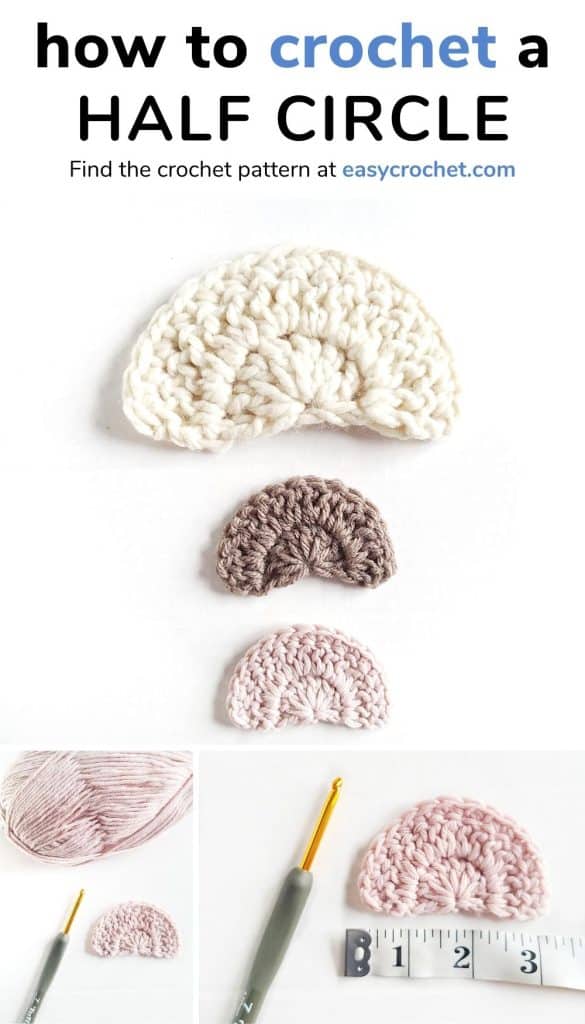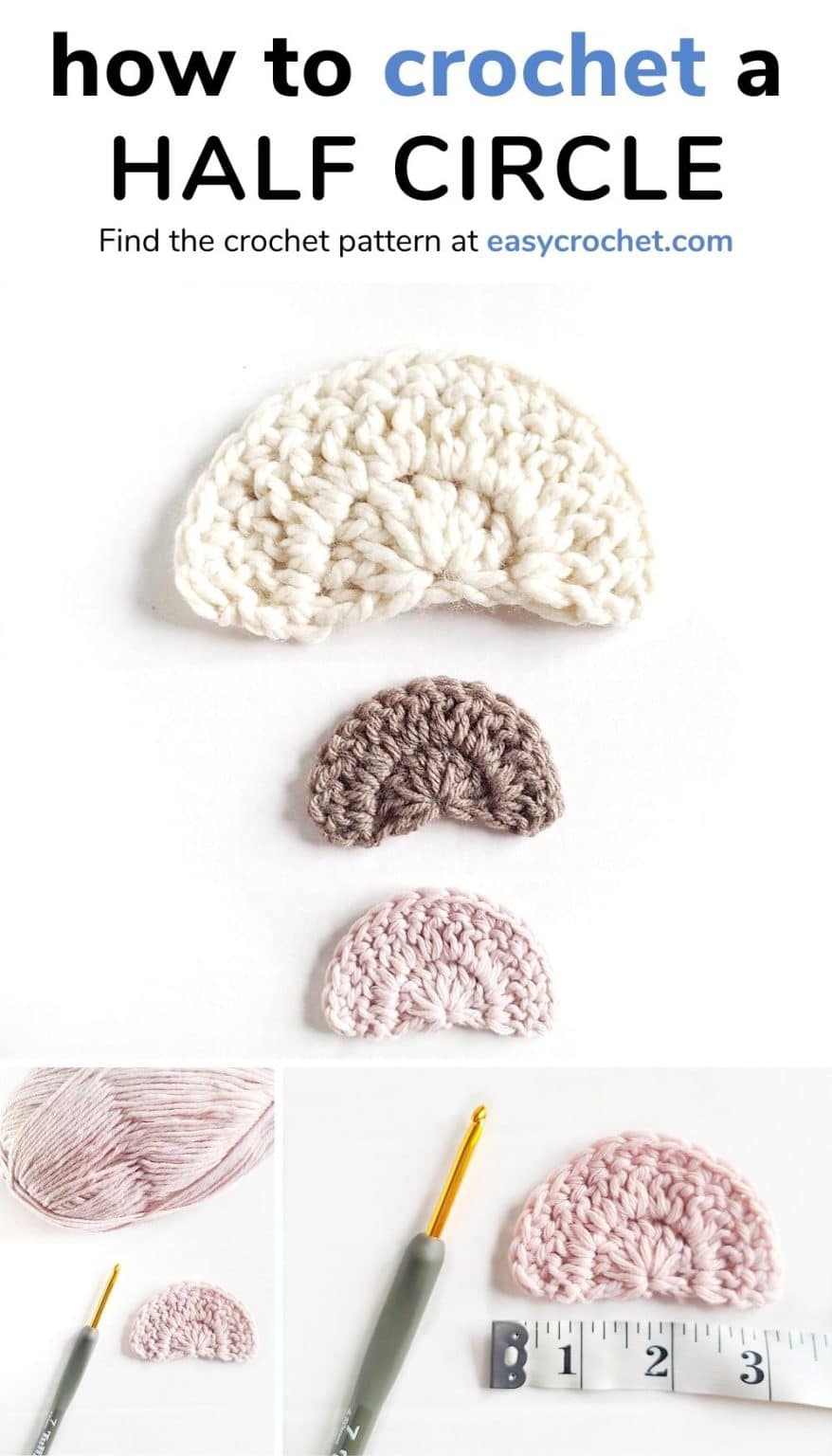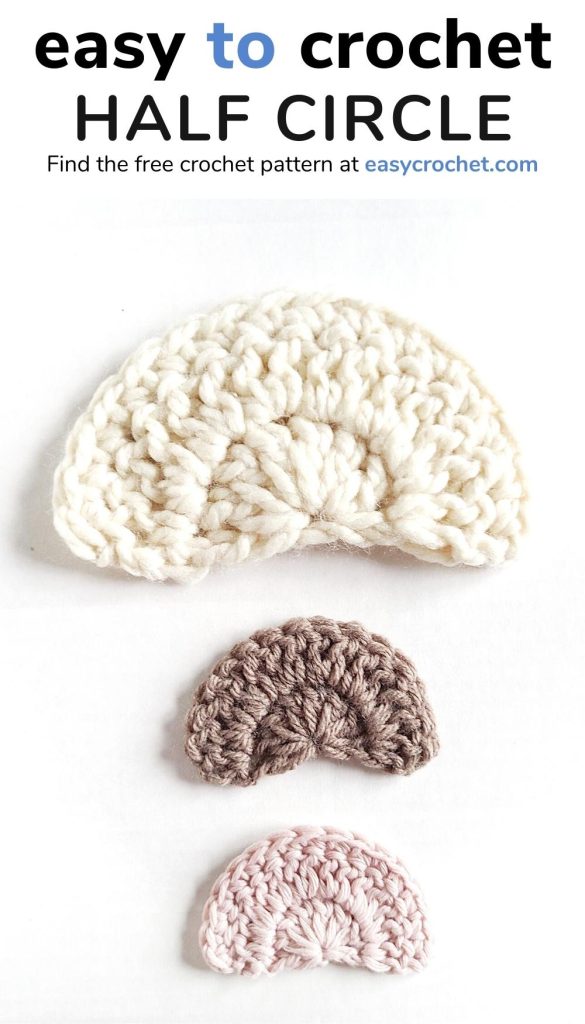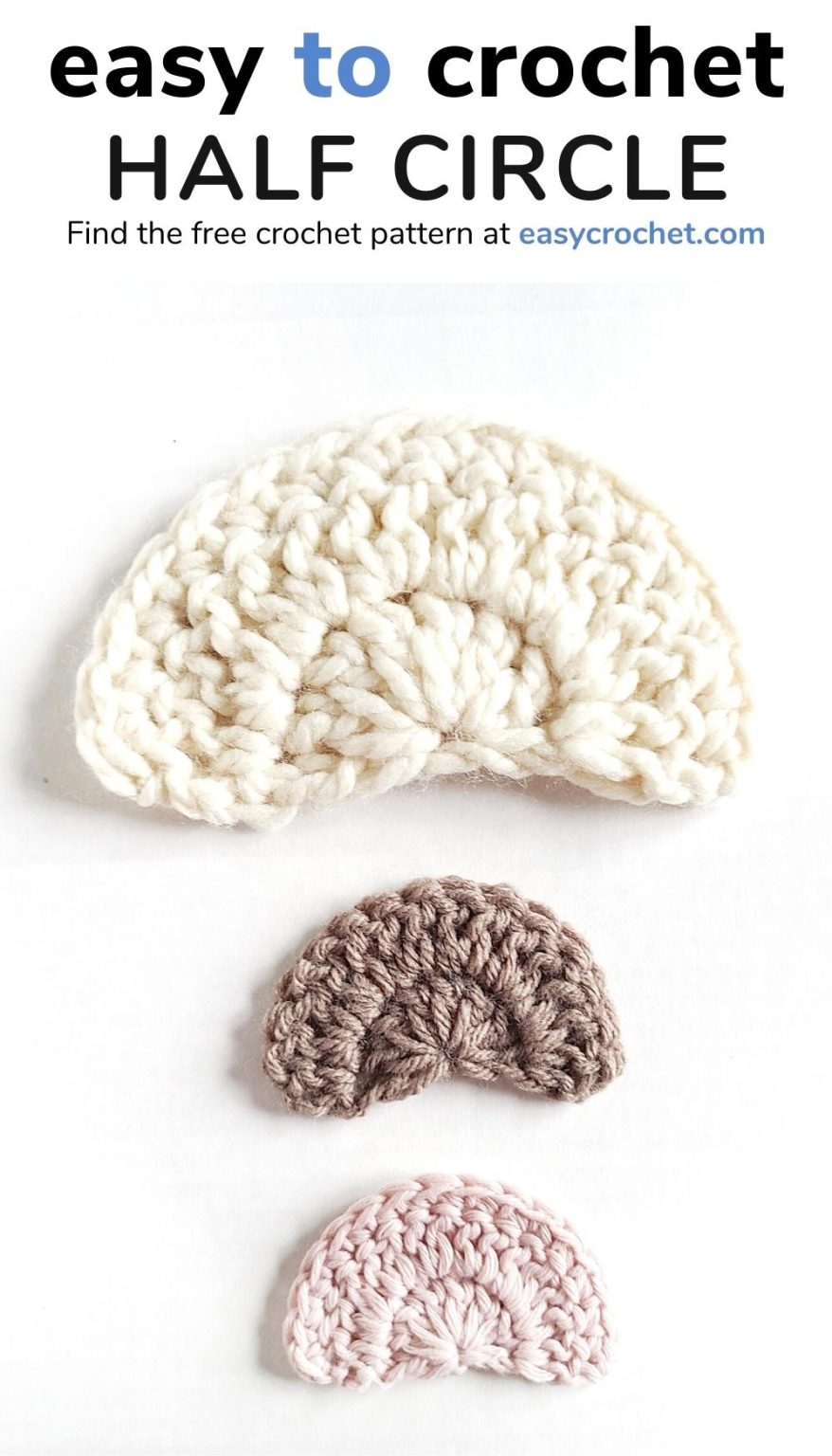 More Free Crochet Appliques and Patterns
Use the free appliqué crochet patterns below to expand your skills to make even more crochet patterns beyond this half circle.