It has been so chilly here lately that I couldn't help myself and crocheted up this chunky flower button hat for my daughter!
If you love crochet hat patterns then this one is for you!
I love fall and I can't wait for her to wear it when the leaves start falling! What is your favorite crochet piece to make for fall?
Mine has to be crochet hats… Oh, and maybe crochet scarves too! I guess I'll have to do both!
If you'd like to make this free chunky crochet hat pattern just follow along with the pattern below to learn how to make this easy crochet hat!
Happy Crocheting!
How to Make a Crochet Hat
Skill Level: Easy
Materials
Super Bulky Yarn (Weight #6). We will need less than 125 yards
Button (I used these Brown Coconut Shell Buttons.)
Yarn Needle
Scissors
Stitch Marker
Crochet Terms
SC = Single Crochet
DC = Double Crochet
ST = Stitch
SL ST = Slip Stitch
CH = Chain
Crochet Notes
The finished size of this hat has a 20″ circumference & 7.75″ length
Fits an Older Child to teen. Reference our Hat Size Chart for more information.
The SL ST's in each round do not count as a stitch. (Skip them)
Move up stitch marker at the beginning of every round (It's easier to keep track of your rounds this way)
Written in Standard US Terms.
Pattern Permissions
SELLING: You may sell items made from patterns on Easy Crochet unless otherwise stated. If you choose to sell items made from this pattern, please link back to me at www.easycrochet.com for credit. Please do not use my pictures to sell your items.
IMAGES & CONTENT: The images and content of EasyCrochet.com are protected by copyright laws. Do not distribute or copy the content without written permission. Do not edit or remove watermarks from any original image from easycrochet.com. If you would like to share an image, please only use 1 with a link back to Easy Crochet. Thank you for respecting my work.
TRANSLATIONS: Please do not post a translation of my pattern(s) anywhere. If you would like to help make a translation I would be happy to publish it on Easy Crochet with a link and full credit to your blog. For further questions, please email krista@easycrochet.com.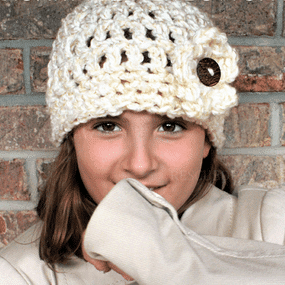 The Hat Pattern Steps
ROUND 1: Start with a magic circle. CH 1,11 DC in circle, SL ST to top of first DC (11DC)
ROUND 2: 2 DC in every ST around (22 DC), SL ST to top of first DC from previous round
ROUND 3: DC in first ST, *2 DC in next St, DC in next stitch, Repeat from * around. SL ST to top of first DC from previous round (33 DC)
ROUND 4: DC in each ST Around, SL ST to top of first DC from previous round (33 DC)
ROUND 5: REPEAT ROUND 4
ROUND 6: REPEAT ROUND 4
ROUND 7: REPEAT ROUND 4
ROUND 8: SC in each ST around, SL ST to top of first ST from previous round (33 DC)
ROUND 9: REPEAT 8
ROUND 10: REPEAT 8, Fasten Off
Crochet Flower for Hat
ROUND 1: Magic Circle, 10 SC in Circle, SL ST to first SC
ROUND 2: CH 2 , 2 DC in same ST, *SL ST in next ST, 3 DC in next ST. Repeat for a total of 5 Petals. SL ST,Fasten off leaving tail for weaving in.
Finishing
Attach button to center of flower with yarn.
Weave ends into the hat with a yarn needle.
Attach flower to hat with a yarn needle.
Thanks for stopping by! If you have any questions about this crochet hat tutorial please feel free to contact me! If you are looking for another quick and easy crochet hat you may like my Emily Diagonal Beanie too!