29 Easy-to-Follow Free Crochet Animal Patterns for all Skill Levels
If you enjoy crocheting amigurumi patterns, then you will love this collection of stuffed crochet animals that are a mixture of easy crochet animal patterns for beginners to more advanced animal designs.
And the best part is that all of these amigurumi patterns are free patterns to use and are oh so cute!
Scroll on down to learn more about amigurumi, as well as find the free pattern collection of some of the cutest animals to crochet, like cats, dogs, an octopus and more!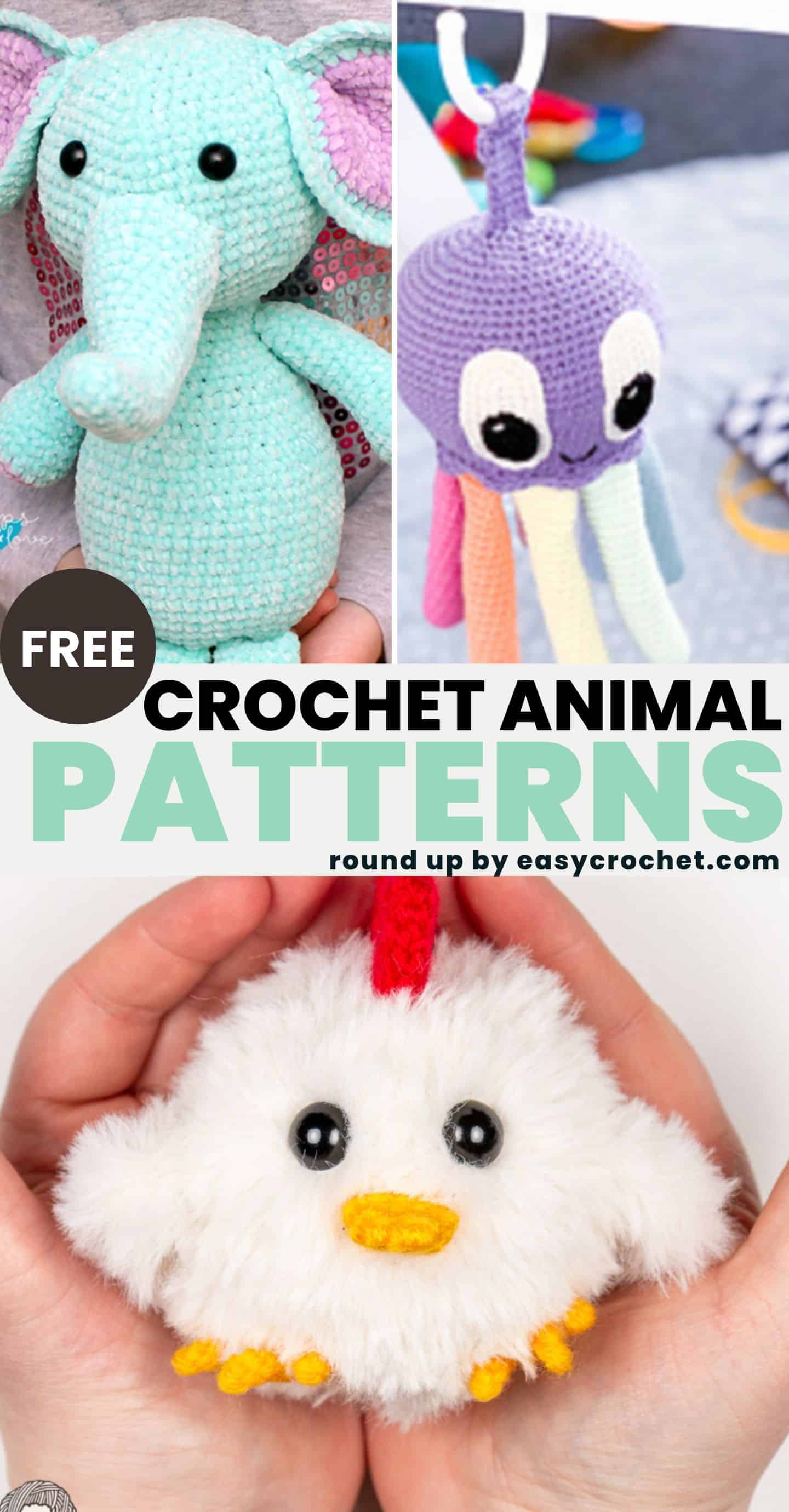 All About Crochet Amigurami
What is Amigurami?
According to Wikipedia, amigurumi is the Japanese art of knitting or crocheting small, stuffed yarn creatures. It can be used to create stuffed crochet toys, small projects like keychains, and crocheted dolls as well.
Before starting an amigurumi project, there are a few things you should know. Below, explore about the basic stitches, techniques and supplies you'll want to have on hand when crocheting an amigurumi animal or toy.
Stitches and Techniques for Amigurumi Animals
Single Crochet: A beginner-friendly basic stitch that is most commonly used in Amigurumi patterns, as well as other types of amigurumi designs. Learn how to single crochet.
Back Loop Single Crochet: A single crochet that is worked in the back of the v of the single crochet stitch. This technique can be used to create texture on animals and more. Learn how to back loop single crochet.
Front Loop Single Crochet: Working in the front loop is very similar to the back loop technique, but you will be working in the front loop of the v of the single crochet or the part that is closest to you.
Single Crochet Increase & Invisible Decrease: These methods create seamless transitions in your toy when you'd like to make a leg go from bigger to smaller or vice versa.
Magic Loop: The magic loop is a crochet technique that creates a closed, tight bottom of a circle. It can be used for hats, place mats, circles and these cute animals too! Learn more about the Magic loop (or circle) to use this method.
Changing Yarn Colors: You can learn more changing colors in crochet with our free tutorial. This is helpful for a smooth transition from one color to the next in these toys.
Attaching Parts: You will need to know how to attach arms, legs, heads, and tails to some of these animals.
Crochet Supplies for Amigurumi Animals
---
The Best Free Crochet Animal Patterns
Use one or all of these adorable animal crochet patterns! You'll find these amigurumi crochet patterns listed by skill level, ranging from beginner patterns to complex patterns. This will make it easy to sort through all the different animal patterns and amigurumi projects below.
Extra: I also included a few paid different patterns at the end if you'd rather have a PDF version instead.
Easy Crochet Animal Patterns
In this section, you will find the easy skill level animal patterns to crochet.
---
---
---
---
---
---
---
---
---
---
---
---
---
---
---
---
---
---
---
---
---
---
---
---
---
---
---

More Crochet Stuffed Animal Patterns & Amigurumi Patterns to Make
I also found some paid crochet animal patterns you may enjoy too if you were looking for something a bit different from the free patterns shown above.