Crochet Curly Cue Pattern
Do you want to learn how to make a crochet corkscrew? I can help! I promise you that these curly cues are simple to make and are great to add to lots of crochet projects.
Scroll down to find the free pattern to make this crocheted spiral!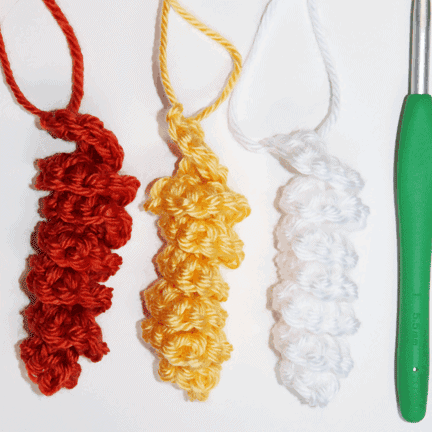 Learning How to Crochet a Corkscrew Spiral Is Easy!
Crocheting a corkscrew spiral is super simple to work up and uses only one stitch! Also, let's not forget how easy it is, too! Below I will tell you all about the stitch I used, yarn and hook!
I hope you enjoy this simple crochet tutorial on how to make crochet curls. Keep on scrolling down for the full, FREE pattern!
The Yarn I Used
I used Caron Simply Soft for the curly example and highly suggest this when making these! I will link up the yarn below in a few of my favorite colors for you to take a look at.
If you can't find this yarn, you can use any four weight yarn such as Vanna's Choice and Red Heart Soft for example to get a similar outcome like my photos.
Make This Spiral With One Simple Crochet Stitch
I am going to show you how to work up a simple corkscrew with yarn using a single crochet. However, this can easily be adapted to a half double crochet (add 1 initial chain & start in 3rd chain from hook) or even a double crochet (add 2 initial chains & start in 4th chain from hook).
Crochet Stitches to make a Crochet Spiral
Learn more about each crochet stitch you can make a curly cue with below!
Ready to Get Started?
Once you work up a few I suggest adding them to a hair elastic and making a corkscrew crochet hair pretty! My daughter loves these crochet curls and now wants one in every color. I guess I have a lot of crocheting to do!
If you do decide to make a hair tie please be sure to share with me over in the Easy Crochet Facebook group! Now let's get crocheting and I hope you enjoy this simple crochet curly cue tutorial.
Happy Crochet Corkscrew Making!
How to Make a Corkscrew Crochet Pattern and Tutorial
Skill Level: Easy
Materials
Notes
I recommend using the corresponding hook that is stated on whatever yarn weight you decide to use.
I used a worsted weight 4 yarn and a size I 5.5 mm hook
Written in standard US terms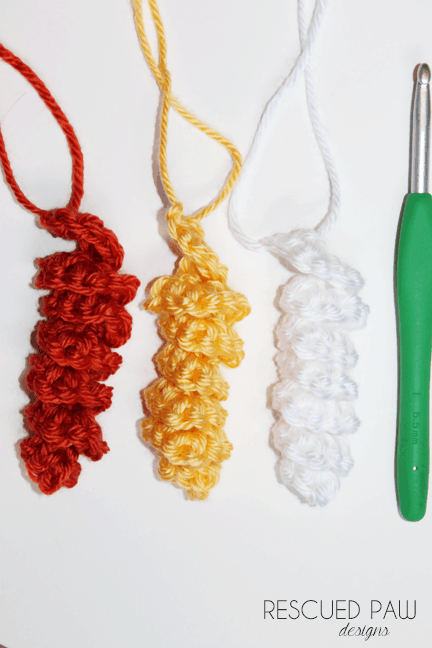 The Tutorial
3 Single Crochets in 2nd Chain from Hook.
3 Single Crochets in Every Chain Across, You will start to see the corkscrew forming right away!! Keep on going!! Then Fasten Off once you make 3 Single Crochets in the Last Chain.
You made a Corkscrew!
Now just add your crochet corkscrew spiral to a hair elastic by tying on with the yarn ends and you are done!

See…. I told you it was simple to make a curly cue!
They make wonderful embellishments for hats, scarves and much more too! Just use your imagination and have fun!
If you have any questions about this how to make a corkscrew crochet tutorial, please feel free to ask! Join the Easy Crochet Facebook group like I mentioned early and ask away. I don't mind answering questions about crochet patterns!
More Free Crochet Patterns