The Top Chameleon Crochet Patterns
If you are looking for the perfect gift for a little girl or little boy or just maybe want a new toy to crochet then you will love this collection of fun crochet chameleon patterns.
Each of these free crochet chameleon patterns can be made in different colors, customized with accessories, and some even have video tutorials to help out. Each pattern has different skill levels, ranging from super easy to a bit more complex, so be sure to look through the pattern you want to make to be certain it will work for you as a crocheter.
Read on down to find some wonderful patterns for amigurumi crochet chameleons!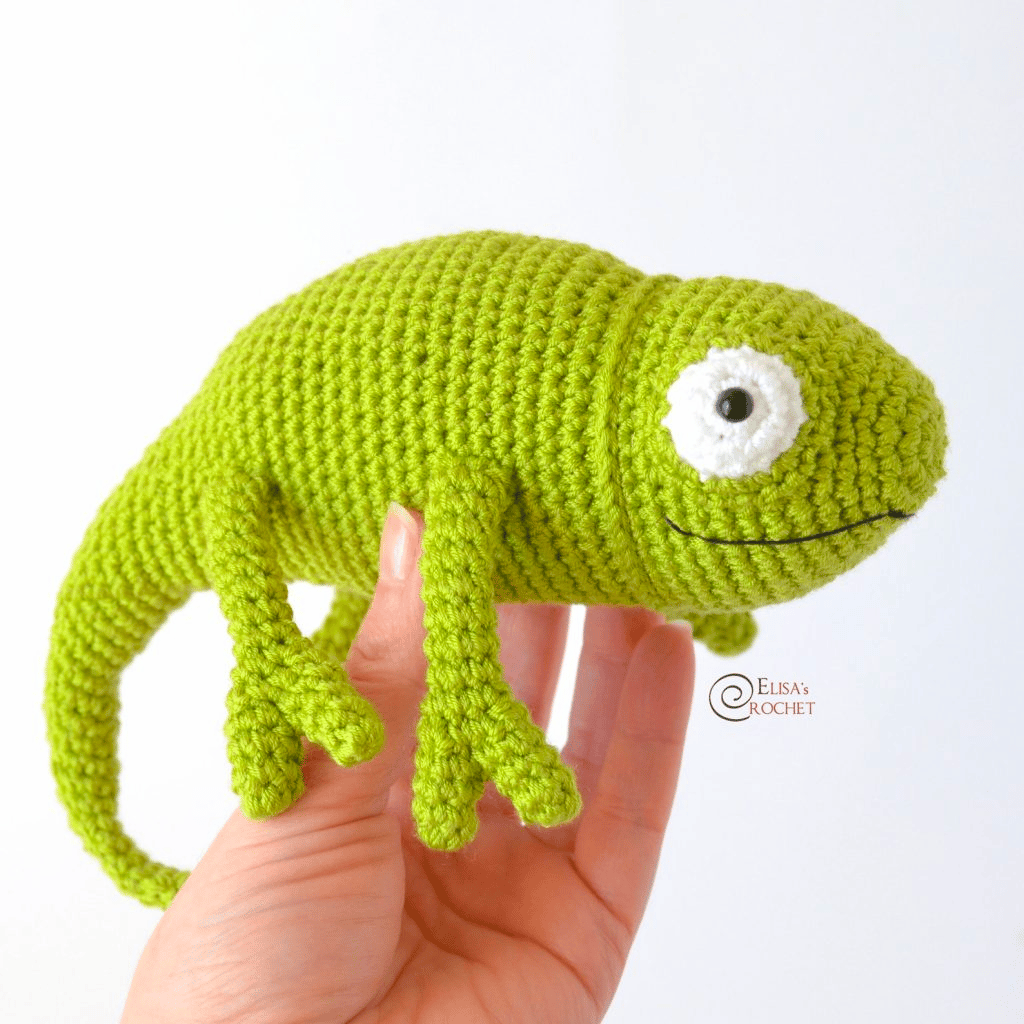 Common Crochet Stitches & Techniques Used in Amigurumi Chameleons
Certain stitches perform best when creating these small crochet toys. Here are five of the best stitches we've come across:
Single Crochet(sc): A single crochet stitch is a beginner-friendly basic stitch that is most commonly used in Amigurumi patterns, as well as other types of amigurumi designs.
Back Loop Single Crochet: A single crochet that is worked in the back of the v of the single crochet stitch. This technique can be used to create texture on these chameleon patterns and more. Learn how to back loop single crochet.
Front Loop Single Crochet: Working in the front loop is very similar to the back loop technique, but you will be working in the front loop of the v of the single crochet or the part that is closest to you.
Single Crochet Increase & Invisible Decrease: These methods create seamless transitions in your toy when you'd like to make a leg go from bigger to smaller or vice versa.
Magic Loop: The magic loop is a crochet technique that creates a closed, tight bottom of a circle. It can be used for hats, place mats, circles and amigurumi patterns! Learn more about the magic loop (or circle) technique to use this method in the link above.
Materials for Amigurumi Chameleons & Toys
While you would need many of these materials for any crochet project, crochet stuffed toys like these chameleons sometimes require specific sizes. Here we go into the weight of yarn, hook sizes and other things that work best for amigurumi chameleons.

The Best Amigurumi Chameleon Crochet Patterns
While I haven't personally designed a chameleon pattern, yet I have found quite a few from fellow designers that are just perfect! Be sure to look at each pattern (free & paid) to check out the yarn it uses as well as the hook to see which is the best for you to crochet!
Free Chameleon Crochet Patterns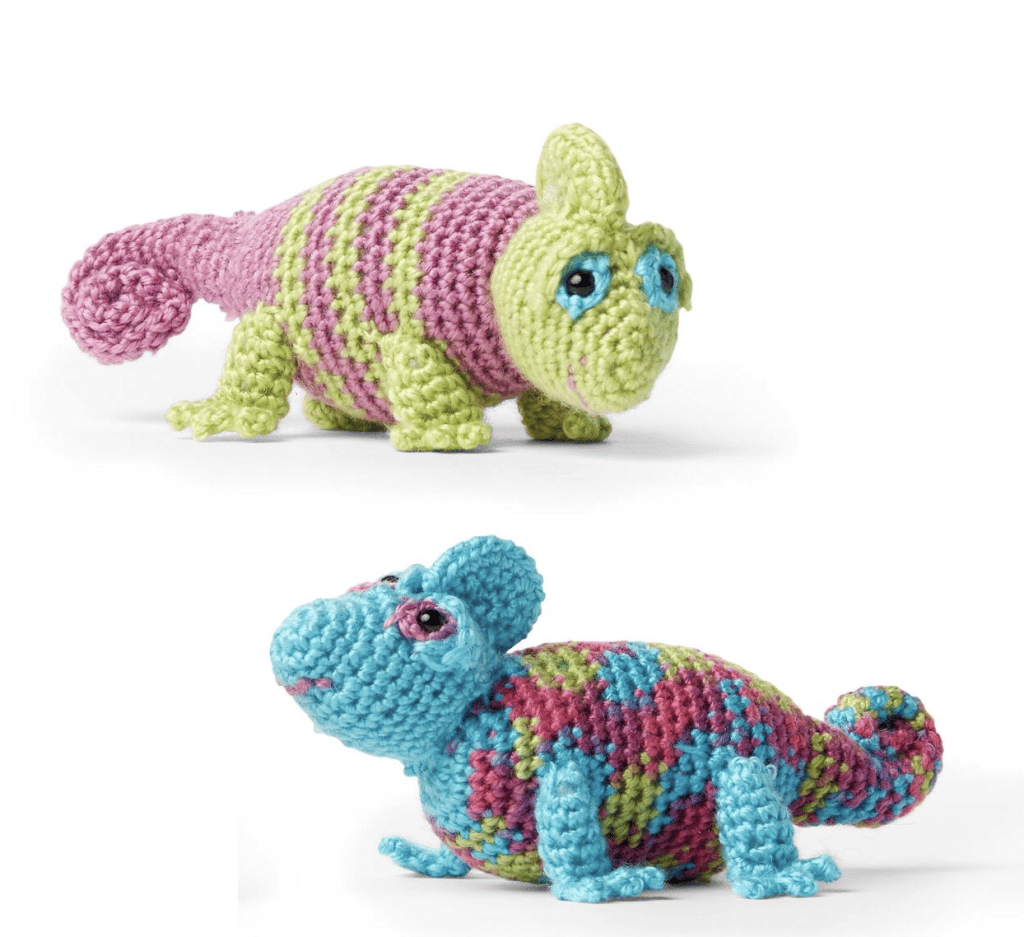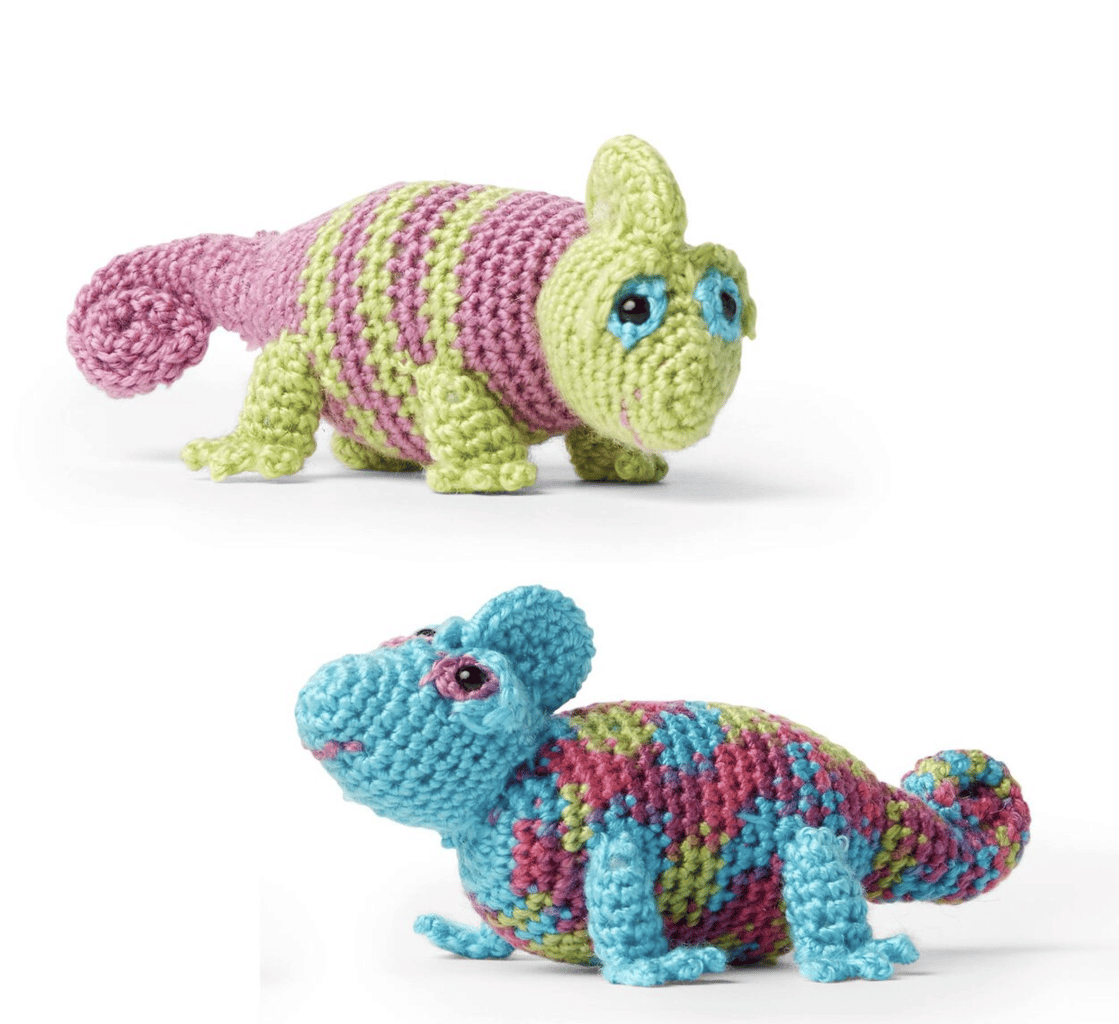 This free downloadable PDF is available on Yarnspirations, so you can just click and get started crocheting a chameleon as soon as possible.
Yarn: Red Heart® Amigurumi
Hook: 3.25 mm
Designer: Red Heart Design Team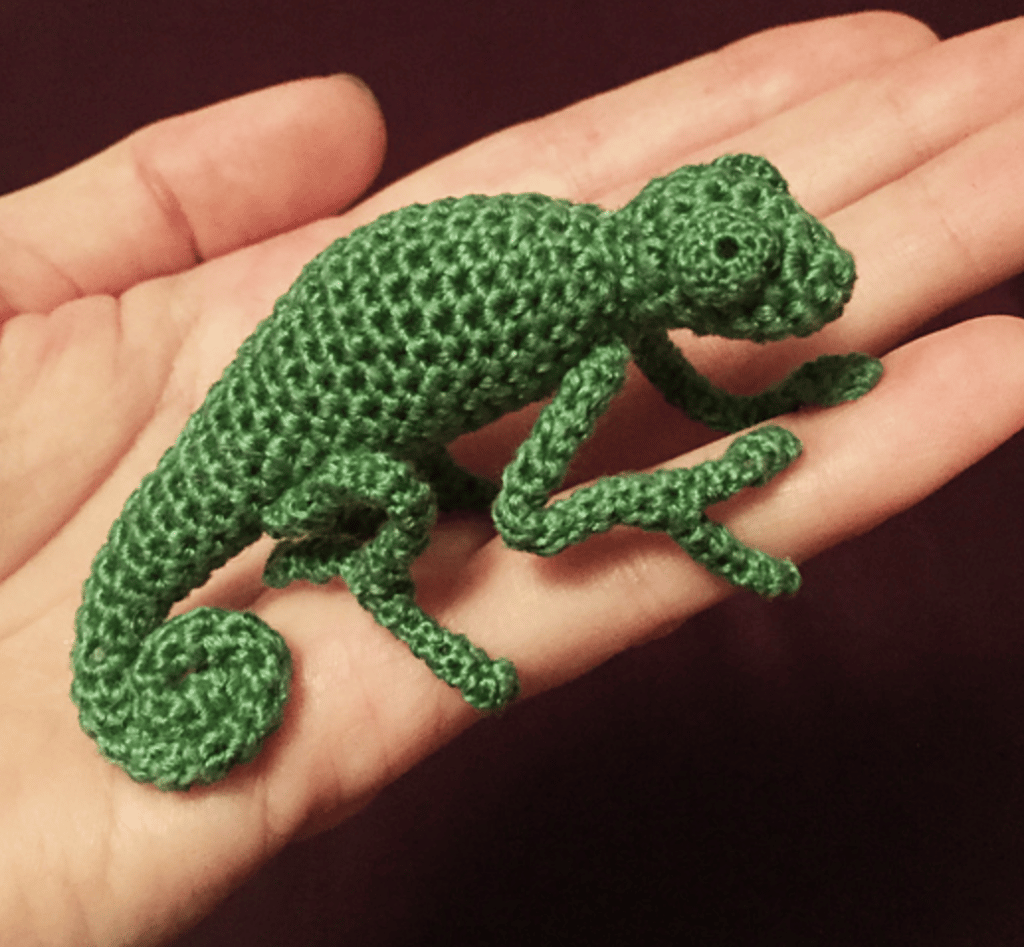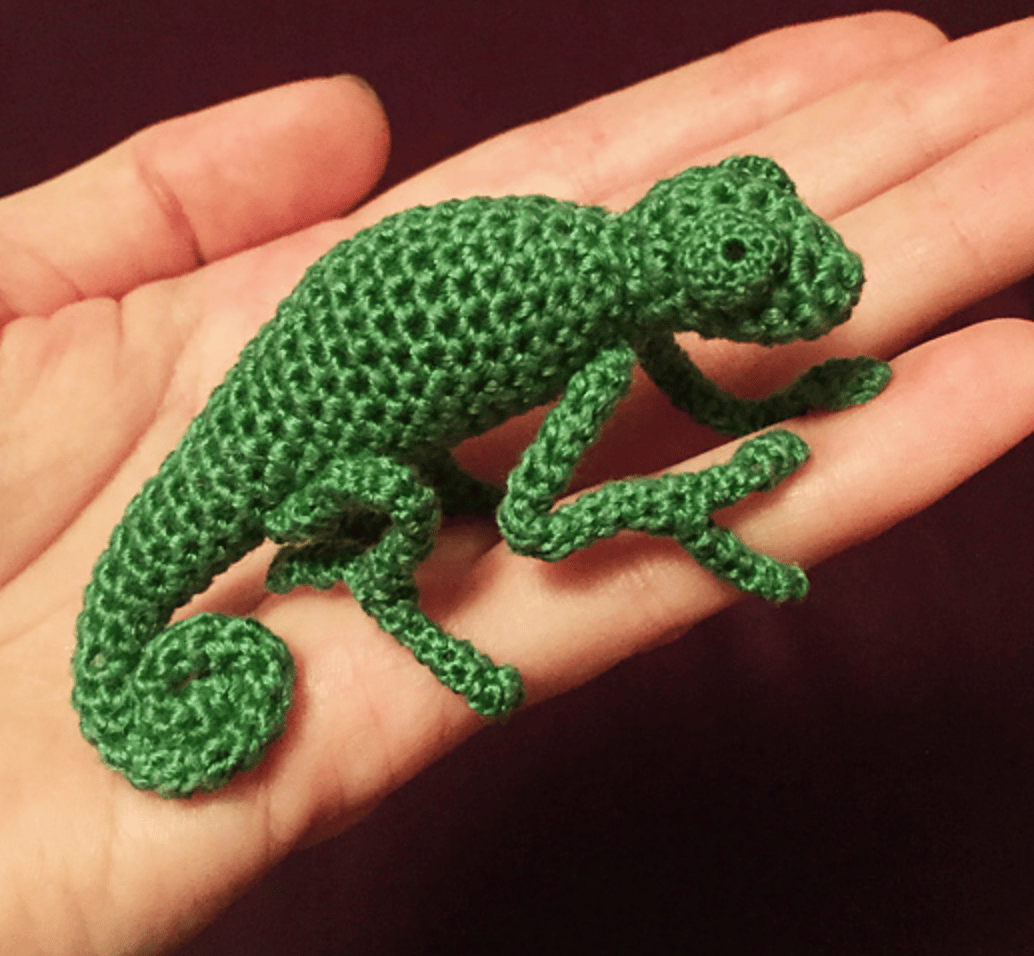 You'll love this chameleon pattern since it's a free PDF on Ravelry! This pattern is best suited for advanced crocheters, since it uses DMC floss and smaller crochet hook sizes.
Yarn: Thread / Embroidery floss
Hook: 1.8 mm & 1.15 mm
Designer: Andrea Blumberg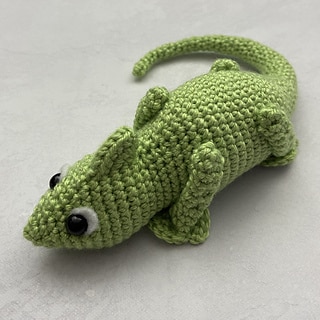 You'll love this amigurumi pattern since it's a free PDF on Ravelry! Which means you'll be able to take it with you for on the go chameleon crocheting!
Yarn: Any four weight yarn (worsted)
Hook: 4 mm (G-6)
Designer: Charlyn Smith
Paid Chameleon Crochet Patterns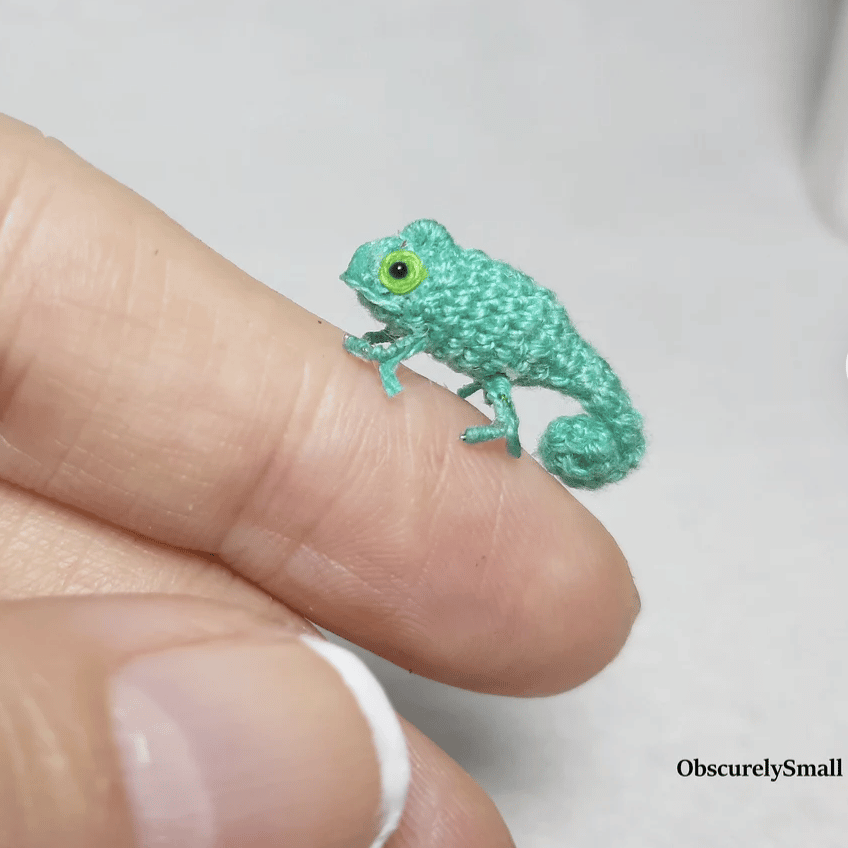 This adorable little one is only .8 inches big and is best for advanced crocheters to make. It uses simple stitches as well as the magic ring technique. Find the paid pattern on Etsy to get started.
Yarn: Embroidery Floss
Hook: .6 mm (steel hook)
Designer: Obscurely Small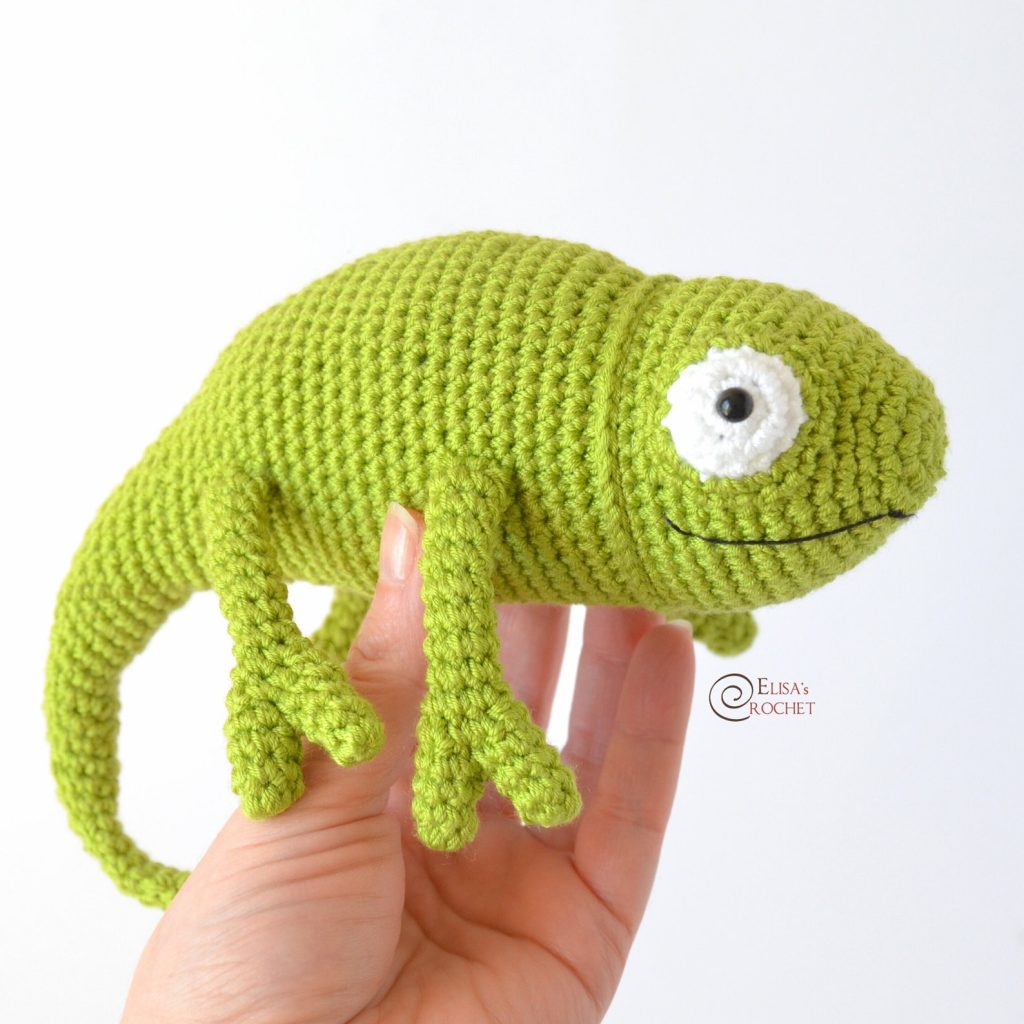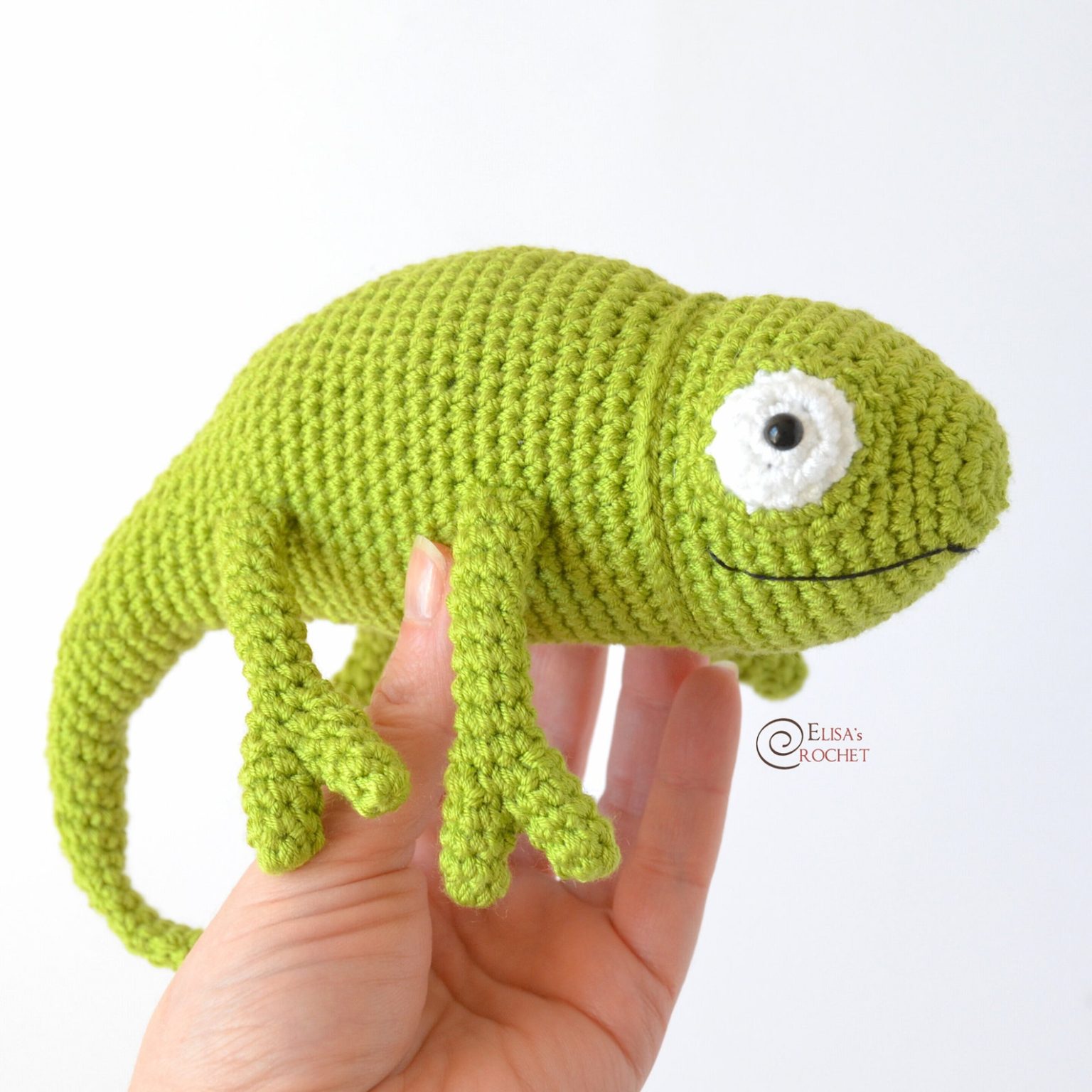 This stuffed toy is perfect for intermediate crocheters or beginners who'd like to try something a bit more advanced. Get the paid pattern on Etsy to get started!
Yarn: Any four weight yarn (worsted)
Hook: 3.25 mm
Designer: Elisa's Crochet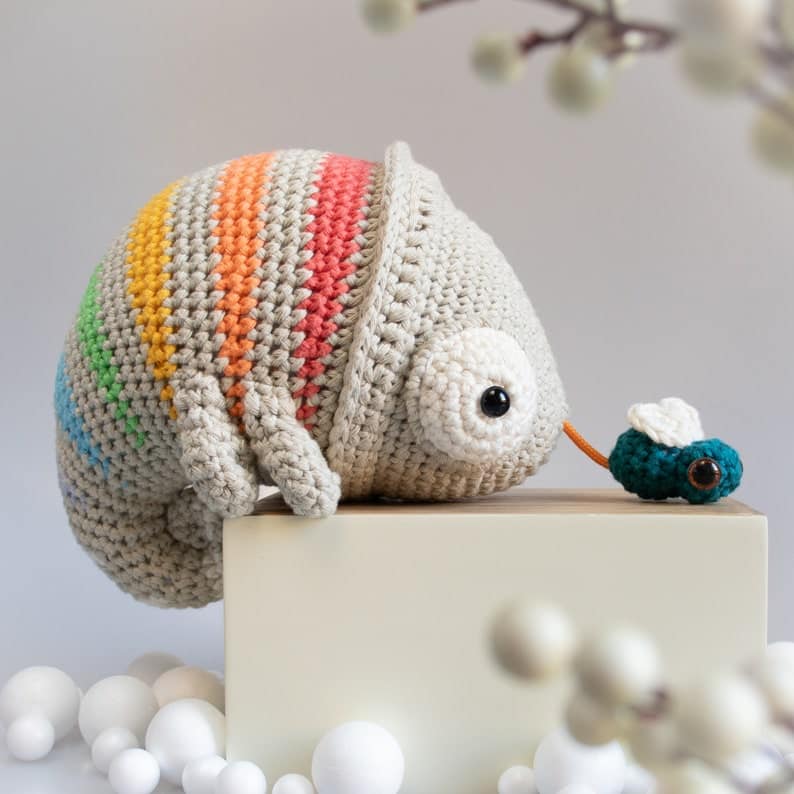 This twenty-one-page PDF is extremely detailed and walks you through every step of crocheting a chameleon toy! It is also available in seven languages and as a chameleon crochet kit with all the material included too!

Hook: 3.5 mm
Designer: Lalylala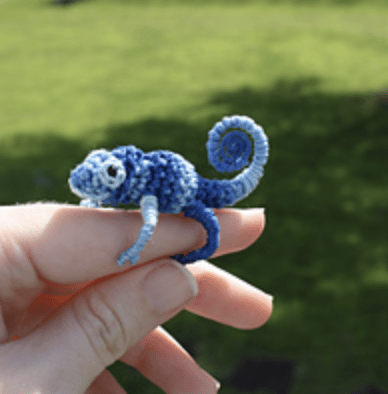 This tiny chameleon pattern is so cute and would make a great little gift for anyone that loves reptiles! Check out the paid pattern on Ravelry.
Yarn: Embroidery Floss
Hook: 1.9 mm
Designer: Wee Creatures

More Free Crochet Amigurumi Patterns
Here is a list of other crochet toy patterns you might enjoy crocheting too.
I hope you enjoyed all these free crocheted chameleon designs and found a pattern or two to make. If you have any questions, please let me know, and I'd be happy to help If I can. If you did like this roundup, be sure to take a look at my free amigurumi crochet pattern section here on easy crochet to find even more patterns to make.