13 Free Crochet Cake Patterns
If you have a sweet tooth and love all things cake, you'll be happy to know that there are plenty of free crochet cake patterns available online.
In this blog post, we've rounded up some of the best free crochet cake patterns that you can crochet right now. From mini cakes to larger cakes, appliques to amigurumi toys, there is something fun for all ages.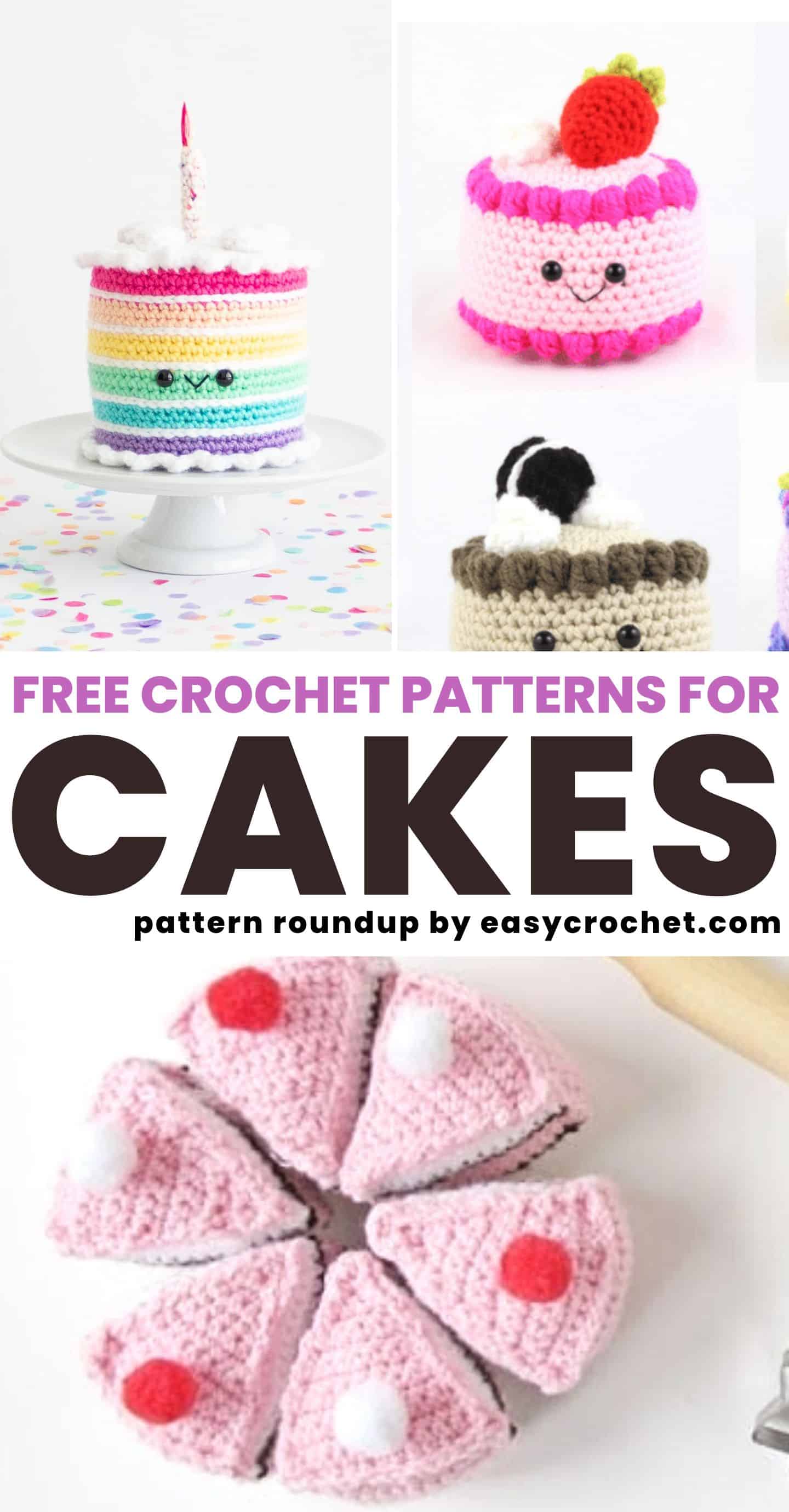 Related: The Putting it Together Course! In this course, you'll go over three different methods that help you avoid messy seams and wobbly heads. Each method has in-depth discussions on the pros and cons, a video tutorial, and a specially designed pattern to help you learn it!
Tips for Crocheting Cakes
As I mentioned earlier, some patterns are cake amigurumi designs, which means you will need to know a few techniques as well as have a few supplies on hand if that is what you are going to crochet.
Stitches and Techniques for Crocheting Amigurumi Cake Patterns
Single Crochet: A beginner-friendly basic stitch that is most commonly used in Amigurumi patterns, as well as other types of amigurumi designs. Learn how to single crochet.
Back Loop Single Crochet: A single crochet that is worked in the back of the v of the single crochet stitch. This technique can be used to create texture on an cake and more. Learn how to back loop single crochet.
Front Loop Single Crochet: Working in the front loop is very similar to the back loop technique, but you will be working in the front loop of the v of the single crochet or the part that is closest to you.
Single Crochet Increase & Invisible Decrease: These methods create seamless transitions in a cake when you'd like to go from one layer to the next.
Magic Loop: The magic loop is a crochet technique that creates a closed, tight bottom of a circle. It can be used for hats, place mats, circles and these cute animals too! Learn more about the Magic loop (or circle) to use this method.
Changing Yarn Colors: You can learn more changing colors in crochet with our free tutorial. This is helpful for a smooth transition from one color to the next in these toys.
Attaching Parts: You will need to know how to attach whipped toppings, decorations, eyes and more on some of these crocheted cakes.
Supplies for Crocheting a Cake
Stitch Markers: A stitch marker is important to keep track of the rounds you are working in the cake patterns. You will work most toy designs in continuous rounds vs joined rounds, so it is critical to be able to keep track of the rounds with this marker.
Crochet Hook: Most of the patterns will use a smaller sized crochet hook than the yarn they are using calls for. This is because it will create a tighter single crochet stitch in the pattern, which in turn makes a cleaner looking end product.
Safety Eyes: Some crocheted cake toys you will find to make use safety eyes. These are usually plastic snap together pieces that form an eye in amigurumi. If you prefer not to use safety eyes, you can surface crochet eyes onto almost any cake pattern instead with yarn or embroidery thread.
Yarn: While almost any yarn can be used for amigurumi patterns, the most commonly used weight is Light/DK or Medium/Worsted weight yarn. A cake made with DK yarn will be slightly smaller than one made with worsted weight medium yarn, but that is typically the preferred outcome. I also suggest using a brighter yarn as a beginner because it can be tough to see stitches in dark yarns like black, for example. The types of fiber uses can vary, but the post popular are a cotton yarn or acrylic yarns (they are easy to find in fun colors)
Pins: Pins make it easy to attach extra pieces (nose, yarn eyes, etc.) of the crocheted toy, so when they are sewn on they are in the correct spot.
Yarn Needle: You will need this to attach, eyes, and faces etc. as well as weaving in ends. I love using bent tip tapestry needles for amigurumi, but straight needles can be used for eyebrows and lines too.
Stuffing: Most crochet cakes will have stuffing or fiber fill, so this is an important material to have on hand. Polyfill is my personal favorite.
Scissors: You will need scissors to cut the yarn end when you are done crocheting your cake design. A good pair of stork scissors are great for cutting yarn smoothly.
Wooden Stick: A popsicle stick is useful to help fill and shape the amigurumi projects.
Wire: Sometimes you will see an amigurumi pattern that requires wire to shape ears, tails and other parts too.
Crochet Cake Patterns
These free crochet cake patterns are perfect for anyone who loves to crochet and has a sweet tooth. Whether you're a beginner or an experienced crocheter, there's a pattern here for everyone.
So, why not grab your crochet hook and some yarn, and get started on your very own sweet crochet creation? Happy crocheting!
More Free Crochet Patterns