Basic and Simple Crochet Flower Pattern
This easy crochet flower is perfect for a beginner. All you need is a few simple supplies, and you can make this beautiful flower in no time. The best part is, you can use this easy crochet flower to decorate anything you like.
Scroll on down to find this basic crochet flower to get started today!
Today was such a cool day for summer (48 degrees this morning!) that I decided to whip up this cute, so simple crochet flower pattern to remind myself that it was still actually summer out there!
These easy crochet flowers are a quick learn, and you can add them to almost any project.
Crochet flower headband, anyone? That sounds perfect for summer to me. By the way… where are you summer? 🌞
The Yarn & Hook for an Easy Crochet Flower
I used Lily Sugar 'n Cream 100% cotton four weight yarn for my examples, but any cotton yarn would work great. You can make these basic flowers with any yarn weight as long as you follow the yarn skeins recommended hook size.
Lily Sugar'n Cream
This yarn is made by Yarnspirations, and is a Weight 4 – Medium yarn.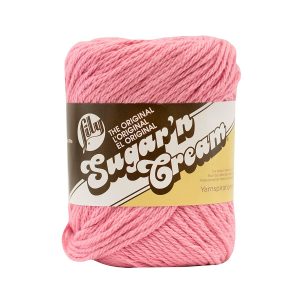 Buy Now
Patterns Using This Yarn →
Crochet hooks come in all shapes and sizes, and you may find one that you prefer over another. If you are just starting out, I would recommend using an H 5 mm crochet hook.
5 mm (H-8)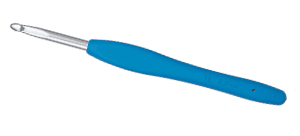 Buy Now
Patterns Using This Hook →
This is a medium-sized hook that is perfect for most projects. However, if you find that this hook is too large or too small for this flower project, you can always use a different size crochet hook.
Ready to Get Started?
These crochet flowers are simple to make and can be used as embellishments on all sorts of projects. They can also be made into brooches, pins, hair accessories and more!
Have fun making these cute crochet flowers with this free and easy pattern!
Flower Crochet Pattern
Skill Level: Basic
Materials
2 different colors of worsted weight (4) Cotton Yarn
Scissors
Yarn Needle
Crochet Stitches
Notes
Flower pattern is written in Standard US Terms
Pattern Steps
Round 1: With the first color chain 5 (or make a magic ring), join in the first chain with a slip stitch, chain 1, 10 single crochets in ring.
Round 2: Chain 1, single crochet in each chain around. Join with slip stitch to first single crochet.
Round 3: Join new color here with a slip stitch in any chain. In next stitch, *half double crochet, double crochet 3 times, half double crochet (make sure this is all in the same stitch) in next stitch make a slip stitch. Repeat from * 4 more times. Join with a slip stitch on to the last petal to first single crochet of the previous round. Fasten off and weave in loose ends with a yarn needle.
The so simple crochet flower pattern is just that simple! If you liked this flower design, be sure to share your creation on social media.

More Free Crochet Flower Patterns