27 Easy Knitting Baby Blanket Patterns You'll Love
I am excited to share this collection of easy-to-knit baby blanket patterns with you! We understand how important it is to have a cozy and warm blanket for your little one, and that's why we've gathered some of the best and simplest patterns for a baby that you can create.
Whether you're an experienced knitter or just starting out, these patterns are perfect for anyone who wants to make a beautiful gift for a new baby. Each of these 27 free and easy baby blanket knitting patterns has been carefully selected to ensure that even a beginner can successfully create a lovely and useful blanket for their little one.
So, grab your needles and yarn, and let's get started on creating a precious knit blanket keepsake for a baby!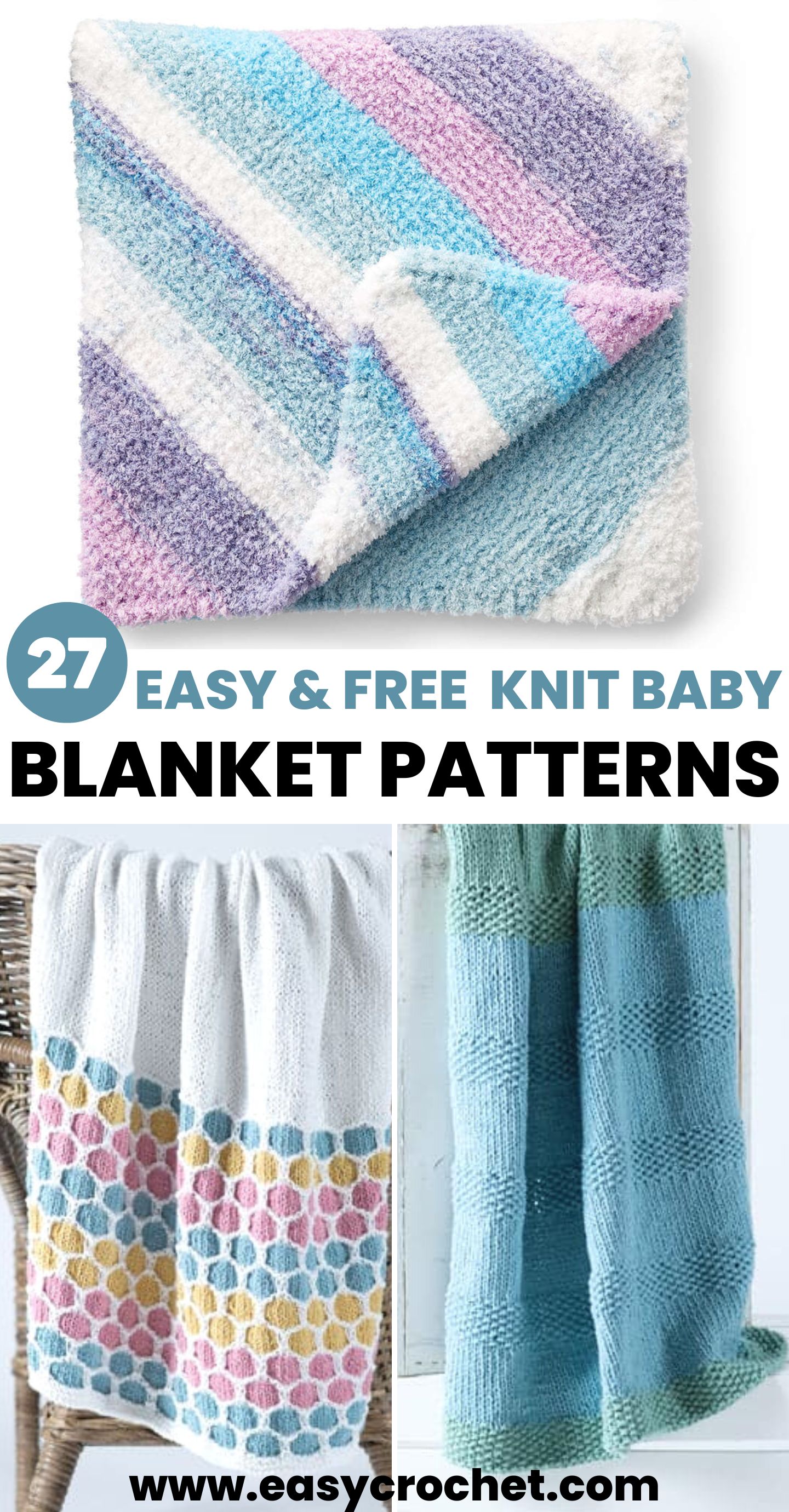 Why You'll Love Easy Baby Blanket Knitting Patterns
Knitting a baby blanket is fun, and it also makes you feel good knowing you are making something that will be cherished. However, it can also be a bit intimidating, especially for those who are new to knitting or haven't done it in a while. That's where easy baby blanket knitting patterns come in.
Here are a few reasons why you might love knitting an easy baby blanket like the ones you'll find below:
They're perfect for beginners. If you're new to knitting or haven't done it in a while, an easy baby blanket pattern can be a great way to get started. These patterns are designed to be simple and straightforward, with clear instructions that are easy to follow.
They're quick to knit. When you're making a baby blanket, you want to be able to finish it relatively quickly. Easy baby blanket knitting patterns often use larger needles and thicker yarn, which means that you can make progress quickly and see the results of your work in no time.
They're versatile. Easy baby blanket patterns come in all sorts of styles, from classic to modern, and can be customized to fit your needs. You can choose the colors and yarn that you like best, and add your own personal touches to make the blanket unique.
They make great gifts. Whether you're knitting a blanket for your own baby or as a gift for someone else's, an easy baby blanket pattern can be a great choice. Not only will you have the satisfaction of creating something beautiful with your hands, but you'll also be giving a gift that is both practical and meaningful.
Overall, there are many reasons why you might love easy baby blanket knitting patterns. They're a great way to get started with knitting, they're quick to make, and they make great gifts.
So, whether you're a seasoned knitter or just starting out, give one of these easy baby blanket patterns a try and see how much you enjoy it!
Supplies for Baby Blanket Knitting Patterns
To knit a baby blanket, you will need the following supplies:
Yarn: Choose a soft, washable yarn that is appropriate for a baby blanket. Read on down for more details about the best yarn for baby blankets. The amount of yarn you will need will depend on the size of the blanket you want to make.
Knitting needles: The size of needles you will need will depend on the yarn you choose and the desired size of the blanket. For a baby blanket, you may want to use larger needles (US size 9-11) to create a looser, more open fabric, but be sure to look over the knitting blanket pattern you pick for the recommended size. I'll explain more about circular vs. straight needles below in regard to making baby blankets.
Scissors: You will need scissors to cut the yarn when you finish knitting your blanket.
Tapestry needle: A tapestry needle is used to weave in the loose ends of yarn and to sew any finishing touches.
Stitch markers: Stitch markers can be helpful in remembering where you are in a blanket pattern, especially if the pattern is more complex.
Measuring tape: A measuring tape can be used to check the size of your blanket as you knit.

It is important to note that some baby blanket patterns may require additional supplies, such as a cable needle or a crochet hook for edging. Always check the pattern materials list before you begin.
The Best Yarn for Baby Blankets
What is the best yarn to make a baby blanket with? I get this question a lot, and the answer is that it depends on the family you are making it for! My favorite types of yarn to make baby blankets with are acrylic yarns (easy to wash), cotton yarns and soft chenille velvet type yarns.
Acrylic Yarns: Acrylic yarns are a great choice for baby blankets because they are easy to care for and will look great wash after wash. Some of my favorite acrylic yarns are Caron Simply Soft by Yarnspirtaions, Vanna's Choice by Lion Brand and We Crochet Brava Worsted, all of which are a worsted weight yarn (aka medium weight yarn).

Cotton Yarns: Cotton yarns are also a great choice for baby blankets, especially in the Summer, since they are a breathable fiber and easy to clean. One of my favorite cotton yarns to use for blankets is 24/7 Cotton, since it has a beautiful sheen to it and is available in a wire array of colors. I also like using Comfy Cotton (a cotton blend)for knitting in summer for baby blankets. These are both a four weight yarn that are lightweight and easy to work with.

Soft Chenille Yarns: Chenille yarns are so fun to work up because they are soft and make a blanket that is extra cuddly. I recommend using the garter stitch with the velvet type yarns because the stitches can worm (or come loose) which can create a messy blanket.

Polyester Yarns: Polyester yarns are easy to make into baby blankets because they are a chenille style yarn that is soft and breathable. My favorite polyester yarn to use is Bernat Baby Blanket yarn since it is a super bulky six yarn weight that works up quickly. If you haven't tried Bernat baby blanket, then you need to as soon as you get the chance!

Overall, there are so many yarn choices, brands and fibers, so you will always be able to find a good match of yarn for your baby gift.
Tip: Ask the person who you are making the baby blanket for what they prefer in a yarn, if there are any allergies, and their pick of a color. I usually recommend a washable yarn since it will more than likely be used over and over again.
Using Straight Needles and Circular Needles
Both straight needles and circular needles can be used to knit baby blankets, and the choice depends on personal preference, the size of the blanket, and the type of stitch pattern being used.
Straight Needles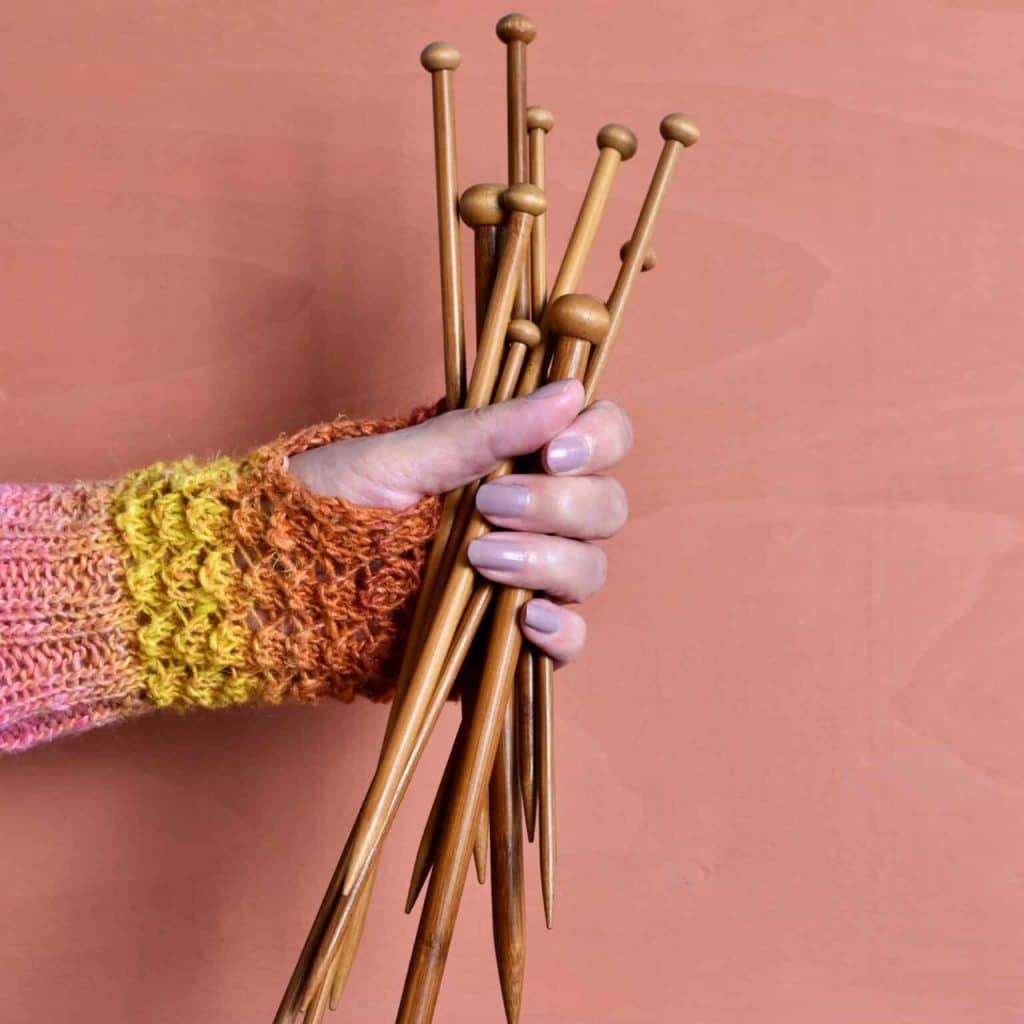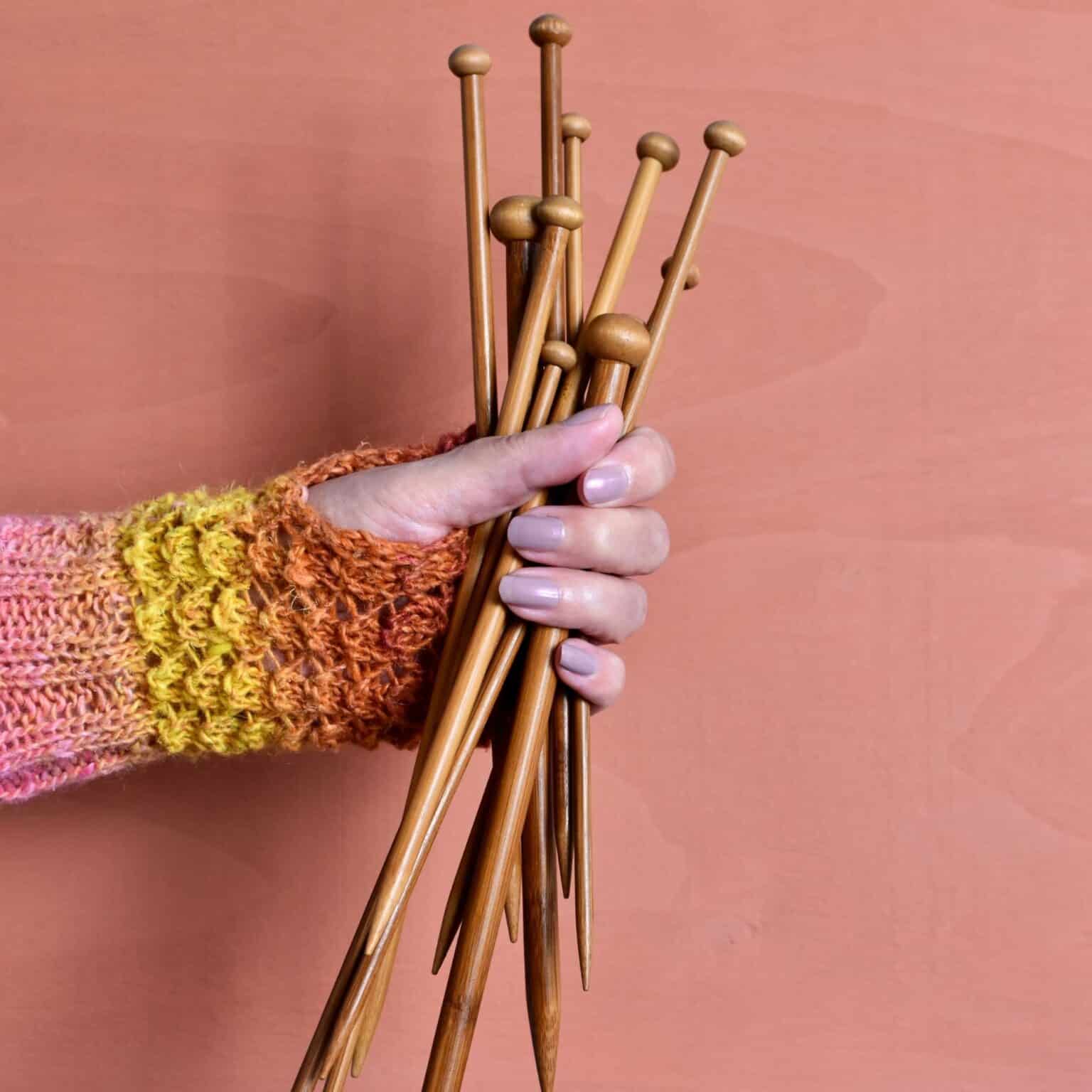 Straight needles are the classic choice for knitting flat pieces, and they work well for smaller blankets or for beginners who are just learning to knit.
They are simple to use and easy to handle, and they come in various lengths and materials. Straight needles can also be less expensive than circular needles.
Circular Needles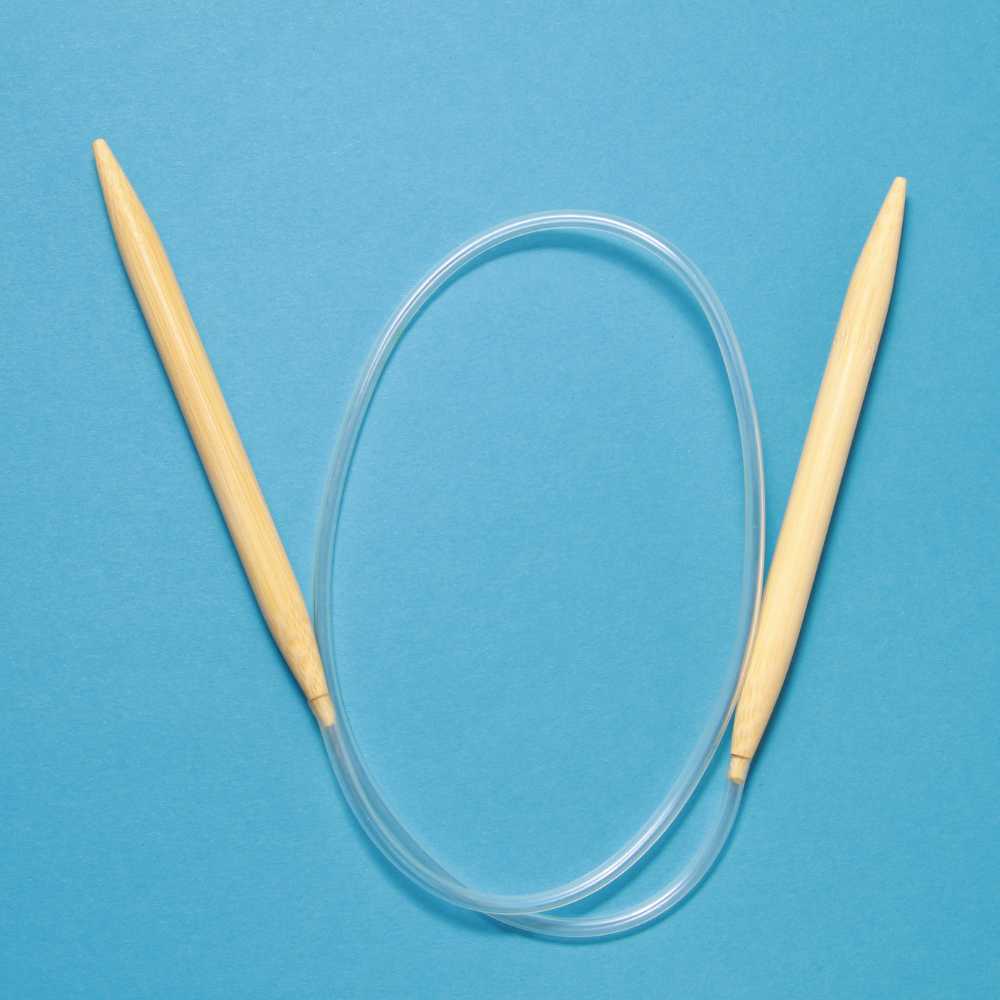 On the other hand, circular needles are my personal choice for baby blankets. They have a flexible cable connecting the two needle tips, which allows you to knit back and forth on a larger number of stitches.
This can be especially helpful for avoiding hand fatigue and for keeping the weight of the blanket more evenly distributed as you work.
Best Knitting Stitches for a Baby Blanket
When it comes to knitting a baby blanket, some good stitch options to consider are garter stitch, stockinette stitch, and seed stitch.
Garter stitch is a simple and stretchy stitch pattern that creates a textured look and works well for beginners.
Stockinette stitch creates a smooth and flat fabric, but it can curl at the edges.
Seed stitch is a textured pattern that is reversible and adds some interest to the blanket.
Knit Baby Blanket Sizes
If you have ever wondered what size a knitted baby blanket should be, then I can help! Truthfully, knit blankets can really come in any size.
A good deal of knit baby blanket patterns will have the size listed within in the pattern, but may also have sizes that are even larger. Be sure to look over the pattern you pick to be sure of the size baby blanket you are going to make.
The most common sizes for knit baby blankets are lovey, strollers, receiving and baby. These are just suggested sizes, and the finished blanket sizes will more than likely vary from pattern to pattern.
| Blanket Size | Dimensions (inches) | Dimensions (cm) |
| --- | --- | --- |
| Lovey | 12 x 12 | 30 x 30 |
| Cradle (Small) | 15 x 30 | 38 x 76 |
| Cradle (Large) | 18 x 33 | 46 x 84 |
| Stroller | 30 x 35 | 76 x 89 |
| Crib | 30 x 36 | 76 x 91 |
| Receiving | 40 x 40 | 102 x 102 |
| Baby | 42 x 52 | 107 x 132 |
Knitted Baby Blanket Sizes
Are you ready to pick your new favorite knitted baby blanket pattern? I hope you love this roundup of free knitted baby blanket patterns! Happy Knitting!
Easy & Free Knitted Baby Blanket Patterns
Take a look at some of the best free knitted baby blanket patterns you can make! All these baby blankets are easy to make and great for newer knitters to try. Enjoy!
Note: The baby blanket knitting patterns featured above were designed by other talented designers. If you have any inquiries or issues regarding a particular pattern, please get in touch with the designer directly.
More Free Knit Patterns and Tutorials
If you loved these knitted baby blankets, then you may love my knit throw blanket as well or even some of my tutorials below!