Is the CreateRoom DreamBox Worth It After a Year? An Honest Review
The CreateRoom Dreambox is an all-in-one office, storage and crafting station. The Dreambox has by far transformed the way I store my yarn, hooks and crafting supplies for the better. I have had it for a little over a year, and honestly, I still love it as much as the first day!
Scroll on down to find out about the journey I took, as well as how I filled my DreamBox and why I think it's an essential now for my crochet designing career! I hope you love this craft storage box as much as me.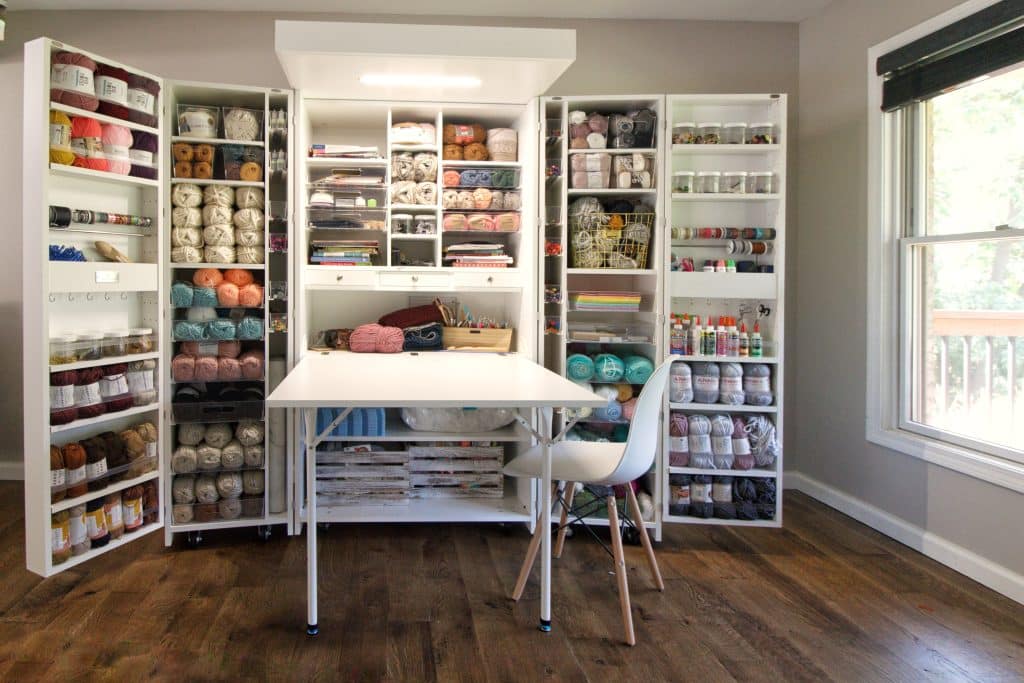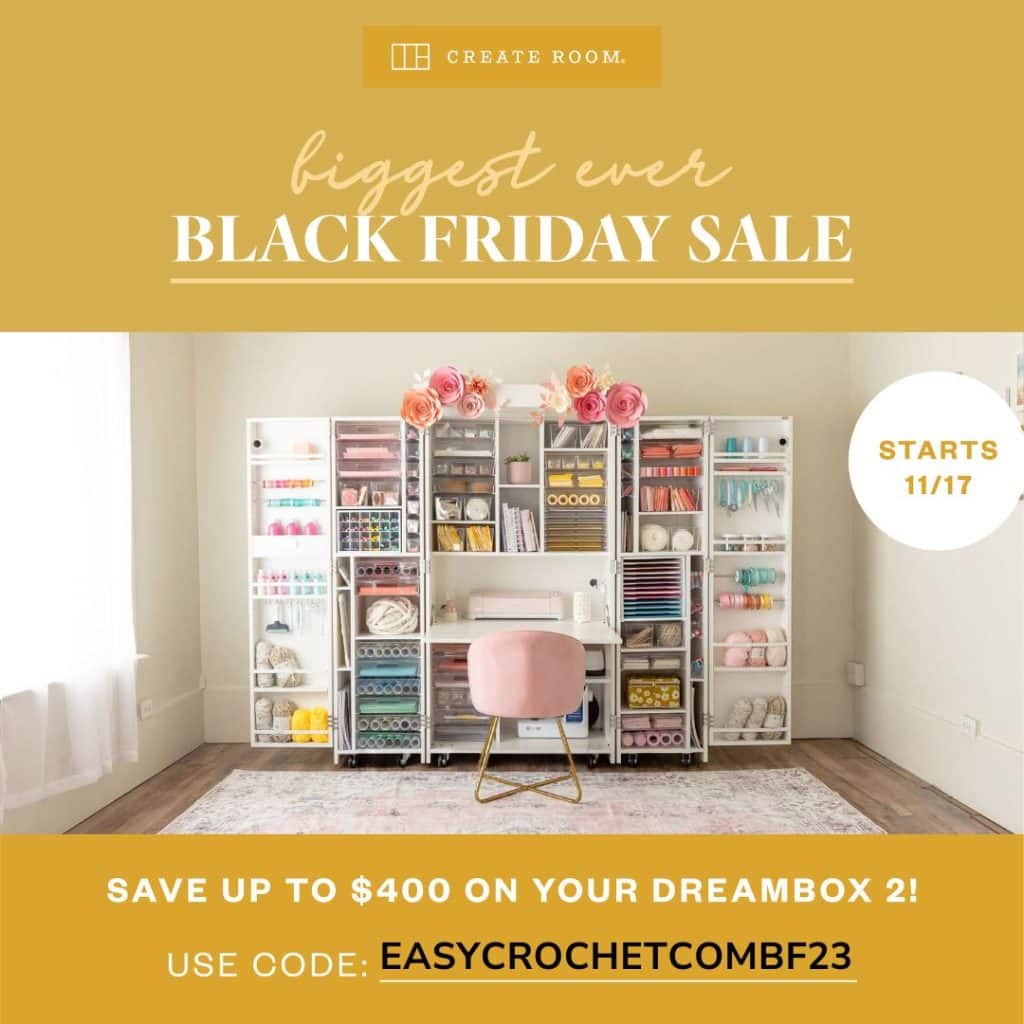 What is a Dreambox?
The Dreambox is a storage cabinet that will take your craft room from messy to amazingly organized instantly. I think my son's review is the best, he said, "Sitting here makes you feel good because everything is so neat and organized."
The Pros of a Dreambox Craft Storage System
Space Saver: The Dreambox is a space saver since it tucks away neatly into an armoire and can be moved from space to space on wheels.
Tidy: It makes it easy to store crafting supplies neatly. It's simple to find what you need quickly as well as organize your crafts by section.
More Time: You will have more time to craft because all your supplies will be within arm's reach. You won't have to search for that one specific supply anymore!
Style: It is available in three styles, Ergo, Modern Shaker, Farmhouse Shaker, so you'll be able to pick what YOU like.
Update: As of Summer 2023, there is a New DreamBox out called Dream Box 2. It has slightly increased adjustable storage space, is overall larger, plus has the overhead light is now included with the purchase of the Dreambox. Learn more…
The Cons of a Dreambox Craft Storage System
The cost: Let's be honest about it. This Dreambox box storage system is a big investment as well as purchase and has a high price tag. But the company does offer monthly payments free of fees for up to 12 months, which is wonderful. Moreover, it is extremely well-made and worth it for the ease of having all your craft supplies so well organized.
Building it: If you get the DIY assembly option, you will have to build the Dream Box yourself. This does take time and isn't easy. If I could do it again, I would get the pre-built option just for time saving. Even that said, I still love it, and it was worth the days it took to build.
My DreamBox Journey
First, be sure to look over the CreateRoom journey and go through all five steps. Find it under the tab community on the homepage of Createroom.
Follow along with my journey ordering, filling and crafting with my Dreambox below.
Picking Out & Customizing my Dream Box
After completing the journey form above (in the link), I then went shopping for my very own Dreambox furniture piece! Here is what I picked out.
White Ergo Style
DIY assembly
Package of 40 Totes (half tote selection)
Crown Light
3 Drawer Option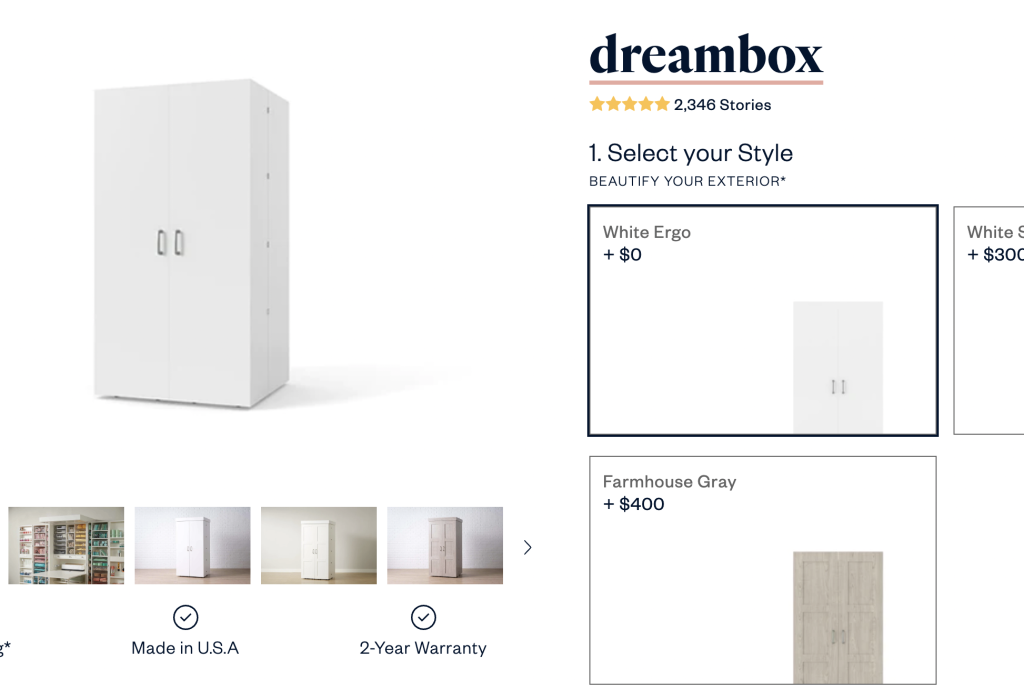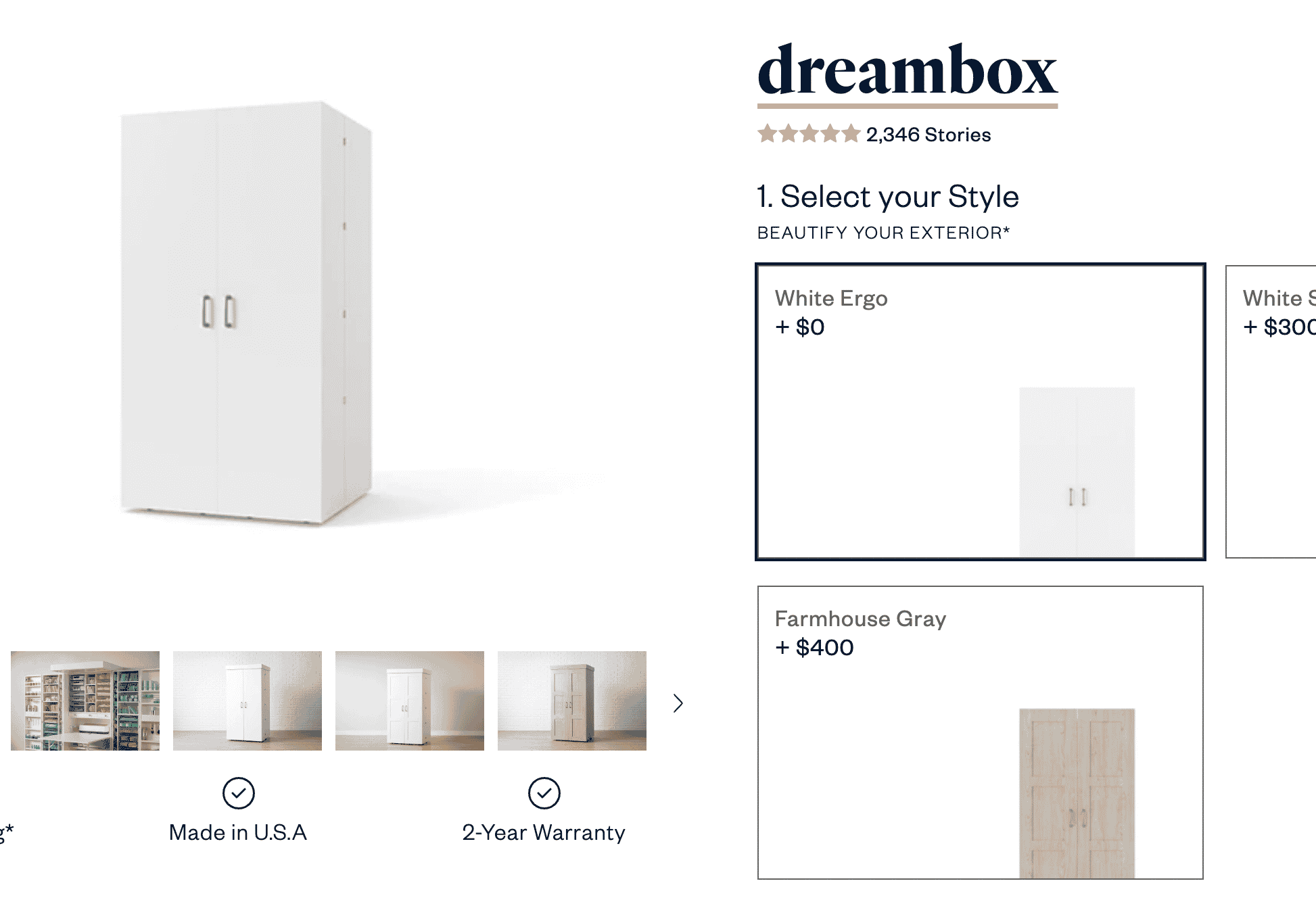 There are many different choices that you can pick yourself like a bigger tote package (80 totes vs. the 40 half set I got), cubbies and extra tables. You can also pick the style of the Dreambox as well, so you'll be able to get creative with your selections.
The most significant difference for me was the DIY assembly vs. the Pre-built service.
DIY Dreambox: DIY assembly means you will get your new Dream box in individual pieces and have to put them together yourself. It took us about 2 days worth of time off and on to complete the box, or about 5 to 10 hours.
Pre-Built DreamBox: The pre-built service is an option that gets your Dream box delivered to you in 3 pieces. This does mean bigger packaging at delivery, but the time saved on building makes it 100% worth the extra cost for this option.
Delivery
The Create room dream box was delivered curbside, and we luckily had a pallet jack to get it up our driveway. We do live back a pretty long driveway, so this won't be an issue for those who aren't far from the street.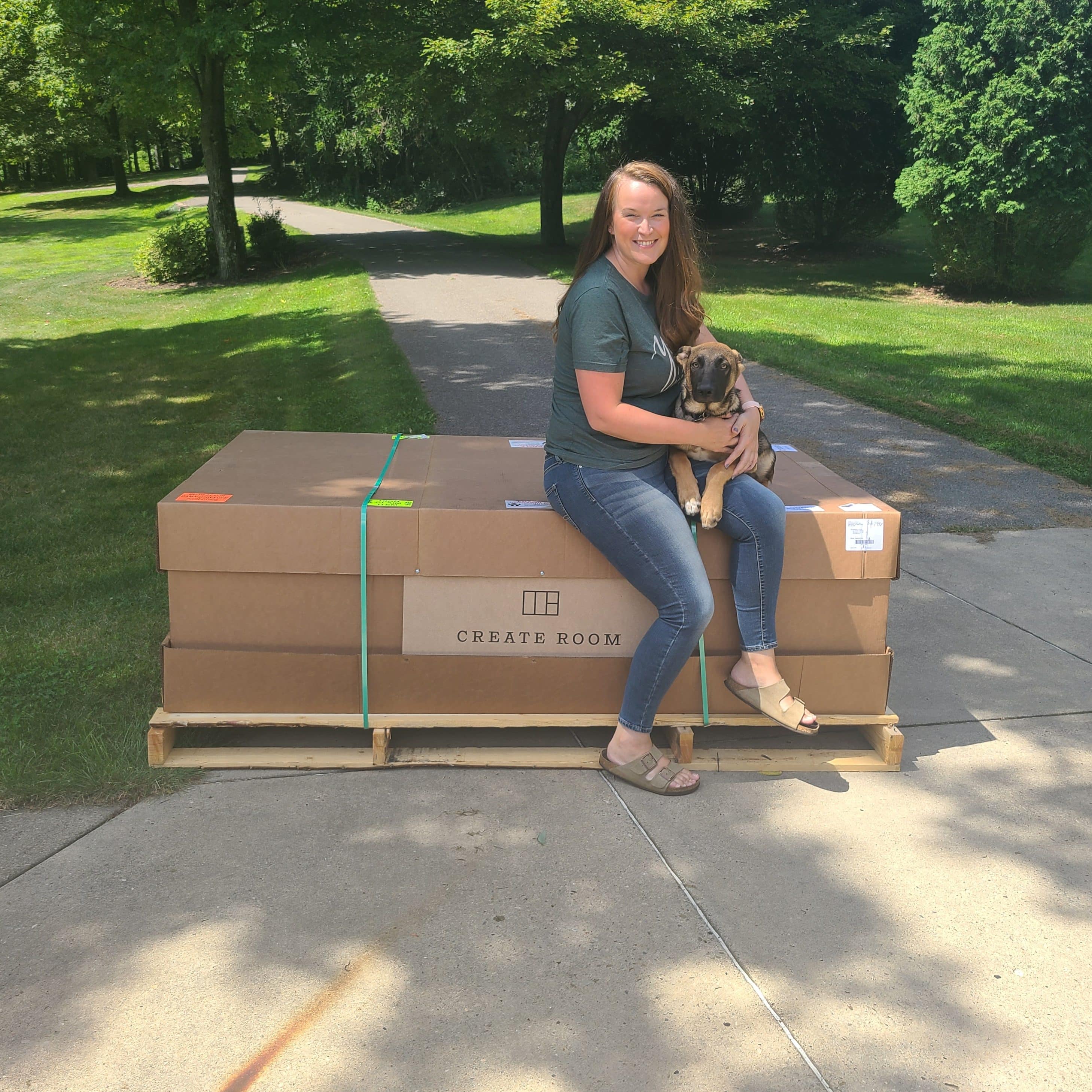 Opening
We were one of the first to receive the new cardboard packing, so we were excited to find out how it was packaged. Once we cut the straps off the box, we were pleasantly surprised about how nicely packaged the Dreambox was.
It came in 8 boxes that were numbered and easy to find in the bigger box. The tote packages were laid out separately as well as all the assembly accessories (screws, bolts, posts, etc.) you'd need to use to put together the DreamBox.
Building
Since we opted for the DIY Assembly DreamBox we had to build each section ourselves. This did take time, but it was worth it in the end, also with that being said if I had to do it again I would have opted for the pre-built service just because of the convenience.
Planning
Create Room offers a printable sheet of the DreamBox, so you can customize it how you'd like. This is a wonderful tool to use to plan the layout of your Dream Box.
You can use this sheet to figure out the organization of your craft supplies, so you know exactly where they will go. You can find it under the journey section on their website that I previously mentioned.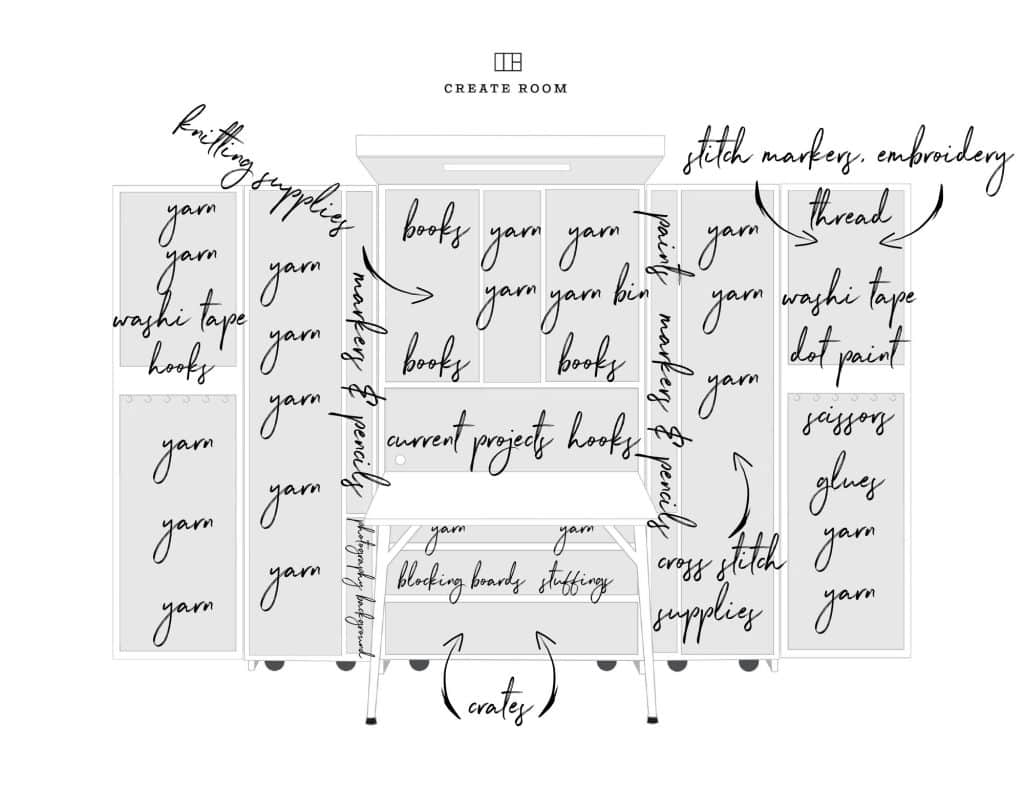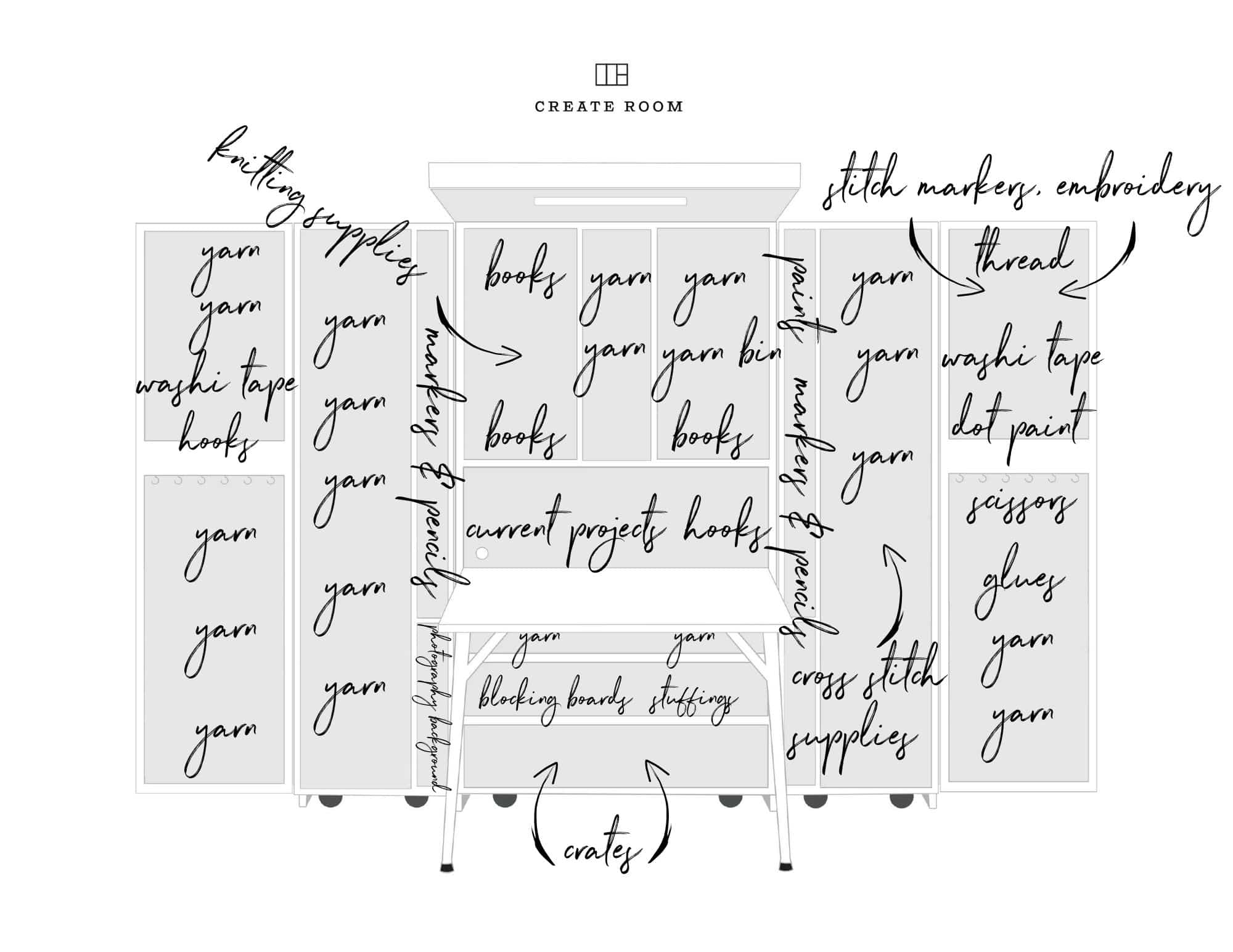 I opted to use the shelving below the table for more yarn storage, as well as a place to store a crate or two. Yes, those crates also have yarn in them! Once you are done planning, you can get to the fun part of organizing your new DreamBox craft room!
Filling
Next comes the fun part! Get your craft supplies ready and start filling the Dreambox according to the design sheet that you filled out.
I started my laying all my craft supplies in the room out in front of the DreamBox. Since I am a crocheter, I knew that I wanted to have as much space as possible for yarn. So, as you can see above in the planning stage I made sure to save as much space as possible for my yarn stash.
Think big, though! This box can fit a Cricut, sewing machine, and much more! It is really made with any type of creative person in mind.
Here is how I filled my shelves, drawers and spaces in my DreamBox! I mostly used yarn but also some paper supplies, cross stitch, my blocking boards and more found a home in there. Be sure to scroll through the close-up pictures below of how I organized each section.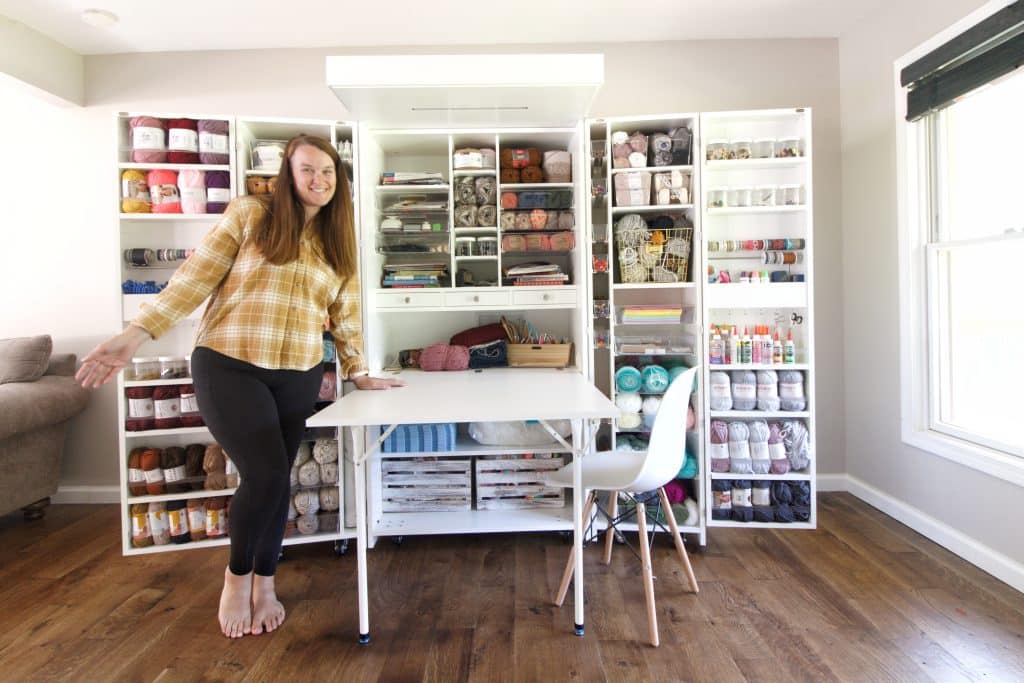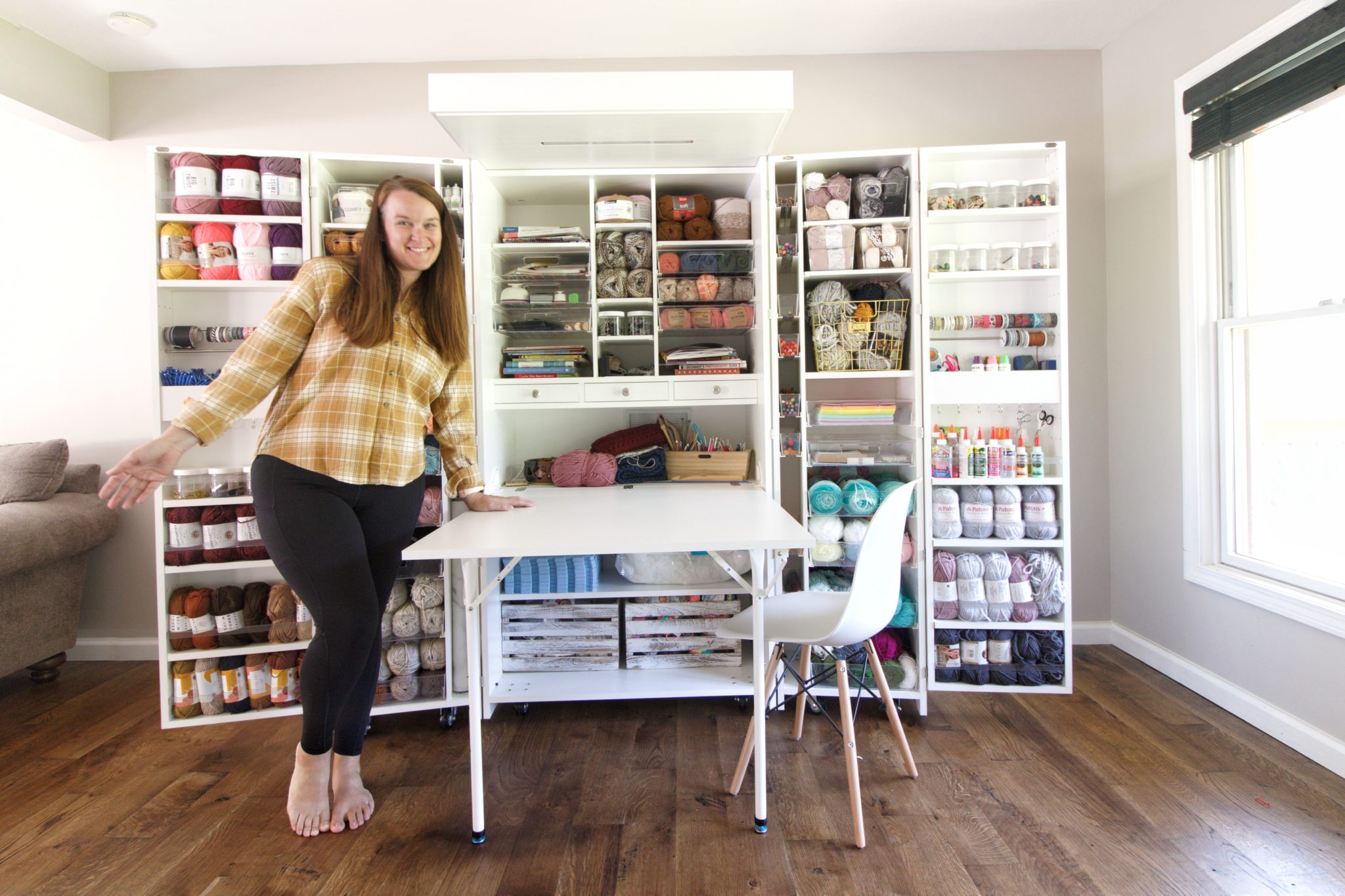 Before and After
These pictures are pretty self-explanatory. My craft space looks 100 times better after, and all my craft supplies, accessories, and tools have a place in my new DreamBox. There is no doubt in my mind that this amazing cabinet for me was the solution to my organization issues.
Be sure to take a look at both pictures to see the before and after!
How to Open the Dreambox
See below just how easy it is to open the doors of the Dreambox. Just as an FYI I am keeping mine on hardwood, so it is easy to move, but if you have carpet it may be more difficult to move the Dream box.
Conclusion
Owning a DreamBox makes it easy for me to find what I need in my craft room, so I can get started on my next crochet project quickly! Nothing beats the feeling of knowing exactly where the yarn and hook I want to use are! I can't wait to see how this translates into how much more creative I get with my crochet patterns.
Furthermore, I wanted to mention that not only do I use this space, but my kids do as well. When they are searching for a craft, or supply, they can find it easily and use the table to make their project. The whole family loves having the DreamBox in the house, so far, as a go-to space to create.
I hoped all the details above and this review helped you decide, or at least gave you a variety of ideas on what it would be like to own a Create Room DreamBox.
Owning a Dreambox
If you're ready to get started on your craft room organization journey, take a look at the CreateRoom Dreambox and see where it takes you.
Common Questions about the Dreambox
How much does a Create Room Dream Box Cost?
The base model of the DreamBox costs $2,599.00. Even without any add-ons, this is a wonderful product that will give you lots of storage options for your supplies and make crafting more enjoyable all around. I also have a code to save some extra money off the base price.
⭐️ Use my promo code EASYCROCHETCOM to save $ off your purchase! ⭐️
Is There a Smaller Version of the DreamBox?
Yes! The Create Room Cubby! The Create Room Cubby is a smaller than the Dreambox. You can stack or position multiple Create Room Cubbies side by side for even more storage and organization. Cubbies start at $349 and come with all the drawers, totes you'll need to start organizing.
How much does a Create Room DreamBox weigh?
The DreamBox craft storage system weighs 530 pounds before being filled. The center weighs 250lbs and each side weighs 140 lbs each.
What are the Dimension of a DreamBox?
Dreambox Dimensions: When the Dreambox doors are closed, it is 6 feet tall by 3 feet wide and has a depth of a little less than 3 feet. When the doors are opened, it is 9 feet wide. The table is a little under 3 feet by 3 feet big.
Dreambox 2 Dimensions: When the Dreambox 2 doors are closed, it is 6.25 feet tall by 3 feet wide and has a depth of 2 feet 11 inches. When the doors are opened, it is 9 feet 2 inches wide. The table-top is 2 feet by 3 feet.