Crochet Flower Pattern Blooming Spring Flower
If you're looking for a great warm weather crochet pattern, then this Spring flower design is it! You can make this simple crochet flower today that is perfect for spring! I love spring and the warm weather it brings. To celebrate I designed a new crochet flower pattern, more specifically a blooming spring flower that can be added on to almost any project.
The Yarn that's Perfect for This Crochet Flower Pattern!
To make my flower design, I used Red Heart Soft Yarn, but you could easily substitute any medium #4 weight yarn in its place or even cotton yarn!
Red Heart Soft is a great extra cozy yarn that I've used before in this color blocked blanket pattern I designed a few years ago. I also used Lion Brand baby Soft for the center of the flower which is a nice easy to use yarn.
You'll love them both so be sure to give it a try.
Make Garland or More With These Flowers!
When you look at this flower, can't you just imagine a couple of these strung together as garland? I could even see them attached to floral wire to make a decorative flower or attached to a floppy crochet hat for Easter!
If you can think of anything else to add them to be sure to leave a comment.
Ready to Get Started on This Easy Crochet Flower?
If you think you are ready to start crocheting, then read on down for the FREE crochet flower pattern and…Happy Crocheting!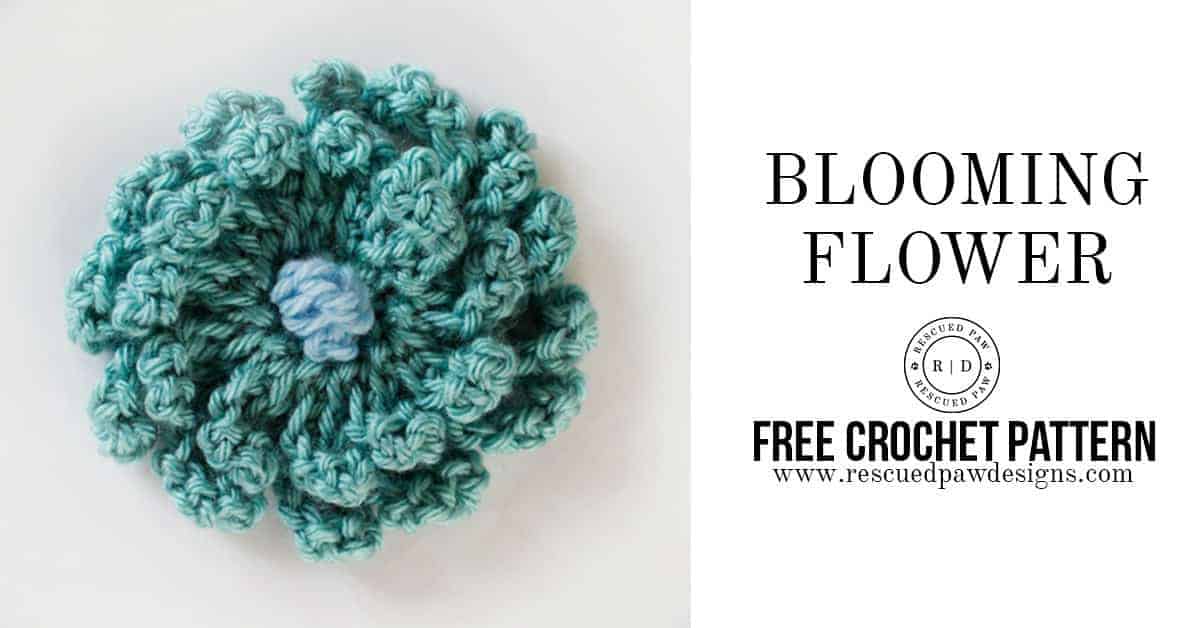 Blooming Spring Flower Pattern
Skill Level: Easy
Materials
Crochet hook size J 6 mm
Worsted weight yarn (4) I used Red Heart Soft in Sea Foam for the main part of the flower and Lion Brand Baby Soft in Pastel Blue for the center.
Yarn needle
Scissors
Notes
Finished flower size is approximately 4″ x 4″
Skill level is advanced beginner
The Easy Spring Flower Crochet Pattern
First:
Chain 2 with Red Heart in Deep Sea
Round 1:
12 single crochets in 2nd chain from the hook, slip stitch to top of first single crochet. (12)
Round 2:
* chain 8, single crochet in 2nd chain from hook and in next 6 stitches (7 single crochets), slip stitch in next single crochet in the back loop only, repeat from * for a total of 12 petals.
Round 3:
*chain 6, single crochet in the 2nd chain from the hook and in next 4 stitches (5 single crochets), slip stitch in next single crochet in the back loop only of round 1 single crochets, repeat from * for a total of 12 petals.
Center of Flower
To make the center use Lion Brand Pastel Blue to make a bobble stitch and attach through the center and securely tightly and weave in ends.
Here is a tutorial on how to make the bobble stitch if one is needed → Bobble Stitch Tutorial.
Finishing
Fasten off and weave in ends throughout the flower with a yarn needle.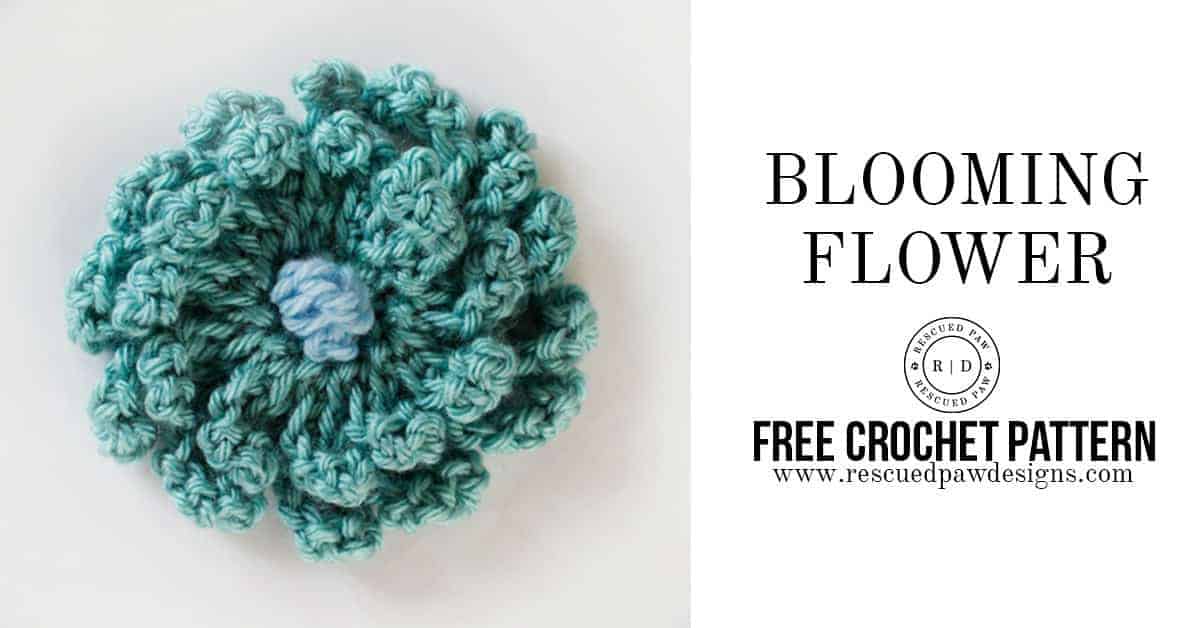 I Hope You Enjoy Making This Blooming Spring Flower!
If you do make this, please post on Instagram with the #easycrochetcom, so I can see your creations! If you need any clarification about this blooming spring flower pattern, please feel free to ask! I am more than happy to assist in any way possible.
Happy Crocheting!
You May Also Like These Other Free Crochet Patterns