Crochet Beanie Pattern Taupe It
This crocheted hat is simple to make and a great project for beginners who are looking for a bit of a challenge.
Ready to give it a try?
I try to make my patterns easy enough for all crochet skill levels so this one was no exception!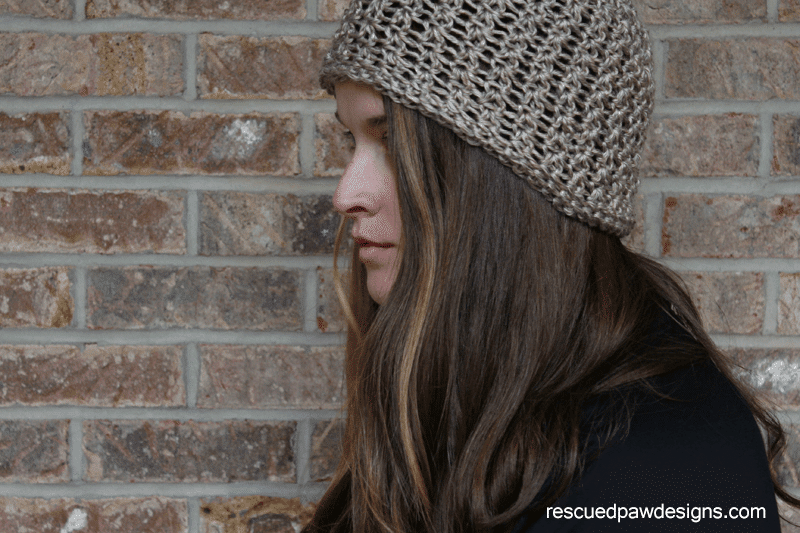 The Yarn That's Perfect for This Easy Crochet Beanie!
For this beanie I decided to use Lion Brand Heartland in Grand Canyon because of the neutral color palette and the amazingly soft feel of the yarn!
If you haven't used it yet in a project, then you should definitely give it a try!
I found mine on Amazon, but you could most likely find it at any local craft store in your area!
If you like the look of this crochet beanie then you will probably want to try my Autumn is Here Beanie Pattern that I blogged about a couple of months ago. I love designing hats so you will see them pop up a lot on my blog!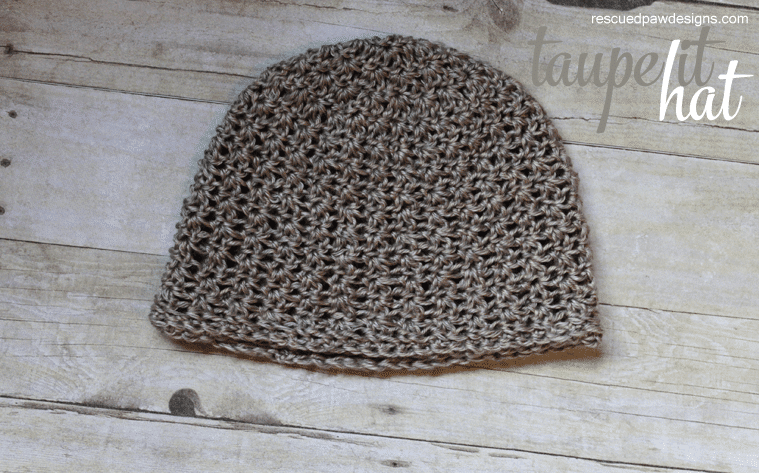 I hope you enjoy this crochet beanie pattern and if you have any questions along the way feel free to ask!
Please keep on scrolling down for the full, FREE Crochet Beanie Pattern!
Happy Crocheting!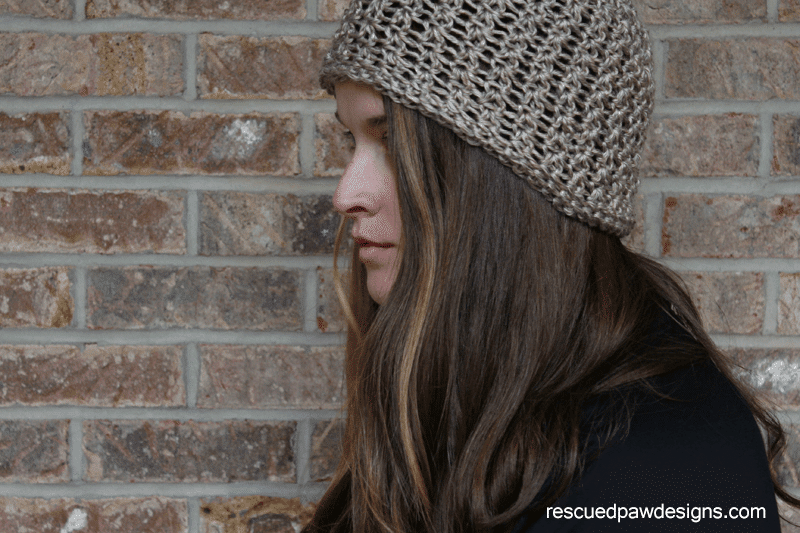 SELLING: You may sell items made from patterns on Easy Crochet unless otherwise stated. If you choose to sell items made from this pattern, please link back to me atwww.easycrochet.com for credit. Please do not use my pictures to sell your items.
IMAGES & CONTENT: The images and content of EasyCrochet.com are protected by copyright laws. Do not distribute or copy the content without written permission. Do not edit or remove watermarks from any original image from easycrochet.com. If you would like to share an image, please only use 1 with a link back to Easy Crochet. Thank you for respecting my work.
TRANSLATIONS: Please do not post a translation of my pattern(s) anywhere. If you would like to help make a translation I would be happy to publish it on Easy Crochet with a link and full credit to your blog. For further questions, please email krista@easycrochet.com.
Crochet Beanie Pattern Taupe It Hat
Skill Level: Easy
Materials
Crochet Hook Size I 5.5 MM
Yarn needle
Scissors
Crochet Abbreviations
CH = chain
DC = double crochet
SL ST = slip stitch
ST = stitch
SC = single crochet
BL = back loop
Notes
Gauge is 5 ST for every 2″. Gauge is extremely important for fit.
Finished size = 22″ circumference & an 8.5″ height – Fits teen to adult woman
Written in Standard US terms
The Hat Pattern Steps
ROUND 1: CH 4, in 4th CH from the hook DC 12 times, SL ST to top of first DC. (12)
ROUND 2: CH 3, in 4th ST from hook DC, {DC,HDC,DC} in next st, * DC in next ST, {DC, HDC, DC} in next ST, repeat from * around, SL ST to top of first DC. (24)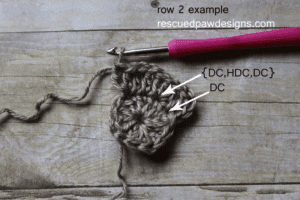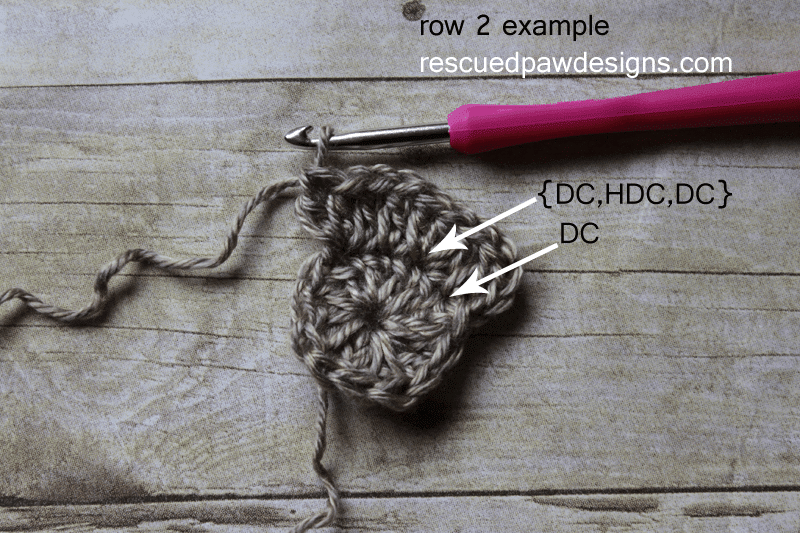 ROUND 3: CH 3, in 5th ST from the hook {DC, HDC, DC} * SK 1 ST, in next ST {DC, HDC, DC} repeat from * around, SL ST to top of first DC. (36)
ROUND 4: CH 3, in 4th ST from the {DC, HDC, DC} SK 1 ST, * in next ST {DC, HDC, DC} , SK 1 ST, repeat from * around, SL ST to top of first DC. (54) (will measure at 6″ across at this point)
ROUND 5: CH 3, in 5th ST from the hook {DC, HDC},* SK 1 ST, in next ST {DC, HDC}, repeat from * around, SL ST to top of first DC. (54)
ROUND 6: Repeat round 5. (54)
ROUND 7: Repeat round 5. (54)
ROUND 8: Repeat round 5. (54)
ROUND 9: Repeat round 5. (54)
ROUND 10: Repeat round 5. (54)
ROUND 11: Repeat round 5. (54)
ROUND 12: Repeat round 5. (54)
ROUND 13: Repeat round 5. (54)
ROUND 14: Repeat round 5. (54)
ROUND 15: CH 1, SC in the BL starting in the 2nd ST from the hook, SC in the BL in every ST around, SL ST to top of first SC. (54)
ROUND 16: Repeat round 15. (54)
FINISHING: fasten off and weave in loose ends throughout hat with yarn needle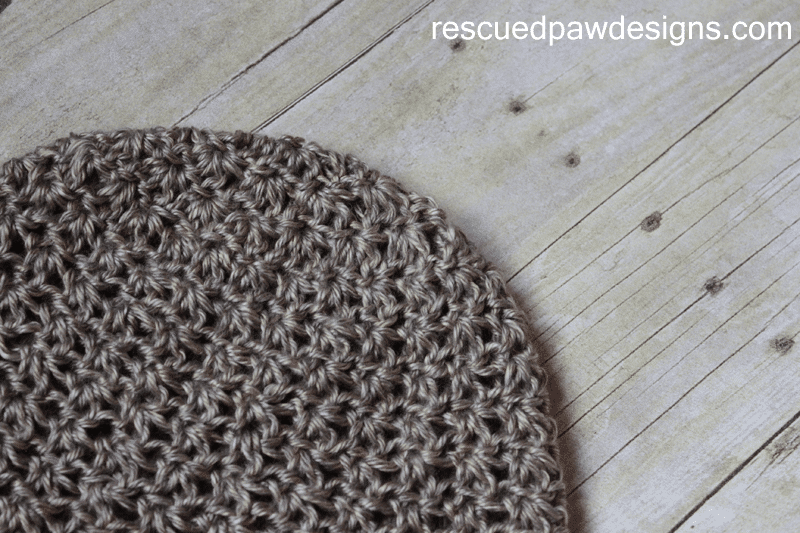 You May Also Like These Hat Patterns