Easy Square Crochet Potholder Pattern
Are you excited to make one of the easiest crochet potholders ever? This easy crochet pattern is super simple and uses only TWO stitches to complete the entire project!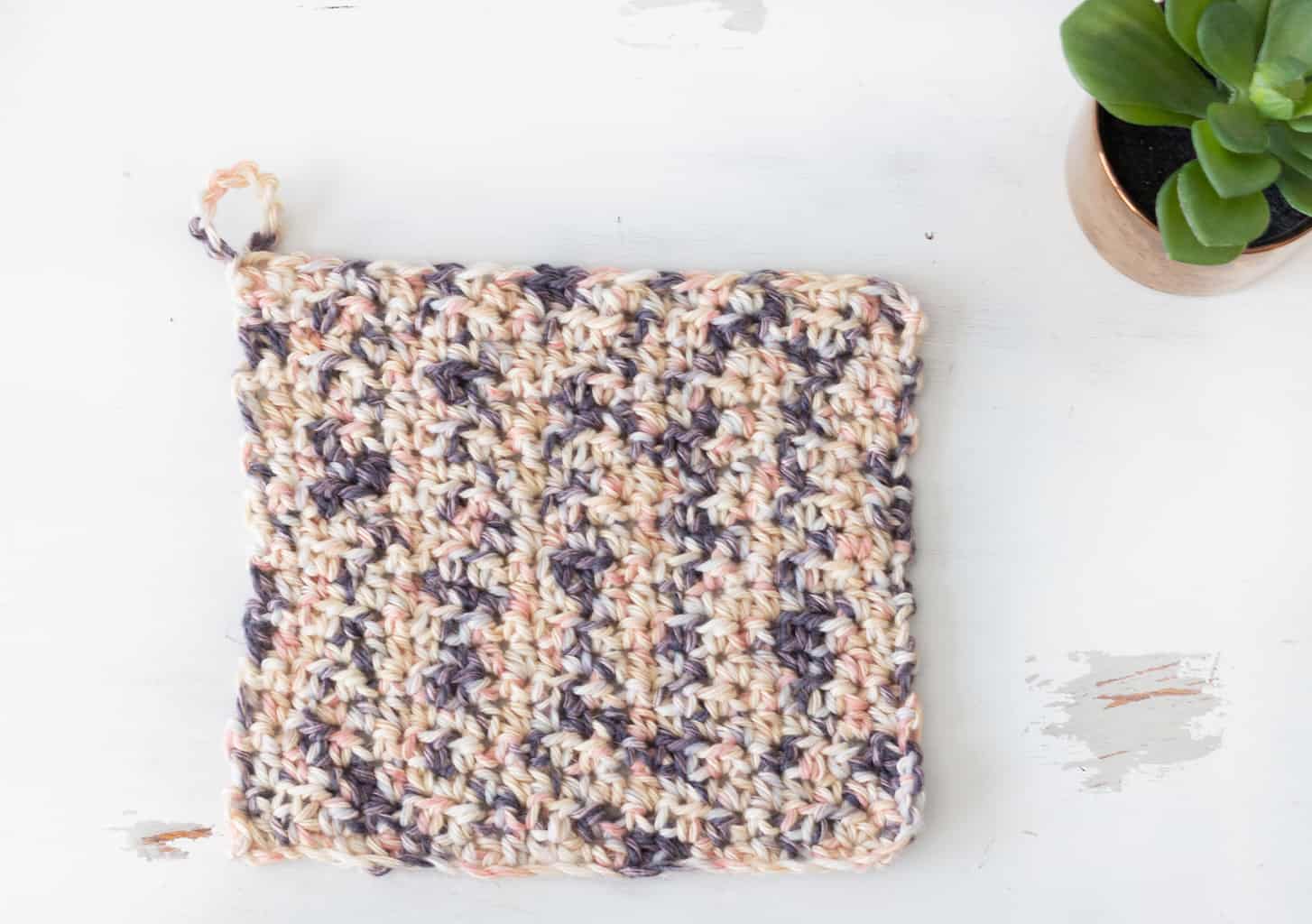 These Pot Holders Have Many Uses!
Just like my other hot pads/potholder designs, this simple potholder pattern is great to work up as a gift! It would be perfect for Mother's Day, birthdays, or as a housewarming gift. And while you're at it, don't forget about making one for yourself too!
This pattern, along with being a great pot holder, is also great for placing hot pans on after they come out of the oven. Read this part: I would recommend using these with low temp items (below 220 degrees) if you decided to use the same yarn as me.
If you'd like a hot pad that will hold warmer items, then I would recommend a 100% cotton fiber such as Cotton Jeans from Lion Brand. You can also use them as a washcloth, dishcloth, and a cleaning rag too!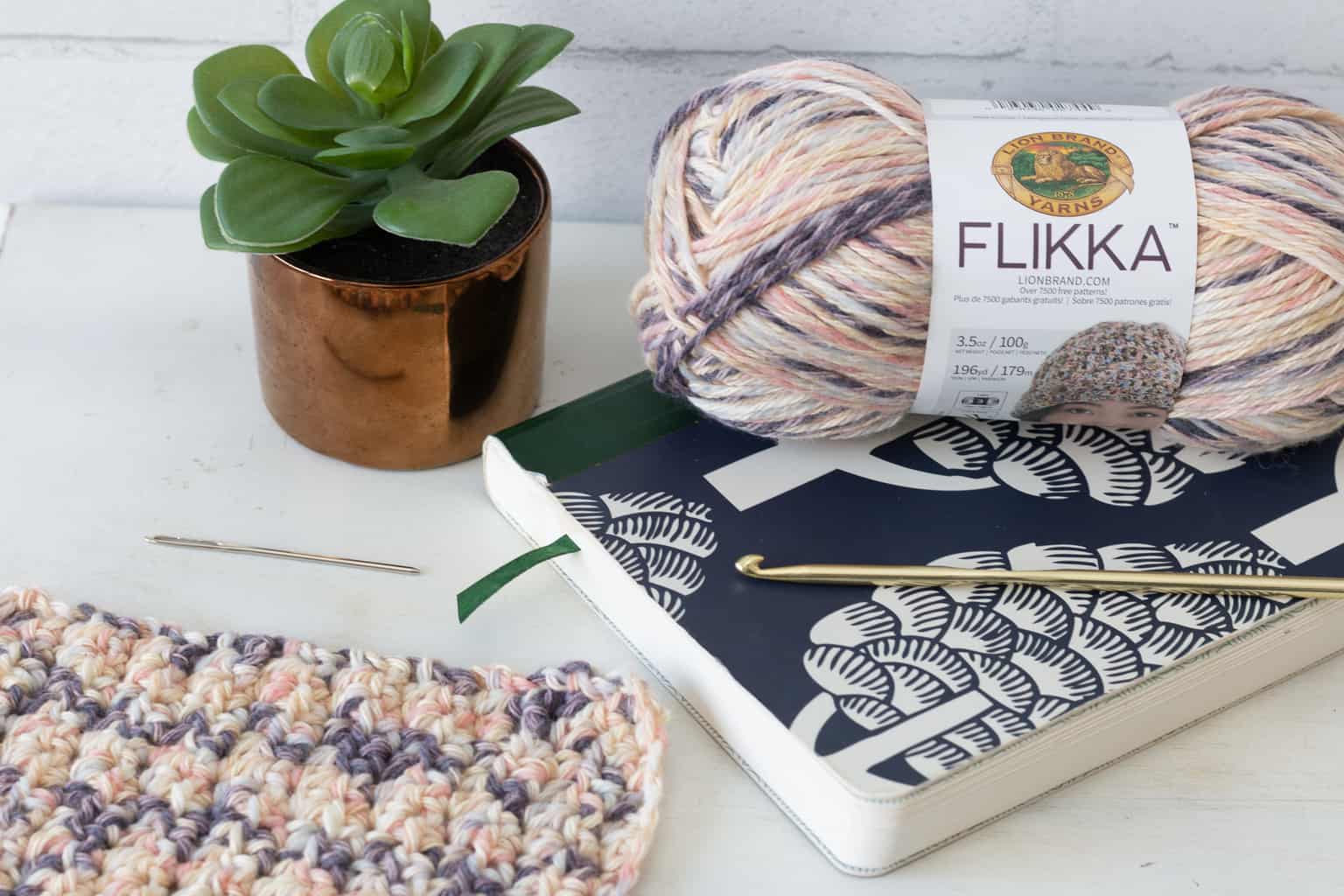 The Yarn for a Crochet Potholder
I went with Flikka Yarn from Lion Brand in the color-way Keepsake for this design which is a lightweight 3 yarn. I chose it because I love the mixture of colors each skein has! If you'd prefer to make this is a different color, then you are in luck because there are so many pretty ones to chose from in this line.
It is a combination of cotton & polyester, plus it is machine washable and dryable, which is perfect for any material used in the kitchen!
Substitute Yarn: If you'd like to use this potholder with hot pans, I would recommend using a 100% cotton yarn.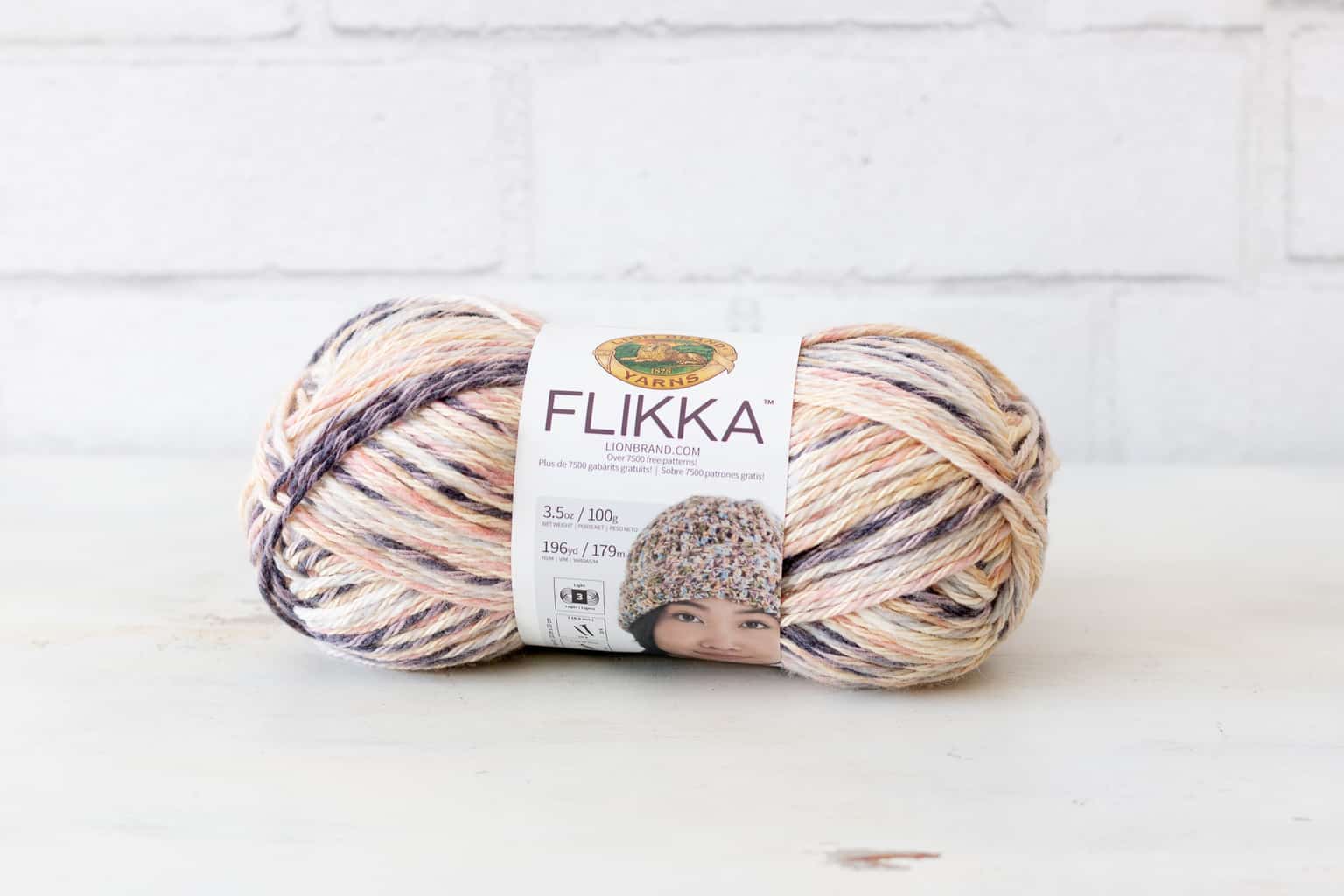 Flikka Yarn by Lion Brand Yarn
Want a Double Thick Crochet Potholder Pattern Instead?
If you'd like to make this potholder a little thicker, I recommended crocheting the pattern as written but holding two skeins of yarn together at the same time. I think doing this will make it the perfect thickness for those extra heavy and hot pans you need to move.
How to Crochet a Potholder
First I chained 23 and then did a repeat of 2 half double crochets and single crochets the whole way across the first row. I then turned my work and chained 1 to begin the next row.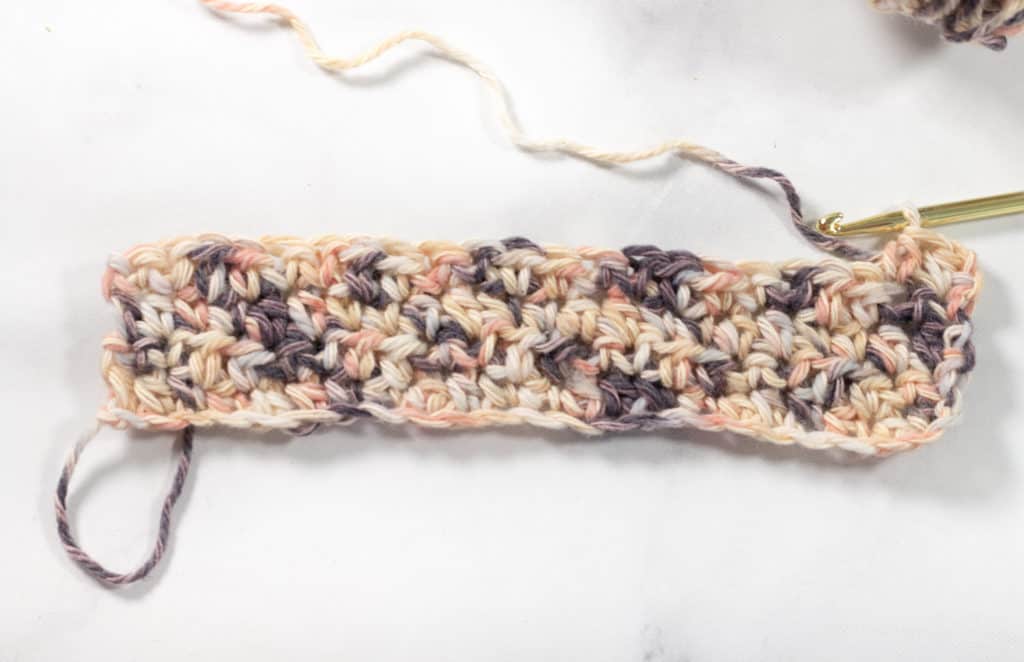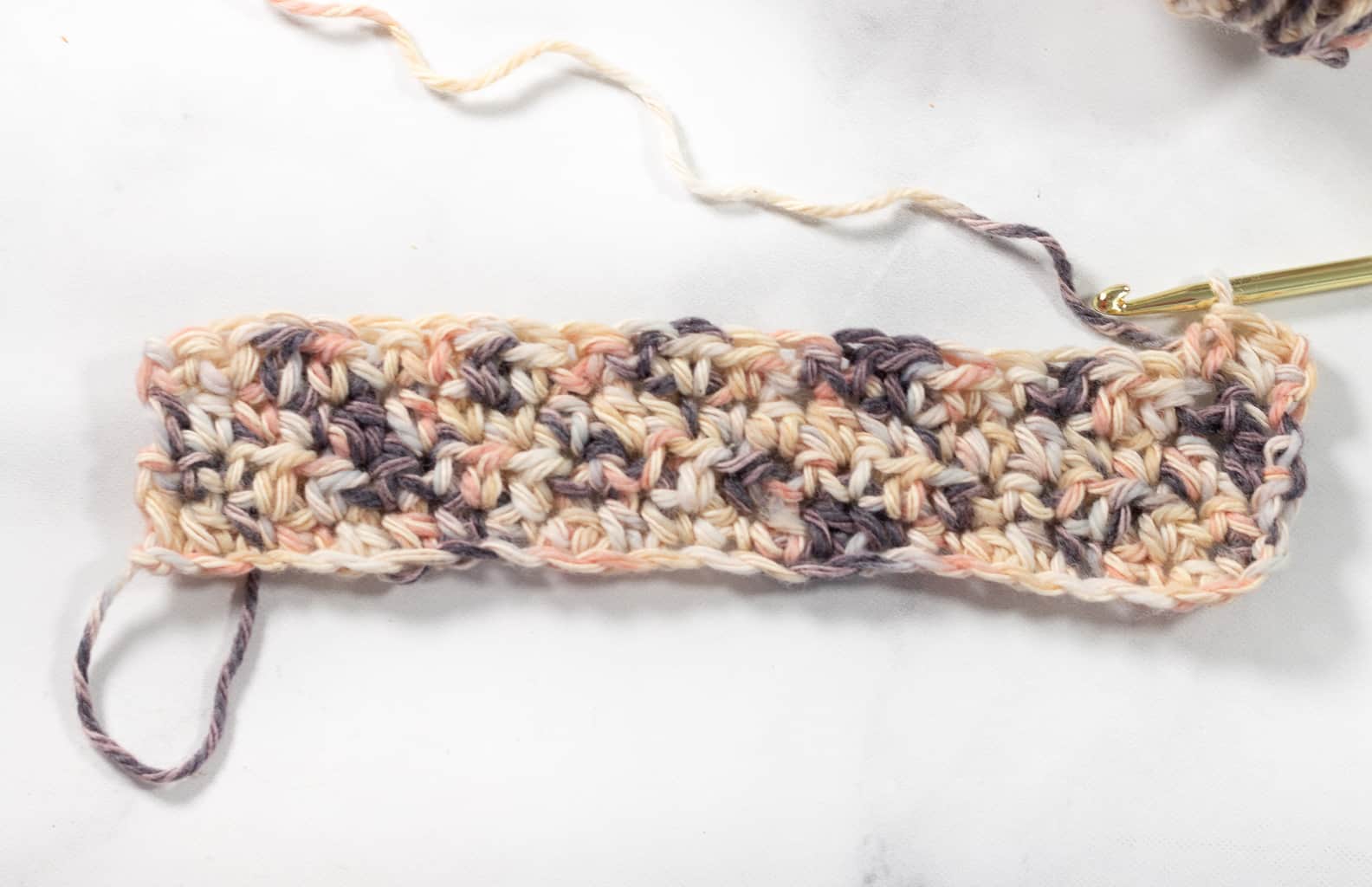 The next row is "almost" the same as the first expect you will be starting with two single crochets and then working up two half double crochets instead. You will repeat the simple pattern of row 1 and row 2 throughout the entire design until you come to row 19.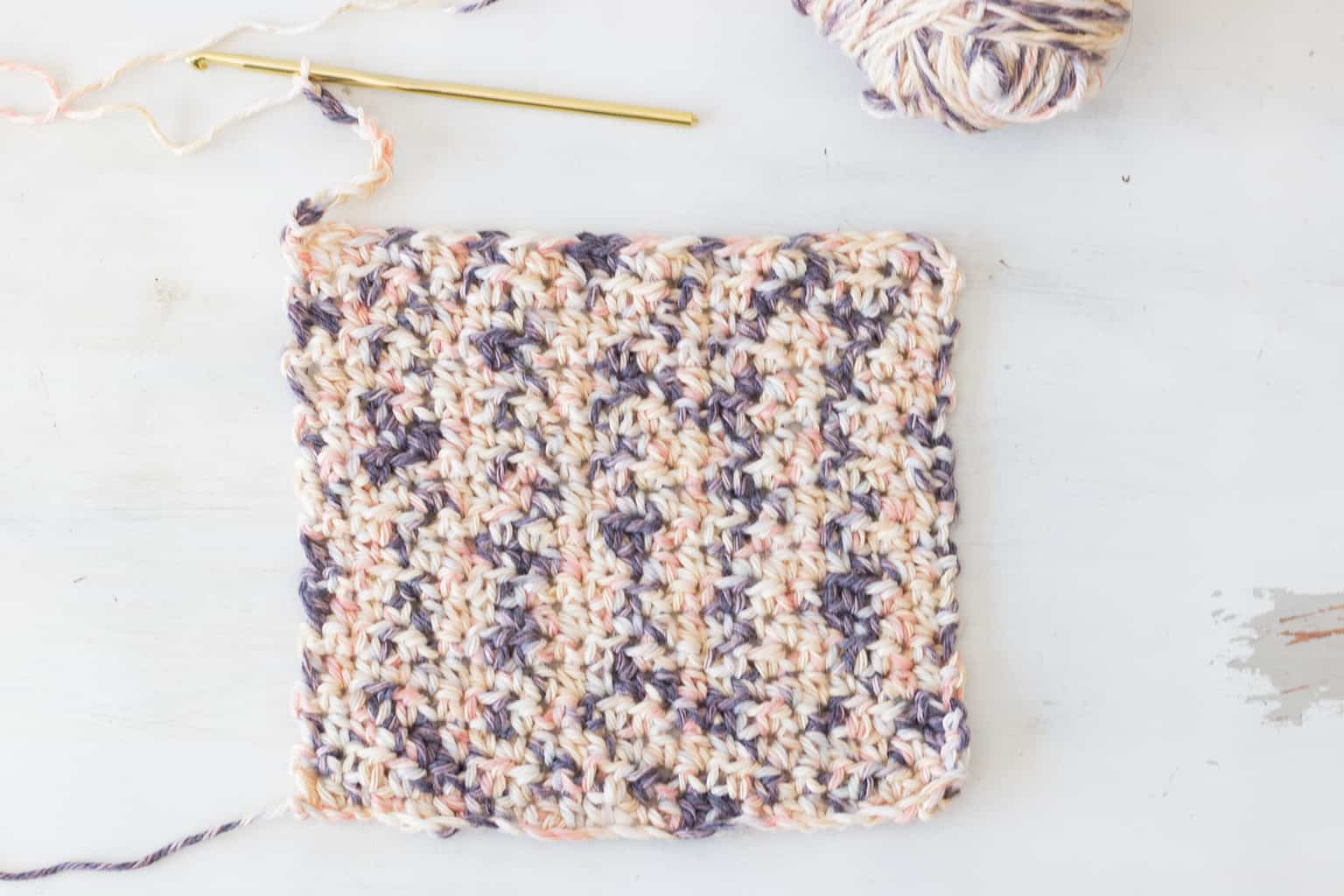 At the end of row 19 instead of fastening off your work, you will now chain 10 and attached to the same stitch with a slip stitch to make a chained loop so you will be able to hang up your potholder.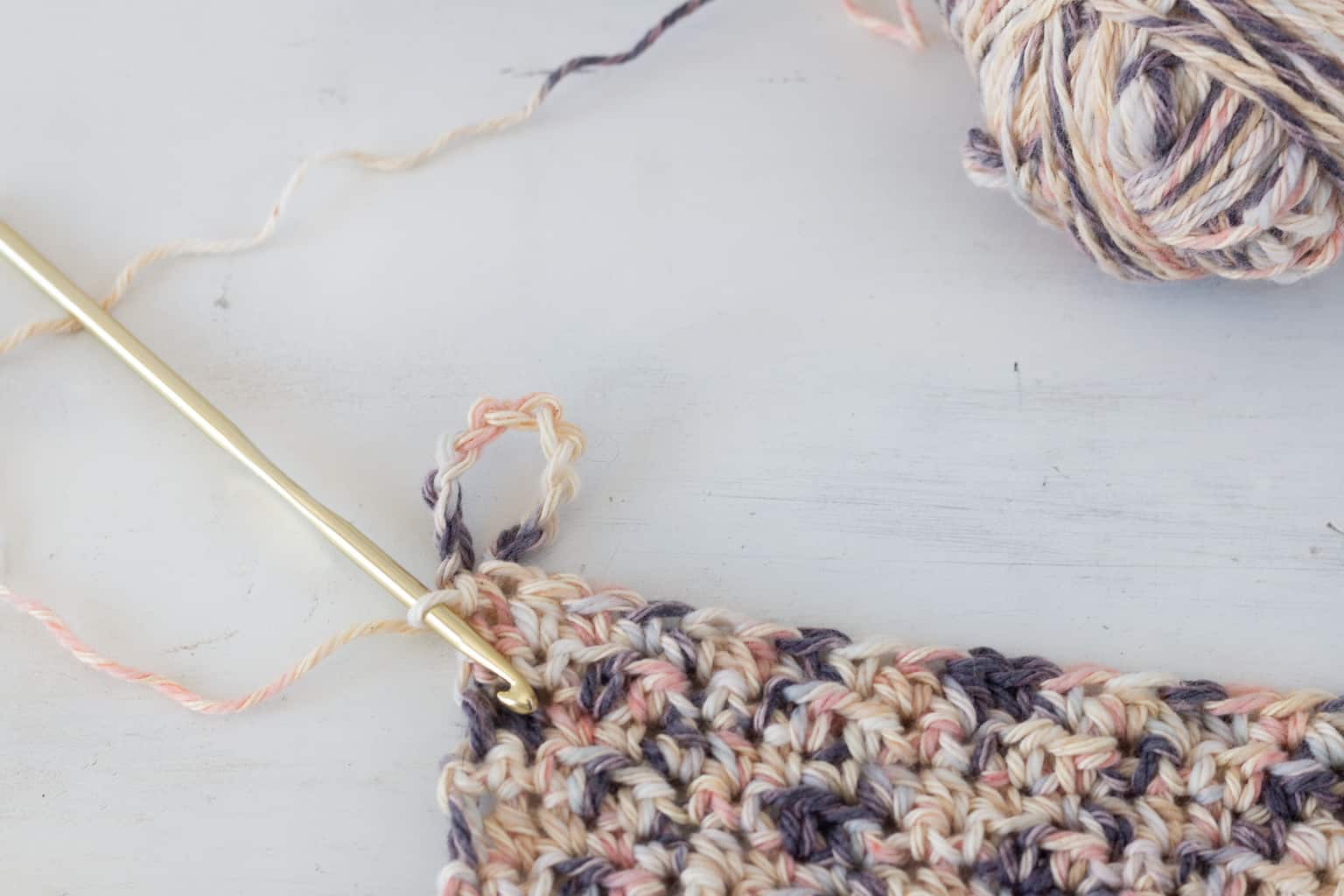 Let's Get Started
Scroll on down to find the full written pattern for this easy to crochet potholder design. If you need any clarification along the way, please feel free to reach out.
The Easiest PotHolder Pattern to Crochet
Skill Level: Easy
Materials
Flikka Yarn by Lion Brand Yarn or any light-weight 3 yarn
Size H 5.00 mm crochet hook
Yarn needle (to weave in ends)
Scissors
Crochet Abbreviations
Notes
Written in standard US terms
Finished Size is 7″ wide & 6.5″ tall as written
Gauge is not important for this pattern
Change the size my working the initial starting chain in a multiple of 2+1
Low-Temp Potholder Pattern
To Begin: Ch 23
Row 1: In second ch from the hook *hdc, hdc, sc, sc, repeat from * across ending with a hdc, hdc into the last two ch's, turn. (22)
Row 2: Ch 1, sc into the first st, sc, hdc, hdc, *sc, sc, hdc, hdc, repeat from * across ending with a sc, sc into the last two st's, turn. (22)
Row 3: Ch 1, hdc into the first st, hdc *sc, sc, hdc, hdc, repeat from * across ending with a hdc, hdc into the last two ch's, turn. (22)
Row 4 – 19: repeat row 2 & 3
Chained hanger: At the end of row 19 ch 10 sl st back into the last st of row 19.
Finishing: Fasten off and weave in loose ends throughout the potholder with a yarn needle.

You are done, and I am so glad I was able to teach you how to crochet this easy potholder!
More Free Crochet Kitchen Patterns