The Best Crochet Mushroom Patterns
If you are looking for a cute crochet mushroom pattern design, then you will find it here!
Below you will find crochet patterns for mushroom amigurumi, mushroom appliques and even a mushroom blanket too!
These mushroom patterns would be lovely for a woodland themed baby shower gift, a fairy gardens or just someone who is a mushroom lover!
How to Make a Crochet Mushroom Pattern
You will need a few supplies and a pattern to get started crocheting a mushroom! Use the sections below to be prepared, and then scroll on down to find a mushroom pattern to make!
Supplies For Mushroom Crochet Patterns
Most of the crochet mushroom designs will basic crochet supplies like crochet hooks, and yarn. But, there will be special cases when you are making a mushroom amigurumi pattern that you will need some extra tools as well.
Yarn (#4 worsted weight)
Crochet Hook
Crochet Notions: Yarn needle, safety eyes, stitch markers
While almost any yarn can be used for amigurumi patterns like the mushroom patterns below, the most commonly used weight is Light/DK or a Medium/Worsted weight yarn.
If you can't find the yarn suggested for the crochet mushroom pattern you picked to make or would like to use different yarn, Lion Brand Vanna's Choice is always a good option.
Vanna's Choice
This yarn is made by Lion Brand, and is a Weight 4 – Medium yarn.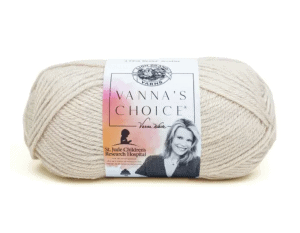 Buy Now
Patterns Using This Yarn →
Crochet Stitches & Techniques
There are a few skills you'll have to know before you start making a crochet mushroom pattern, which are a single crochet and a magic loop.
Both have tutorials available, so you'll be ready to start creating some crochet mushrooms after you look over them below.
Single Crochet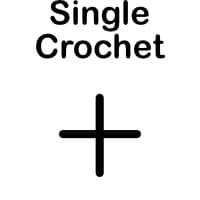 Patterns Using This Stitch →
The most common crochet stitch used in these mushroom patterns is the single crochet stitch.
Single Crochet stitches are used for amigurumi because it will create a tighter single crochet stitch in the mushroom, which in turn makes a cleaner looking end product.
You will also need to know how to crochet a magic ring (aka magic circle).
A magic circle (also known as magic ring, adjustable ring and magic loop) is a great starting technique to use in crochet projects for a clean hole free design when working in the round.
Ready to get started?
Be sure to look over each of the mushroom patterns below and pick your favorite! The first 11 are free crochet mushroom patterns, but the last 3 are paid patterns I found worth the money. Enjoy.
Free Crochet Mushroom Patterns
Most of the mushroom crochet patterns below are free patterns, but I have also listed some paid crochet patterns at the end for those of you who are searching for more to add to your mushroom collection.
I hope you enjoy all these free easy crochet patterns for mushrooms!
I hope you enjoyed all these free crochet mushroom patterns (as well as some paid) and found a new pattern to make.
More Free Crochet Pattern Designs
If you enjoyed the amigurumi mushroom patterns above, then take a look at a few of my favorite free pattern designs for amigurumi below.