Free Crochet Pineapple Pattern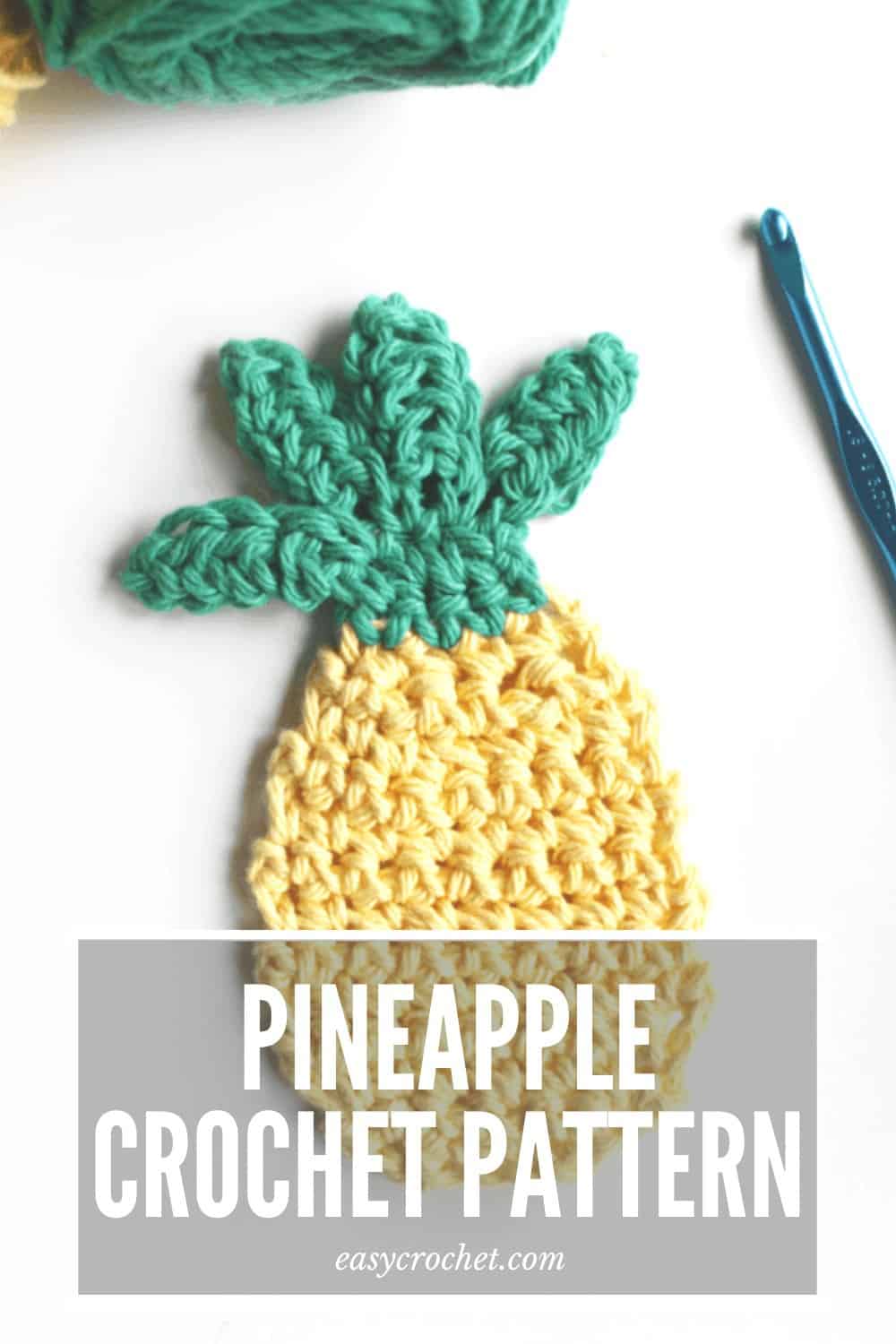 Are you looking for an easy to crochet pineapple motif or a pattern that is perfect for the Summer months? This post can help!
Keep on reading to get the free pineapple crochet pattern below. Enjoy!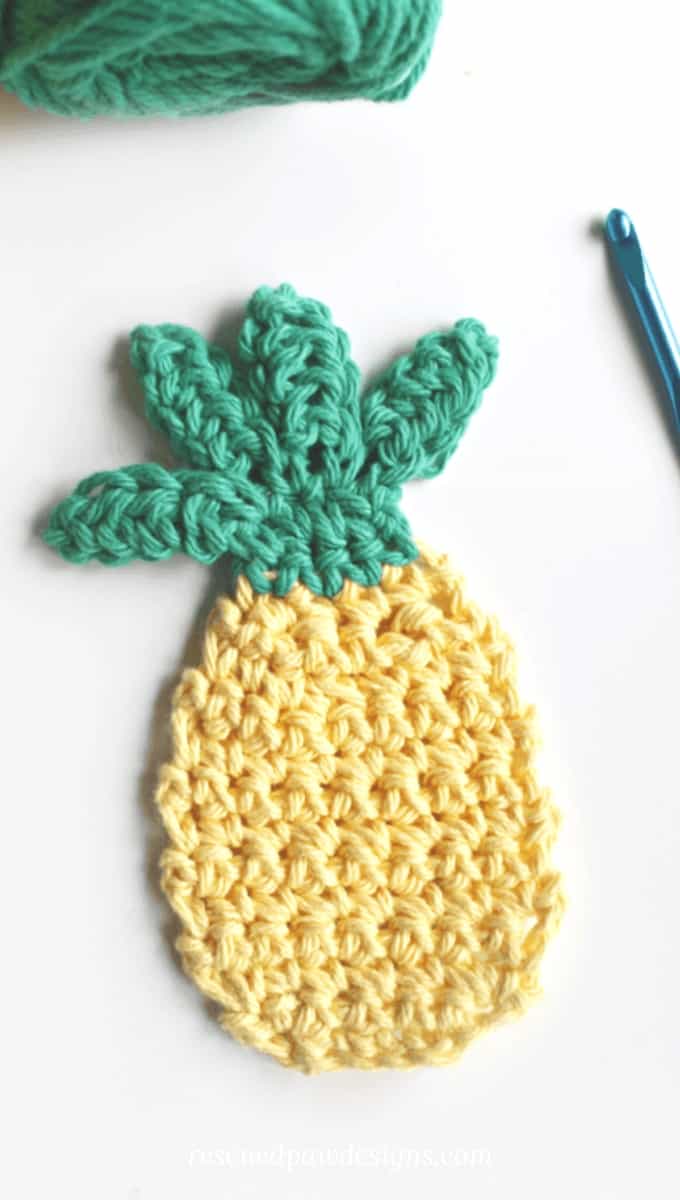 Do you want to make even more patterns? Explore the free crochet pattern archives here on Easy Crochet!
I can't wait for you to make this fun pattern!
Happy pineapple crocheting!
Love Pineapples? Love Crochet? This Pattern Is Perfect for You!
My family and I love all things Summer! It probably has to do with the fact that we live in PA and the sun is a rarity here!
When I think of Summer, one of the first things that comes to my mind after the beach is pineapples!
Being inspired I decided to design my very own crochet pineapple, so I could use it anywhere I like! For example, think how cute this would be attached onto a tote bag, crochet blanket or almost any project you can think of! 🍍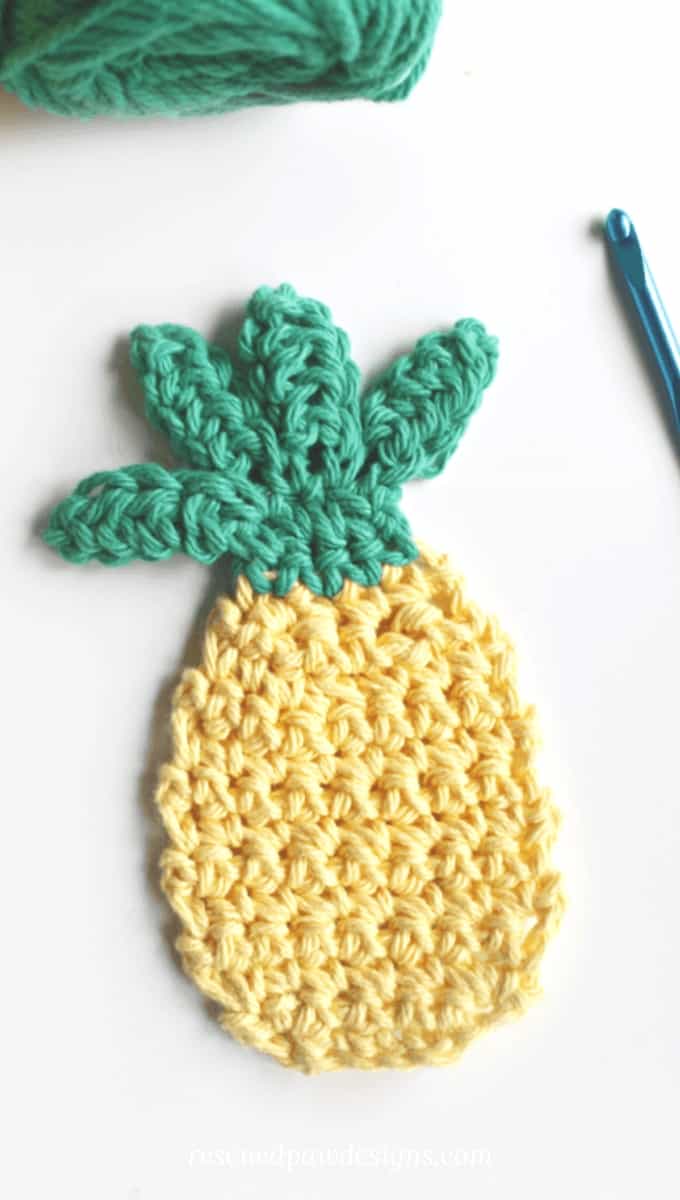 This Crochet Pineapple Can Have Many Uses!
I thought this cute pineapple would make a great appliqué or motif and you could even make a few to string together as a banner for a summer party or a pineapple themed birthday party. These actually would make AWESOME pineapple coasters too!
And the best part is that this pattern does give you a reason to use your yarn and your crochet hook in hot weather!
If you are feeling extra pineapply (new word?) then check out this pineapple scrubby I designed using scrubby yarn!
The Yarn That is Perfect for This Crochet Pineapple!
I highly suggest a cotton yarn if you are using it for a beach bag, tote bag or adding it to something for outside. Cotton yarn washes up great and holds up to a lot of wear and tear. I'll link up the Lily Sugar & cream yarn I used for this pineapple, so you can check it out below.
I hope you enjoy this crochet pineapple pattern and find lots of cute ideas to use with it! 🍍 Be sure to let me know if you do use it. I'd love to see!
Ready to Get Started?
Keep on scrolling down to find the full, FREE pattern and make yourself a pineapple! 🍍 I can't wait to see!
I hope you enjoy crocheting a pineapple!
Crochet Pineapple Pattern
Skill Level: Easy
Materials
Lily Sugar n Cream Cotton Yarn in Mod Green & Sunshine or any worsted weight cotton (4) yarn
Yarn Needle
Scissors
Measuring Tape

Abbreviations
sc = single crochet
sc2tog = single crochet two together
ch = chain
hdc = half double crochet
sl st = slip stitch
Notes
You MAY sell items made from this pattern. If you choose to sell items made from any of my patterns, please link back to me at Easy Crochet for credit. Do not use my photos to sell any items. Thank you for respecting my work.
Finished Size = 6″ tall (with leaves) and 3″ wide
Written in standard US crochet terms.
The Easy Pineapple Crochet Pattern Steps
Row 1: starting with the Sunshine yarn color, ch 5, sc in 2nd ch from hook, sc in next 3 ch's, turn your work (4)
Row 2: ch 1, 2 sc in 2nd ch from hook, sc, sc, 2 sc in next ch, turn your work. (6)
Row 3: ch 1, 2 sc , sc, sc, sc, sc, 2 sc in next st, turn your work. (8)
Row 4: ch 1, sc in first st and in every st across, turn your work. (8)
Row 5: repeat row 4 (8)
Row 6: repeat row 4 (8)
Row 7: repeat row 4 (8)
Row 8: repeat row 4 (8)
Row 9: repeat row 4 (8)
Row 10: ch 1, sc , sc, sc, sc2tog, sc, sc, sc, turn your work. (7)
Row 11: ch 1, sc , sc2tog, sc, sc2tog, sc, turn your work. (5)
Row 12: ch 1, sc , sc, sc2tog, sc, turn your work. (4)
Row 13: switch yarn colors to Mod Green, * ch 1, sc , sc, sc, sc, turn your work. (4)
Row 14: repeat row 13 from *. (4)
Row 15: *ch 5, sc , hdc , hdc , dc, in next st, sl st in st from row 14, ch 5, repeat from * for a total of 4 leaves.
Finishing: To finish fasten off and weave in loose ends.
I Hope You Enjoyed This Crochet Pineapple Pattern!
If you have any questions, please feel free to ask! I am more than happy to assist in any way possible.