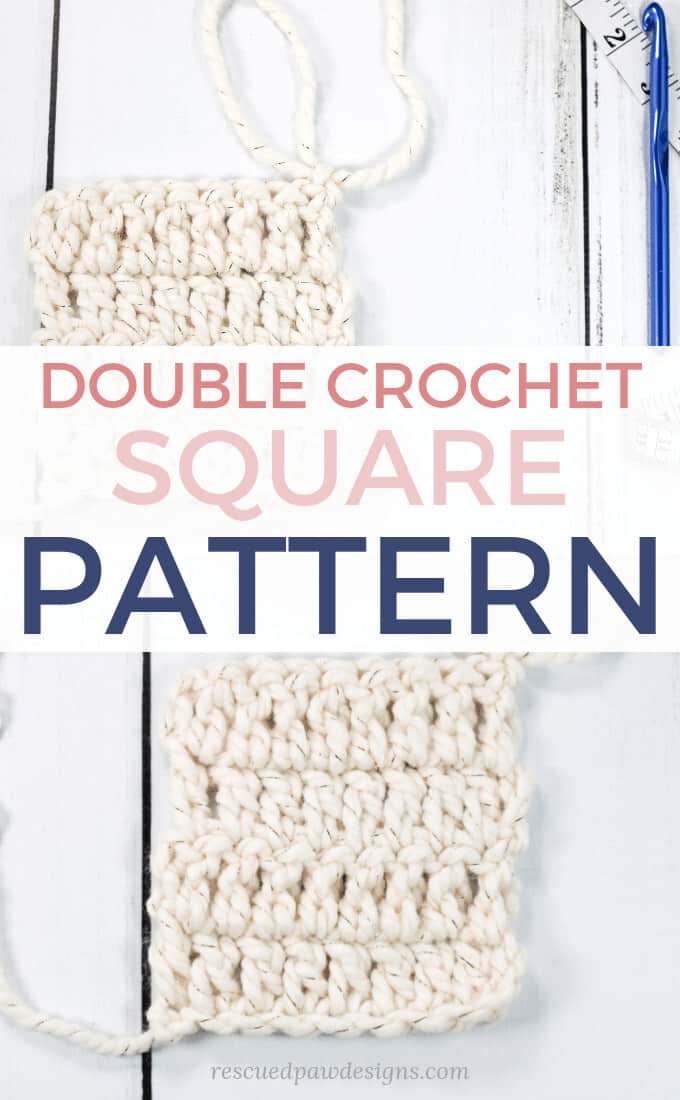 Crocheting a double crochet (DC) square is quite easy to do because the only stitch you'll need to know is the beginner-friendly double crochet! Keep on reading down to learn how to make my scrap busting square version of a classic granny square today!
---
Once you make this square, you may also want to explore other free patterns too! Try my double crochet blanket or search the crochet pattern archives.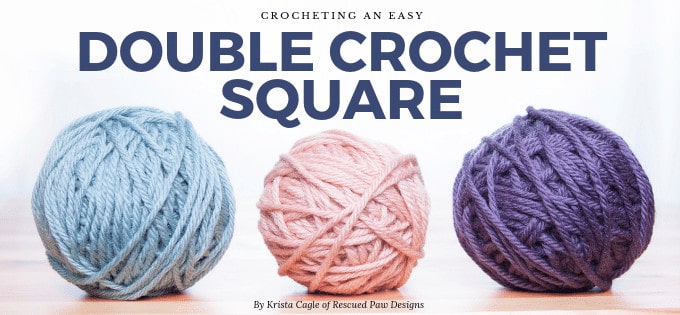 This DC square is perfect for using up the extra yarn you have around be it from leftover projects or wool.
All you will need to do is double crochet eight times back and forth for four rows to get a 5″ X 5″ solid square!
Happy Crocheting!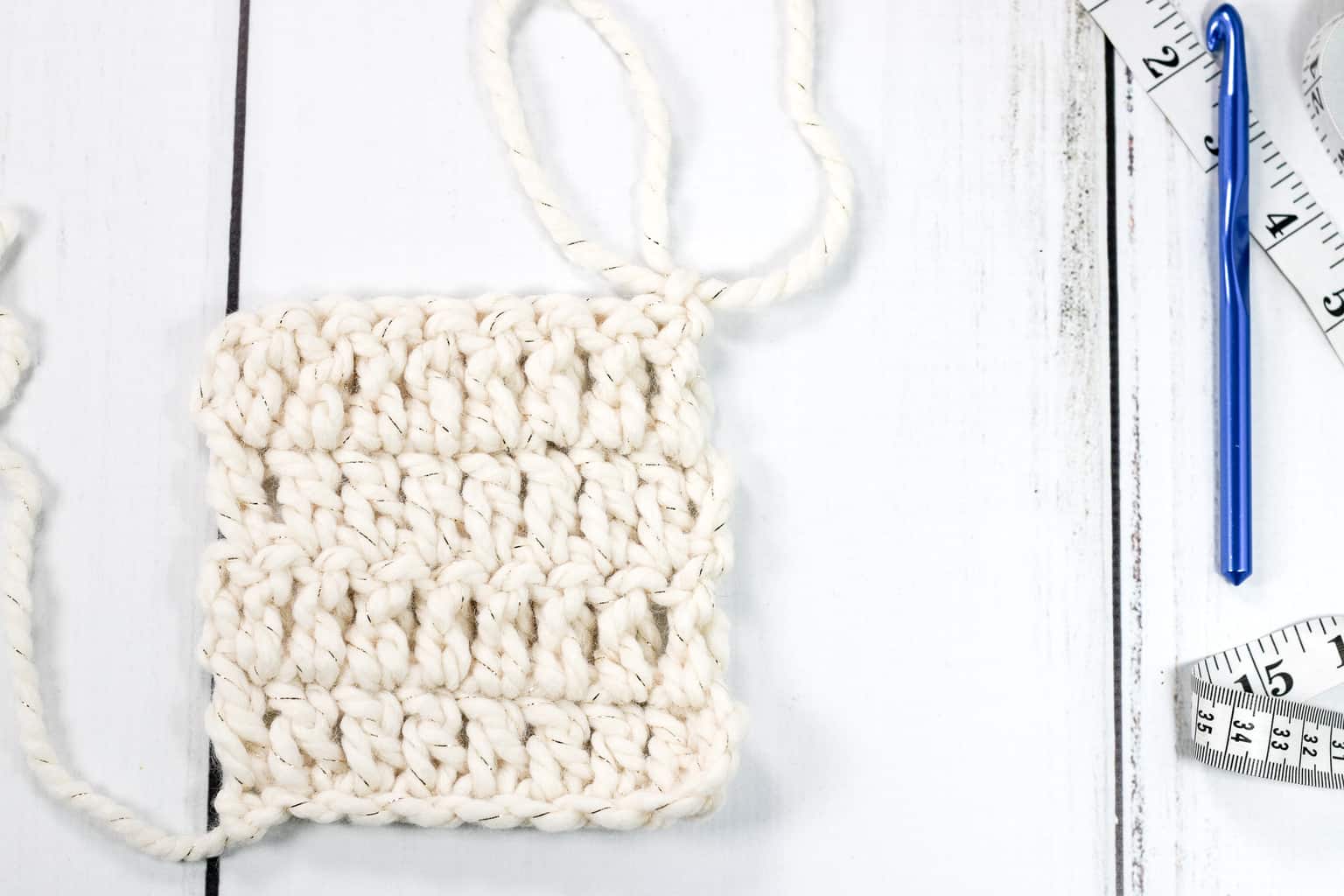 You'll only Need to Know the Double Crochet Stitch!
The double crochet is one of the most basic and beginner-friendly stitches a crocheter could learn.
Learn more about the double crochet stitch in my blog post or in my double crochet video lesson too!
DOUBLE CROCHET VIDEO TUTORIAL
The Yarn That's Perfect for This Square DC Pattern!
If you'd like to achieve the same look like mine then you're going to want to get a hold of Lion Brand Wool-Ease Thick & Quick. This yarn is perfect to make chunky cozy squares with. You'll be amazed at how fast they can really work up once you get the hang of the pattern.
Extra: Take a look at the yarn below and let me know what you think. I used the colorway Celebration for my example.
Sew Together to Make a DC Square Blanket!
Once you finish all your squares you'll want to use a yarn needle to sew the squares together to create your very own throw blanket as written below. Want a different size?
Take a peek at the chart below to see approximately how many squares will be needed for each size blanket when using this bulky 6 yarn.
DC Square Blanket Chart
Notes:
Each square has to be made to gauge at 5″ x 5″ for this chart to be accurate.
Each square weighs approximately 15 grams. This note will come in handy when you are trying to figure out yardage for each blanket size.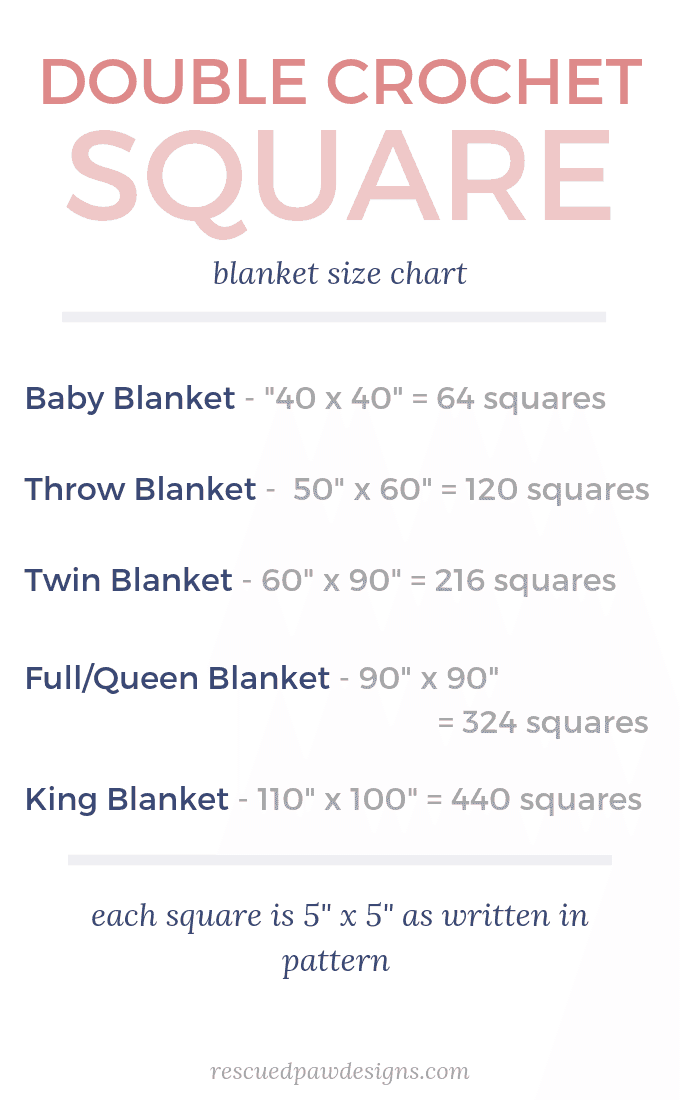 Pattern Note: If you do decide to use a different yarn weight or even brand as shown in the pattern the results may vary.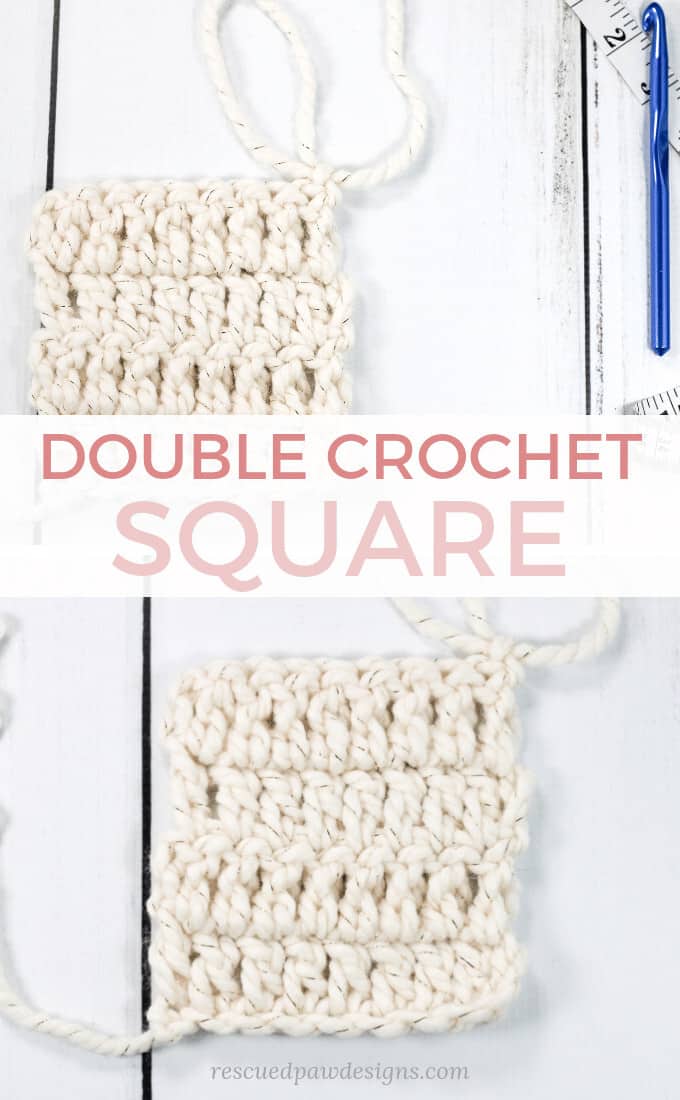 Be sure to check out the video tutorial on how to crochet this square below if that is more your jam!
---
The Double Crochet Stitch Square Pattern
Skill Level: Basic
Materials: Lion Brand Wool-Ease Thick & Quick 15 grams per square, large-eyed yarn needle, scissors, crochet hook 9mm
Abbreviations: CH = Chain, DC = Double Crochet, ST = Stitch
Gauge: 8 DC's by 4 Rows = 5″ X 5″
Finished Size: 5″ X 5″ inches
Notes: Written in Standard US Terms, CH 2's do not count as ST
---
The Square
Foundation Row: Ch 10
Row 1: In the 3rd CH from the hook DC, DC into each CH across, turn. (8)
Row 2: Ch 2, in the first ST DC, DC into each ST across, turn. (8)
Row 3: Ch 2, in the first ST DC, DC into each ST across, turn. (8)
Row 4: Ch 2, in the first ST DC, DC into each ST across. (8)
Finishing: Fasten off the yarn. Weave in the loose ends with a large yarn needle.
Double Crochet Square Video Tutorial & Lesson
---
---

You Are Done With The Square!
I hope you enjoyed this square tutorial & pattern! If you have any questions please feel free to join the crochet club over on Facebook! Join now.