Crochet Blanket Square Pattern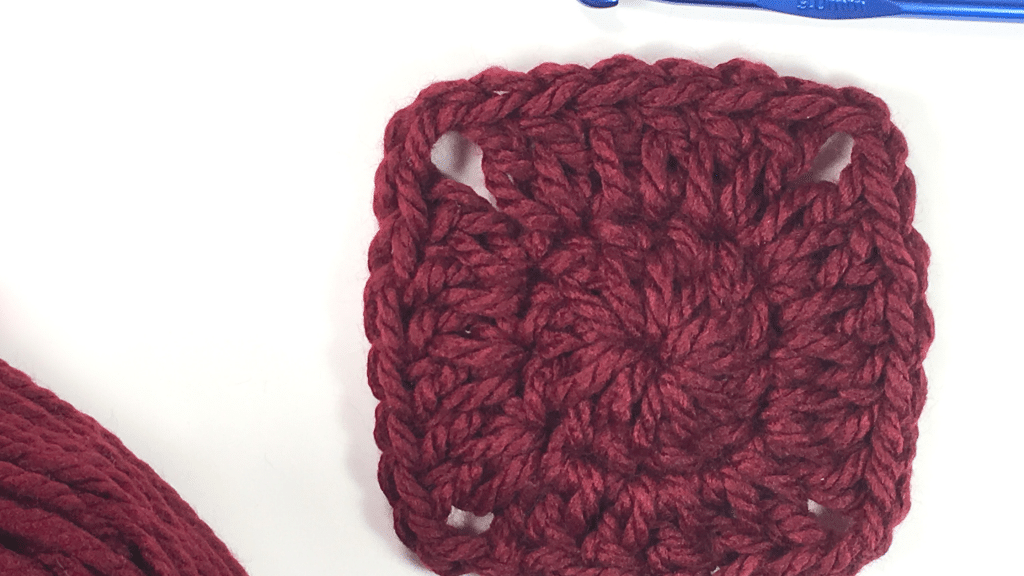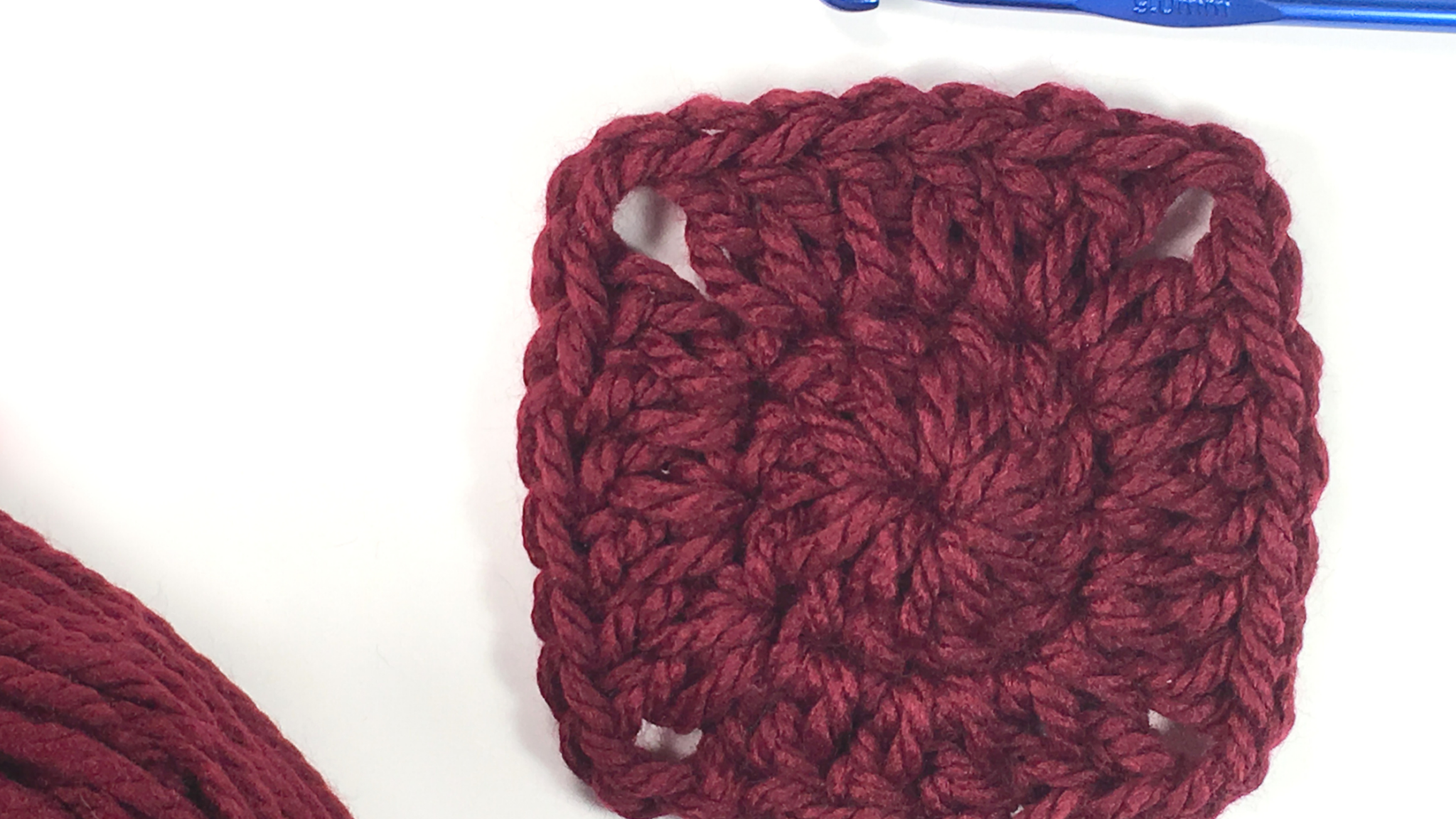 Learn how to crochet a blanket square with this free step by step crochet pattern & video tutorial! You can make multiples of these squares in little or no time at all!
Are you looking for more crochet square ideas? Try my easy-to-make double crochet square or the bursting square motif for your next project!
Are you new to crochet? Do you want to learn a simple pattern? This crochet square is it!
Happy Crochet Square Making!
Easy Crochet Blanket Square
When I started designing this square, I knew it had to use basic crochet stitches that any level of crocheter, be it a beginner or advanced, could make.
So, to make it easy for everyone, I decided that the whole square would use double crochet stitches and chain stitches.
All About The Crochet Stitches That This Square Uses
To make sure this square is as simple as can be to work up, let's go over the stitches that you will need to know. You will need to know only two basic crochet stitches to make this square.
First up is the double crochet stitch or dc as you will see abbreviated in most crochet patterns. The second stitch we will use is the chain stitch. The chain stitch is the basic stitch that starts most crochet patterns.
Crochet Stitch Resources
Take a look below to check out some tutorials on these stitches to be prepared to make this square.
PS: Be sure to subscribe to my YouTube Channel for even more crochet stitch tutorials!
The Yarn That Is Perfect for These Blanket Squares
Now that we know the stitches for this design, let's talk about yarn! The yarn that makes these squares perfect to use in a blanket is Lion Brand Wool-Ease Thick & Quick. It is considered a yarn that is made up of 80% acrylic and 20% wool, which makes it easy to wash and dry.
Plus, it comes in so many colors to pick from, so there are, so many ways you could go with the coloring of your blanket. You will need less than a skein of this yarn to make one square, so scrap yarn is great to use and or leftovers from other crochet projects. If you want to make more than one, you will get quite a few of these squares out of one skein of this yarn.
Be sure to check out the yarn I linked up below!
How to Crochet Squares to Make a Blanket Instructions
The first round of this square is easy & great for beginners! Promise. With your 9 mm crochet hook attach your yarn to the hook with a slip knot then chain 2. Make 11 double crochets into the second chain from the hook, which will form a circle. To complete the circle, slip stitch into the top of the first double crochet.
The second round is started by chaining 2 and working a double crochet into the first stitch (the top of the first double crochet from the round before). Work two double crochets into the next stitch and again in the next then chain 2 to make the corner. Finish off the square by following the remainder of the easy pattern as written below.
Or, if you'd prefer to check out the video below, the written tutorial too! You can also find a step-by-step picture tutorial too!
Happy Crochet Blanket Square Making!
The Free Blanket Square Written Pattern
Skill Level: Easy
Materials
Crochet Abbreviations
ch = chain
dc = double crochet
st = stitch
sl st = slip stitch
Finished Size
Notes
Written in standard US terms
The Pattern
To Begin: ch 2 ( or do a magic ring)
Round 1: dc 11 times into the second chain from the hook, sl st to the top of the first dc
Round 2: ch 2, dc in the first st (the first double crochet from the round before), 2 dc's into the next st, 2 dc's into the next st, ch 2, 2 dc's into the next st, 2 dc's into the next st, 2 dc's into the next st, ch 2, 2 dc's into the next st, 2 dc's into the next st, 2 dc's into the next st, ch 2, 2 dc's into the next st, 2 dc's into the next st, end with 2 dc's in the sl st from the round before, ch 2, sl st into the ch 2 that started the round before.
Finishing: Fasten off the yarn with the scissors and weave in the loose ends with a yarn needle.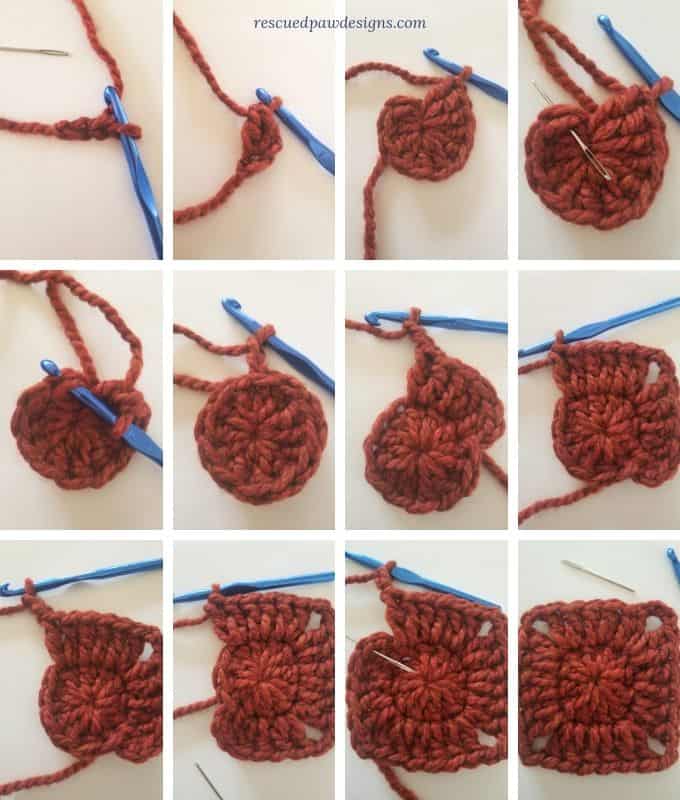 The Free Blanket Square Video Pattern
You Are Done With a Crochet Square!
Thanks for checking out & hopefully making this easy crochet blanket square. If you have any questions, please feel free to leave a comment or email me.
Happy Crocheting!