This cute and simple crochet criss-cross bobble flower is the perfect decorative detail to any project. They can easily be added to any crochet project as a cute feature, or tied to a gift for a handmade finished touch.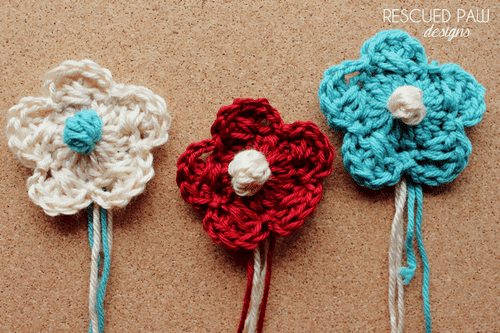 I promise these little beauties are so easy to make and are a great pattern for a beginner who is looking to try something a bit more challenging! I hope you love them! ❤️️
Oh.. And Happy Crocheting!
CROCHET CRISS-CROSS BOBBLE FLOWER PATTERN
by Easy Crochet
MATERIALS
THE PATTERN
Round 1: Chain 3, In 3rd Chain from Hook, Double Crochet, Double Crochet 14 more times in same Chain. Slip Stitch to top of first Double Crochet. (15 Total Double Crochets)
Round 2: Chain 3, Skip 2 Chains, 2 Double Crochets in next Chain, 2 Double Crochets in 2nd skipped Chain. (Creates a criss-cross effect). Slip Stitch in next Chain after the first Set of Double Crochets.*Chain 3, Skip 1 Chain, 2 Double Crochets in next chain, 2 Double Crochets in Skipped Chain, Slip stitch in next chain after the first set of double crochets. Repeat from * Across for a total of 5 petals. End with a Slip Stitch in the first Slip Stitch of the round. Fasten off.
CENTER BOBBLE PATTERN
Chain 3, in 3rd Chain from hook, * yarn over, insert hook into chain and pick up a loop. Yarn over again and pull it through 2 stitches on the hook. Repeat this for a total of 4 times. (You should have 5 loops on hook) yarn over and pull through all 5 loops and fasten off.
FINISHING
Pull bobble yarn ends through the center of the flower and firmly attach. Weave in extra ends with yarn needle.
Weave in loose ends with the yarn needle throughout the flower.
You are done!!
(I used the items above to attach the flowers to a gift)
Thanks for looking!!!
I hope you enjoyed the Crochet Criss-Cross Bobble Flower Pattern, and if you have any questions, feel free to send me an email at [email protected] 🙂
---
"Click Here" to check out my shop, Yarn Mamas which sells tees and more just for makers!
---
Happy Crocheting!
Krista