Crochet Criss-Cross Bobble Flower
Crochet flowers are quick and easy crochet patterns, plus they are simple to make!
These cute crochet bobble flowers feature a crisscross design and are the perfect decorative detail to any crochet project. They can easily be added to a blanket, scarf or shawl as an appliqué, or tied to a gift for a handmade finished touch.
Scroll on down to find the free flower pattern to get started today!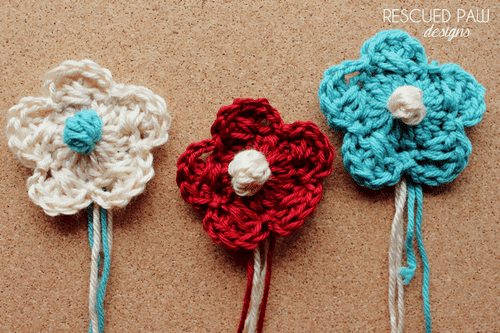 The Yarn
To make these flowers, you'll need some scrap yarn or left over yarn from another project, since they don't use much.
For my examples, I used Caron Simply Soft, which is a four weight yarn. You don't have to limit yourself to this yarn weight because this pattern will work perfectly with any yarn you wish.

To adjust this flower pattern for other sizes of yarn, be sure to follow along with the yarn label and use the recommend crochet hook size for the best results.
Get Started
I promise, these pretty flowers are easy to make and a good crochet pattern for someone who is new to crochet. I hope you love them!
Crochet Bobble Flower Pattern
Skill Level: Easy
Materials
Crochet hook(I-9) 5.5 mm
< 20 yards of Caron Simply Soft or any medium weight (4) yarn
Yarn needle
Scissors

Crochet Stitches + Abbreviations
ch(s) = chain(s)
dc(s) = double crochet(s)
sl st = slip stitch
st(s) = stitch(es)
sk = skip
rep = repeat
yo = yarn over
Notes
The flower pattern in written in Standard US terms
The Pattern
Round 1: Ch 3, In the 3rd ch from the hook dc, dc 14 more times in same ch, sl st to top of first st of the round.(15)
Round 2: Ch 3, sk 2 sts, 2 dc in the next st, 2 dc in 2nd sk st. (Creates a crisscross effect), sl st in next st after the first set of dcs *ch 3, sk 1 st, 2 dc in next st, 2 dc in sk st, sl st in next st after the first set of dcs. Rep from * around for a total of 5 petals. End with a sl st h in the first sl st of the previous round. Fasten off.
Center Bobble Pattern
Ch 3, in 3rd ch from hook, * yo, insert hook into ch and pick up a loop.
Yo again and pull it through 2 stitches on the hook. Rep this for a total of 4 times. (5 loops on the hook)
Yo and pull through all 5 loops and fasten off.
Finishing
Pull bobble yarn ends through the center of the flower and firmly attach. Weave in extra ends with yarn needle.
Weave in loose ends with the yarn needle throughout the flower.

Share this on Pinterest to Crochet Later
Use the images below to pin to Pinterest, so you can make crochet this bobble flower at any time. Follow along with on there too since we always share new free patterns as well as crochet stitches and tutorials too.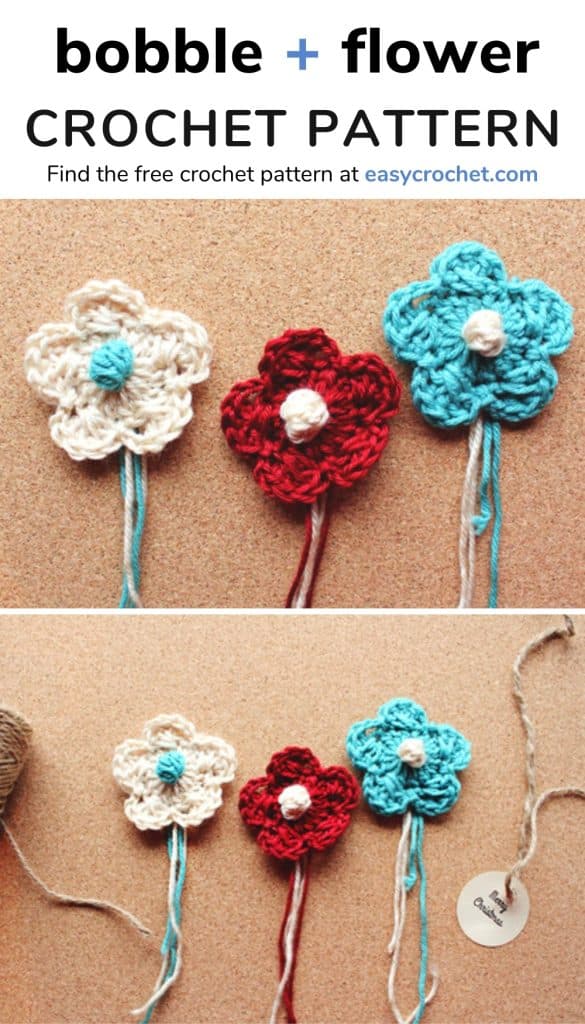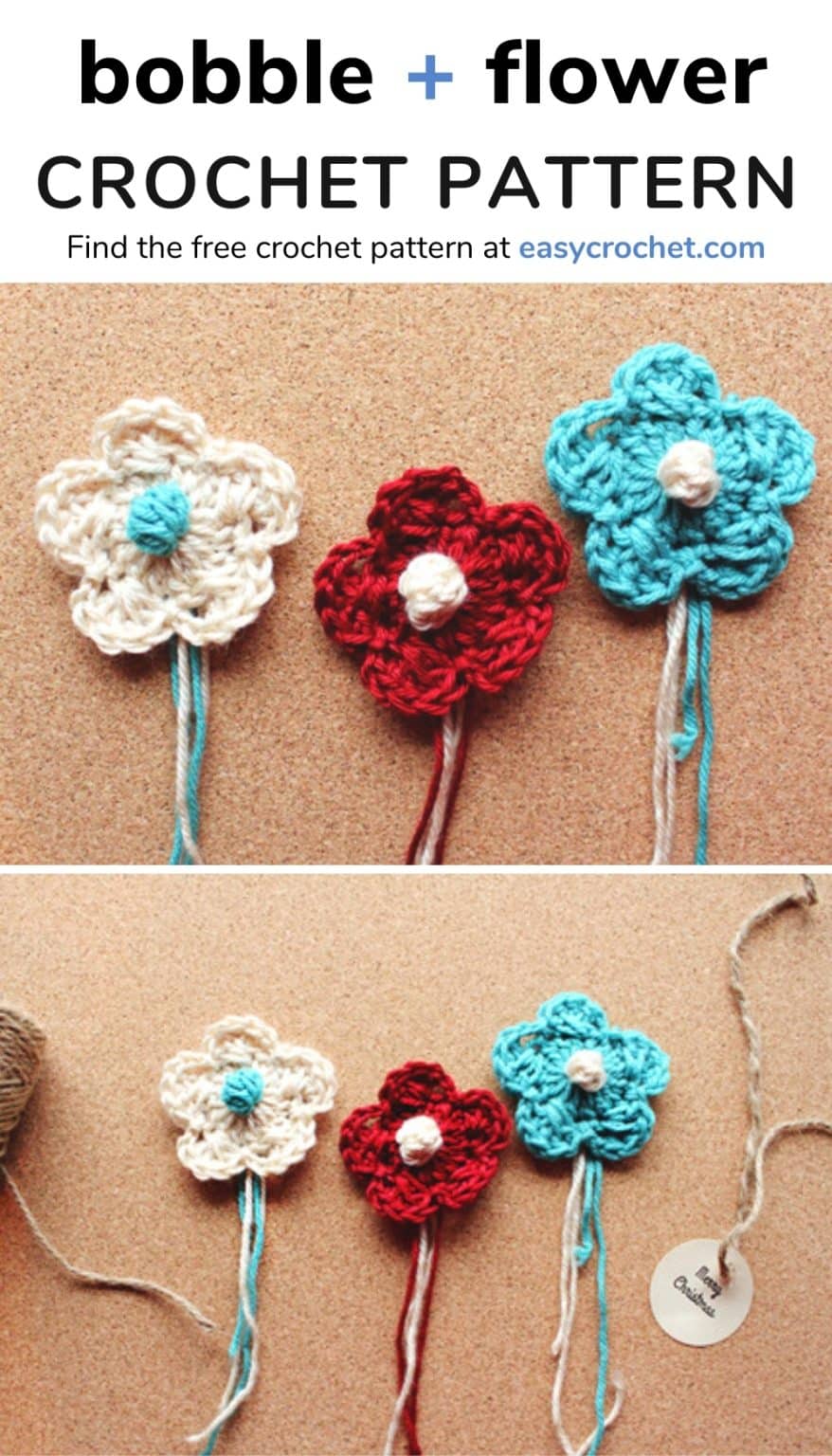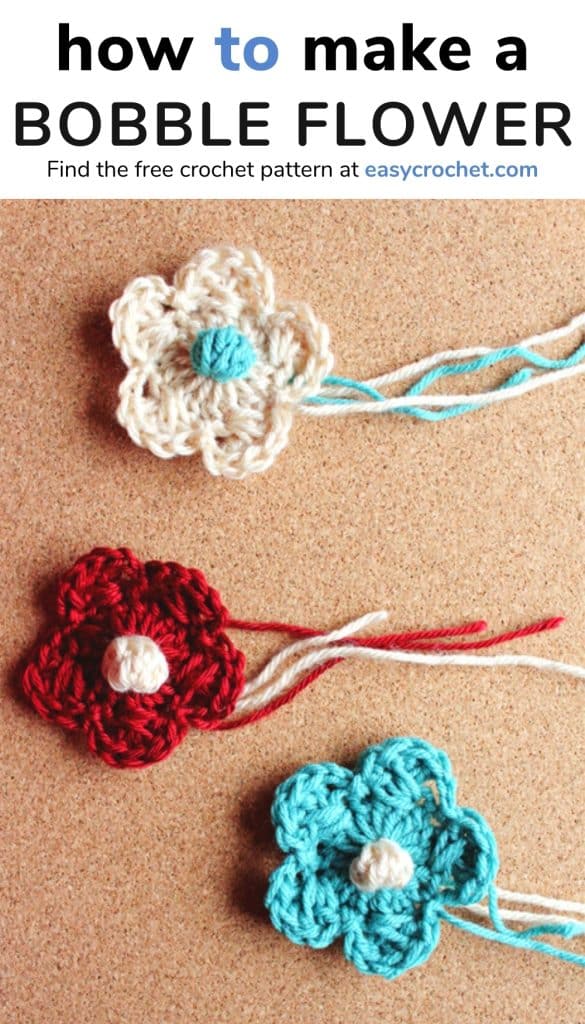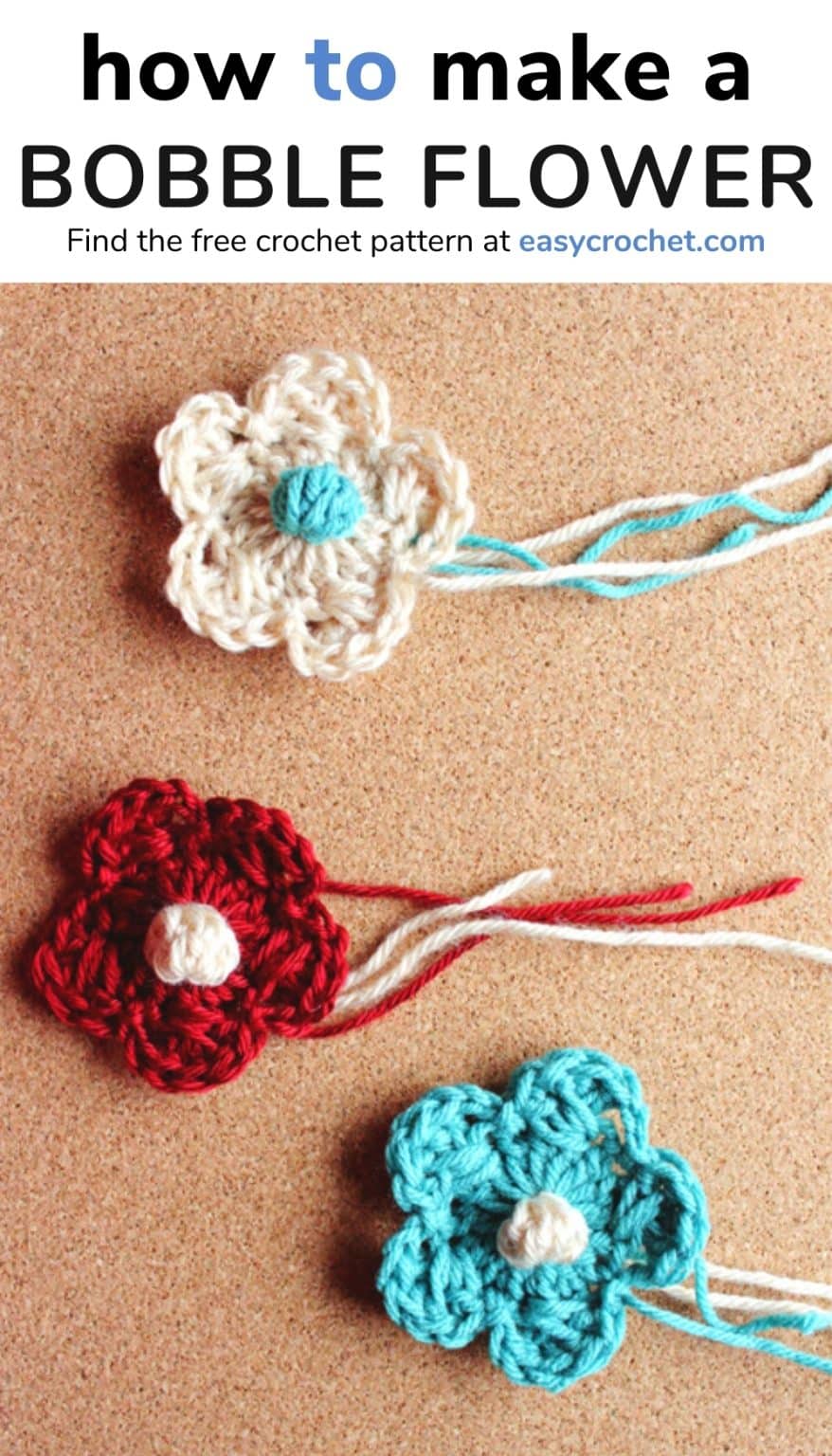 I hope you enjoyed the Crochet Crisscross Bobble Flower Pattern, and if you have any questions, feel free to email me.
More Free Crochet Patterns