Crochet Clutch Purse Pattern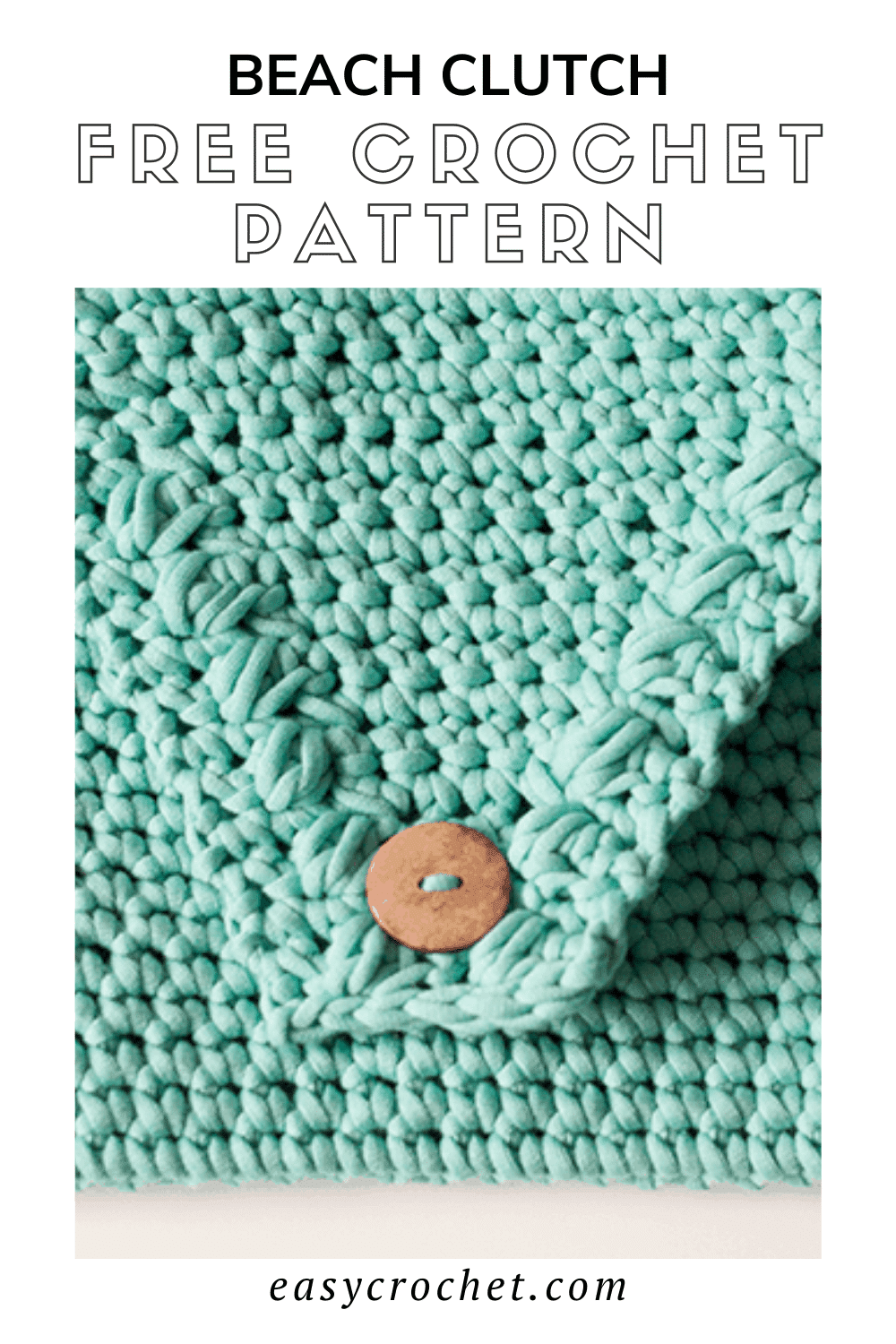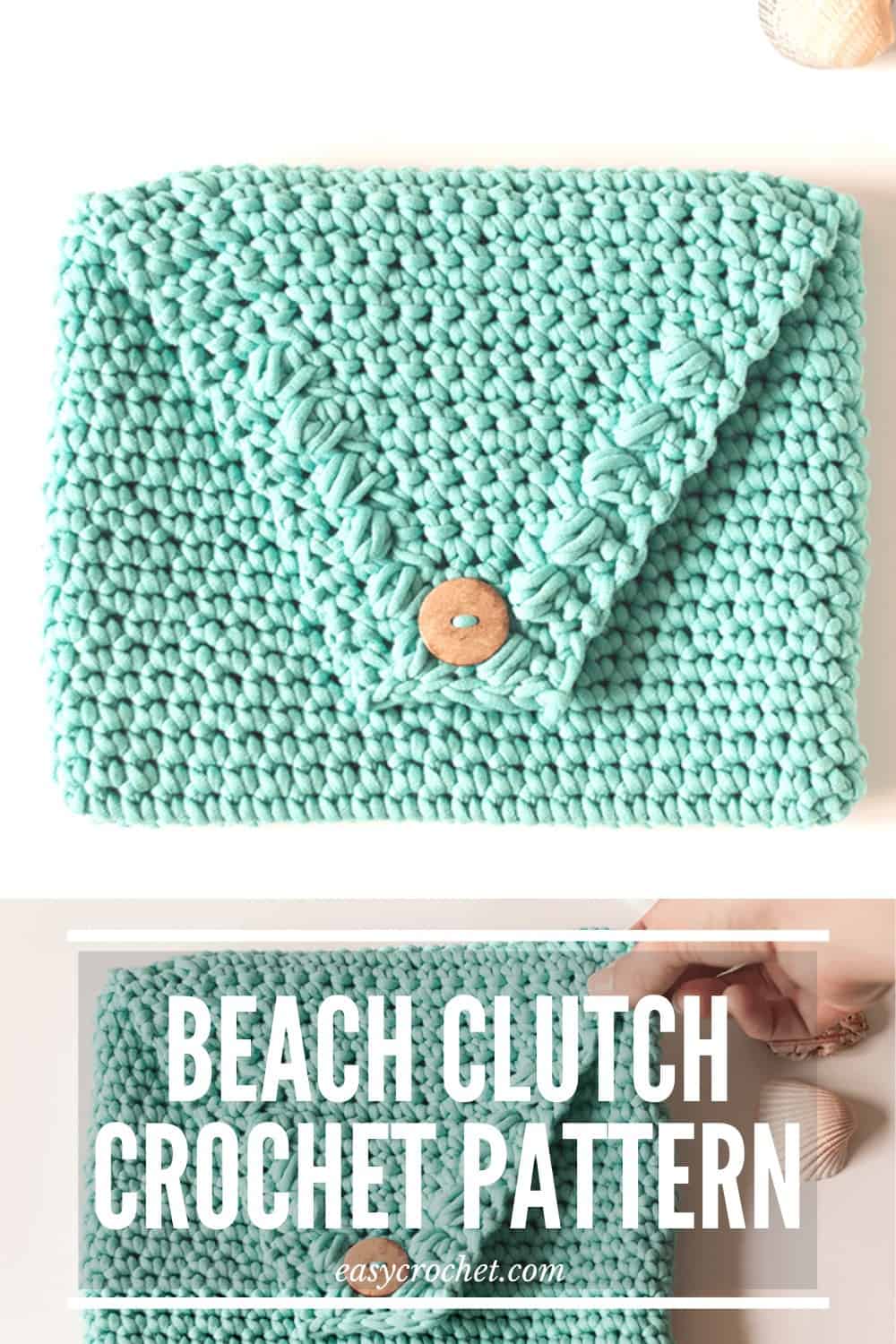 Do you love quick crochet patterns? Then this one is for you! The Beach Glass Clutch is the perfect crochet summer accessory!
Scroll down to find the free crochet clutch bag pattern.
Do you want more free crochet patterns? Explore the Easy Crochet pattern archive for inspiration.
I am excited for you to enjoy this pattern and to make this clutch!
Happy Crocheting!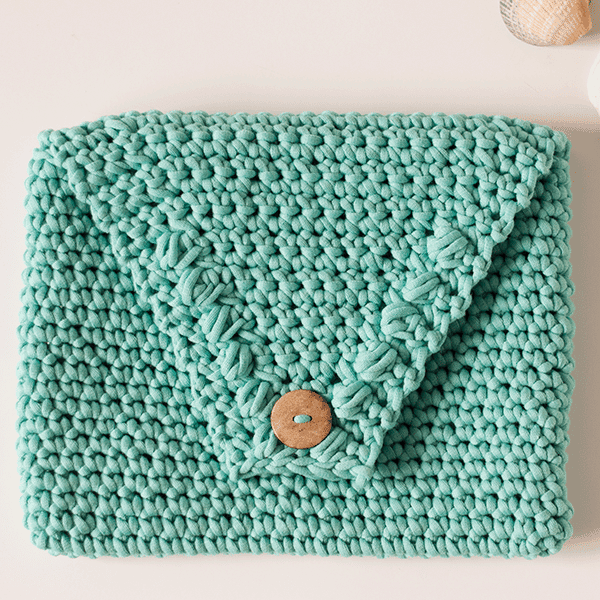 The Yarn That's Perfect for This Clutch
I was just finishing up a yet to be released pattern with this fun Bernat Home Dec Yarn and decided to design a clutch, which is something I have been wanting to do for a while!
Maker Home Dec
This yarn is made by Bernat, and is a Weight 5 – Bulky yarn.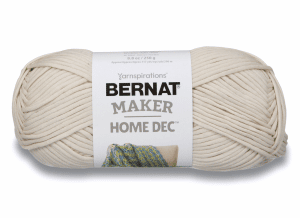 Buy Now
Patterns Using This Yarn →
This yarn was a pleasure to work within this pattern! The clutch crochets up so sturdy, but at the same time is exceptionally soft because of this yarn. If you can't find this yarn, any T-shirt like yarn should work, or you can even try to make your own!
Since my daughter has already claimed this one like hers, I suppose I am going to make another crocheted clutch for me! The Home Dec yarn comes with 126 yards, so you can easily make two of these with one skein!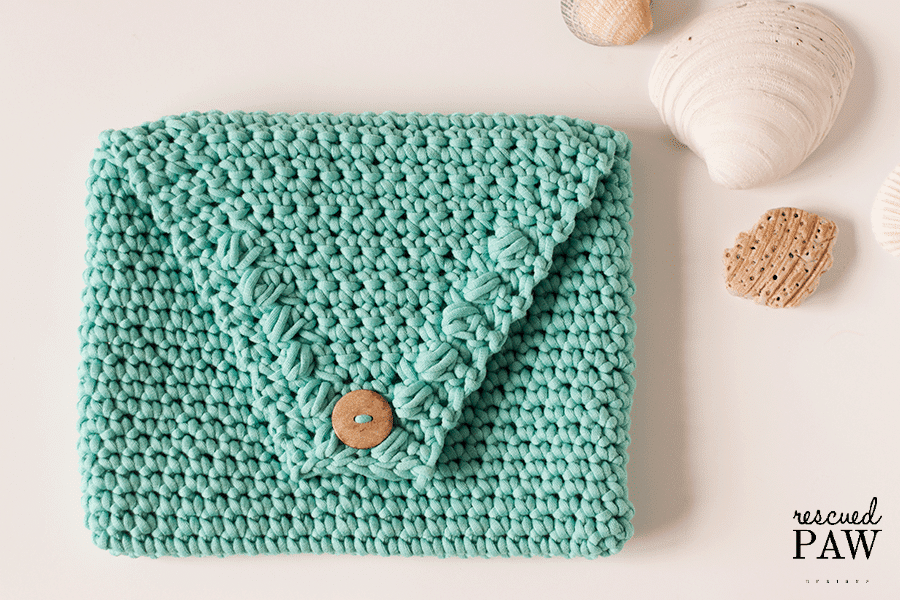 Ready to Make This Easy Crochet Clutch Pattern?
If you think you are ready to make a beach glass clutch bag, then read on down to find the full free pattern or save to Ravelry to crochet later!
Crochet Clutch Bag Pattern
Skill Level: Intermediate
Materials
1 skein of Bernat Maker Home Dec in Aqua or any bulky (5) T-shirt like yarn.
Crochet Hook J 6 mm
Yarn needle
1 Inch Coconut Shell Button
Abbreviations
ch = chain
sc = single crochet
sl st = slip stitch
sc2tog = single crochet two together
sphdcst = hdc but do not pull through the three loops on the hook instead after your yarn over start another HDC stitch, again, not pulling through the last three loops to finish, repeat from * again but finish your HDC the third time. You will have 2 "almost done" HDC and one completed HDC.
Gauge
Your initial CH 24 should be 9 inches across.
Finished Size
9 inches wide by 6.5 inches tall (with flap folded down)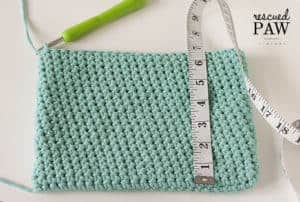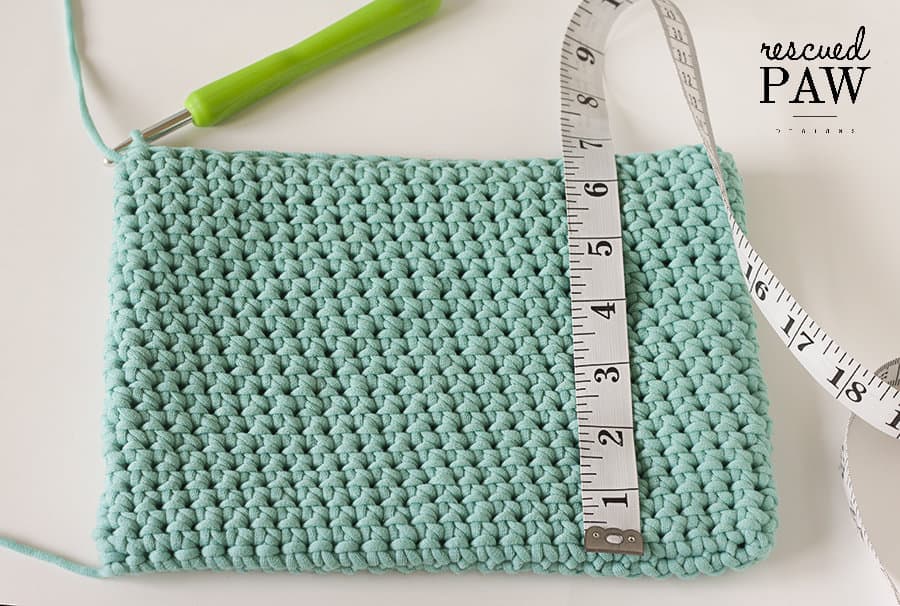 PATTERN PERMISSIONS
SELLING: You may sell items made from patterns on Easy Crochet unless otherwise stated. If you choose to sell items made from this pattern, please link back to me at www.easycrochet.com for credit. Please do not use my pictures to sell your items.
IMAGES & CONTENT: The images and content of EasyCrochet.com are protected by copyright laws. Do not distribute or copy the content without written permission. Do not edit or remove watermarks from any original image from easycrochet.com. If you would like to share an image, please only use 1 with a link back to Easy Crochet. Thank you for respecting my work.
TRANSLATIONS: Please do not post a translation of my pattern(s) anywhere. If you would like to help make a translation I would be happy to publish it on Easy Crochet with a link and full credit to your blog. For further questions, please email krista@easycrochet.com.
The Crochet Clutch Pattern
The main body of the beach glass clutch: ch 25, starting in 2nd ch from the hook, sc, sc in every ch across. (24) Sc 1 up the side, working now on the opposite side of the row you just completed sc 24 times across, next make 1 sc down the side (you are now back at the beginning of your ch 25)
Working now in the round, sc In every stitch around using a stitch marker if you wish to keep track of your 1st sc in every round. Sc around until the sides are a total of 6.5 inches. (Approximately 20 rounds) ending on the backside of your work. Turn your work. The rest of the pattern is worked in rows.
Row 1: ch 1, starting with the first ST, SC, SC in every ST across. (24) Turn.
Row 2-3: ch 1, Repeat Row 1
Row 4: ch 1, starting with the first stitch, sc, sc in next stitch, sc2tog, sc in the rest of the stitches across until you are left with 4 stitches, sc2tog, sc, sc.(22) Turn.
Row 5: Repeat Row 1 (22) Turn.
Row 6: Repeat Row 4 (20) Turn.
Row 7: Repeat Row 1 (20) Turn.
Row 8: Repeat Row 4 (18) Turn.
Row 9: Repeat Row 1 (18) Turn.
Row 10: Repeat 4 (16) Turn.
Row 11: Starting in 1 ST, SC, SPHDCST, SC across the rest of the row until you are left with 3 ST's, SPHDCST, Sc in the last two ST's. (16) Turn.
Row 12: Repeat 4 (14) Turn.
Row 13: Repeat 11 (14) Turn.
Row 14: Repeat 4 (12) Turn.
Row 15: Repeat 11 (12) Turn.
Row 16: Repeat 4 (10) Turn.
Row 17: Repeat 11 (10) Turn.
Row 18: Repeat 4 (10) Turn.
Row 19: Repeat 11 (8) Turn.
Row 20: Repeat 4 (6) Turn.
Row 21: Repeat 11 (6) Turn.
Row 22: Starting in first ST, SL ST across (6)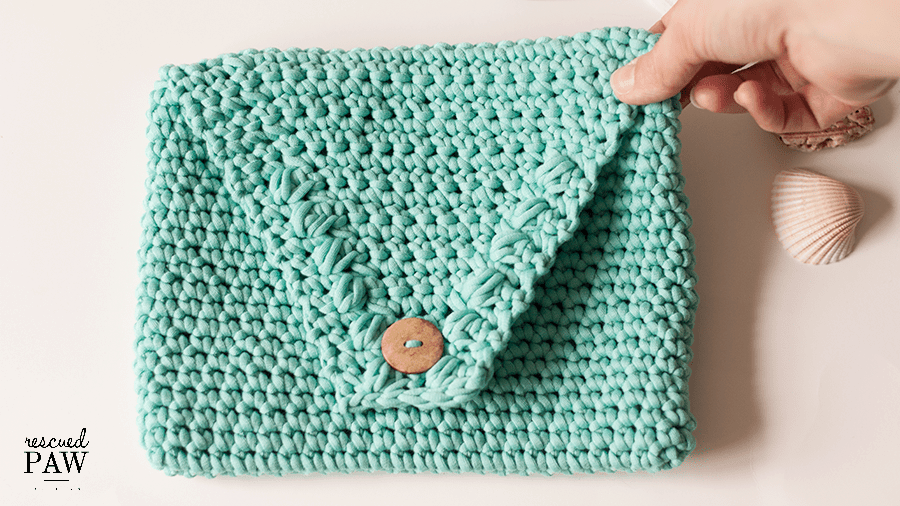 Finishing
Fasten off the last row. Weave in ends on clutch with a yarn needle. The next step is to turn the clutch inside out. Now you can see the beautiful little puffs you created with the SPHDCST! 🙂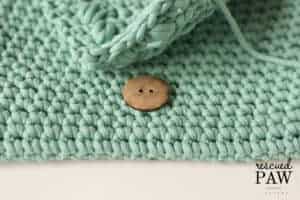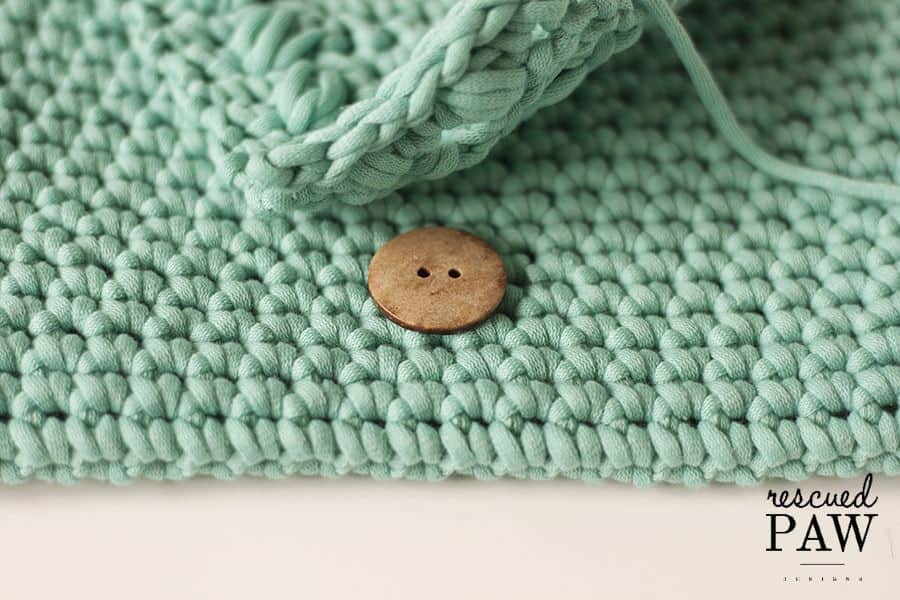 Attaching The Button
Place the button about 1 inch from the bottom of the beach glass clutch, as shown in the picture above, for correct placement.
Cut a 6-inch piece of leftover yarn and weave through the button starting from the back of the button.
Next, attach the button to the back by pulling through the yarn on both ends.
Secure tightly.

You are done making a crocheted bag. If you need any clarification about this beach glass clutch, please feel free to ask. Contact me at Krista [at] easycrochet.com with any questions. 🙂