Andy Button Scarf Crochet Pattern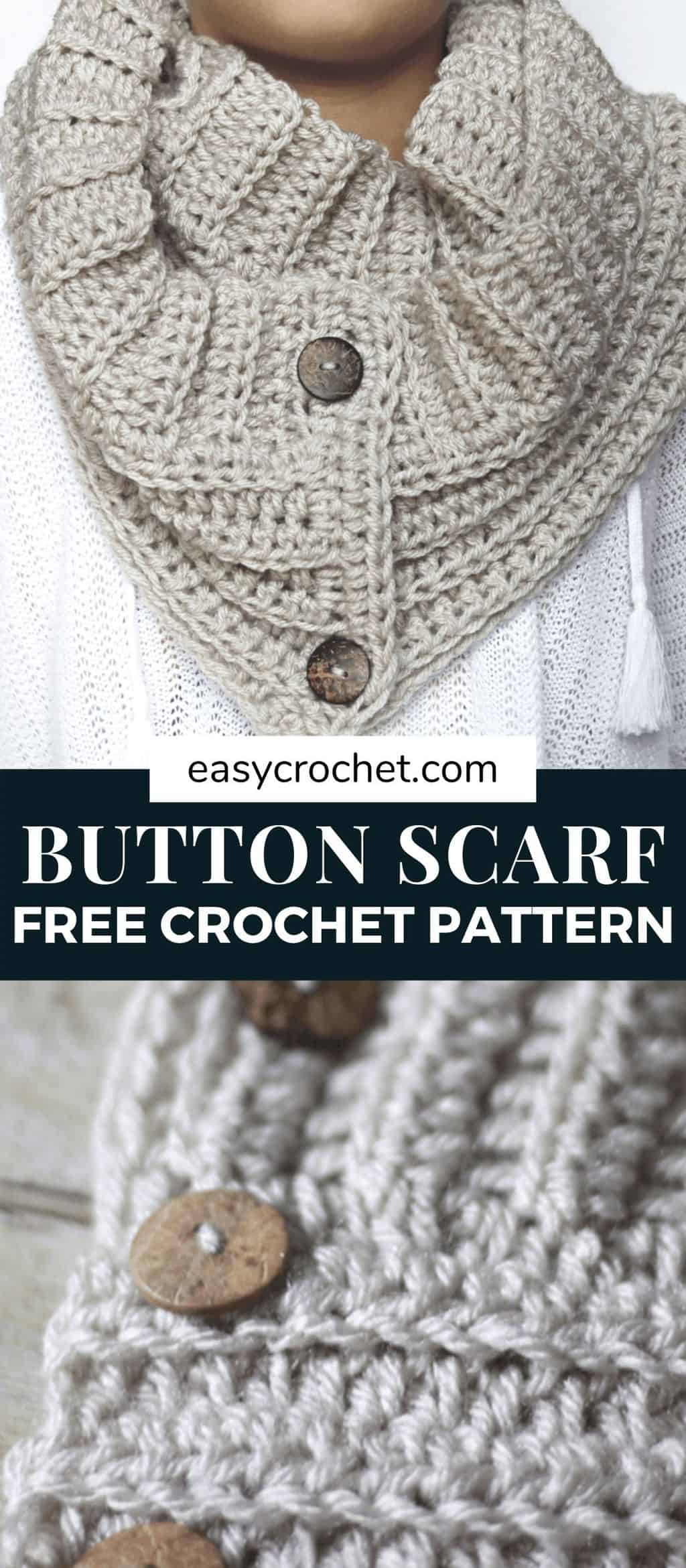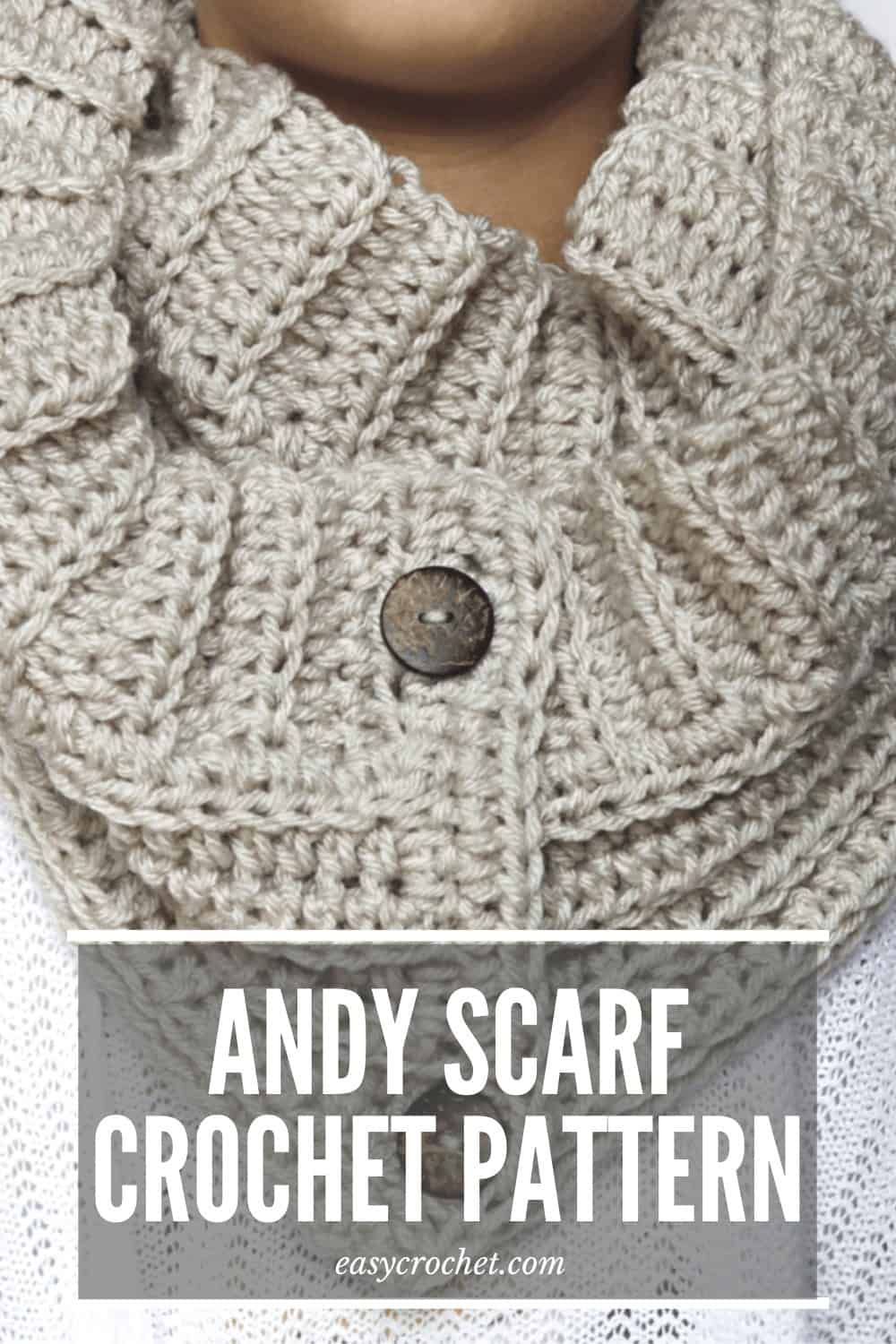 The Andy Button Scarf crochet pattern works up fast, uses less than two skeins of yarn (Vanna's Choice), and is the perfect scarf design for any crochet experience level.
Are you looking for more free crochet scarf patterns? Try my reader favorite Fab Fall Scarf, Pretty in Pink Scarf, or search the crochet pattern archive. I can't wait for you to make this simple scarf design but first I want to talk about the yarn I used.
Read on down for the free crochet scarf pattern, tutorial and material information.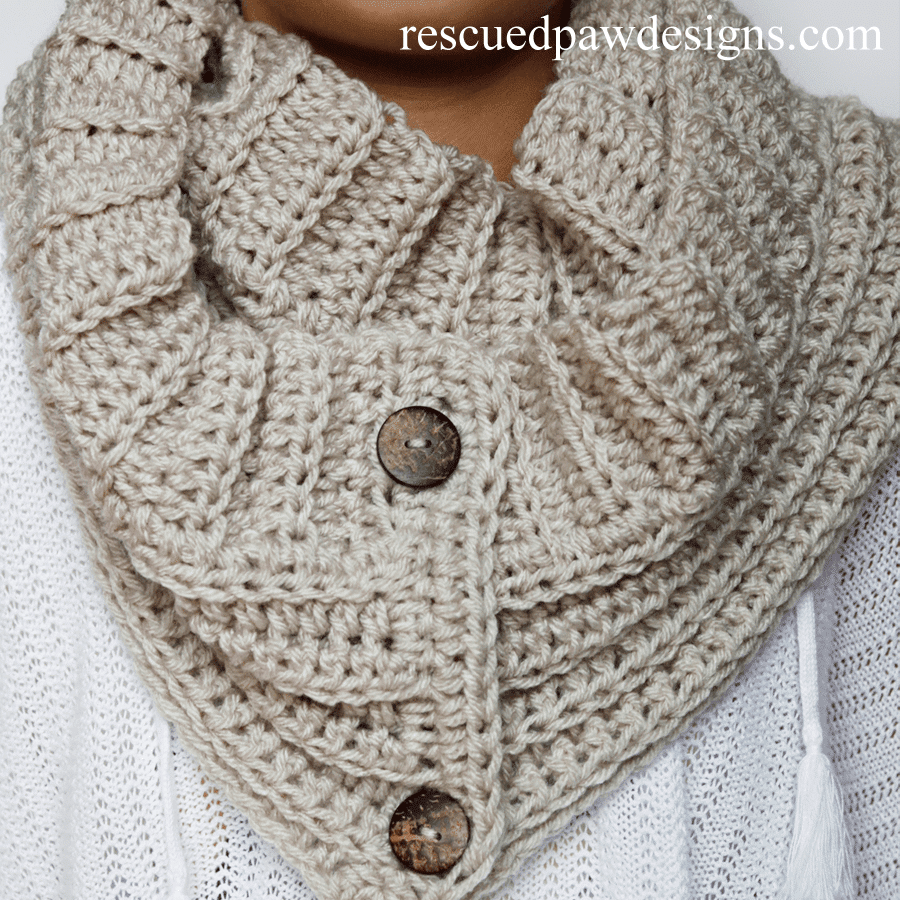 The Yarn That's Perfect for This Scarf
To design the Andy Button Crochet Scarf pattern I used one of my favorite yarns Lion Brand's Vanna's Choice in Linen which is a 100% acrylic worsted weight yarn that is soft and durable. It is available in a wide range of colors, so you'll be able to make your scarf with your favorite color!
Learn more about Vanna's Choice in my free guide about this yarn and you'll see just why I love it so much. This yarn is perfect for a scarf because of how easy it is to take care of. It can be washed repeatedly and will still look like new.
I've used Vanna's choice for a lot of my crochet patterns like my ombre crochet ripple blanket, striped crochet pillow, and many more!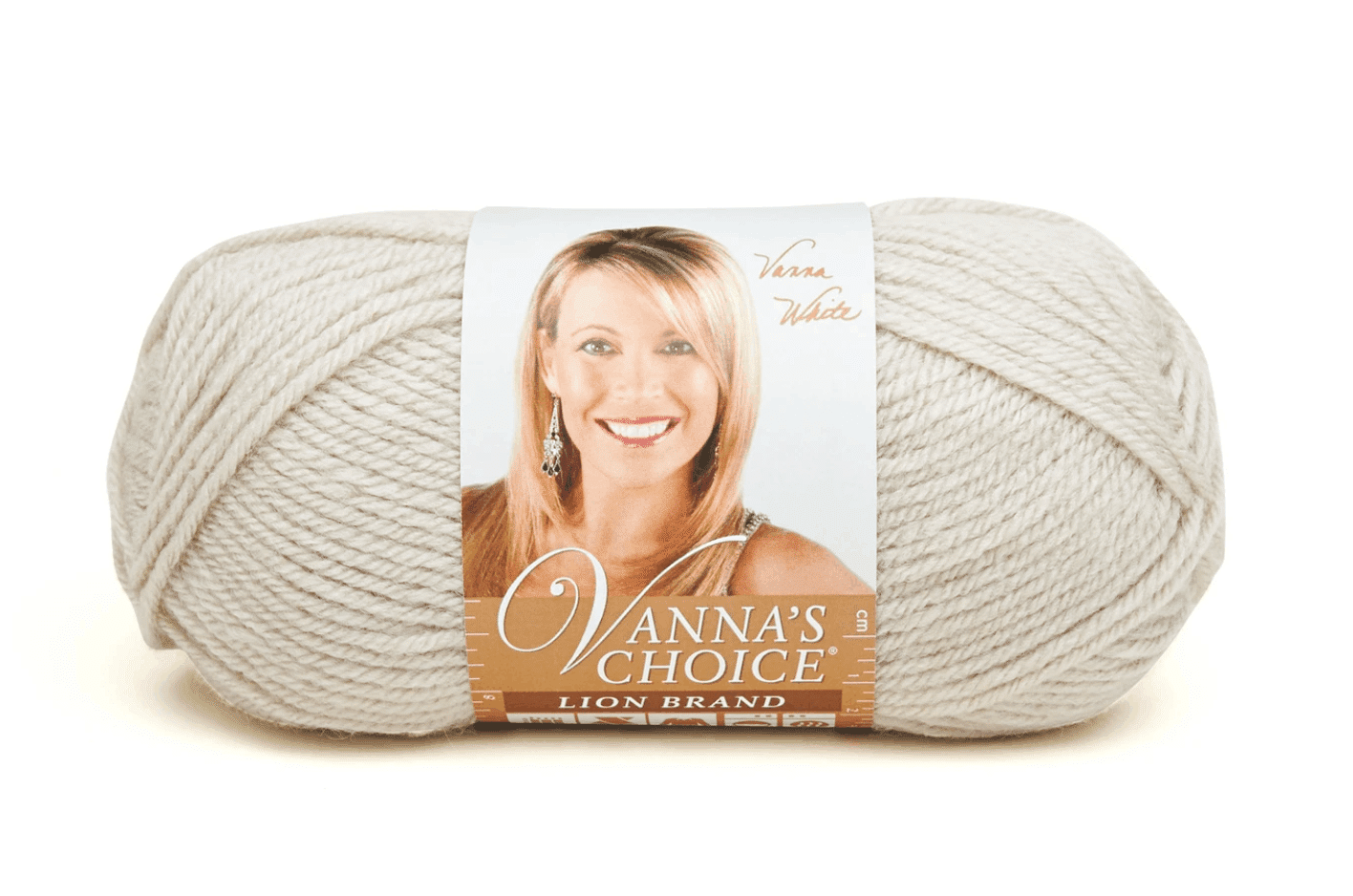 Let's Get Started
When you start crocheting this you are going to love how fast it works up and how perfectly it pairs with the Andy Hand Warmers that I also designed. You'll be set for winter with this cozy crocheted set.
This crochet scarf is one of my favorite crochet patterns to date and I hope you enjoy making it as much as I enjoyed designing it! Scroll on down for the free pattern.
Happy Andy Scarf Making!
Crochet Andy Button Scarf Pattern
Skill Level: Easy
Materials
Size J crochet hook 6.00 mm (or whatever hook is needed for gauge)
Yarn needle
Less than 340 yards of Lion Brand Vanna's Choice yarn in Linen (or any worsted weight (4) yarn)
Two 1″ buttons (I used coconut shell buttons)
Abbreviations
Gauge for Ribbing
Each row should be approx. 3″ wide x .70 high so 8 hdc's for every 3″
Gauge for Main Pattern
gauge is 12 hdc's for every 4″
Sizing
Approx. 64″ circumference & 6″ width (see how to change size below)
Notes
If you'd like to make this scarf longer, keep crocheting the ribbing to whatever length you'd prefer and follow the pattern as written or use our scarf size chart to help with sizing.
If the gauge is not followed, it will either be too big or too small. Try to follow gauge as closely as possible.
The pattern is written in standard US terms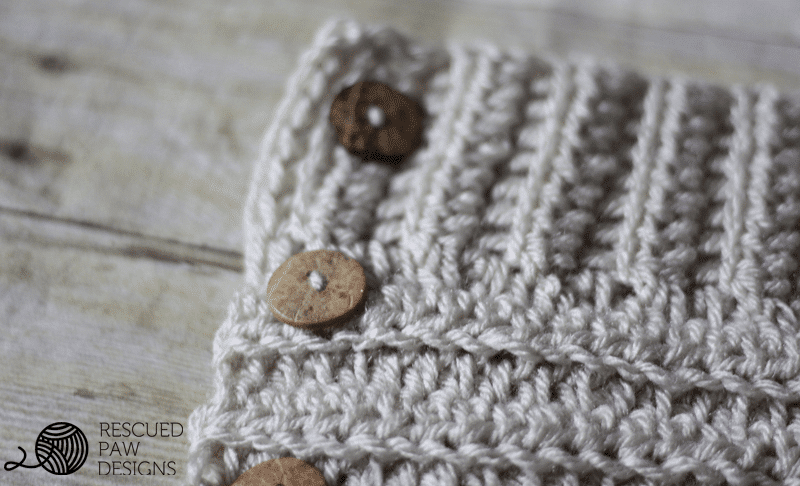 Pattern Steps
There are a few different parts of this scarf, all of which come together to make the Andy Scarf at the end.
Foundation Row: ch 9, hdc in 2nd ch from hook, hdc in remaining ch's across, turn (8)
Row 1: ch 1, working in the bl hdc, bl hdc in remaining ch's across, turn. (8)
Row 2- 95: repeat row 1. (8)
Do not fasten off yarn, ch 1, see scarf pattern below on how to continue.
Scarf
Working along long side of ribbing, going back along the edge of the ribbing you just worked up.
To make it even I did 3 hdc's for every 2 rows of ribbing. Starting with 2 hdc's in the first row. ending with 1 hdc in the last row.
Row 1: do 145 hdc's in evenly across long side of ribbing, turn. (145)
Row 2: ch 1, hdc in the bl, hdc in the bl of every st across, turn. (145)
Row 3-7: repeat row 2. (145)
Finishing: If you do not want buttons on your scarf, you can fasten off here and weave in loose ends with a yarn needle. If you want buttons do not fasten off yarn, ch 1, turn your work to short side of scarf, see pattern below on how to continue.
Button Holes (optional)
Row 1: hdc, hdc, sk 1 st, ch 1, hdc in next 10 hdc, sk 1 st, ch 1, hdc, hdc. (16)
Row 2: ch 1, hdc, hdc once in every st across. (16)
Finishing: attach buttons onto the other end of the scarf that doesn't have the buttonholes you just made evenly, so they will attach to the holes properly, about 1″ from the edge of the scarf.
Then weave in the loose ends throughout the scarf with a yarn needle.

How to Wear This Crochet Scarf
To wear this scarf as shown in the pictures follow the steps below. First, put it around the front of your neck unbuttoned with the tails around your back. Next, wrap both tails back to the front of your neck. Finally, button and wear!
Thank you for stopping by and I hope you enjoyed the Andy Button Scarf Crochet Pattern! If you have any questions, please feel free to email me at Krista@easycrochet.com and I'd be happy to help!
---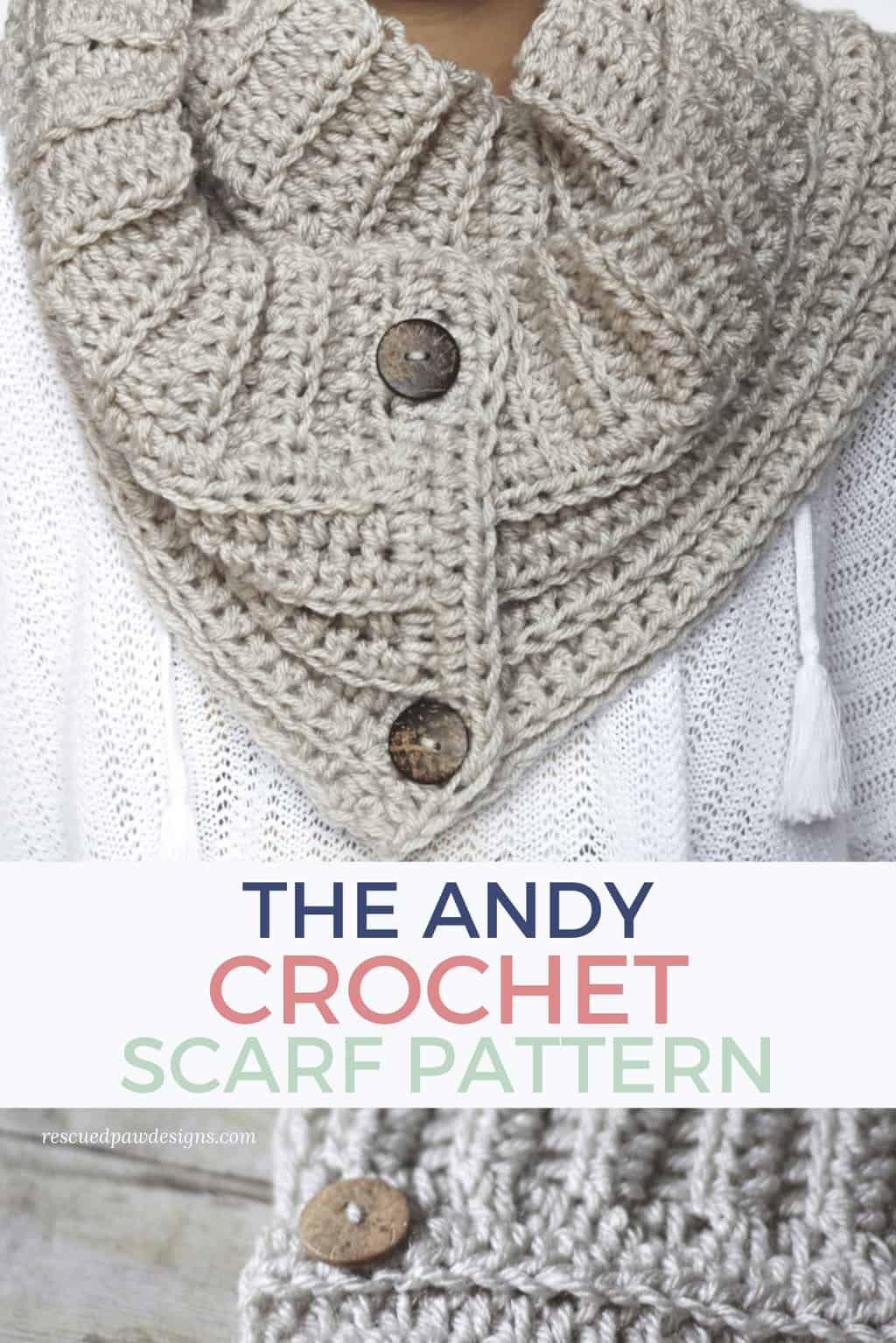 You May Also Like These Free Crochet Pattern Too
Free Wrapped Headband Crochet Pattern
+