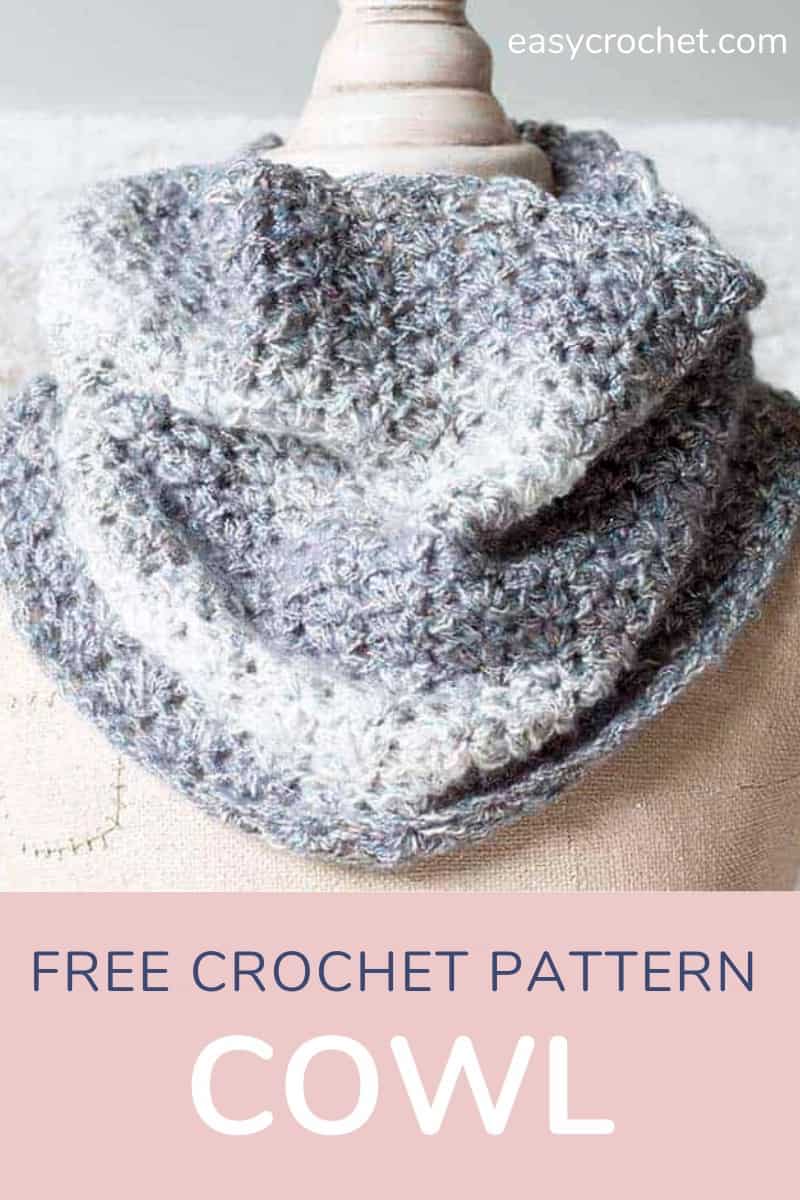 This free crochet cowl pattern is perfect for the cool months of fall & winter.
It also happens to be great for beginner crocheters to try too!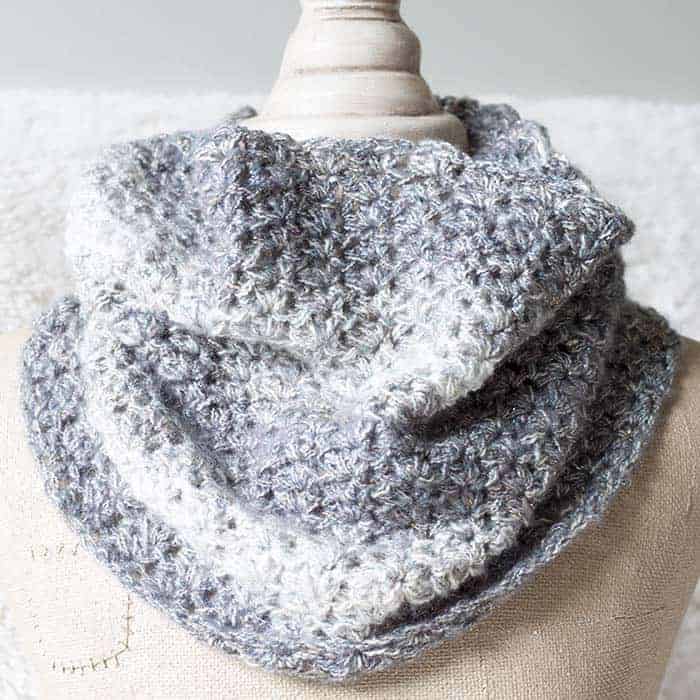 If you are looking for more free crochet scarf or cowl patterns I can help! Try the Easy Crochet reader favorite one hour cowl or this crochet scarf for beginners!
I hope you enjoy the shimmering snow cowl!
Happy Crocheting!
Make This Crochet Cowl for Winter!
With winter fast approaching this shimmering crochet cowl scarf pattern will get you in the mood for all things chilly and blustery.
Read on down to find the free easy crochet cowl pattern. This sparkly crochet pattern is the perfect way to start off the winter and celebrate the holidays.
Happy easy crochet cowl making!
Yarn for this post was generously supplied by Lion Brand Yarn through a collaboration. Thank you!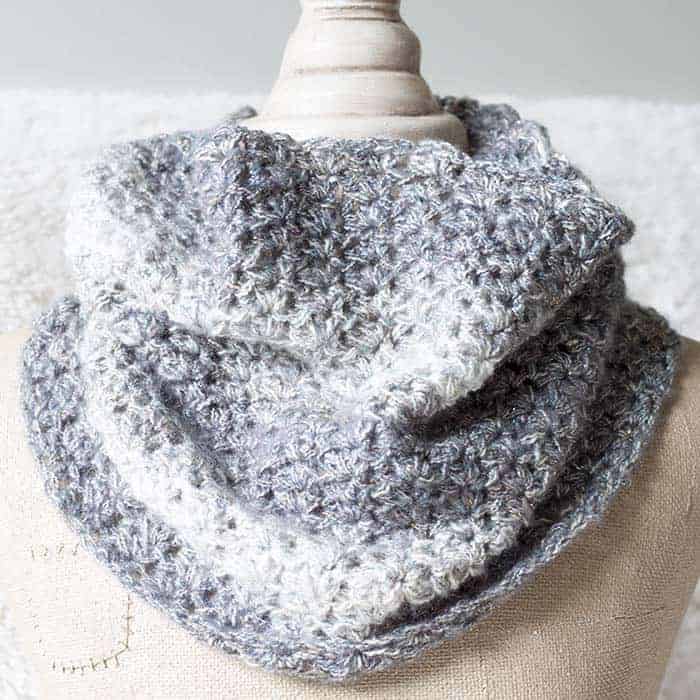 Winter is my favorite time of year! I love the white snow, sled riding, and hot cocoa by the fire! Every night my family is snuggled up together (to keep warm) talking about our day and just spending quality time together.
Not only is it the perfect time of year for family but it's also the perfect time to make cozy things with yarn! Which not gonna lie is most of the year for me! 🙂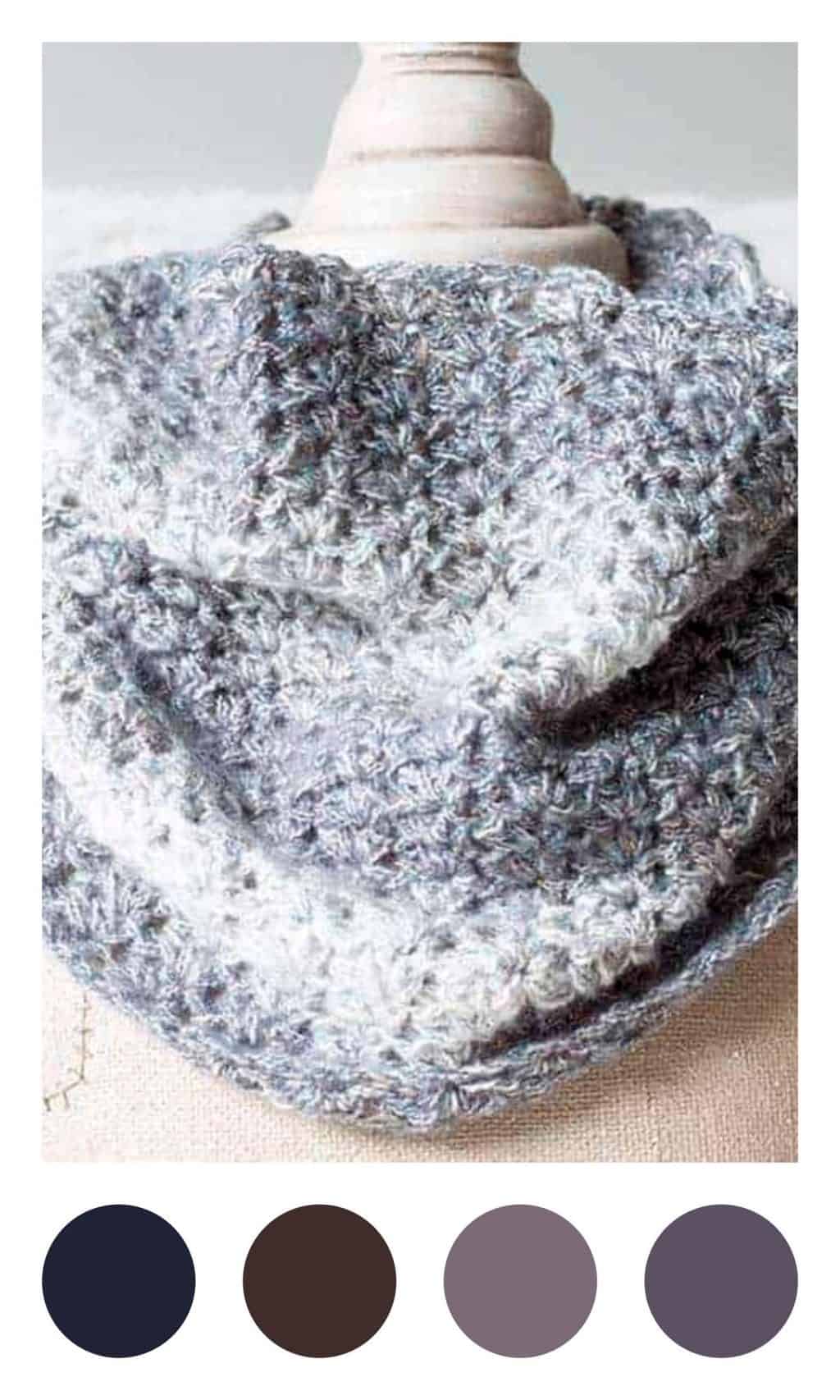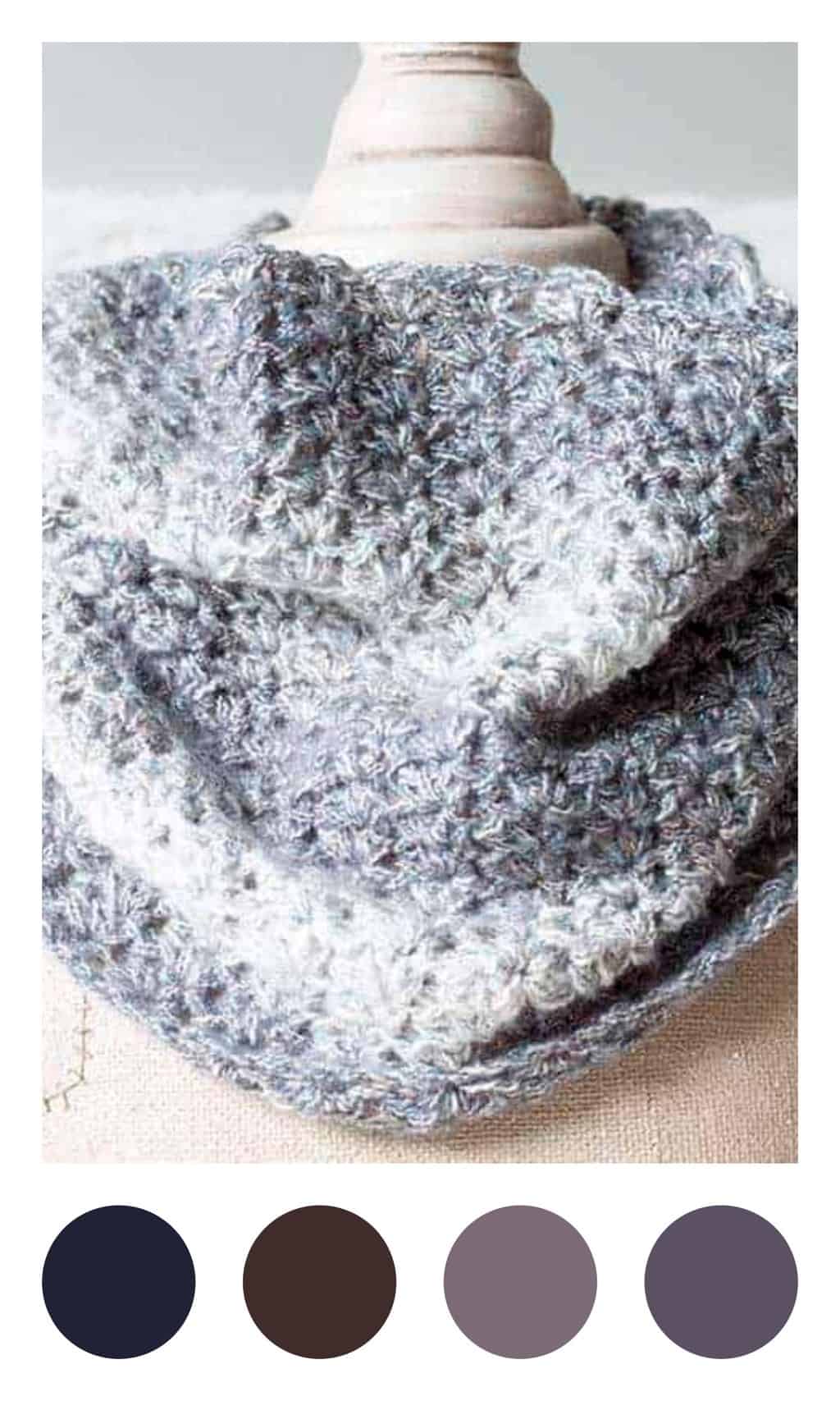 The Yarn That's Great for This Cowl Scarf Crochet Pattern
I designed this oversize cowl using Lion Brand Yarns Shawl in a Ball in the colorway Om OPAL which is now available as a cake!
How awesome is that?
If you want to take a look at the new Shawl in a Cake Yarn I'd highly suggest you do so! It is pretty awesome!
When I first saw this shimmering yarn It instantly reminded me of winter the most sparkly time of year! If you were looking for Lion Brand shawl in a ball patterns then this one is for you! ❄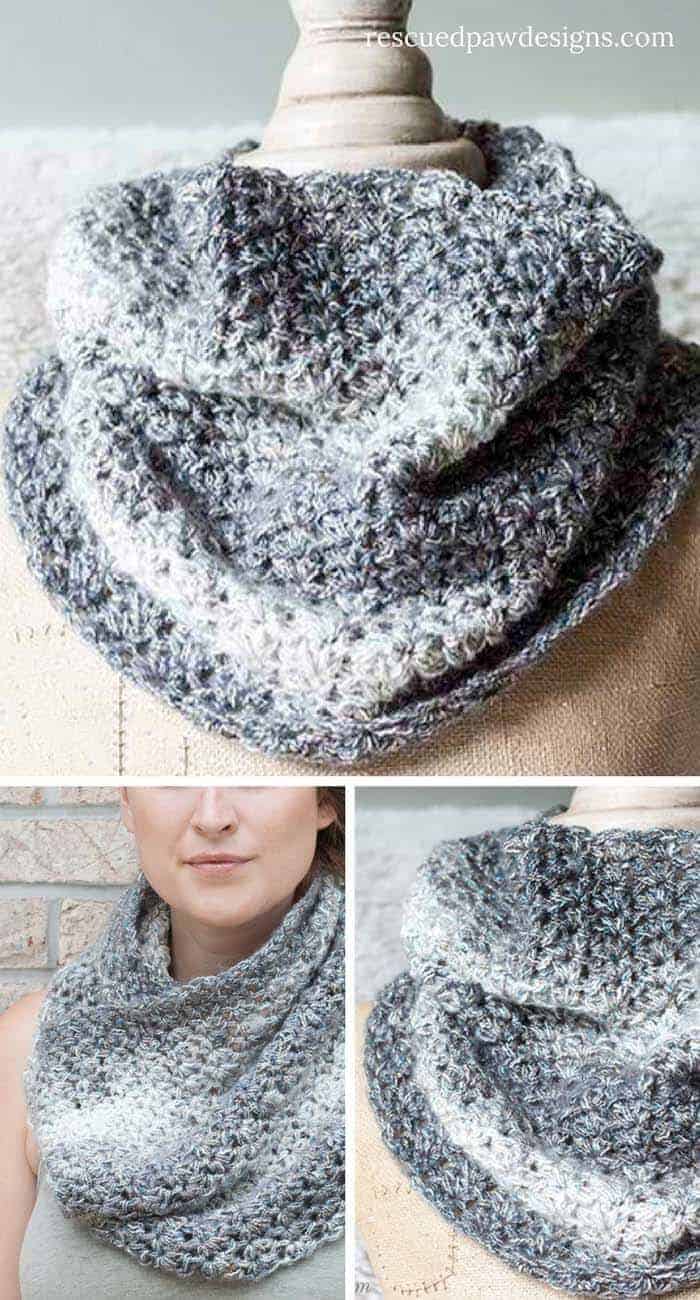 This Simple Cowl Uses Easy Crochet Stitches!
Since this pattern uses simple stitches like the half double crochet and single crochet this would be great for any level crocheter to crochet! HELLO, crocheting beginners out there.. you can do this!
When I am designing patterns like this and my one hour cowl I ALWAYS try to make them simple enough for everyone to enjoy so this one is no exception!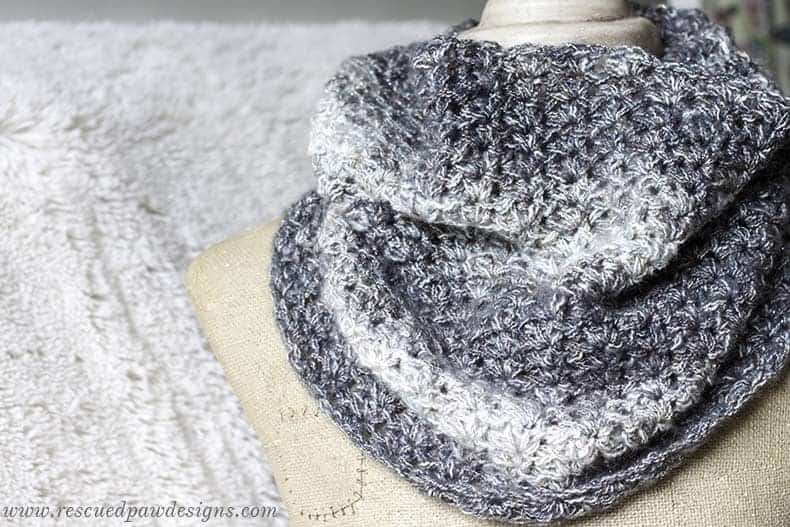 This Infinity Scarf is Worked in The Round!
I started the shimmering snow cowl by working in the round which is a great way to make a cowl because it works up smoothly and much faster! (In my opinion)
I then proceeded to do a combination of single crochets and half double crochets to give it a nice texture.
The Om Opal colorway is what is the icing on the cake because it really makes it stand out because of the ombre effect of the yarn. You'll love it! Promise.
Ready to Get Started?
Ready to try the Shimmering Snow Cowl? Read on down to find the full free easy crochet cowl pattern!
Stay warm friends and Happy Crocheting!
---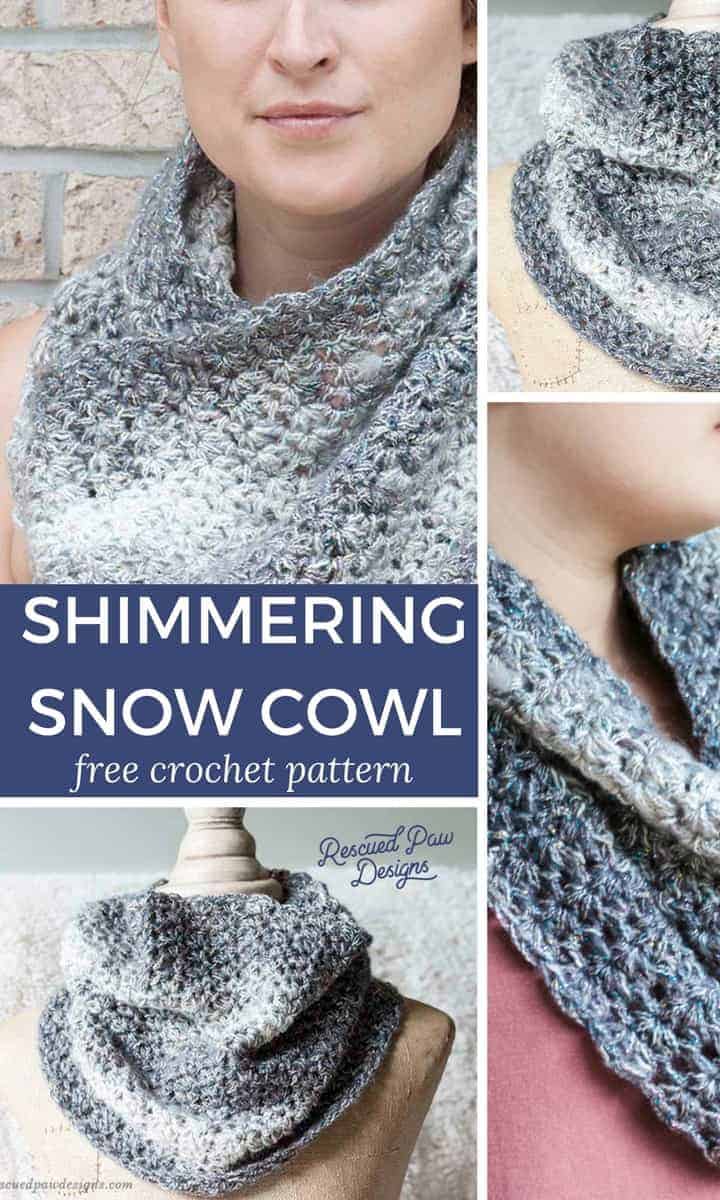 ---
Shimmering Snow Cowl
Take this pattern with you…Buy Now
There is an inexpensive printable version with more details and notes available for purchase on our shop. Purchases like this also fund the creation of even more patterns.

Skill Level: Easy
Materials
Crochet Abbreviations
CH = Chain
SL ST = Slip Stitch
HDC = Half Double Crochet
ST = Stitch
SC = Single Crochet
SK = Skip
Gauge
1 inch = 1 SC, HDC, HDC cluster
Finished Size
14″ Height & 32″ Circumference
Notes
Written in standard US terms
This pattern is worked in the round and is worked up using 2 skeins of yarn at once held together.
A stitch marker can be used to keep track of the beginning of each round if preferred. This is optional.
---
The Shimmering Cowl Pattern Steps
Written by Krista Cagle for Easy Crochet
FOUNDATION ROUND: Chain 94, join together with a sl st into the first ch making sure not to twist the chain.
ROUND 1: Ch 2, 2 HDC into the first CH, * SK the next two CH's, SC, HDC, HDC all into next CH, repeat around from * ending with 2 SK Chains, join with a SL ST to the top of the first HDC.
ROUND 2: CH 2, 2 HDC in first ST, **SK next 2 ST's, SC, HDC, HDC all into the next ST, repeat from * around ending with 2 SK ST's, join with a SL ST to top of the first HDC.
ROUND 3-25: Repeat Round 2 to finish the pattern.
FINISHING
Fasten off yarn with scissors and weave in all loose ends throughout the cowl with a yarn needle. That's it! Now go wear, say look what I did or go show off your new creation.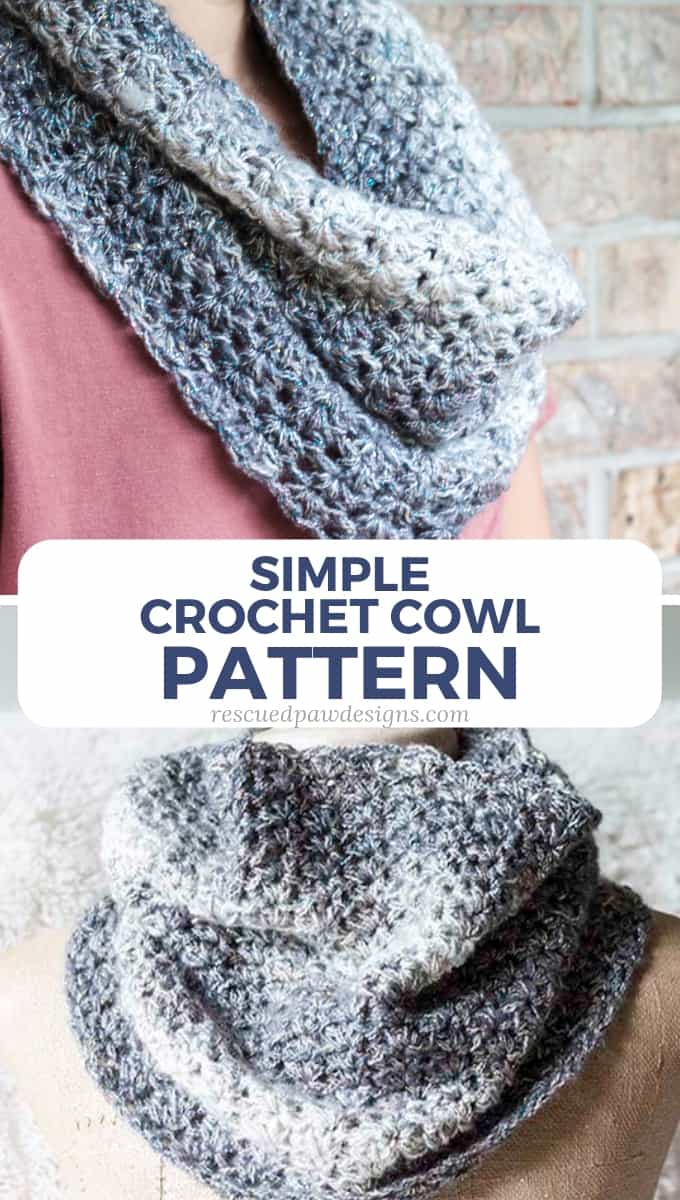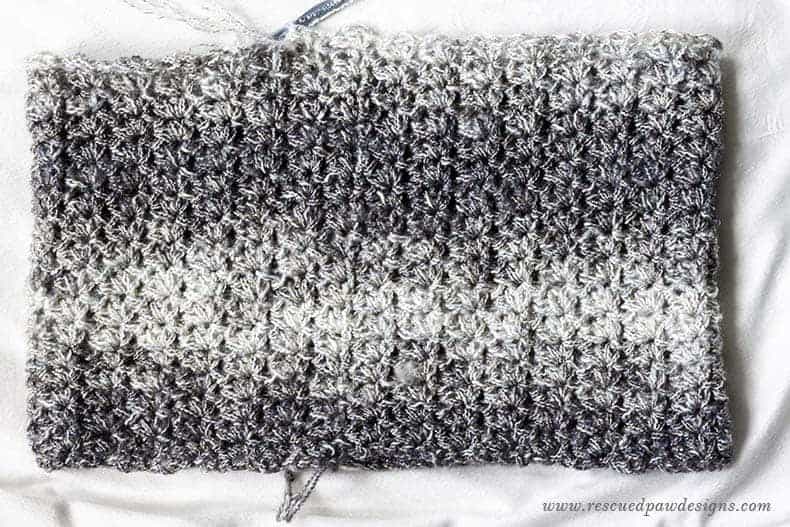 I hope you enjoyed this shimmering snow cowl pattern! I love designing cowls so if you are wanting to crochet even more check out my One Hour Cowl or my Andy Cowl crochet patterns.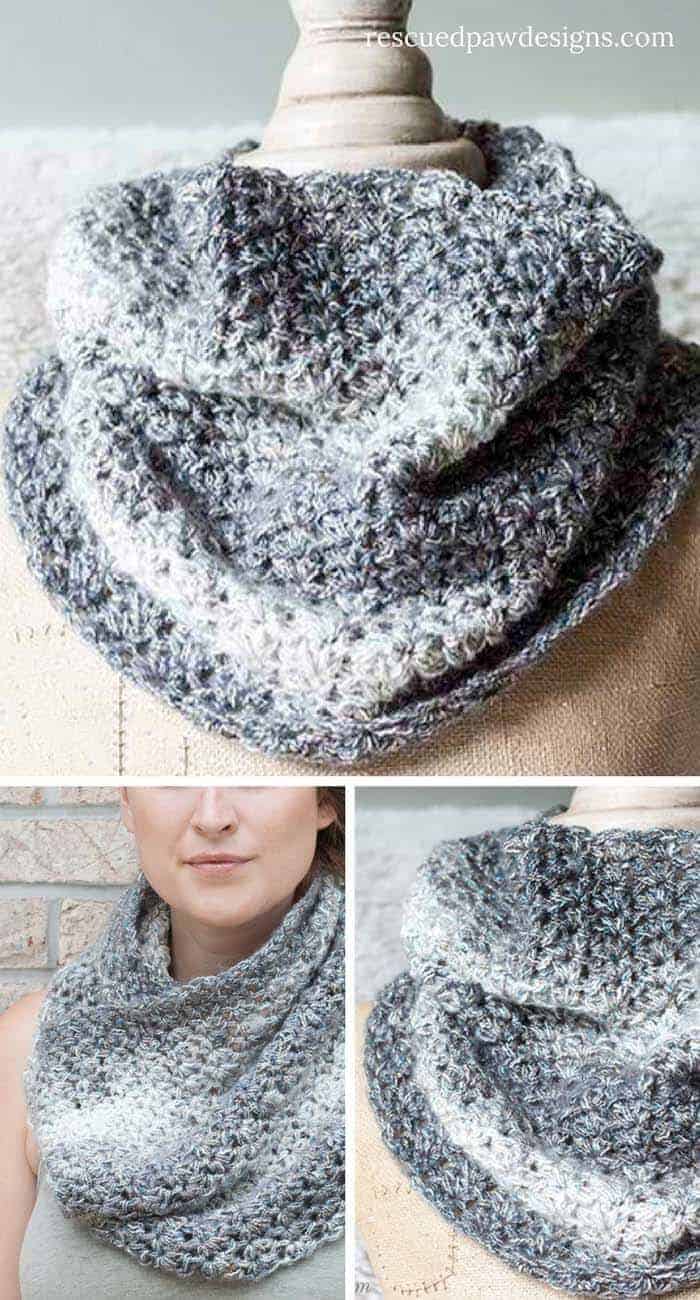 Happy Crocheting!