Textured Cowl Scarf Crochet Pattern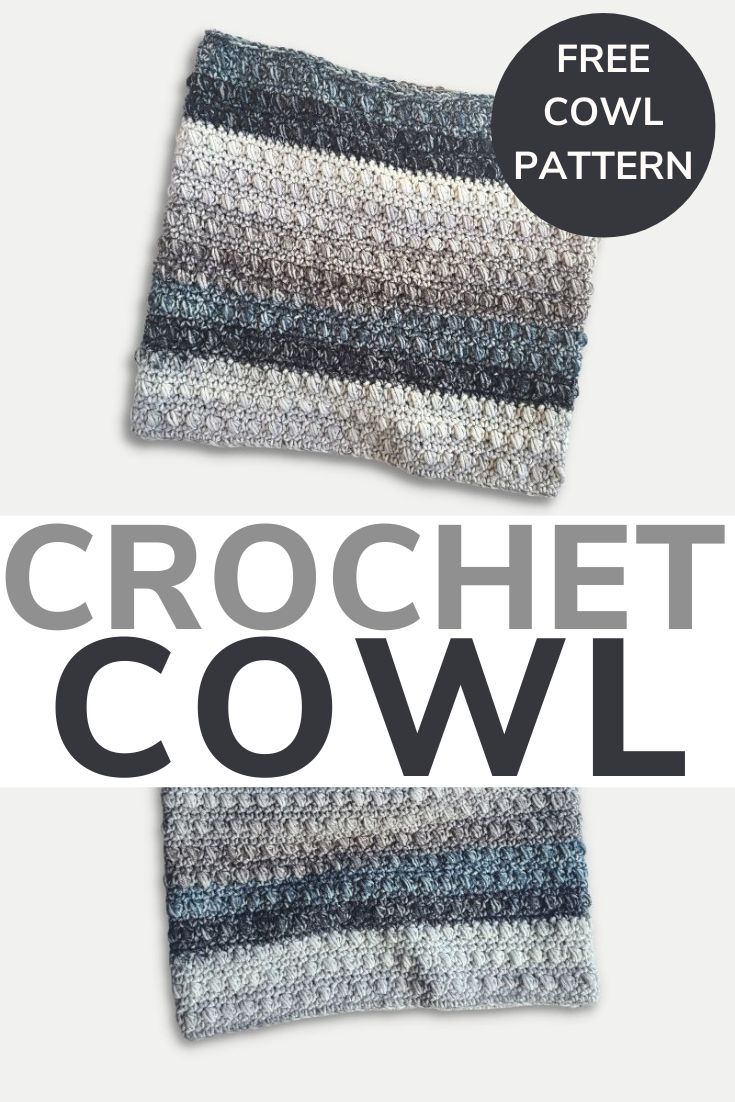 If you are looking for an easy crochet cowl, then this free pattern is the one! It's made with simple crochet stitches and comes together quickly.
The best part of this design is that when you are done making it you could wear this as a cowl or even a hooded cowl depending on how the cool the weather is!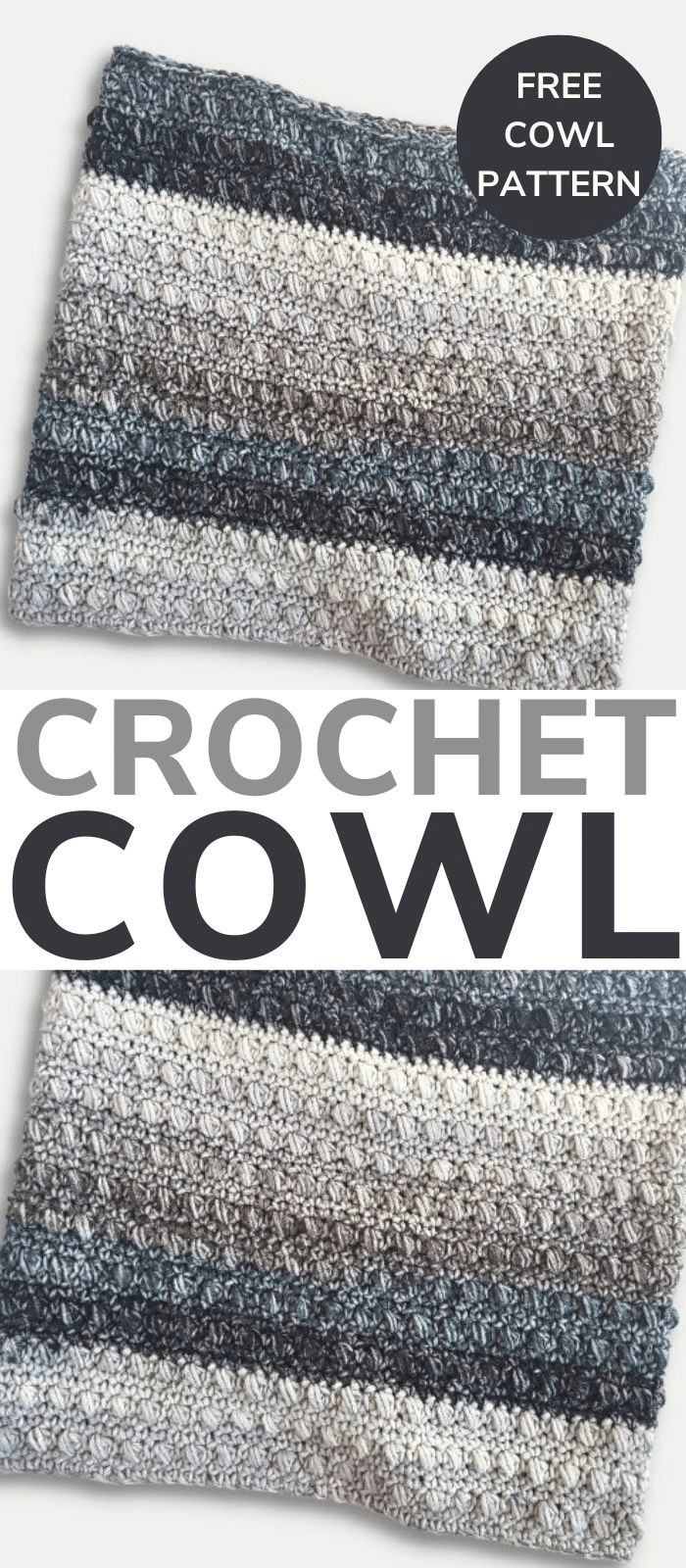 Scroll on down to learn about the stitches to use, the yarn and to find the full free crochet cowl pattern.
We've also listed out how to make this cowl bigger too if you'd like to make a larger cowl with more coverage. Enjoy!
Supplies for a Cowl Scarf
To crochet a cowl like this, you'll need a couple of crochet tools and supplies like yarn, a crochet hook, a pair of scissors and a yarn needle.
Yarn
I used a four weight yarn from Lion Brand called Mandala Ombre in the color Cool. It has a beautiful ombre look to it that gradually fades from one color to the next flawlessly.
To make the easy crochet cowl, you'll only need less than two cakes of this yarn. It is easy to find, I found mine at Walmart and not only that, it is affordable, which is always a good thing.
---
Mandala
This yarn is made by Lion Brand, and is a Weight 4 – Medium yarn.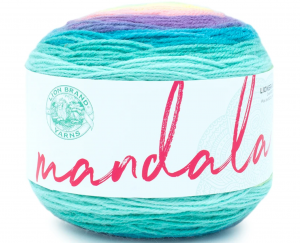 Buy Now
Patterns Using This Yarn →
---
Keep in mind that you will find that mandala yarn has many color varieties and types available. Be certain you purchase the mandala ombre version if you'd like the same look as the crocheted cowl seen here; otherwise, you are welcome to get whatever yarn you'd prefer.
Crochet Hook
You'll also want to make sure you have an I-(9) 5.5 mm crochet hook size on hand to crochet this cowl. I found that this size worked perfectly with the Mandala ombre yarn and the stitches that were used in this cowl.
---
5.5 mm (I-9)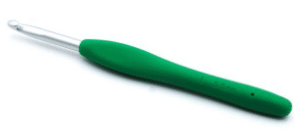 Buy Now
Patterns Using This Hook →
---
Take a look at the crochet hook size above to learn more about it, as well as see other crochet patterns made with this size crochet hook.
My favorite crochet hooks to use in projects like this cowl are the Clover hook shown above and Tulip Etimo hooks! I suggest buying one or two of a couple of different hook brands to see which you prefer when crocheting.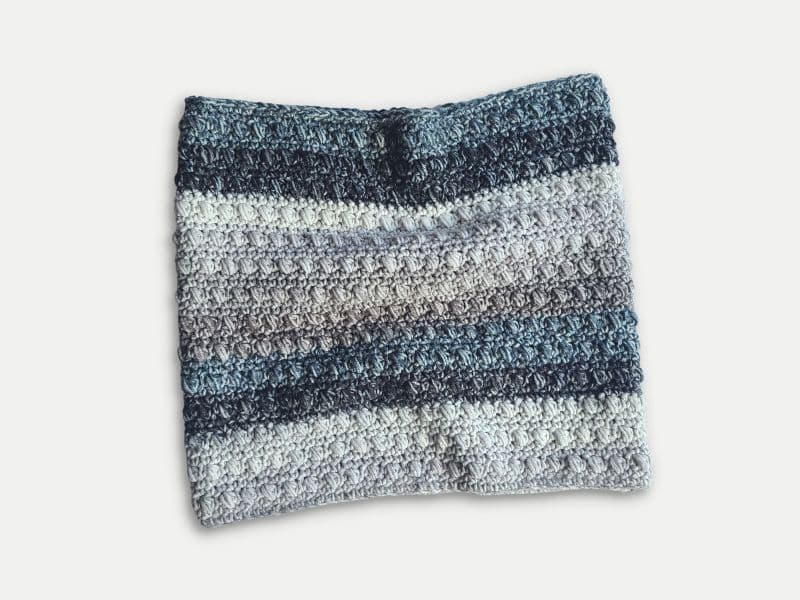 The Stitches for a Cowl
The basic crochet stitches that are used to work up the easy to crochet cowl pattern below are beginner-friendly. You will need to know how to make a puff stitch, draw up a loop and know the single crochet stitch to make this easy crochet scarf.
Insert hook from front to back in the second chain from the hook or designated stitch
Bring the yarn over (Yo) the hook and pull the yarn back through the chain (or stitch) from back to front (2 loops on hook).
Yo and pull through both loops on the hook.
Puff Stitch (puff): Puff stitches will vary with how many loops they will pull up (aka draw up). I am using 7 for this cowl.
*Yo, insert a hook into the designated stitch and draw up a loop, repeat from * into the same stitch 3 times for a total of 7 loops on the hook
Yo, pull through the 7 loops on the hook, ch 1
Draw up a Loop:
This involves yarning over (yo) inserting your hook from front to back through a designated stitch(st), yo and pulling back through that same st.
Cowl Crochet Pattern
Skill Level: Easy
Materials

Crochet Stitches and Abbreviations
Finished Size
Notes
The Pattern
Round 1: Ch 90, join with a sl st to form a circle, making sure not to twist the chain.
Round 2: Ch 1, sc into each ch around, sl st to the first sc of the round. (90)
Round 3: Ch 1, sc into each st around, sl st to the first sc of the round. (90)
Round 4: Ch 1, sc into the first st, *puff, sc into the next st, repeat from * around. (90)
Round 5: rep round 3
Round 6: rep round 3
Round 7: rep round 4
Round 8 to 42: rep round 5-7
Round 43: rep round 3
Round 44: rep round 3
Finishing: Fasten off the yarn, weave in the loose ends throughout the scarf with a yarn needle.