The Best Learning How to Knit Kits for Beginners
Are you new to knitting? Do you want to learn how to knit? If so, learn how to knit with one of these knitting learning kits for beginners.
Each of these knit kits for beginners have easy to read patterns using simple stitches, which means they are all perfect for new knitters and will have you knitting in no time at all.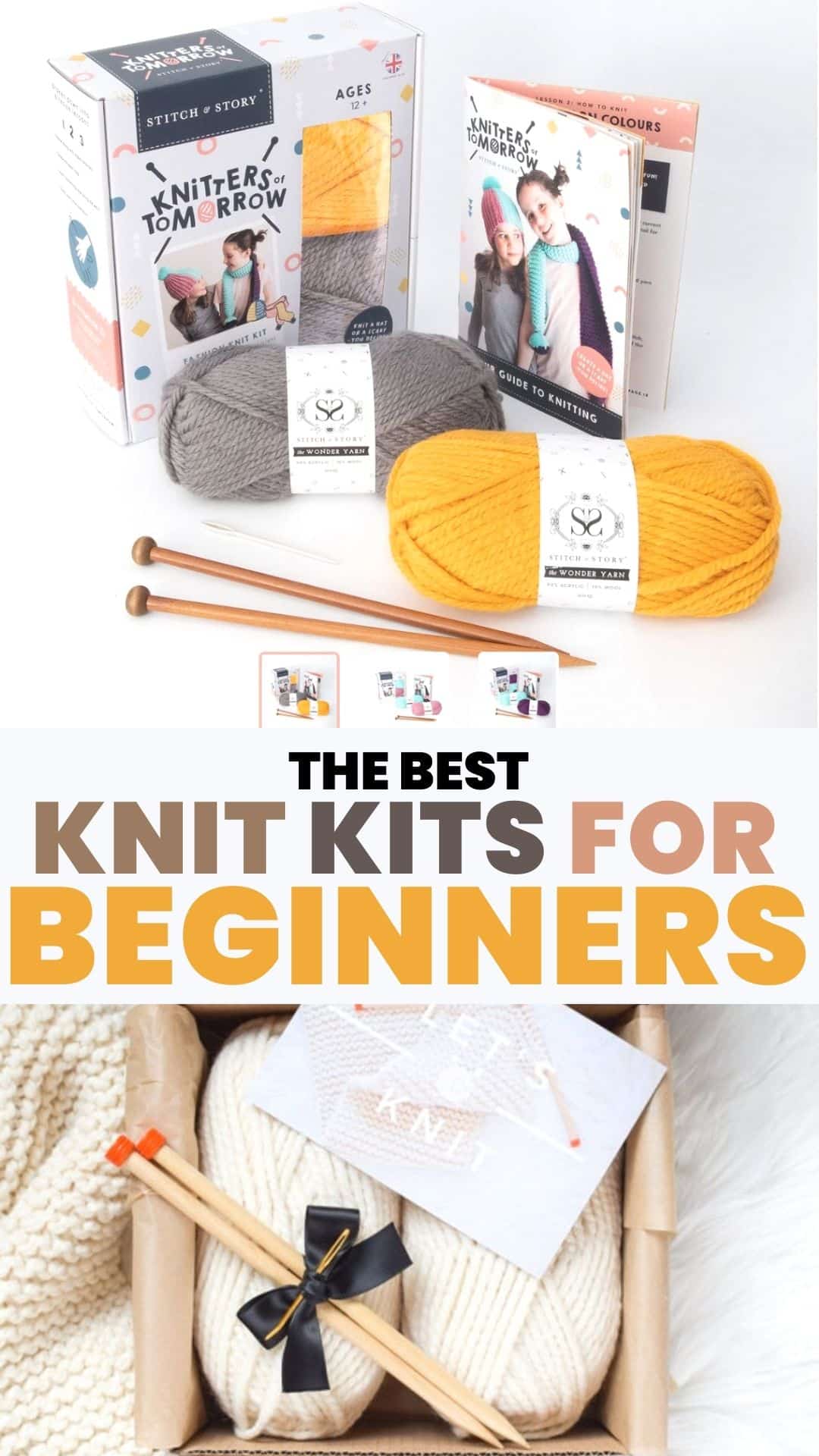 What is a Beginner Knit Kit?
A beginner knit kit is a collection of knit items together in a box or bag that will have everything you need to complete a knitting project.
Basic knit kits usually contain yarn and a pattern. This type of set is convenient and allows a beginner to start knitting a project immediately.
Sometimes kits will include other basic knit supplies made just for knitting for beginners. These items are typically ones that you'll need to get started on your journey of how to start to knit.
Learn more about what to look for in knitting starter kits below.
What does a Knit Kit Include?
Most knit kits for beginners (or more advanced) will include all or most of these items:
Yarn
Yarn Needle (aka a Darning Needle or Tapestry Needle)
Scissors
Digital Pattern or Printed Pattern
These supplies above may or may not be included in some beginner knitting kits. Some may also a tape measure or accessories like safety eyes or toy stuffing depending on what project you chose.
Be sure to read all the information about the kit you will be purchasing, so you know exactly what you'll have on hand to start knitting. The list above will help you, so you'll know exactly what to search for in a knit kit and knitting projects.
Make a DIY Knitting Kit
A prepared knit kit makes a perfect gift, and they are super easy to put together.
After looking through the list above and learning what goes into a knit set, you could collect items for a kit yourself. You'll want to shop for a pair of knitting needles or knitting needle set, yarn (learn about the different types of yarn) and a pattern. There are loads of free patterns here on the Internet that are perfect for new knitters.
Take a look at some tools and supplies you'll want to have to make your beginners knitting kit below.
Knitting Needles: When shopping for knitting needles, it is best to start with one or two different brands to see which you prefer. There is a good deal of needle sizes, so if you already have a pattern in mind, be sure to purchase the needle it calls for.
Yarn: Yarn is available in many fibers (wool, cotton) and weights (medium, bulky). Most craft stores and shops online have yarns that are easy to find and are great for beginners, such as yarns from the Lion Brand Yarn Company.
Knitting Pattern: Most beginners will more than likely start with a smaller project such as a dishcloth, baby blanket or scarf. Once you find the pattern you would like to knit, read through it to find out what other materials or supplies you'll need.
Best Knitting Kits for Beginners
Use one or all of these knit kits to learn how to knit. They all have simple instructions and are a great way to learn all about knitting.
Photo Credit: www.lionbrand.com
This simple knit tank is a great beginner project since it uses only a knit and purl stitch! This knit top works up fairly quickly and does not have any difficult shaping.
Photo Credit: www.lionbrand.com
You'll love this simple knit sweater design to make as your first sweater! The kit includes the extra soft Feels Like Butta yarn and the PDF pattern!
Photo Credit: www.stitchandstory.us
This easy knit kit includes the yarn, knitting needles and six beginner-friendly knit patterns.
Photo Credit: www.etsy.com
This beautifully packaged knit kit includes yarn, a tapestry needle, knitting needles and an instructional book to make a beginner knit scarf.
Photo Credit: www.woolandthegang.com
These fingerless knit mittens are a great way to learn how to knit mittens! You can pick your favorite color to knit these mittens in, too!
Photo Credit: flaxandtwineshop.com
Use this beginner kit to knit a trivet by hand. The finger knit kit is a great gateway to the world of knitting.
Photo Credit: www.purlsoho.com
This is a great project for knitters who are new to knitting or who are looking for a simple, quick project. Comes with super soft merino yarn, wooden straight needles and options to make three styles of a knit scarf.
Photo Credit: smokeandslate.com
With these two kits, you will learn how to knit using straight needles and circular needles, as well as how to use a pom pom maker. 
Photo Credit: www.lionbrand.com
This cozy wool knit scarf is a great project for a beginner knitter to make! The kit includes all the yarn you'll need as well as a PDF pattern.
Photo Credit: www.stitchandstory.us
This knit kit for children ages 12+ will teach them how to knit either a hat or scarf. A free video tutorial is also included.
Photo Credit: www.etsy.com
Learn how to make a beginner knit hat with this knit kit! The kit includes everything you'll need such as yarn, knitting needles, stitch markers and more! See the picture for what is included in this beginning knit kit.
Photo Credit: www.lionbrand.com
Learn how to knit a throw blanket with this knit tutorial and kit from Lion Brand. It uses easy stitches and knits up quickly.
Photo Credit: www.etsy.com
The kit includes a small ball of yarn, knitting needles, and a 32 page learn to knit booklet.
Photo Credit: woolandthegang.com
Learn how to knit this color blocked knit blanket with this pattern and kit from Wool & the Gang.
Photo Credit: weareknitters.com
Use this beginner kit to make a knit beanie! The kit contains one ball of yarn, circular needles and a knit instructional book.
Looking for a Crochet Kit?
I hope you enjoyed this collection of beginner knit kits! I also have a great list of crochet kits for beginners if you'd prefer to create, or buy one of those instead.
Free Knit Patterns