13 Crochet Donut Patterns (All Free!)
If you love to crochet and have a sweet tooth, we've got something exciting for you… Crochet Donut Patterns! Crocheting donuts or some kind of donut pattern is a fun way to show your love.
We're here to share a collection of irresistible crochet donut patterns. Whether you're into colorful sprinkles or realistic glazed donut designs, get ready to crochet some patterns that will satisfy your crafty cravings and your love for all things sweet.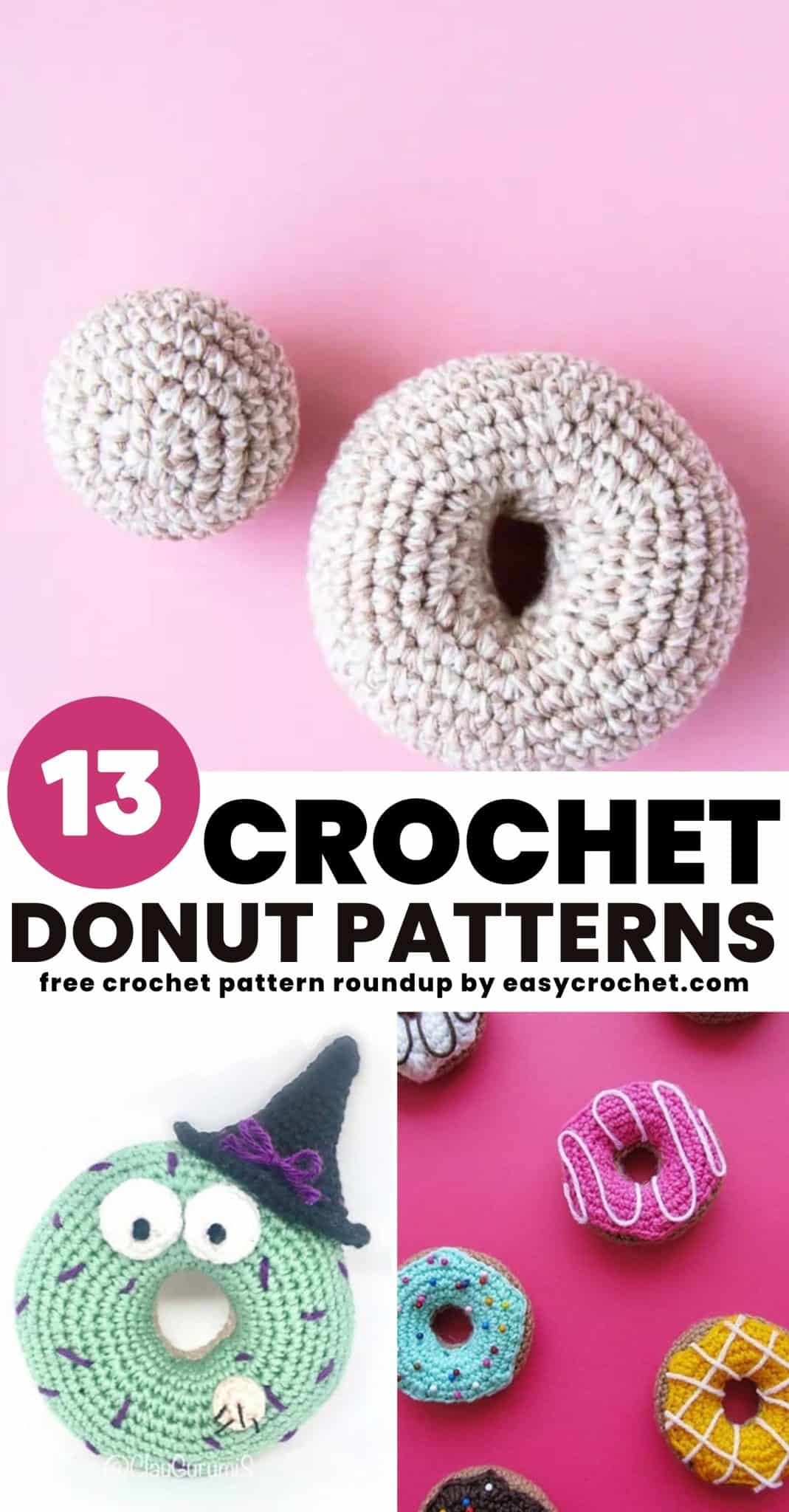 How to Crochet Donut Patterns
The donut patterns below require a few basic supplies and a thorough understanding of crochet stitches and techniques.
Materials for Crocheted Donuts
To crochet the variety of donut patterns below, you'll need a few essential materials or tools on hand, such as:
Yarn: Choose various colors of yarn to replicate the different donut flavors and toppings. Opt for worsted weight yarn, which my favorite, or if not, any yarn is suitable for your project.
Crochet Hooks: Select crochet hooks that correspond to the yarn weight you're using. Most yarn will list the recommended crochet hook size on the label. The specific size will depend on the pattern and your tension preference.
Stitch Markers: These helpful tools will help you keep track of your rounds and stitch counts, especially in more intricate patterns.
Yarn Needle: A yarn needle with a large eye is necessary for weaving in ends and sewing together different pieces if required.
Scissors: A pair of sharp scissors is essential for cutting yarn and trimming any loose ends. I prefer stork scissors for my projects.
Stuffing or Fiberfill (optional): If you plan to make amigurumi-style donuts, you might need stuffing or fiberfill to give them a plump and three-dimensional appearance.
Embellishments (optional): Depending on the pattern and your creative choices, you may want to include additional elements like beads, pom-poms, or embroidery floss for sprinkles or other decorative details.
Make sure to refer to the specific pattern instructions for any additional materials or tools that may be needed. With these basic supplies in hand, you'll be ready to create an assortment of crochet donut patterns.
Stitches
Crochet donut patterns typically use basic stitches like chain stitch, single crochet, double crochet, slip stitch, increase, and decrease to create the desired shape and texture.
Chain Stitch (ch): The foundation of most crochet projects, the chain stitch is often used to start rounds or create loops for donut holes.
Single Crochet (sc): This simple stitch creates a tight and dense fabric, often used for the base of the donut or to create smooth rounds.
Double Crochet (dc): Double crochet stitches add height and create an open and textured look, commonly used for creating the body of the donut.
Slip Stitch (sl st): The slip stitch is used to join rounds, create smooth transitions, or add details to the donut pattern.
Increase (inc): Increasing stitches by working multiple stitches into the same stitch helps shape the donut and create a wider circumference.
Decrease (dec): Decreasing stitches by working stitches together helps shape the donut and create a narrower circumference, often used to create the donut hole.
Magic Ring or Adjustable Ring: This technique is commonly used to start projects in the round, providing a secure center for the donut.
Note: The specific combination and variation of these stitches will depend on the individual donut pattern you are following. Always refer to the pattern instructions for guidance on which stitches to use and when to use them.
Why You Should Crochet a Donut
Customization: Crochet donut patterns can easily be customized. You can experiment with different colors, frosting styles, toppings, and even sizes to create a unique and personalized donut that suits your taste.
Versatility: Donut patterns can be used in various ways beyond standalone decorations. You can incorporate them into blankets, pillows, coasters, keychains, play food for kids in their kitchen or even as appliques for clothing and accessories. The possibilities are endless!
Skill Levels: Donut patterns come in a range of difficulty levels, from beginner-friendly designs with basic stitches to more intricate patterns for advanced crocheters. This allows crafters of all skill levels to enjoy making donuts.
Gift Ideas: Crochet donut creations make fantastic gifts for friends and loved ones. Whether it's a cute keychain, a cozy blanket, or a set of coasters, handmade donut-themed items can bring joy and a personal touch to any occasion.
Crochet Donut Patterns
Crochet donut patterns offer a fun twist to your crafting projects. From vibrant sprinkles to "realistic" glaze, these mouthwatering creations satisfy both your love for crochet and your sweet tooth. Take a look below at some of the best free crochet patterns for donuts you can make!
---

Whether you're a beginner or an experienced crocheter, these donut patterns offer a wide range of options for you to pick from. So, get your crochet hook, choose your favorite pattern, and let your imagination run wild as you create your own crochet donut collection. Happy hooking!
More Free Crochet Patterns