21 Easy Crochet Bracelet Patterns
If you are a fan of crochet jewelry, then you'll love this collection of free crochet bracelet patterns! Below, I'll share the best yarn to use for bracelets, as well as give you a big list of over 20 different crochet bracelets you can crochet today!
These patterns are mostly easy (I promise you can make one!) and are great for all skill levels of crocheters. It doesn't matter if you are new to crocheting or advanced, these easy crochet bracelet patterns are for you. Enjoy.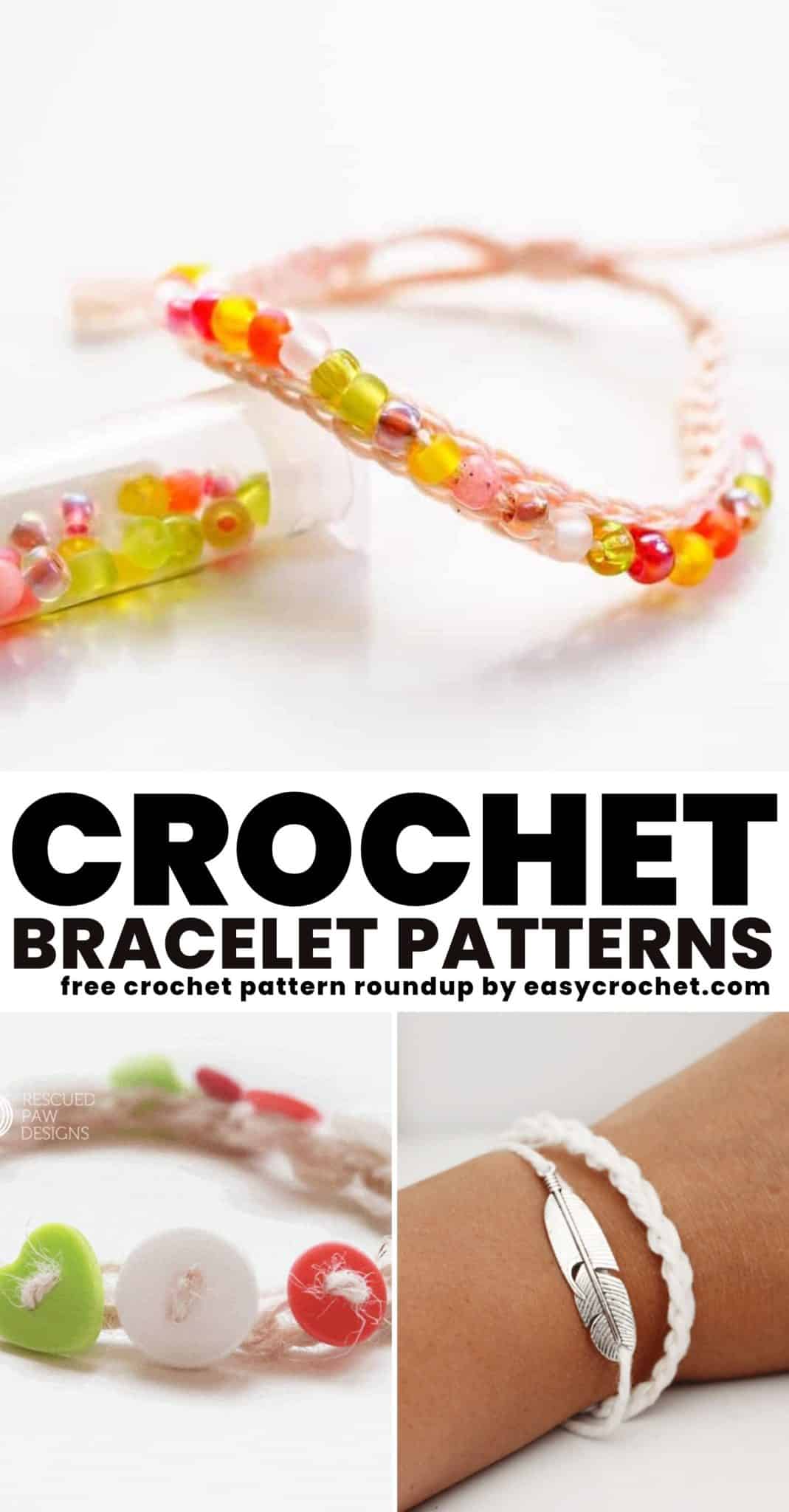 Supplies & Materials For Crochet Bracelets
Yarn
When it comes to picking yarn for crochet bracelet patterns, there are a few factors to consider. The choice of yarn will depend on the desired look, feel, and durability of the bracelet. Here are some popular options:
Cotton Yarn: Cotton yarn is a popular choice for crochet bracelets because it is soft, breathable, and comfortable to wear. It comes in various weights, such as fingering, sport, or DK, allowing you to create delicate or sturdy bracelets depending on your preference. Additionally, cotton yarn is available in a wide range of colors, making it easy to find the perfect shades for your bracelet. My favorite is mercerized cotton since it has a pretty sheen to it! (24/7 cotton shown below is my go to.)
Crochet Thread: Thread is a popular choice for crochet bracelets due to its softness, breathability, and durability. Crochet thread is ideal for creating lightweight and delicate crochet projects, including bracelets. It allows you to create intricate stitch patterns, lace-like designs, and dainty accessories.
Other Supplies
In addition to yarn, you will need a few other supplies to make a crochet bracelet. Here are the essential tools you'll need:
Crochet Hooks: Crochet hooks come in different sizes, and the size you choose will depend on the thickness of the yarn or thread you're using. The appropriate hook size is usually indicated in the pattern you're following or on the yarn label. It's a good idea to have a set of various hook sizes to accommodate different projects.
Scissors: A pair of sharp scissors is necessary for cutting the yarn or thread when needed. It's handy to keep them nearby to trim the ends and tidy up your work when you are done with your bracelet.
Stitch Markers: Stitch markers are useful for marking specific stitches or sections in your bracelet pattern. They help you keep track of your progress and make it easier to identify where certain stitches or increases/decreases should be made.
Tapestry Needle: A tapestry needle, also known as a yarn needle or darning needle, is used for weaving in loose ends and finishing your work. It's also helpful for sewing on buttons or attaching closures, if required for your bracelet design.
Closure or Clasp (optional): Depending on the design of your crochet bracelet, you might need a closure or clasp to fasten it around your wrist. This could be a button, a lobster clasp, a toggle clasp, or any other type of closure that suits your preference and style.
Beads or Embellishments (optional): If you want to add beads, buttons, or other decorative elements to your crochet bracelet, you will need the appropriate beads and a beading needle or small crochet hook to incorporate them into your design.
These are the basic supplies you'll need to get started with crochet bracelets. As you become more experienced and try out different crochet techniques in these bracelet patterns, you might discover additional tools and accessories that you may want to try as well.
Crochet Bracelet Patterns
Looking for some creative ways to use up extra yarn? Look no further than free crochet bracelet patterns! Whether you're a crochet enthusiast or a beginner, these patterns offer a fun and budget-friendly way to make unique bracelet designs!
More Free Crochet Jewelry Patterns