Crochet Wrap Button Bracelet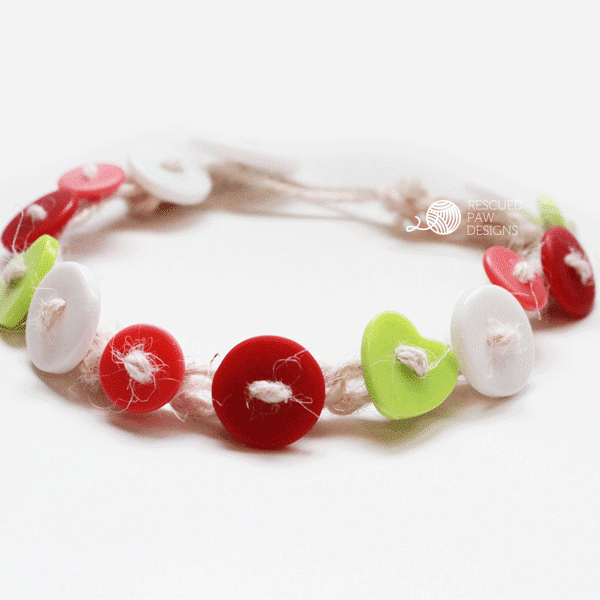 This crochet wrap button bracelet is a simple crochet project and can easily be customized to any size that you prefer!
My daughter loves wearing hers around wherever she can and was eager to let me take pictures and show it off!
I hope you enjoy this quick crochet jewelry project and… Happy Crocheting!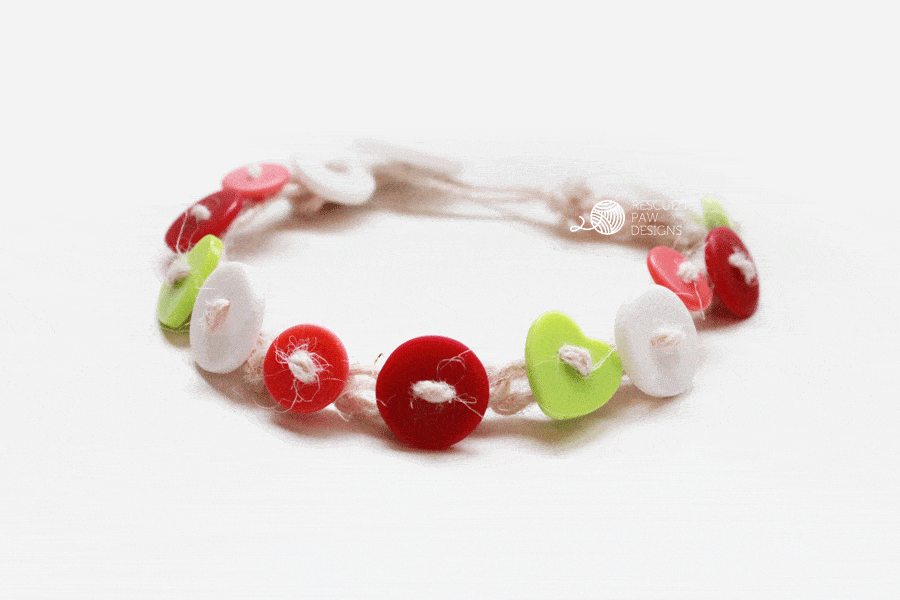 How to Make a Crochet Bracelet
I used buttons in Spring colors for this design, but I can imagine this with brown, tan, off-white natural tones too! Whatever buttons you pick, make sure they have two holes in them for easy threading.
I used jute twine for my fiber, but cotton yarn would work just as well. I also wanted to mention as a reminder, please make sure to use soft jute twine if that is the route you are going, so it is not scratchy! Kids dislike scratchy things!
My daughter needed a starting chain of 40 for her wrist and I made sure it could be easily wrapped around twice.
Your starting chain may be more or less depending on the person it is intended for, just make sure to measure before you start your bracelet.

Are You Ready to Get Started?
Once you get all your materials you can start. If you are ready to make this easy crochet bracelet then scroll on down for the pattern.
If you do make it please share it with me over in the Easy Crochet Facebook Community.
Crochet Wrap Button Bracelet Pattern
Skill Level: Basic
Materials
Soft Jute Twine
Buttons small and 1 large (from Michael's) or 4-Ounce Big Bag of Buttons, Multi from Amazon
Sewing needle
Scissors
Crochet hook size F 3.75 MM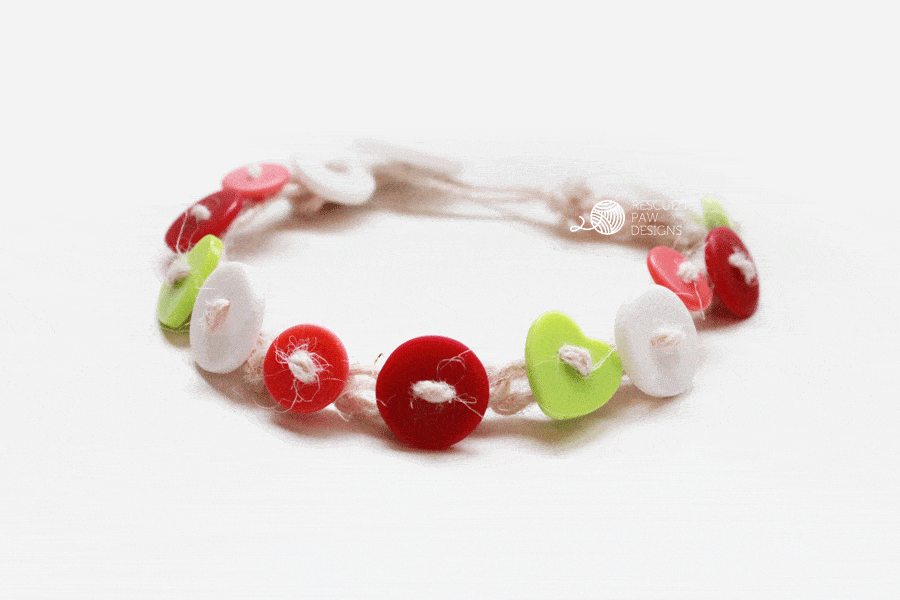 Notes
To make bigger or smaller measure the person's wrist before starting and use the corresponding chain needed.
Buttons can be switched out to whatever you prefer! I can imagine this bracelet with red, white and blue buttons and even with some holiday buttons for winter. Have fun with it!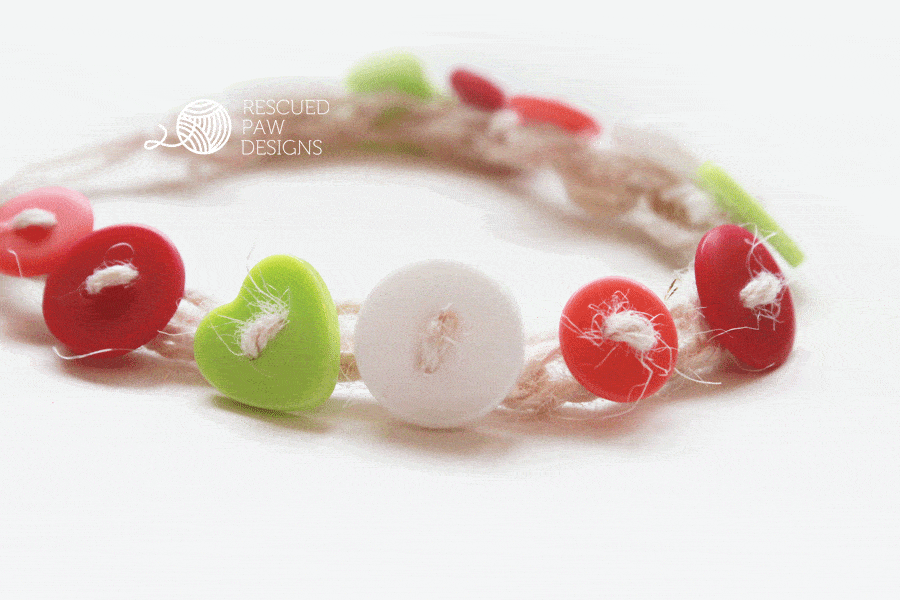 The Pattern Steps
Leave a long 5 inch tail of twine, then Ch 40 with twine
Cut twine with about a 2 inch piece left and attach to the large button with a needle. Fasten off making sure the button is firmly attached.
Go back to 5 inch piece of twine at the beginning of your start chain and from a loop then tie around beginning knot and weave in to secure the loop firmly.
Cut a 15 inch piece of twine and attach to large sewing needle. Start attaching buttons to the chain. I weaved up through the first chain, up through the backside of the button, then back back through the button and chain. I repeated this process (skipping a chain in between each button) until I reached the end my chain 40.
Finishing
Securely fasten off the twine.
Wrap around twice around wrist and wrap the loop around button to secure.
You are done!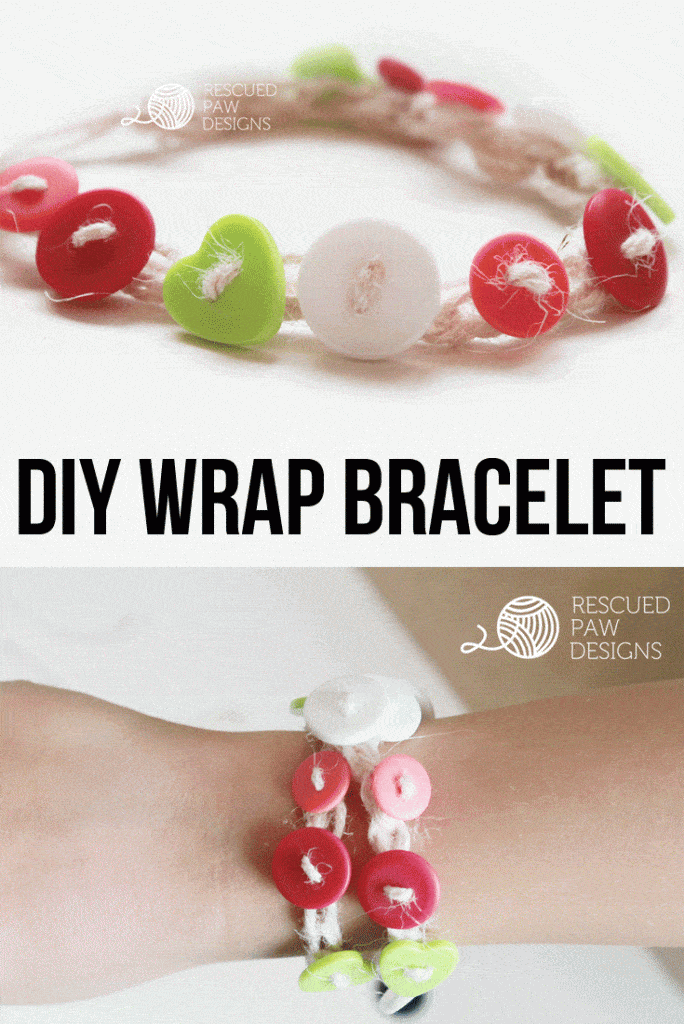 You are Done With Your New Bracelet!
I hope you enjoy making this Crochet Wrap Button Bracelet and trying your hand at crochet jewerly.
If you have any questions, please feel free to contact me on my Facebook page or through my contact page here on the site!
You May Like These Quick Crochet Patterns