Mint Green Fall Crochet Cowl Pattern
I am so excited to share this cowl crochet pattern with you today. Mostly because simple crochet patterns like this crochet cowl are quick and fast to work up.
If you are ready to learn how to make this simple cowl, scroll on down to find the free pattern.
Happy Crocheting!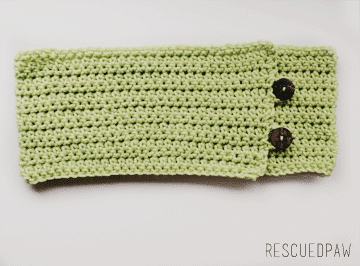 Cozy Green Cowl Pattern
Skill Level: Easy
Materials
Crochet hook size J 6 mm
Yarn needle
-Scissors
Medium weight #4 yarn < than 1 skein
Two 1 inch coconut shell buttons
Notes
Written in standard US terms
Button Cowl Crochet Pattern Steps
Foundation Row: Chain 110
Row 1: Half Double Crochet in the 3rd Chain from Hook in the Back Bar across until end of row is reached. Turn
Row 2: Chain 1, Single Crochet across in both loops until end of row. Turn
Row 3: Chain 2, Half Double Crochet in every Stitch across in both loops. Turn
Row 4-16: Repeat Rows 2 & 3 for pattern.
On last row don't fasten off instead continue single crocheting along side of cowl as follows:
1 Single Crochets in next 5 spaces, then Chain 7 (forms button loop), Single Crochet in next space, 1 Single Crochet in next 4 spaces, then Chain 7 (forms button loop), Single Crochet in next Space, finish with 1 single Crochet in next 4 spaces across and fasten off.
Finishing
Weave in loose ends with a yarn needle.
Save the scraps of yarn you cut from weaving in the ends (we will use these to attach the buttons!!)
This is what we are aiming for in the next step: Placing buttons on and finishing up sewing in ends.
Attaching Buttons
STEP 1: Using your scrap yarn, pull through buttons
STEP 2: Place buttons on the scarf on the side without loops, making sure they line up with your button loops you made earlier.
STEP 3: Use a yarn needle to weave the two ends of yarn that were pulled through the buttons between a couple loops on the back side of the cowl and then tie ends together and make sure they are securely in place. (SEE PICTURE) Then use the yarn needle to weave in loose ends.
And now you are DONE!
Feel free to make his cowl longer or shorter depending on your preference. There really is no wrong way!