Free Crochet Apple Pattern & Keychain
Make this simple crochet apple keychain today with this beginner-friendly pattern! This amigurumi keychain is perfect to try if you are new to the art of amigurumi and want to learn something new.
I hope you enjoy this fun apple pattern.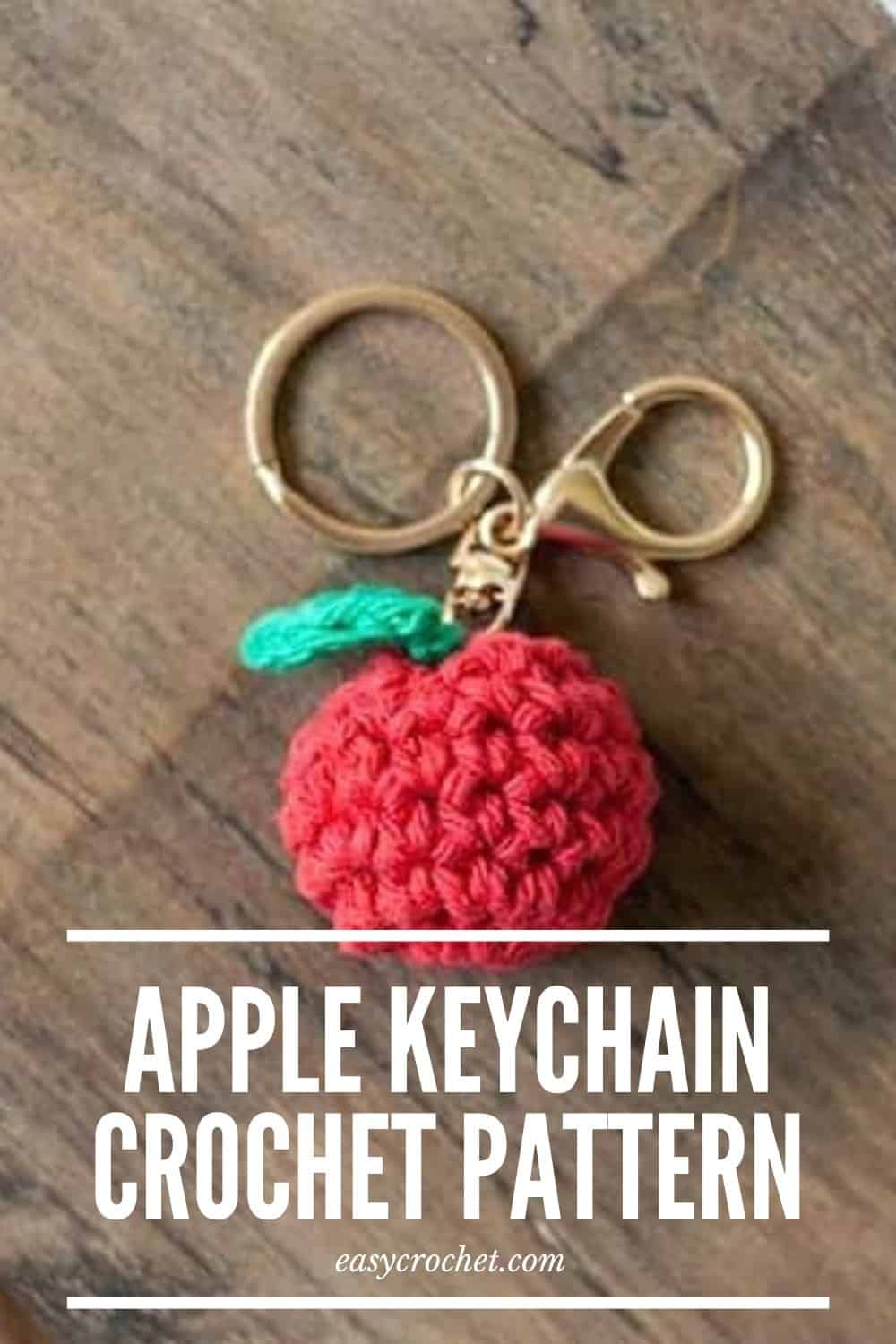 Make This Crochet Apple for a Back to School Gift!
It is hard to believe that Summer break is almost over! My kids are definitely not ready for the sleeping in, fun nights and swim parties to end!
But, to make the transition a bit smoother I created this apple keychain pattern (and I hope to create more crochet fruit in the future) for them to take to school their first day! Want to make one too?
Read on down to find the full free pattern to make your very own crochet apple!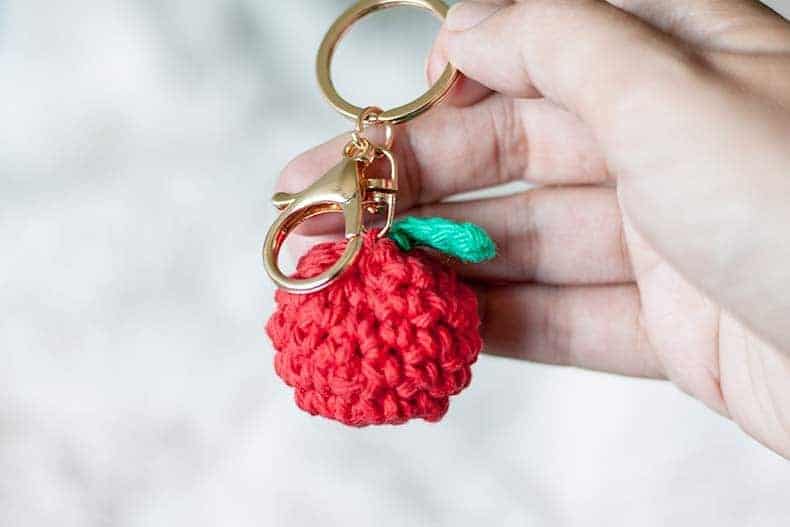 The Yarn That's Perfect for a Crochet Apple!
This apple keychain is a pretty simple beginner amigurumi pattern and would be great for anyone who's looking to try a crochet project that is a little different.
I used Lily Sugar n' Cream Cotton yarn in red & green (classic apple colors) for my project, but any worsted weight (4) cotton or color will work.
Lily Sugar'n Cream
This yarn is made by Yarnspirations, and is a Weight 4 – Medium yarn.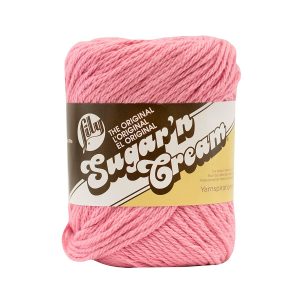 Buy Now
Patterns Using This Yarn →
This Pattern Uses Only One Crochet Stitch
This apple pattern uses only single crochets which is great for beginners! And it can be worked up in about a half-hour which makes it a great last-minute project!
Hello… all you procrastinators out there! 🙂 I'll link up the tutorial to the single crochet post and single crochet video below!
Single Crochet Tutorials
Single Crochet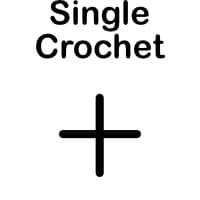 Patterns Using This Stitch →
Make Just The Crochet Apple!
If you are feeling a bit adventurous you could even leave off the key chain and attach little eyes to it to make a cute little crochet apple gift! If you do this I'd love to see!
Let's Get Started!
Ready to get started? Scroll on down to find the full, free crochet apple keychain pattern! 🍎
Happy Crochet Apple Making!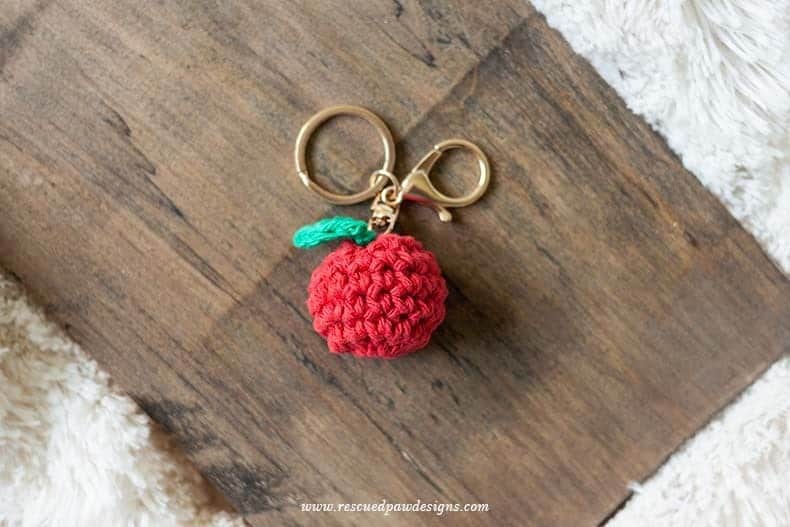 Key Chain Crochet Free Apple Pattern
Skill Level: Easy
Materials
Crochet Abbreviations
SC = Single Crochet
SL ST – Slip Stitch
ST – Stitch
SC2TOG = Single Crochet Two Together
Finished Size
4.5 inch circumference and 1.5 inch height
Gauge
Is not important for this project
Notes
The size G crochet hook is used for both the apple & leaf pattern.
Written in standard US terms.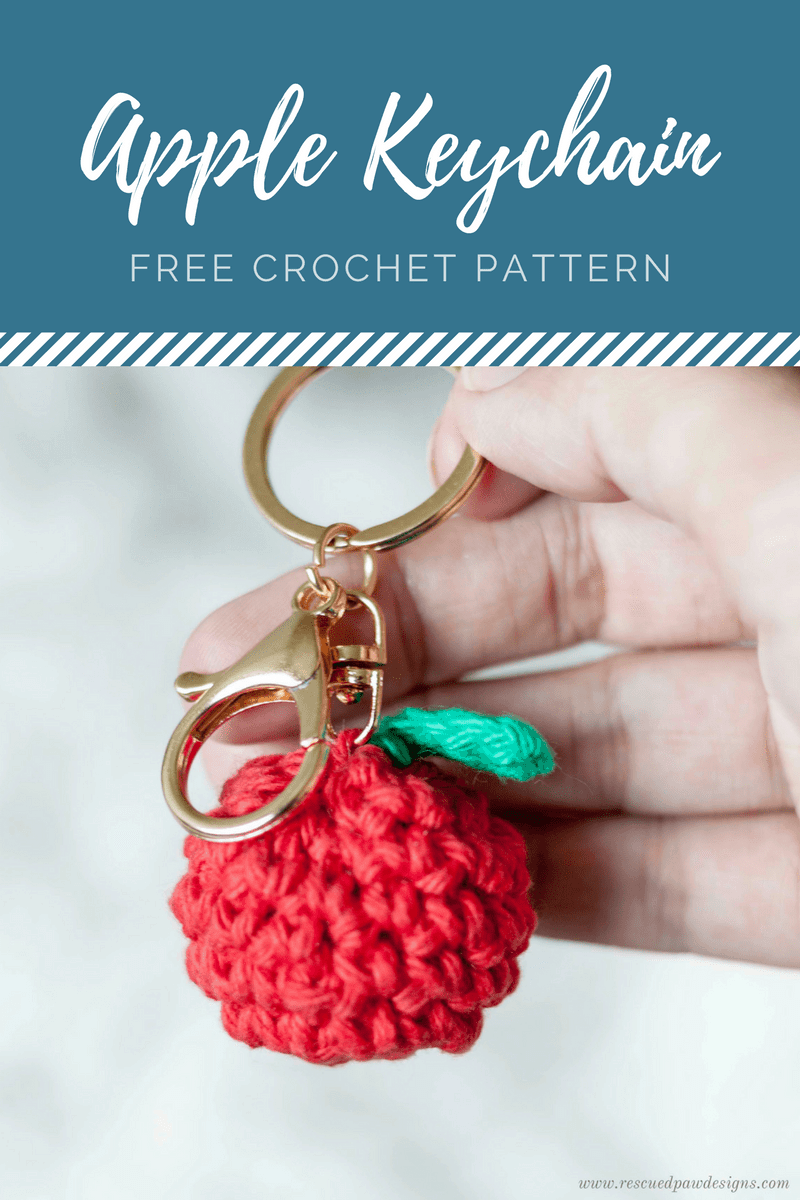 The Crochet Apple and Crochet Leaf Pattern
CROCHET APPLE
Foundation Round: With red cotton yarn CH 2, in 2nd CH from the hook work 10 SC's, join with a SL ST to the first SC. (10)
Round 1: CH 1, work a Sc in the first ST, * work 2 SC's into the next ST, SC once in the next two ST's, Repeat from * ending with one SC in each of the last 2 ST's, SL ST to the top of the first SC. (13)
Round 2: CH 1, Work a SC into the first ST, SC once in each of the next 2 ST's, Work 2 SC's into the next ST, One SC in each of the next 4 ST's, 2 SC's in the next ST, Work 1 SC in each of the last 4 ST's,
* From this point on work in the round (without SL ST's) with a stitch marker if wanted to keep track of what round you are on.
Round 3-6: SC in every ST around, move stitch marker up as each round progresses.
Round 7: SC, SC2TOG, SC once in the next 3 ST's, SC2TOG, SC once into the next 3 ST's, SC2TOG, SC in the last 3 ST's (including the one the ST marker is in), fasten off yarn leaving a 5-6 inch tail.
Fill your almost finished apple with poly-fil. I found my big bag of poly-fil on Amazon "here" and it should last me for a while! 🙂
Close off the top as shown in pictures below with a yarn needle.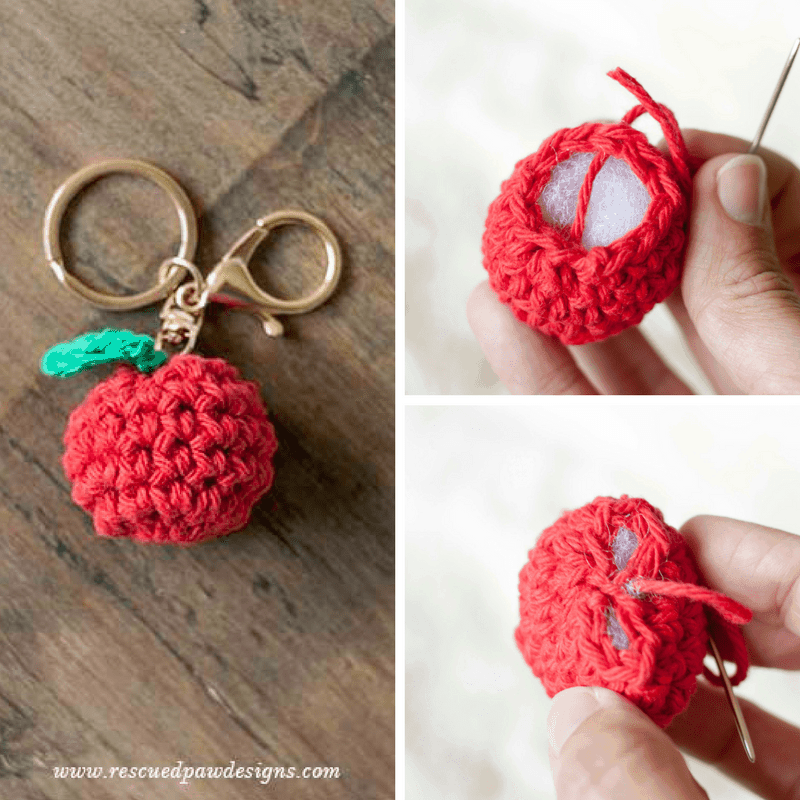 Crochet Leaf
Leave a starting tail of about 3 inches and then with green cotton yarn ch 5, in 2nd CH from the hook SC, in next CH HDC, in next CH SC in the last remaining CH do a SL ST and fasten off and weave in only one end of the green yarn leaving the starting chain end to attach to the apple.
Attach keychain & leaf to apple with the starting 3 inch starting CH that was from the leaf. Pull leftover green yarn after securing through apple and tuck in.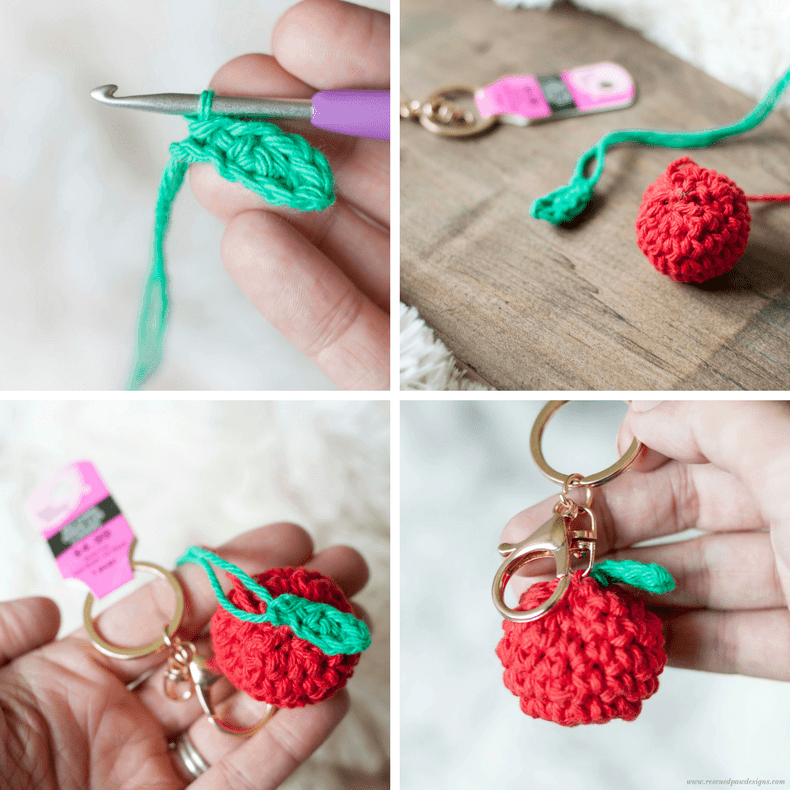 You Are Done
Happy apple crochet making! All you have to do now is attached to your child's book bag, your tote or give as a gift!