8 Spooky Crochet Halloween Projects to Haunt Your Home
Halloween is just around the corner, and if you're anything like me, you're already dreaming of ways to add that spooky flair to your home. Well, good news: I've got your back with some hauntingly fun crochet projects!
Scroll on down to find some of the best free Halloween crochet patterns, such as eerie cobwebs that glow in the dark to an adorable zombie amigurumi.
Happy Halloween Crocheting!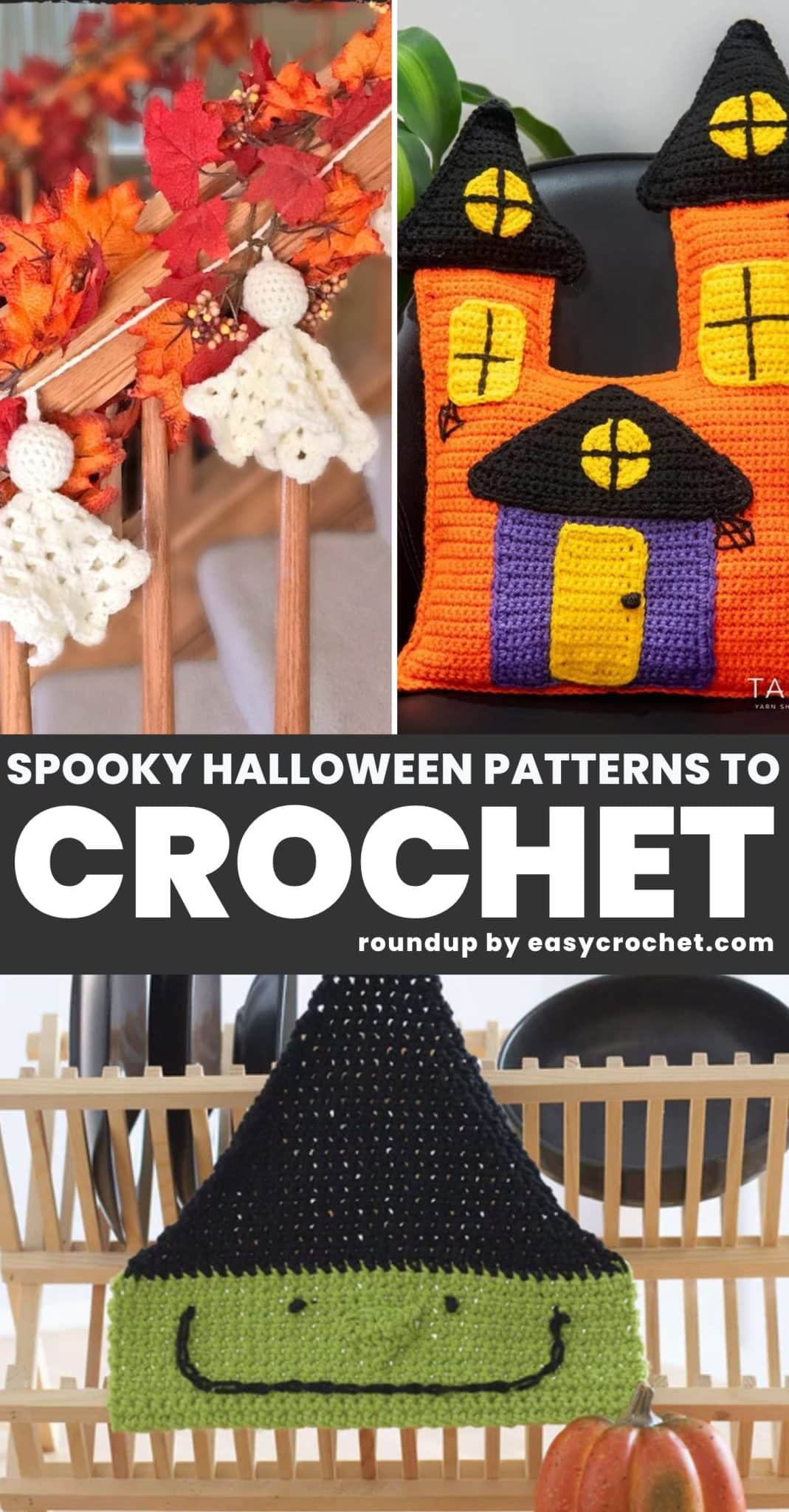 Free Halloween Patterns
You'll love crocheting these spooky Halloween patterns not only because they are fun to make, but because they are all free crochet patterns too!
Yarn and Supply Recommendations:
Before we jump into the list of projects that'll spookify your home, let's talk about the essentials you may need for these Halloween crochet patterns.
Yarn Types
Glow-in-the-Dark Yarn: Great for cobwebs and eerie eyeballs. Try Lion Brand DIY Glow Yarn.
Cotton Yarn: Perfect for dishcloths and coasters. Lily Sugar'n Cream and Paintbox Cotton Aran are solid picks.
Worsted Weight Yarn: Ideal for amigurumi and larger projects. Check out Vanna's Choice or Red Heart Super Saver.
Mixed Color Yarn: Adds texture and depth. Lion Brand Landscapes is a good choice.
Fine Cotton Yarn: For projects requiring more detail, Scheepjes Catona (cotton yarn) works wonders.
Additional Supplies
Crochet Hooks: A variety of sizes to match your yarn weight.
Safety Eyes: For amigurumi projects like zombies or black cats.
Polyfill: To stuff your amigurumi creations.
Stitch Markers: To keep track of your rounds and stitches.
8 Free Halloween Crochet Patterns
Here are eight Halloween crochet projects that'll send chills down your spine—in a good way, of course! I hope you enjoy all these free Halloween patterns and ideas.
Creepy Cobwebs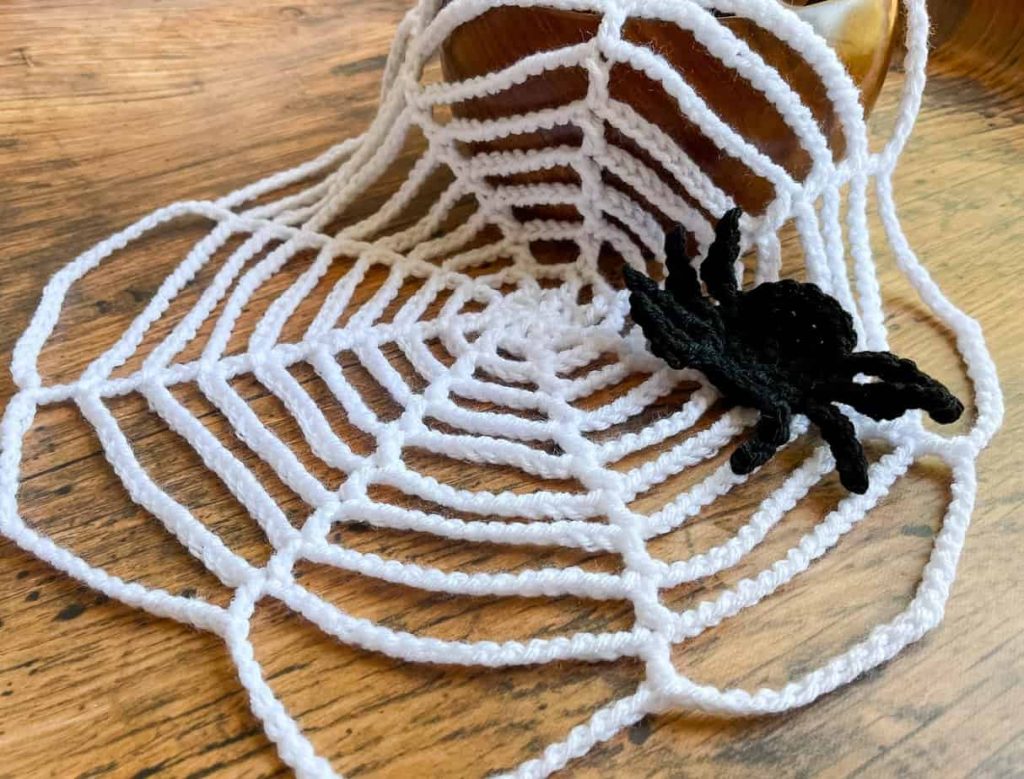 Start with something simple yet effective. Use white or glow-in-the-dark yarn to crochet cobwebs. Drape them over lamps, furniture, or even in the corners of your room. Instant eerie atmosphere!
Cobwebs instantly turn any space into a haunted house. Plus, they're quick to make, so you'll see results right away.
Yarn: Go for glow-in-the-dark yarn like Lion Brand DIY Glow Yarn for that extra spooky effect.
---
Ghostly Garland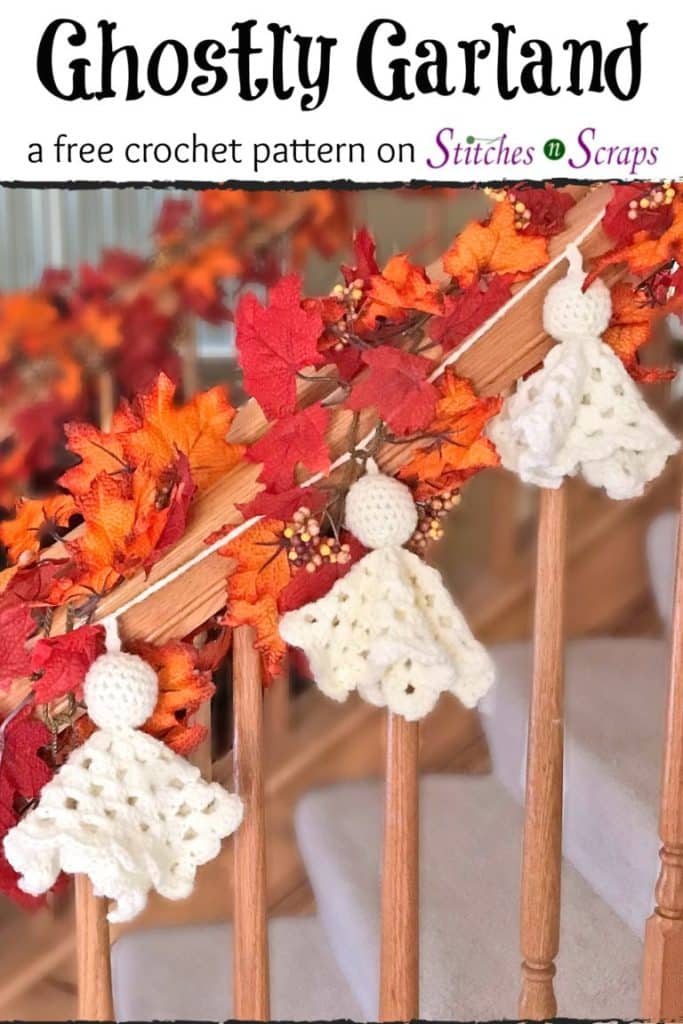 Crochet some mini ghosts and string them together for a cute yet spooky garland. Hang it on the wall, across your mantle, or even in a window.
A simple project with major Halloween vibes, plus they are easy to make too!
Yarn: I recommend Vanna's Choice Yarn by Lion Brand (or any four weight yarn will do as well!)
---
Witchy Dishcloths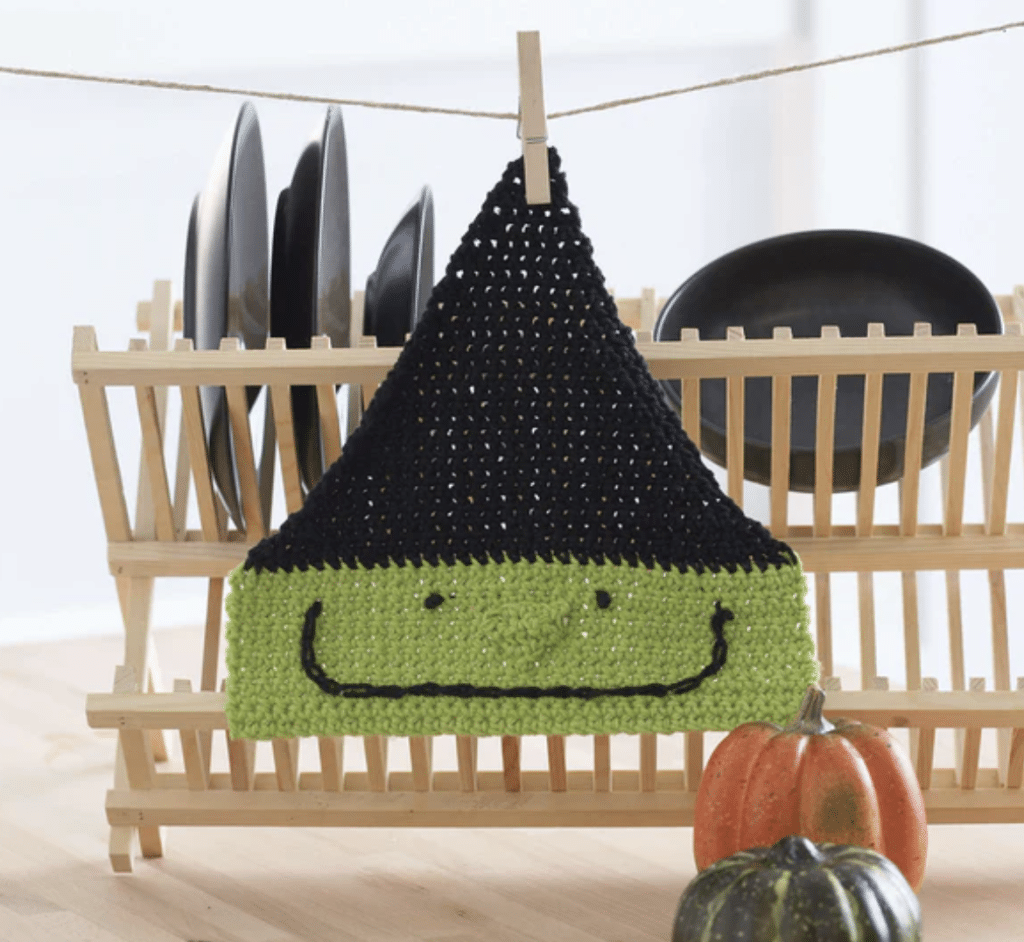 Crochet a dishcloth in the shape of a witch with this free pattern! Not only do they add a fun Halloween touch to your home, but they're also useful in the kitchen.
Yarn: Use 100% cotton such as Lily Sugar n Cream since cotton is easy to take care of.
---
Zombie Dolls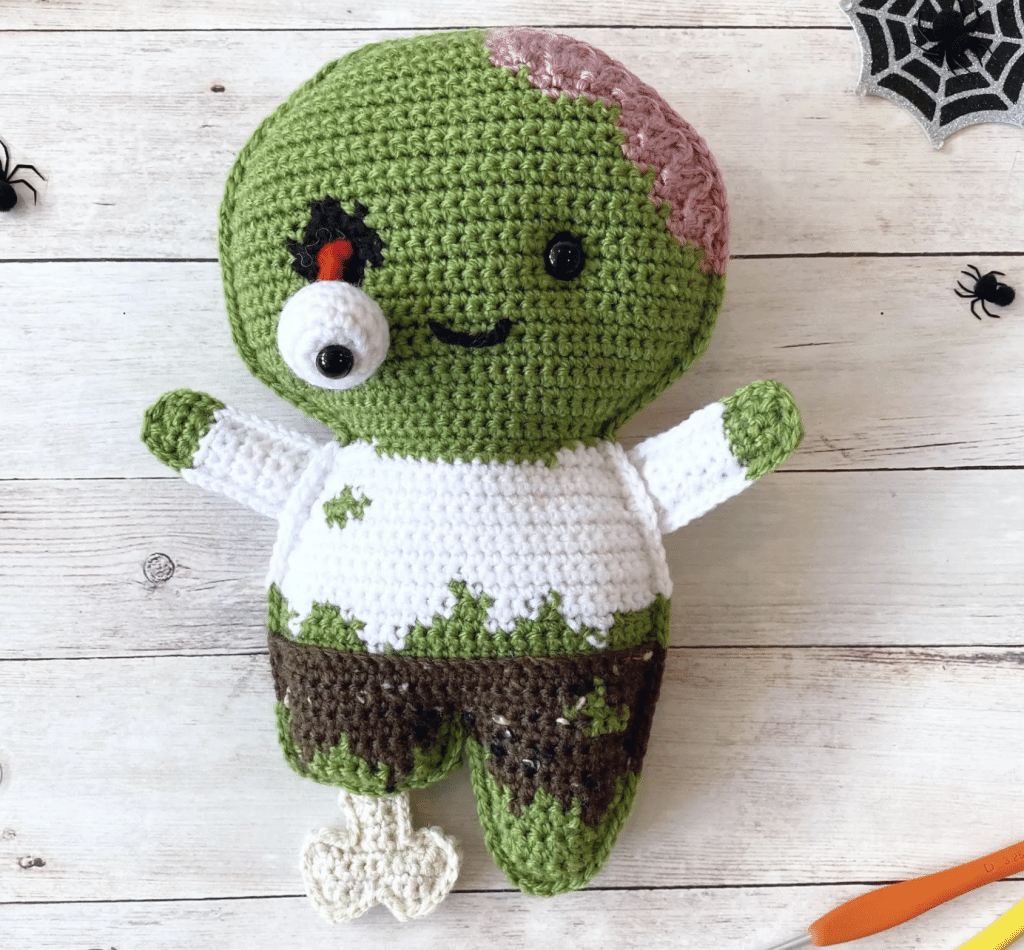 For those who love "The Walking Dead," why not crochet some cute zombie dolls? Give them mismatched eyes, ragged clothing, and don't forget the brains!
This zombie doll is considered a bit more advanced, so if you are up for a challenge, then this is the amigurumi Halloween pattern for you!
Yarn: This pattern uses a mix of colors and brands, so if you have four weight yarn on hand, you can make this zombie.
---
Pumpkin Coasters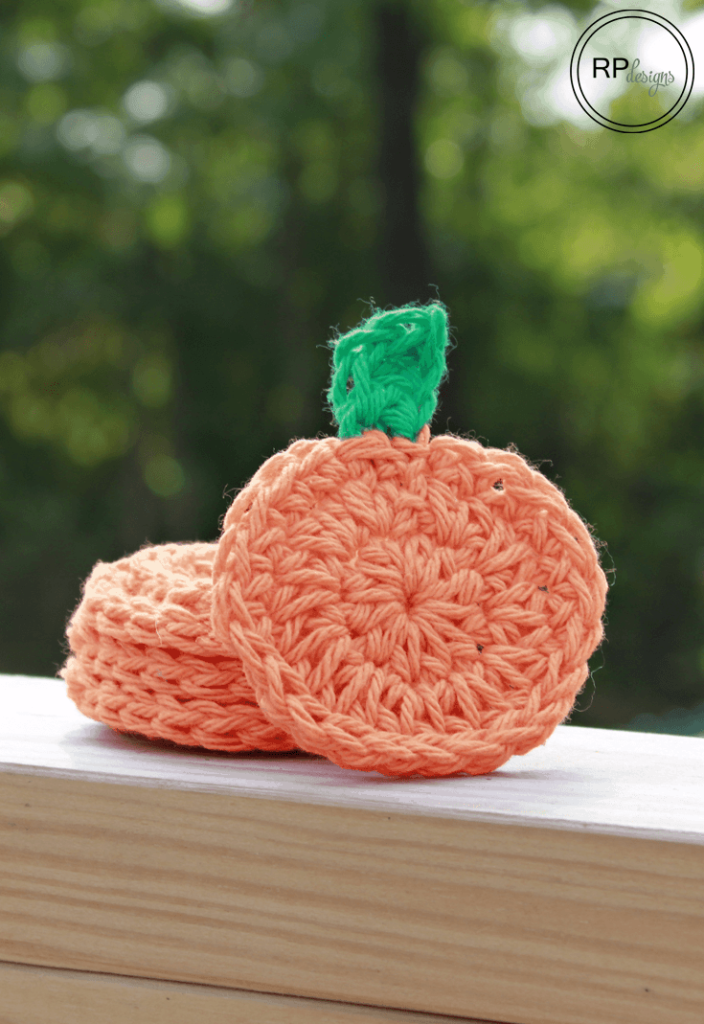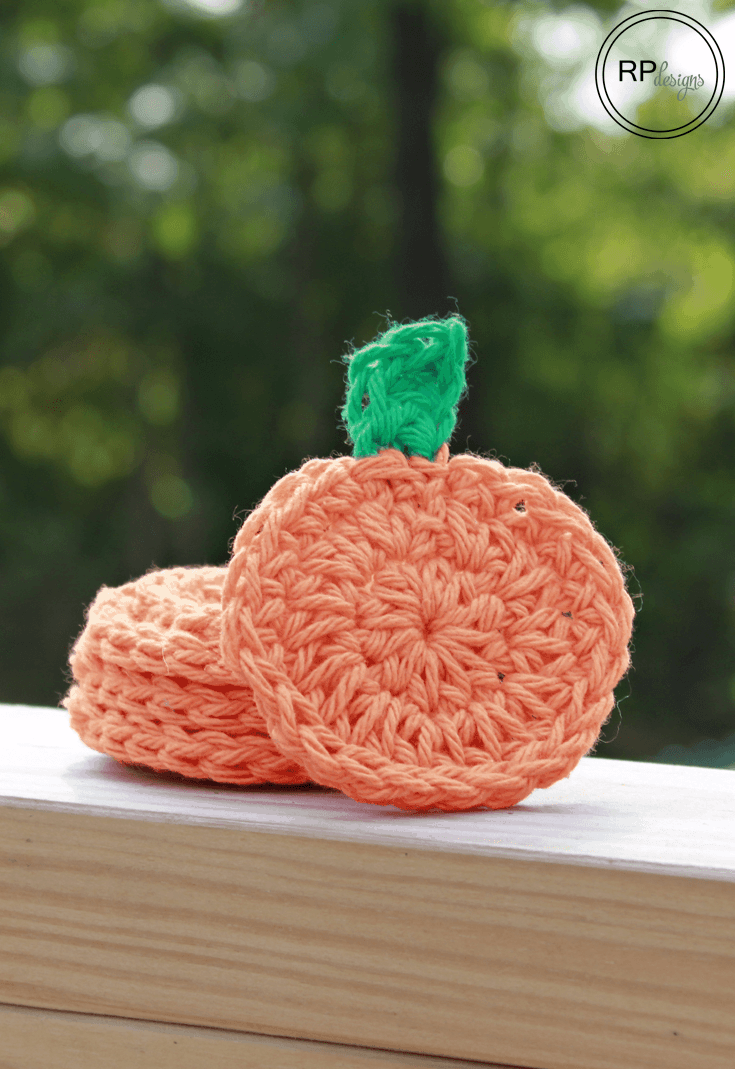 Who says pumpkins have to be scary? Crochet a set of pumpkin coasters to rest your witches' brew (or coffee) on. They are easy to crochet and make for great gifts, too! Plus, you can use them as an appliqué too for whatever fall project you had in mind.
Yarn: I used Lily's Sugar n Cream, but any 100% cotton yarn will work great.
---
Haunted House Pillow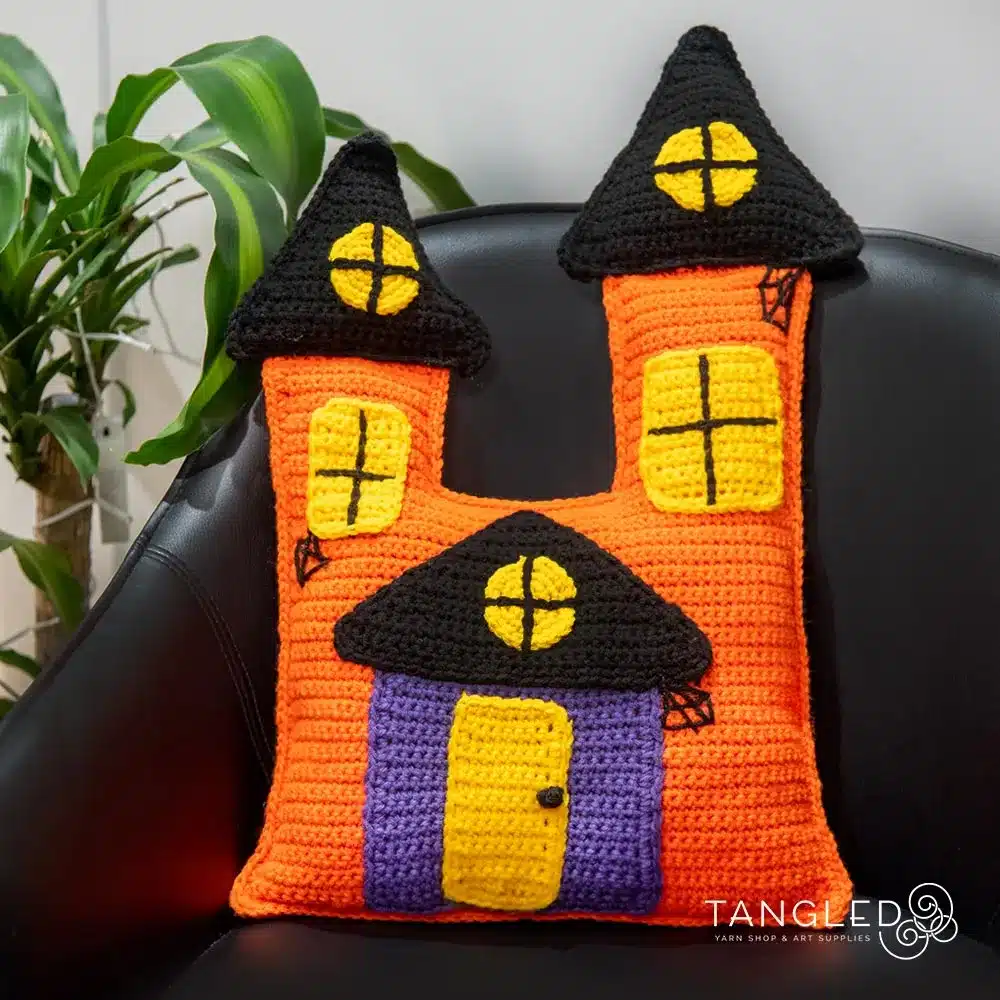 Up for a challenge? Create a more complex crochet project with a haunted house pillow cover. Think creepy windows and spider webs, which take this pillow design to the next level!
Yarn: The designer recommends using Bernat Super Value Acrylic Yarn.
---
Spider Socks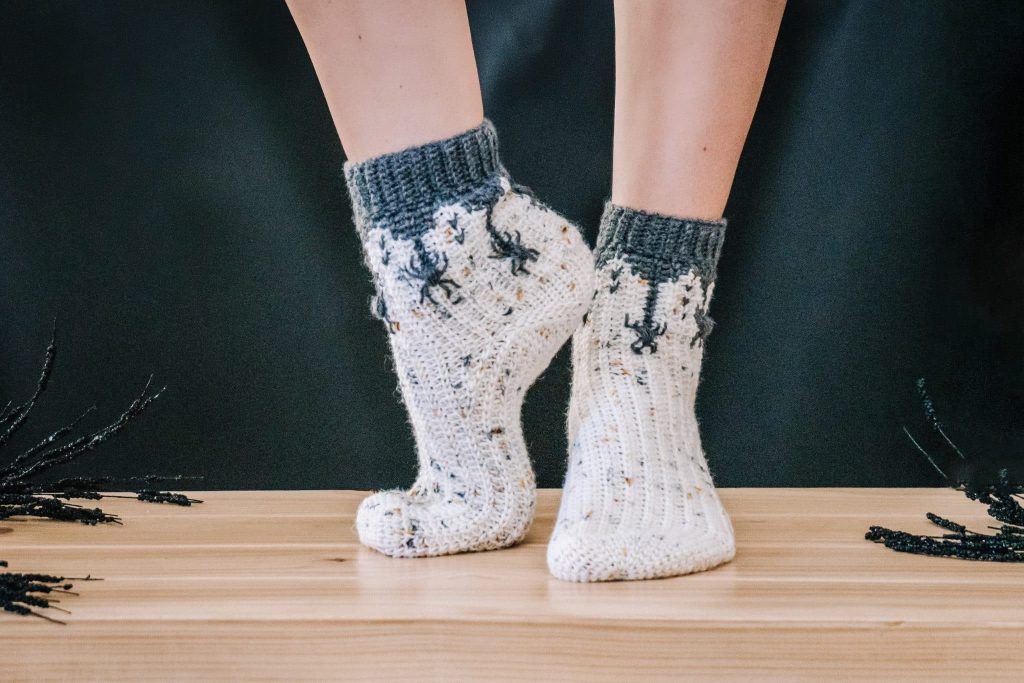 If you love crocheting wearables, then you'll love these fun Halloween socks! These creepy crawly socks are perfect for the spooky Halloween season, and the best part is that they are a free pattern!
Yarn: The designer used yarn called WeCrochet Hawthorne Speckle and WeCrochet Stroll.
---
Spooky Skulls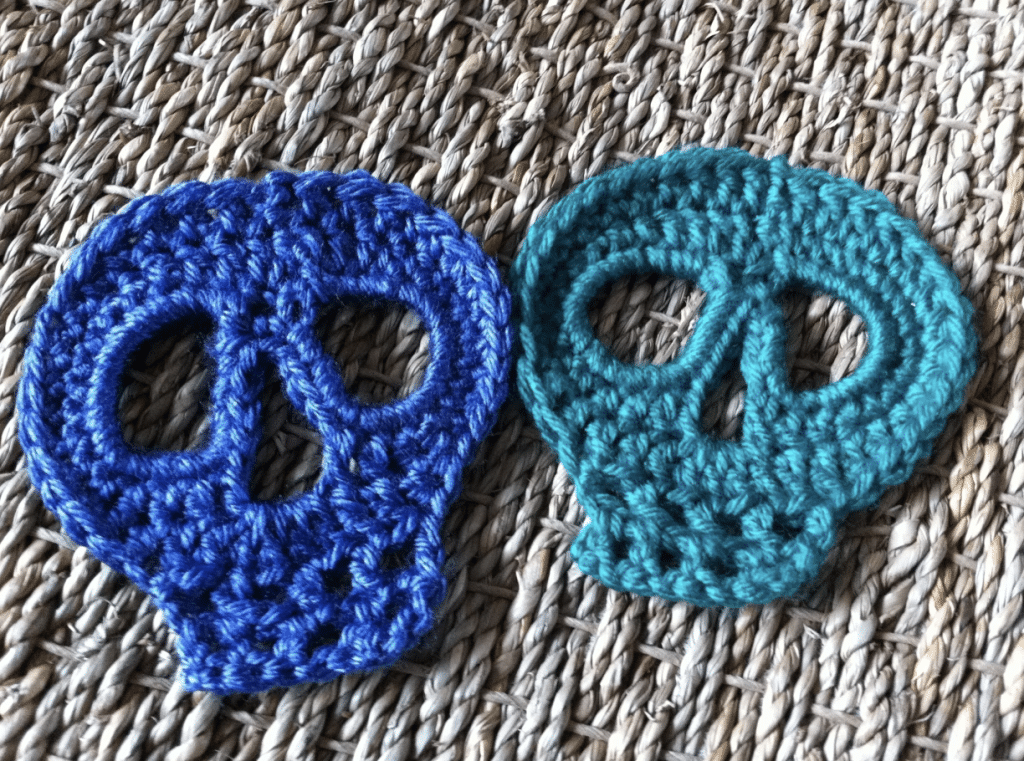 Last but not least, skulls are a Halloween staple. Crochet mini skulls to decorate your space or even turn them into keychains as creepy cute party favors.
You can change up the yarn colors like the designer did or use a white yarn to make a classic skull motif.
Yarn: The designer uses Red Heart Soft, but any four weight yarn will work.
---
---
Common Questions About Halloween Patterns
People often have a lot of questions when they work on crochet projects like these Halloween ones. Here are some common questions that pop up from time to time:
1. How Difficult Are These Projects?
Answer: The difficulty varies! Some, like the cobwebs or eerie eyeballs, are quick and easy. Others, like the haunted house pillow, might be more challenging and require a more in-depth understanding of stitch patterns.
2. How Long Do These Projects Take?
Answer: Again, it depends. Simple projects might take a couple of hours, while more intricate ones could take days. Always read through a pattern to gauge time commitment.
3. What's the Best Yarn to Use?
Answer: Your choice of yarn will impact the final look and feel. Cotton yarns are good for dishcloths and coasters, while acrylic or wool might be better for amigurumi.
4. Where Can I Find More Halloween Patterns?
Answer: There are tons of resources online, from YouTube tutorials to blogs like us here at Easy Crochet that have a collection of Halloween patterns and pattern libraries on Ravelry. Some Halloween patterns are free, while others you might have to pay for.
5. Can I Sell Items Made from These Patterns?
Answer: It depends on the copyright of the pattern. Always check the usage rights if you're considering selling your finished items or ask the designer of the pattern to find out for sure.
6. How Do I Make My Project Glow in the Dark?
Answer: Using glow-in-the-dark yarn or thread is the easiest way. You can also try using a glow-in-the-dark fabric paint on finished projects.
7. Do I Need Special Hooks?
Answer: Most projects can be done with standard crochet hooks. However, some might require smaller or larger hooks based on the yarn weight and project size.
8. Can I Customize These Projects?
Answer: Absolutely! Feel free to swap out colors, add embellishments, or even combine different features from multiple patterns.
9. How Do I Wash and Care for These Items?
Answer: The care instructions depend on the yarn you use. Cotton yarn items are usually machine washable, while wool items may need to be hand-washed.
10. Are These Projects Kid-Friendly?
Answer: Many are, especially the simpler projects. However, be cautious with items like amigurumi that might have small parts like safety eyes.
---
That's all, friends! Pick your favorite project and get your hooks ready. Halloween is coming, and there's no better way to welcome it than with some spook-tacular crochet crafts. Happy haunting!
---
More Free Halloween Patterns to Make