Are you looking for a simple crochet basket pattern to work up? If so, you have come to the right place!
From a crochet basket with handles to mini crochet baskets to crochet storage basket, there is a basket pattern here for everyone to make!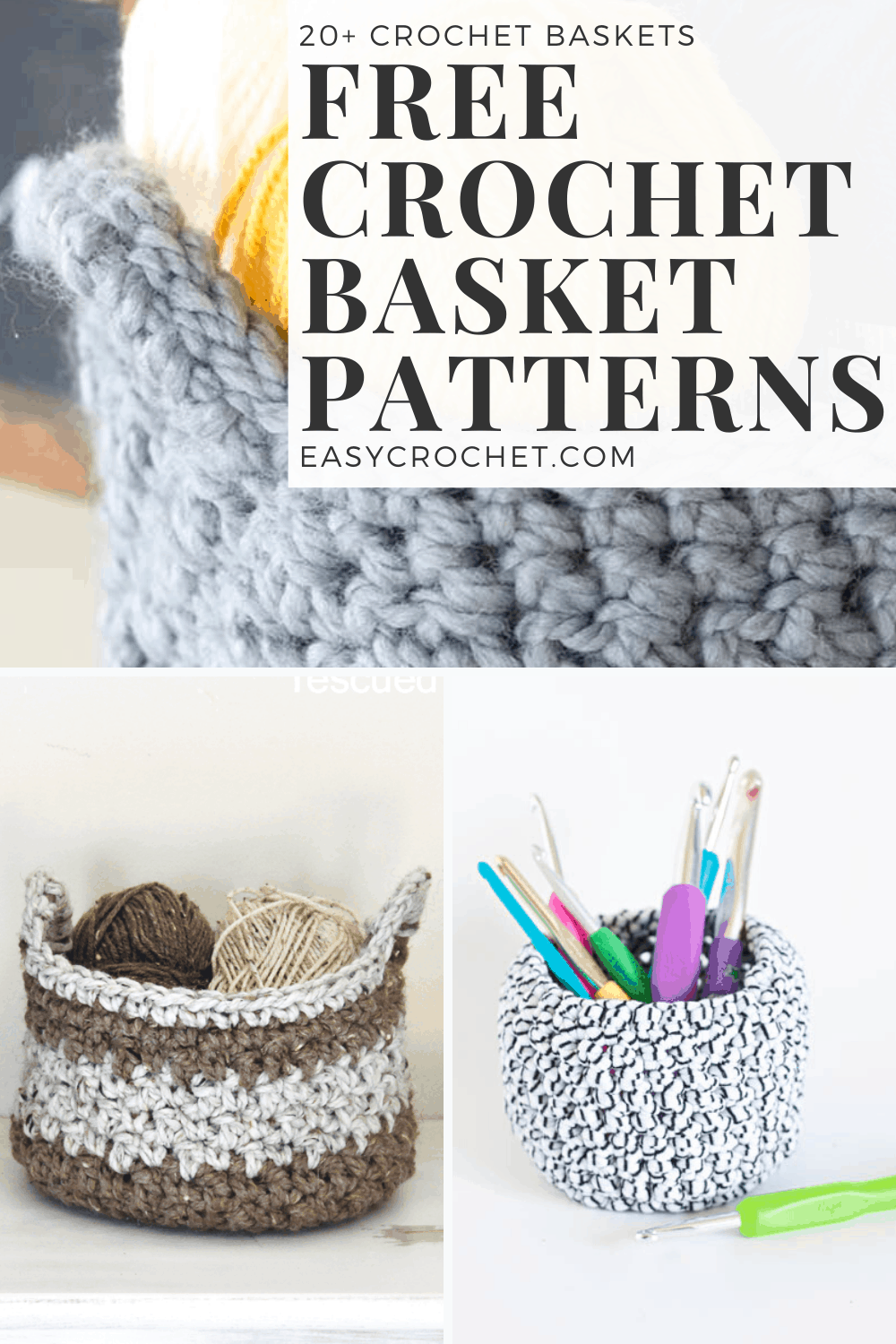 Read on down to find a full list of basket crochet patterns and learn how to crochet a basket today. Do you want more free crochet patterns? I can help!
Explore the crochet pattern archives here on Easy Crochet for inspiration. I can't wait for you to explore this crochet pattern list and find the perfect basket!
Happy Crocheted Basket Making!
Baskets Are Perfect to Store Items in!
I love crochet baskets (I tend to make them a lot!) to store all my little items lying around, so I knew I had to put together a list of crochet basket patterns!
Some of these baskets have handles, ties, and use different types of yarns. I love the fact that this be an excellent easy crochet basket pattern list to come back to from time to time.
The Yarn for The Baskets
All the baskets below use different types of yarns, so I thought I'd share a few of my favorites with you. Take a peek and let me know what you think of the variety of yarn! Also, don't forget to let me know which one you'd chose!
Click the image below to check out the yarns!
A Lot of Crocheted Baskets to Choose From!
From rectangle baskets, crochet baskets using t-shirt yarn to simple round ones there is something on this list for everyone! Hopefully, you will find an easy basket pattern to make to hold all of your knick-knacks and help you stay organized throughout the year!
Another subject I wanted to touch on since we are talking about making a basket is how to make a crochet basket stiff. I suggest that when working a basket to use two skeins of yarn at once. It makes for a sturdier basket and one that will hold up to daily use!
Ready to learn how to make a crochet basket?
Read on down for the full list of 20 crochet basket patterns. Enjoy!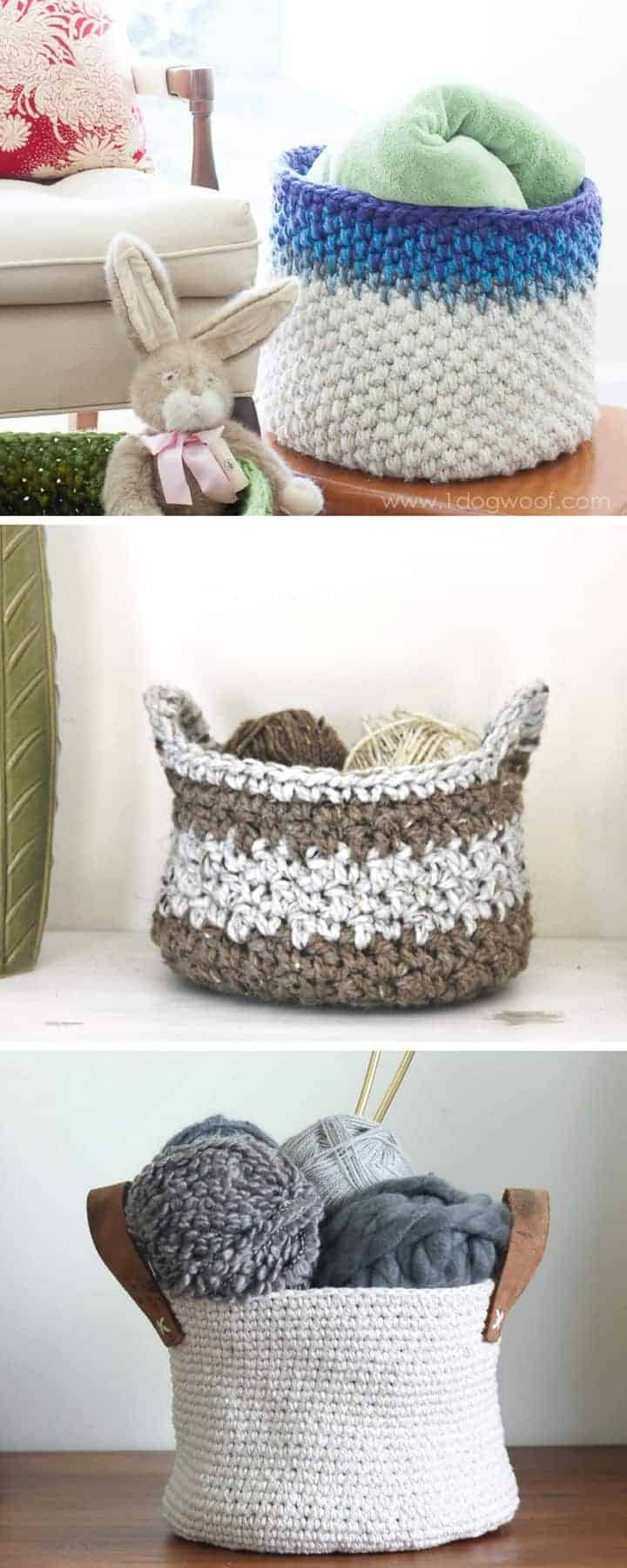 Shown above are… Color-Blocked Crochet Basket – One Dog Woof / Chunky Crochet Basket – Easy Crochet / Crochet Basket with Twine – Make and Do Crew
20 Crochet Basket Patterns to Try Today!
---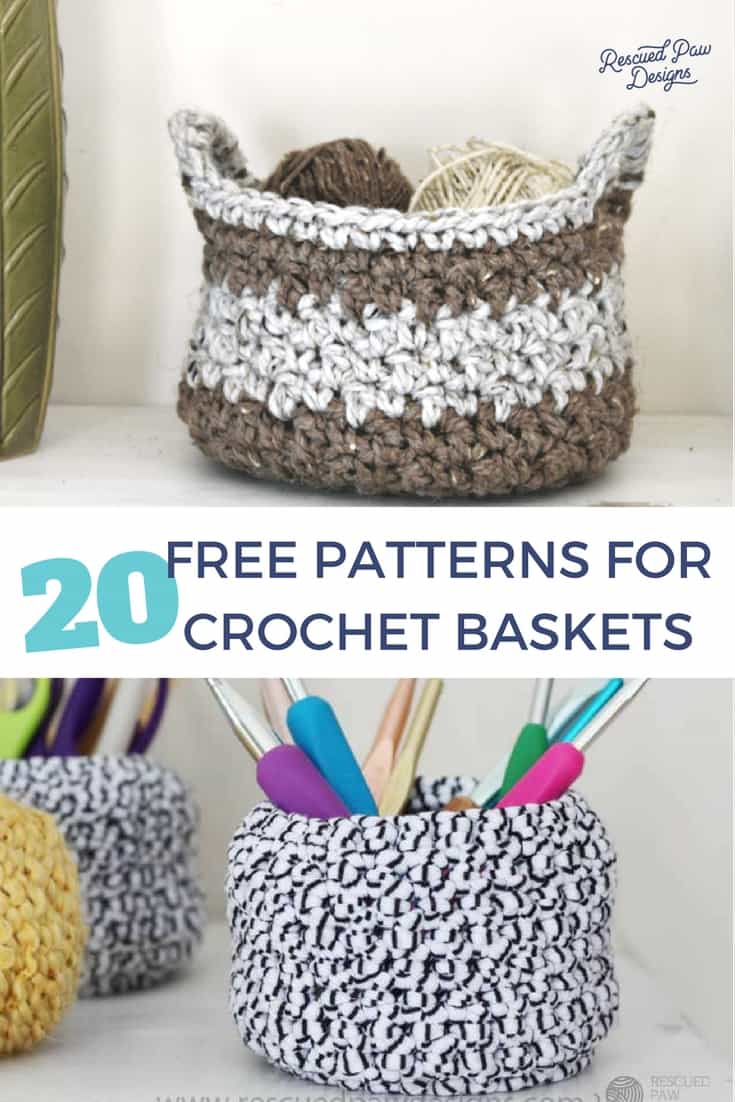 Follow Along With Easy Crochet!
I hope you found a new favorite basket pattern that will become your new go-to design! If you liked this pattern follow along with me on Facebook, Instagram, or Pinterest (where I pin daily!).
If you prefer video tutorials, you can also find me over on YouTube!
More Crochet Patterns