Simple Crochet Scarf Pattern for Beginners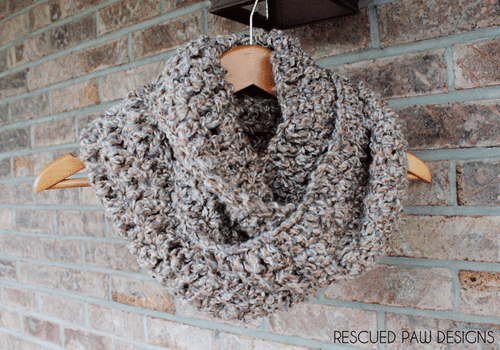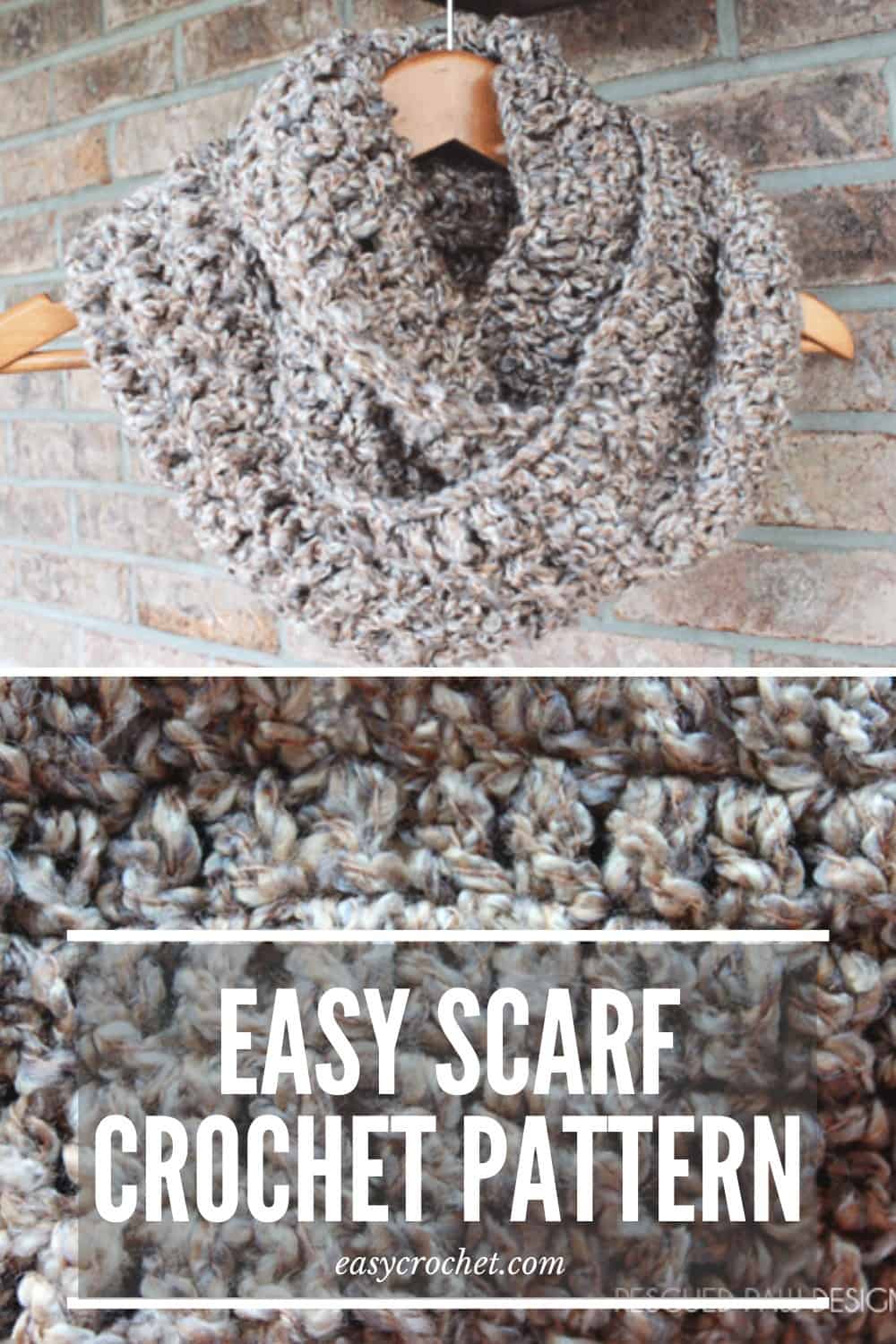 This easy crochet infinity scarf pattern for beginners is the perfect quick pattern to make today!
After you learn how to crochet this scarf be sure to check out the reader favorite one hour cowl too!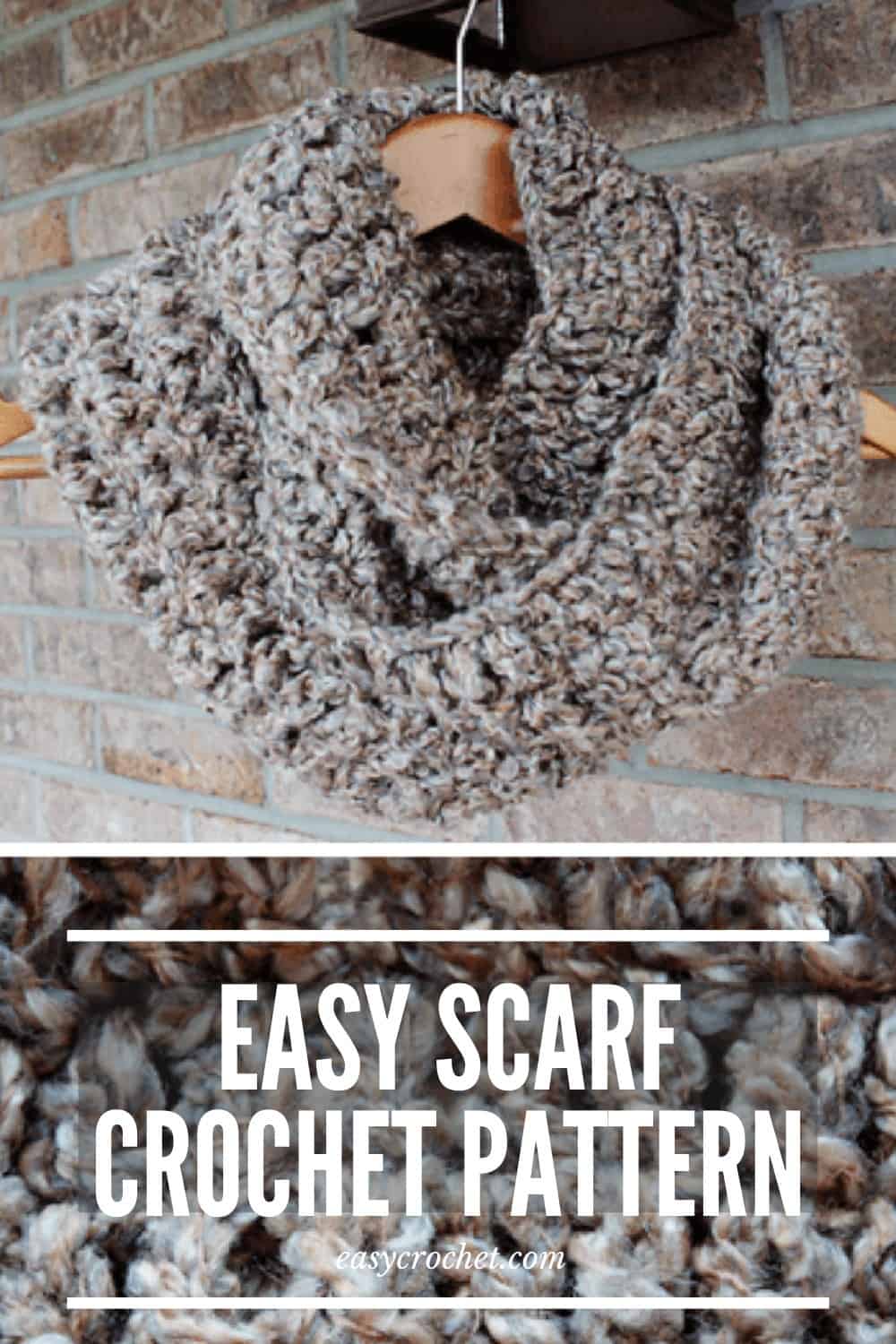 I hope you enjoy this quick crochet pattern.
Happy Crocheting.
Easy to Crochet Scarf for All Skill Levels
I somehow found time between all the Christmas parties, cookies and present opening to design this simple crochet scarf pattern and I love how it turned out!
Read on down to find the free crochet scarf pattern for beginners to get started today!
The Yarn You'll Want to Use to Make This Beginner-Friendly Scarf
I used Loops & Threads® Country Loom™ Yarn from Michaels in shale. This was my first time using this bulky yarn and I have to say I really loved it.
It is super soft and the shale color is so beautiful with its mixture of gray, brown and tan tones. Take a look at the Country Loom yarn and let me know what you think.
You only need less than 2 skeins of this yarn and the color combinations are endless because of the great variety that Michaels stores carries. If you can't find this yarn Lion Brand Homespun is a great alternative!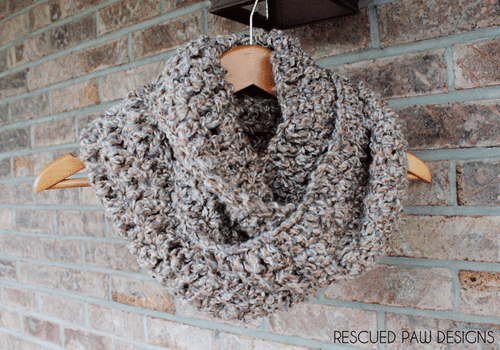 Use One Easy Crochet Stitch to Make this Simple Crochet Scarf
I decided to use a simple double crochet stitch for this entire pattern so it would be perfect for beginner crocheters. It really is a quick one hour project!
Please read on down for the free, simple crochet scarf pattern.
Happy Crocheting!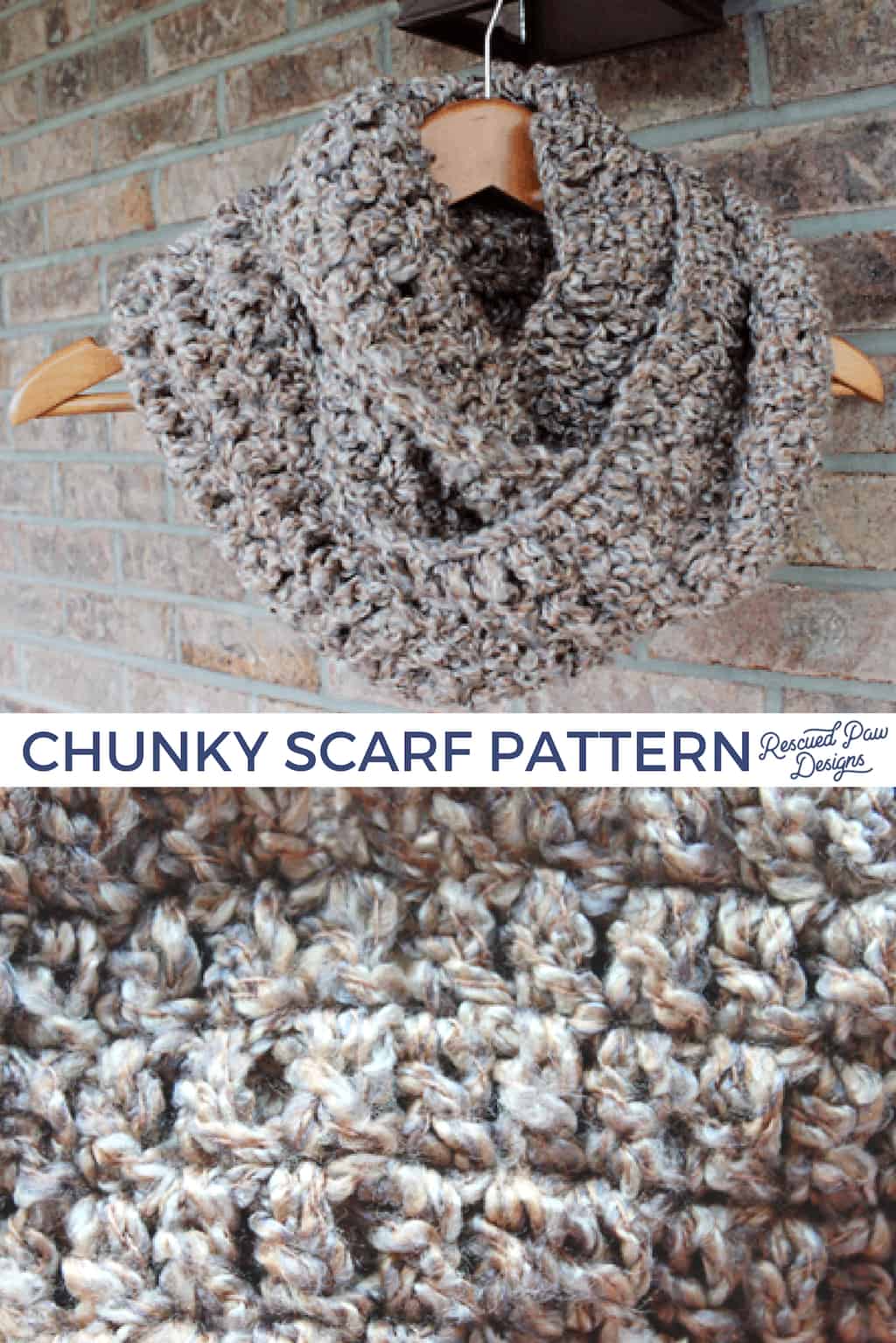 Chunky Infinity Scarf Beginner Crochet Pattern
Skill Level: Basic
Materials
< than 2 skeins of Loops & Threads® Country Loom™ Yarn in Shale or any super bulky (6) yarn
Scissors
Yarn needle
Notes
Gauge is 6 double crochets for every 4″
The finished dimension is approximately a 60″ circumference and 8″ width.
Written in standard US terms
The Free Crochet Scarf Cowl Pattern
Round 1: With Crochet Hook Chain 90 and Join together with a slip stitch to form a circle being careful not to twist yarn.(90)
Round 2: Chain 2, double crochet in each chain around (FYI: this yarn is forgiving because it is so bulky!! If you mess up it hides imperfections perfectly!!) Slip stitch to top of first double crochet. (90)
Round 3: Chain 2, double crochet in each stitch around Slip stitch to top of first double crochet. (90)
Round 4-8: Repeat Round 3. (90)
Finishing: Fasten off and weave in loose ends with yarn needle.
You Are Done!
Wasn't that simple? I love quick and easy projects! If you make this simple crochet scarf please share it with me on Instagram @rescuedpawdesigns with the #easycrochetcom.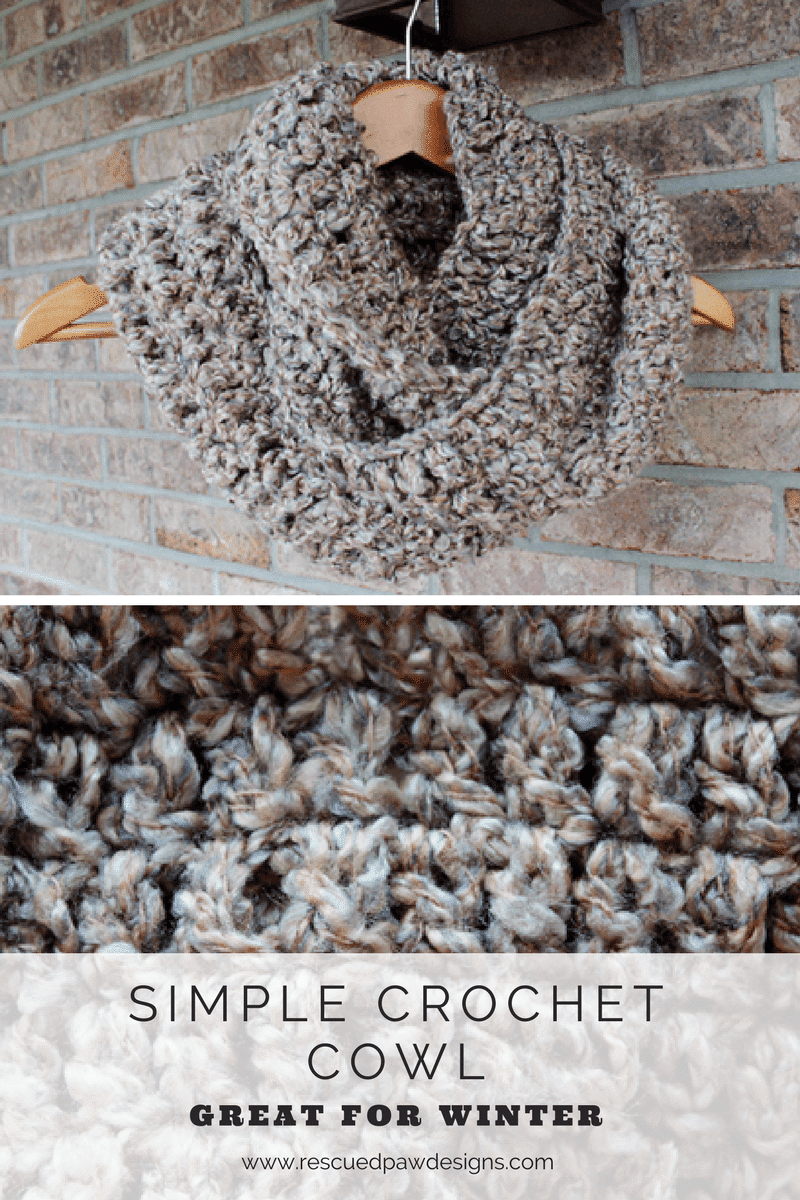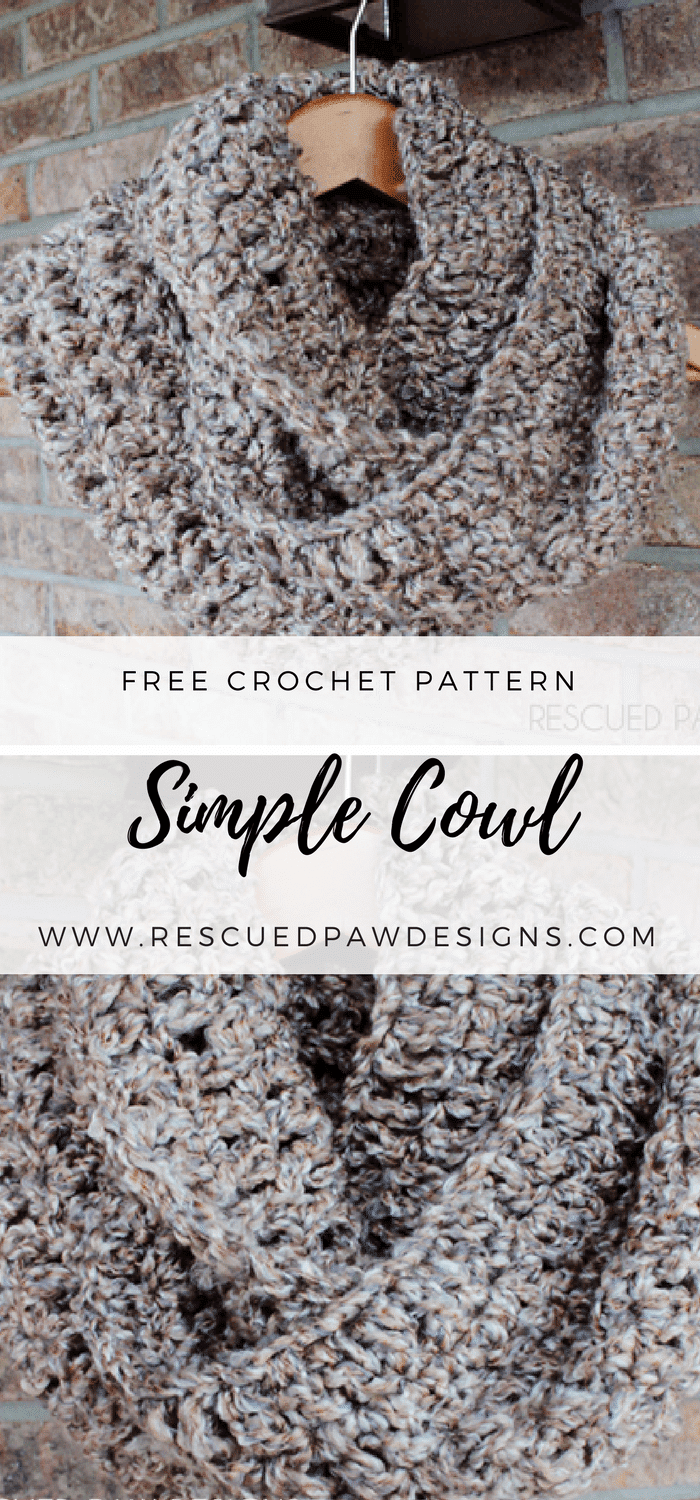 You May Also Like…