Minecraft Birthday Party & Recipe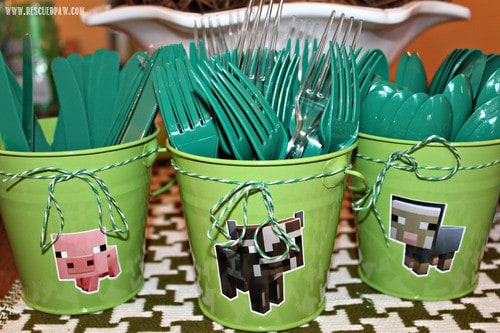 We recently had Alex's 6th Birthday Party, and he chose a Minecraft theme! If you were looking to become inspired for your next party then you have come to the right place! Enjoy!
Read on Down to be Inspired for Your Minecraft Party
I openly admit I don't know the first thing about playing Minecraft but somehow my kids have managed to become master craftspeople with it!
Silverware Holders!
For the silverware holders I used some green tins I found at Target in the party aisle and green/white twine from Michaels. Then, I was lucky enough to come across some Minecraft stickers at Five Below but similar ones can be found on Amazon. Super quick and simple silverware holders!
Green Drinks!
For the drinks I really wanted something "creeper" green, so I searched and searched did I already say search… until I finally found the perfect color Cucumber Lime Gatorade.. (FYI do not buy it is not good.!!)
I recommend searching a little harder than me. Update 2020: I did find the perfect green Gatorade if you are interested in it .
I also used another of the Minecraft stickers I found at Five Below and some lime green paper straws from Michaels!!
Minecraft Pretzel Chocolate Bites Recipe
I made this quick and easy pretzel bite appetizer to match the theme. Recipe is below! Preheat your oven to 350 degrees. Put a piece of foil on a cookie sheet and lay out however many pretzels you want to make.
Next put a chocolate disc on each pretzel. I used Hershey Simple Pleasures but you can use anything you wish. After you've put a piece of chocolate on each pretzel, put it into the oven for 1 to 2 minutes!
Watch it closely! You don't want gooey chocolate it just needs to be melted enough to push the chocolate candy pieces into it.
YUMM CANDY!! I used green M&M's and green HERSHEY-ETS! I love the fact that they were two different shades of green!
Drop the candy pieces onto each pretzel snack and than lightly press it into the chocolate. You will need to let these cool before storing or serving otherwise you will have a gooey mess! 🙂
You Are Now Done!
So there you have it a little highlight of my weekend 🙂 It was exhausting but totally worth it to see the excitement on my son's face! I am also thankful for my awesome husband who helped me clean and get the food prepared! YEA for teamwork!! I hope you all enjoyed the pictures and if you have any questions about anything let me know!! 🙂
If you are planning on throwing a Minecraft Birthday Party like this you may need…
Happy Party Planning!