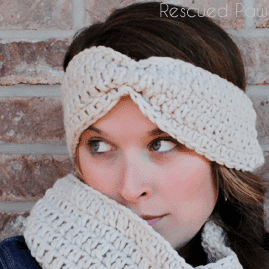 I have always loved simple crochet patterns that look so much more complicated to make then they really are.
I was so happy when I was browsing Pinterest and came across a beautiful crochet cozy ear warmer pattern from Yarn & Chai. I instantly fell in love with the simplicity of the design.
I chose to use Lion brand Woolspun which is a bulky 5 yarn instead of the worsted weight the original pattern called for. I decided to go with the colors linen, peacock and oxford gray since they were pretty neutral.
This yarn has amazing texture and his extremely durable which are two of the many reasons this yarn has become my favorite. I have crocheted many pieces using Wool spun like The Cabled Chunky Cowl, Crochet Button Hat" and The Mix it up Scarf which can be seen in some pictures with the ear warmers in this post.
To make the crochet cozy ear warmer using the bulky yarn I started by chaining 44 while using my J crochet hook and did 5 rows instead of the 7 rows the pattern called for originally.
You can adjust the initial chain length to fit whom ever this would be intended for. This ear warmer is extremely simple to make and everyone I have given in to as a gift has loved it so far.
Finished size is approx. a 20-inch circumference and 3 inch width.
I hope you enjoy making this headband! The free cinched ear wamer pattern is from Yarn & Chai. Go ahead and make one for yourself or your friends.